The Unexpected Biblical Explanation Behind Avenged Sevenfold's Name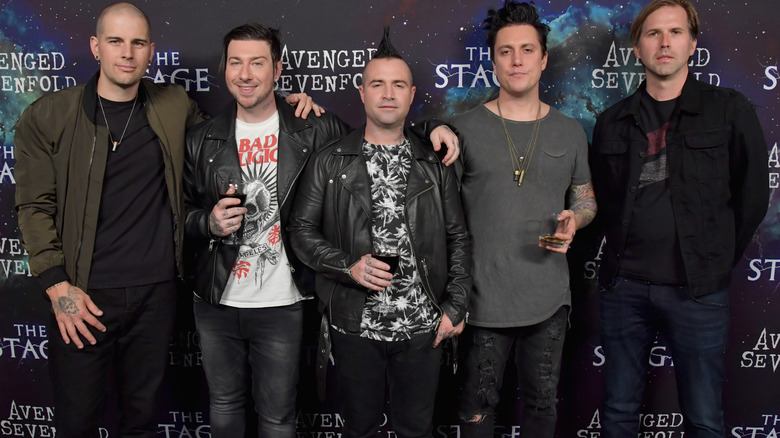 Lester Cohen/Getty Images
For more than two decades and counting, Avenged Sevenfold has been blending various subgenres of heavy music and writing oftentimes dark, yet lyrically deep and intricate songs, many of which, including "The Beast and the Harlot," "Bat Country," and "Hail to the King," have become modern-day classics of the metal genre. Despite original drummer The Rev's tragic death in 2009, the band kept pushing forward as they continued evolving their sound and making new music. And while their output has slowed down in recent years, they've truly come a long way from their origins as a teenage metalcore band at the tail-end of the 1990s.
Another interesting aspect of Avenged Sevenfold is their stage names. Aside from the above-mentioned The Rev, who was born James Owen Sullivan, Matthew Sanders, Brian Haner Jr., Zachary Baker, and Jonathan Seward respectively became M. Shadows, Synyster Gates, Zacky Vengeance, and Johnny Christ. Then you've got current drummer Brooks Wackerman ... who doesn't use an on-stage moniker like his bandmates do. Those stage names seem on-brand for a group with such a foreboding yet flowery-sounding name, but what's the story behind the band name anyway? It may seem surprising considering their tattoos, piercings, and hard-partying bad-boy image (via Louder), but Avenged Sevenfold took a great deal of inspiration from the Holy Bible when the time came for them to name themselves.
Avenged Sevenfold got its name from Cain's murder of Abel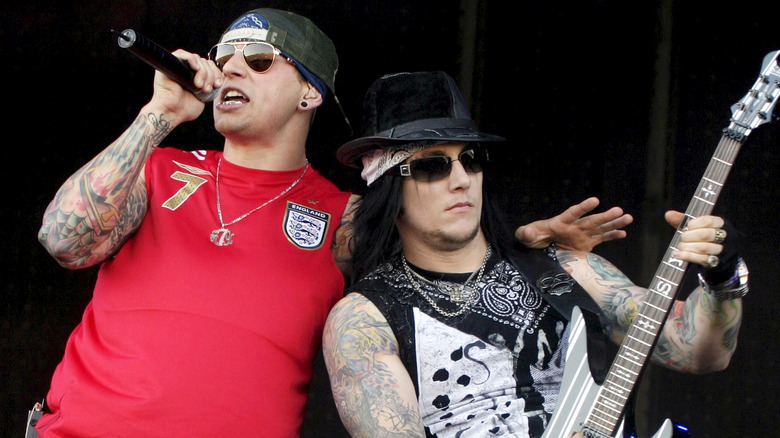 Avalon/Getty Images
In an interview with Skratch Magazine ahead of the release of their 2003 album "Waking the Fallen," Avenged Sevenfold frontman M. Shadows explained that the band got its name from the Book of Genesis and the aftermath of Cain's jealousy-fueled murder of his brother Abel. "It's basically the first murder on Earth between Cain and [Abel]," Shadows said. "[The name is a] 'what goes around, comes around' sort of thing."
To be specific, the band drew inspiration for its name from Genesis 4:24, and the King James Version of the Bible actually uses the words "avenged sevenfold." This refers to the punishment God said he would mete out to anyone who killed the remorseful Cain, who received a mark from the Lord to dissuade people from killing him in revenge. Many years later, as noted in the above passage, Cain's great-great-great-grandson Lamech would state after admitting to his wives that he, too, had killed someone, "If Cain shall be avenged sevenfold, truly Lamech seventy and sevenfold."
A7X is 'not a religious band' despite the biblical name, says M. Shadows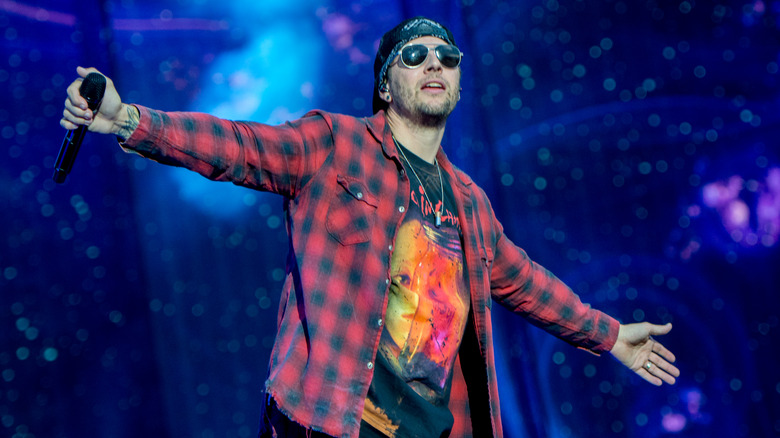 Ollie Millington/Getty Images
If you were told the story of Avenged Sevenfold's band name without hearing much of their music beforehand (if at all), you may be thinking that they're a Christian metal band. They even have a song, "Chapter Four," that's based on the story of Cain and Abel. However, if you ask the group, they're a secular act through and through. In the aforementioned Skratch Magazine interview, M. Shadows made it a point to tell the outlet that the biblical reference does not make them religious. "And just so there is no confusion, Avenged Sevenfold is not a religious band," the singer stressed right after explaining the band name's origins.
That wasn't the only time anyone from A7X made such comments about their secular nature, as detailed in this October 2003 feature from OC Weekly. In fact, some of the band's original members actually attended Catholic school — at least for a little while. Both Shadows and The Rev were kicked out of St. Bonaventure Catholic School in Huntington Beach, California, with the singer getting expelled in the third grade and the drummer getting booted out in the sixth.
That Catholic school experience, according to Shadows, partly explains why Avenged Sevenfold's music is often filled with religious references. "That s***'s shoved down your throat when you're going to a school like that," he told OC Weekly. "There's a lot of weird people telling you that there's bad s*** going on and just telling you that everything you're doing's not right, and I didn't buy into that. I think that's why I got kicked out real fast."