The Strange Disappearance Of 3 Detroit Rappers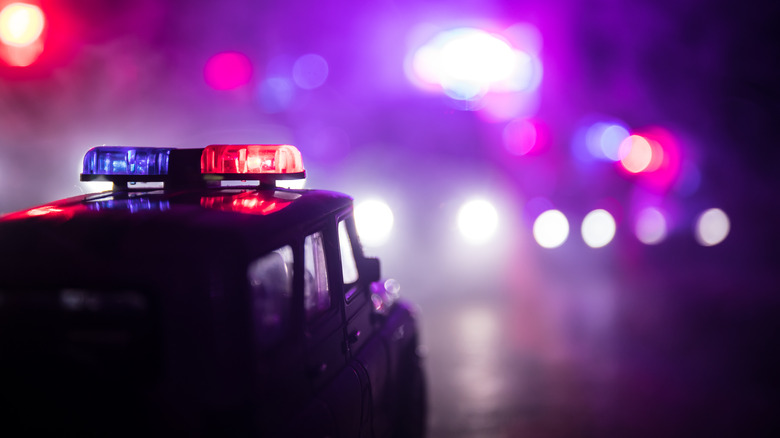 zef art/Shutterstock
Armani Kelly, 28, Dante Wicker, 31, and Montoya Givens, 31 — three rappers who were scheduled to perform at a Detroit club on January 21, 2023 — have been missing since that Saturday evening. As reported by CNN, Michael McGinnis of the Detroit Police Department's major crimes unit said, "It's our understanding that the performance got canceled, and from there — we just have a whole lot of unanswered questions that we are trying to find out." Kelly's mother Lorrie Kemp reported her son missing on Sunday and had already taken initiative by searching for his vehicle via the OnStar roadside assistance service. Per The Detroit News, it was found in a Warren, Michigan apartment complex on January 23, muddied and missing its license plates. 
It's possible that the last person to have heard from Kelly is his fiancee, Taylor Perrin, who told reporter Mark Hicks that he'd called her on Saturday to tell her that the show at Lounge 31 had been canceled due to equipment issues and that he was making alternate plans. He had already picked up Wicker and Givens. After 7:30 p.m., all texts, calls, and Facebook messages sent to Kelly went unanswered. Authorities note that records of the missing men's phones indicated no activity after late Saturday night or early Sunday morning. Kemp and Perrin made their way into Metro Detroit to look for Kelly after they couldn't contact him and have continued putting up flyers in his hometown of Lansing, posting updates on social media, and asking police for updates and information.
Armani Kelly had lots of plans for the future
 "I just don't understand how this happened and how there's three grown men missing and nobody seems to know anything," said Taylor Perrin to The Detroit News. Perrin told reporter Mark Hicks that the three men had originally met while serving prison terms. Perrin noted that her fiance, Armani Kelly (above), who performs under the name Marley Whoop, had "really turned his life around" since serving his sentence for an armed robbery charge by taking classes, working, pursuing music, and planning the couple's wedding. He'd performed in his first show in 2022 and was looking forward to this second show, which was to take place before a larger crowd. "He just really wanted his music out and was just trying to promote it," she said.
Perrin and Kelly have known each other since they were teenagers. According to Perrin, Kelly has long been interested in becoming a rapper, writing rhymes in his notebook while he looked for a producer to work with after his release from prison. Perrin discussed the couple's hopes for the future and said, "We were so close to be able to start our life and somebody just took it all away. I just beg for help, for anything. I need answers." Lorrie Kemp posted to Facebook on Sunday, in part: "Some1 pls help me bring him home to his resting place. I plead with u as a mother of a son who had his whole life ahead of him!"
All three men went missing at the same time
Lorrie Kemp spoke with WXYZ about her attempts to find her son, Armani Kelly, and noted her dissatisfaction with the police on the case: "I am doing everything I possibly can and I am out there hitting the roads, hitting the pavement. where is the police department? They didn't do their job." According to Kemp, the police didn't take her son's missing status seriously until police departments in different jurisdictions put together that the three missing men had all been together at the time when they disappeared. CNN reported that news of Kelly's disappearance had spread by January 27, at which point, according to Detroit police commander Michael McGinnis, they became aware of Dante Wicker (center, above) and Montoya Givens (right, above):  "Other family members of the other missings come to realize that that's a friend of their loved ones and they haven't seen them either, so then they both get reported missing."
Kemp also expressed sadness and anger over the fact that her son had made it out of prison alive only to go missing, saying (per WYXZ), "I am angry because you did eight years in prison and you didn't die and then you get out and they kill you. He's dead." The Detroit News reported that in a briefing on Monday, January 30, McGinnis announced, "We will leverage all our technology assets. We've got license plate readers. We've got Green Light cameras, and I'm confident that using those tools will help us get the answers that these families deserve."
Eventually, Michigan State Police claimed that on February 3, 2023, multiple bodies were found in an abandoned Highland Park apartment building. The number of bodies that were discovered — and whether any are the missing rappers in question — is unclear.