Meet Johnny Coulon, The Boxing Champion Who Became Known For A Special Circus Trick
In February 1965, Muhammad Ali was in Chicago training for an upcoming title fight scheduled for that May against Sonny Liston, a rematch for the heavyweight champion of the world. Ali was working out at Johnny Coulon's Southside gym when he stopped momentarily for a photo op with Coulon, per UPI. Like many a boxer and other brawny athletes before him, the 230-pound Ali tried his best to lift Coulon, then 76 and weighing in at a little more than 100 pounds and about five feet tall, but to no avail.
Ali was in good company. Some of the 20th century's greatest fighters, including Jack Johnson, Jack Dempsey, Joe Louis, and Rocky Marciano had all tried and failed to pick up the diminutive former boxer who was bantamweight champion of the world between 1908 and 1914, according to LIfe. After his boxing career, he'd taken his strange skill on the vaudeville circuit and then internationally, wowing the public, confounding scientists, and irking the great Harry Houdini.
From boxer to vaudeville performer
Johnny Coulon, born in Toronto, Canada, in 1889, grew up in Chicago and rose in the pugilistic ranks to the very top in 1908 when he defeated the British champ Jim Kendrick twice in New Orleans, according to "An Illustrated History of Boxing." Coulon remained on top for six years until Kid Williams knocked him out in the third round in a June 9, 1914 bout in California, per the book. After retiring from the ring and a stint in the U.S. Army during World War I, Coulon took an unusual skill on the vaudeville circuit (theaters across the U.S. that specialized in variety shows) and became known as the "Unliftable Man," per the Chicago Tribune and The Courrier-Journal.
The act worked like this: Coulon would stand facing the other person, who, while standing at arm's length, would take hold of Coulon's waist above the hips but below the ribs. Coulon would then place one or two fingers from his right hand on the opponent's neck at the carotid artery and his other hand on the person's left wrist, according to an article in the May 1921 edition of "Popular Science." No matter how hard the other person strained, they couldn't life Coulon. 
Coulon's Chicago gym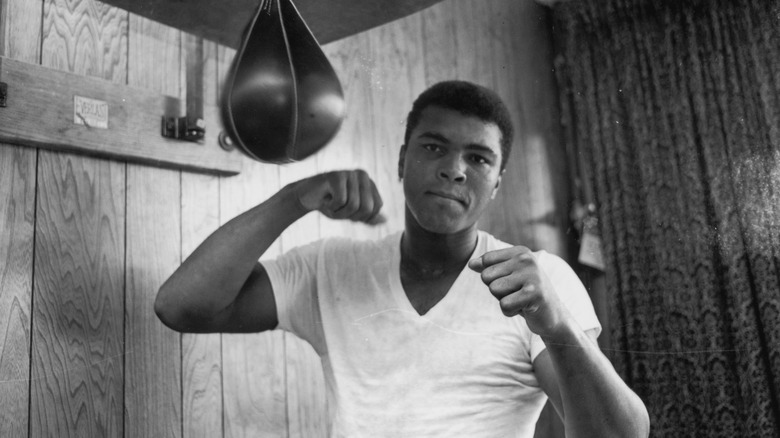 Harry Benson/Getty Images
When Johnny Coulon took his act to Europe, French scientists couldn't figure out how he did it, with one exclaiming that the ex-boxer's ability "cannot be explained by our actual knowledge of physiology and of animal or even human mechanism," per The Illustrated London News. Harry Houdini, the escape artist and debunker of spiritualists and other tricksters, called Coulon's act "hokum," and chalked it up to "the principle of the fulcrum" and that it was "a matter of leverage," per Popular Science. Houdini pointed out Coulon hadn't been the first person to make a living with this stunt. There had been other vaudevillians, including Dixie Haygood AKA Annie Abbott, a performer in the 1880s known as the "Georgia Magnet," per Visit Milledgeville.
In 1923, Coulon, by then married, opened up a boxing gym in Chicago where the writer Ernest Hemingway and many boxing greats, including Sugar Ray Robinson and Muhammad Ali, would train, per "Keith Magnuson:The Inspiring Life and Times of a Beloved Blackhawk." He remained strong and agile even as an old man, able to walk across the entire gym on his hands and leap over the top rope of the ring from a standing position, per the book. He died in 1973, never explaining how he'd pulled off his trick. The secret was two-fold. Coulon used his body as counter leverage against his opponent, as Houdini had guessed, but also applied painful pressure to their vagus nerve in the neck, according to Spookology.