Jim Brown Remained Close To The Man Who Pushed Him Out Of The NFL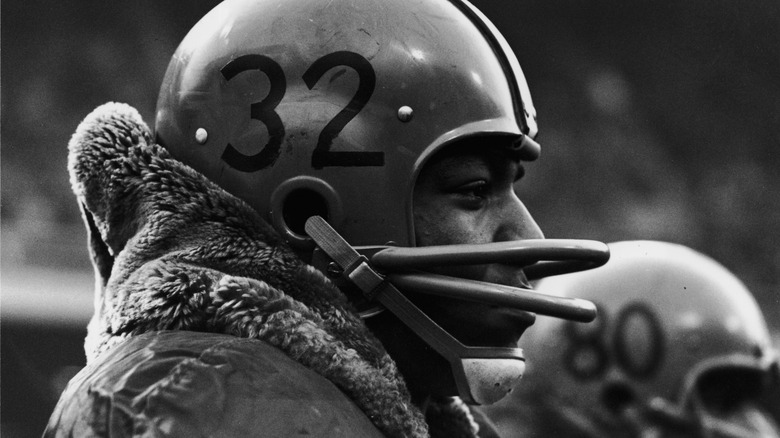 Robert Riger/Getty Images
Perhaps the most famous NFL player to have a career as an actor was O.J. Simpson, who appeared as a supporting character in a sling of goofy comedies, most notably the Naked Gun series, to generally positive reviews. Of course, these days, Simpson is associated more with his fall from grace than for his exploits on the football field and in film. However, Simpson is not the only former football player to make a go of it on the silver screen. Legendary Cleveland Browns running back Jim Brown (above), also had a lengthy career as a film star, although unlike Simpson, his film career started even as he was still under an NFL contract, as Long Island Weekly reports.
Unfortunately for Brown, when his filming schedule and his NFL training camp schedule had some overlap, he was effectively forced by team boss Art Modell to choose one career over the other, as the Plain Dealer reports. And even though he was in the prime of his career, as Dawgs By Nature reports, he chose acting. And despite the fact that he was basically forced out of his career by his boss, Brown and Modell remained friends until the day Modell died.
Jim Brown's two careers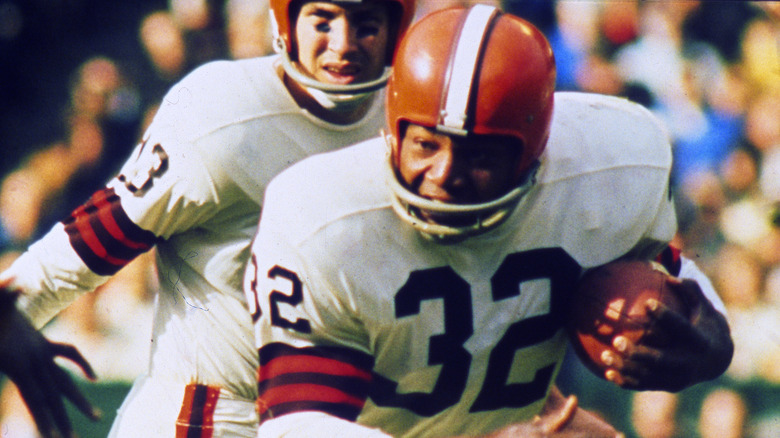 Focus On Sport/Getty Images
Jim Brown was elected to the Pro Football Hall of Fame in 1971, according to the institution's website. As mentioned previously, he left football at the top of his game, but what a game it was. "When he retired at the age of 30 at the peak of his career, he left behind a record book clogged with Jim Brown notations," notes the website. "Make sure when anyone tackles you he remembers how much it hurts," he once famously said, via Twitter, and as Dawgs By Nature reports, many would-be tacklers were less compelled to attempt to tackle him than they would other ball carriers.
His film career wasn't the unqualified success that his NFL career was. As Britannica reports, possibly the high water mark of his career was his appearance in the war film "The Dirty Dozen," which he followed with a few appearances in Blaxploitation flicks, which were then followed by a lengthy career largely in smaller television and film roles. His final credited appearance was in 2014's "Draft Day." He won one acting award, the 1970 NAACP Image Award for Outstanding Actor for his appearance in the Western "El Condor."
Forced out of football by Art Modell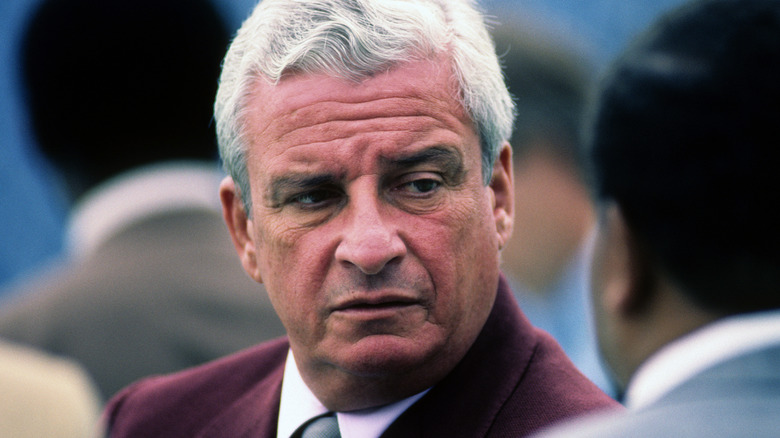 George Gojkovich/Getty Images
Very rarely are team owners written about when it comes to football, as they are, by and large, men and women who sit behind the scenes and avoid drawing much attention to themselves. Art Modell (above), who owned the Cleveland Browns when Jim Brown played for the team, was quite a bit different, and his effect on the team and the city can most charitably be described as a mixed bag, as Dawgs By Nature reports. He certainly forced Jim Brown out of football.
Specifically, in 1965 Brown was working on his second film, "The Dirty Dozen," during the offseason. However, weather delays forced the production schedule back, and Brown was expected in two places at once: the film set and the Browns' training camp. Brown wanted to meet his film commitments and come to training camp late, while Modell was having none of that. Modell told Brown that he (Brown) would be fined $100 per day for every day that he was late; no small sum in 1965, in the days before pro football players made millions. Brown instead decided to retire.
Modell would later admit that he could have handled the situation better, but that he didn't want to set a bad precedent for other players, either. Brown, for his part, would later say, via the Plain Dealer, that he still had "a lot of respect" for Modell and considered him a friend.