The Boy In The Box's New Headstone Was Unveiled On What Would Have Been His 70th Birthday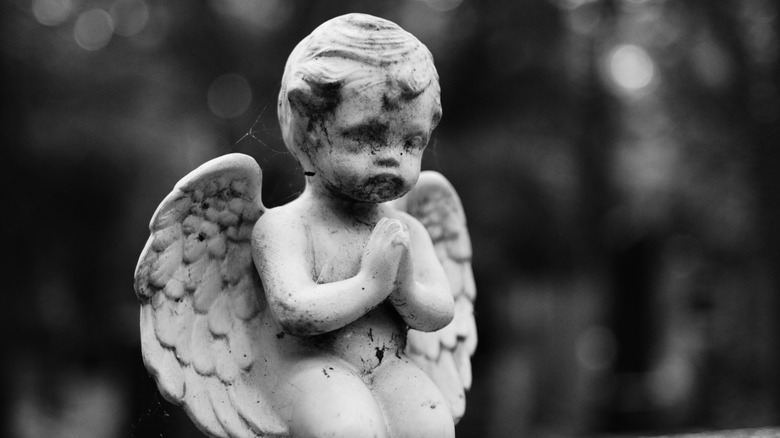 kasha_malasha/Shutterstock
On February 23, 1957, a student at La Salle College in Philadelphia was strolling in a wooded area when he noticed a cardboard bassinet box with what looked like a doll inside, according to Philadelphia Magazine. But something about the doll-like discovery didn't sit right with the student, and he called the police. When they arrived, they found the body of a boy who looked malnourished and badly beaten (via AP News).
Further examination by a medical examiner revealed devastating details. The boy, estimated to be between 4 and 6 years old, had a subdural hemorrhage as well as contusions and abrasions on the body. His fingernails and hair were badly cut, and he only weighed 30 pounds, as reported by ABC 27. Investigators worked hard to identify the child. They knocked on doors, checked reports of missing children, and posted flyers that provided details about the boy. However, their efforts didn't yield results. The identity of the Boy in the Box mystified Philadelphia for decades. It wasn't until more than 60 years later that he was finally identified.
How was the Boy in the Box identified?
The Boy in the Box was buried at a potter's field in Philadelphia with a headstone that read, "Heavenly Father, Bless This Unknown Boy." His identity and the circumstances that surrounded his death remained a mystery for years, but he was never forgotten. In 1998, his body was exhumed in order to extract DNA, and he was moved to a new burial spot at Ivy Hill Cemetery, as reported by The Philadelphia Inquirer. His body was exhumed again in 2019, and that was when he was identified through genetic genealogy.
Genetic genealogy makes use of genealogy techniques and DNA testing to identify family members. It is used to find genetic markers, discover one's ethnic heritage, or find distant family members (via Genealogy Explained). Furthermore, it can be used in investigations to find out the identities of unknown individuals. Dr. Colleen Fitzpatrick of Identifiers International — a company that specializes in forensic genealogy for law enforcement and medical examiners — told VOA that the Boy in the Box's DNA was heavily degraded, and it took a couple of years before useful data was extracted. In December 2022, his identity was revealed in a press conference. He was Joseph Augustus Zarelli, a 4-year-old who is related to a "prominent family" in Delaware, per People. The outlet reported that his mother and father are dead, but Zarelli still has living siblings. 
Joseph Augustus Zarelli's new headstone
On January 12, 2023, a community in Philadelphia gathered to honor the little boy that they adopted as their own. A priest led the small crowd in prayer and the boy's gravestone was replaced with a new one that included his name, as reported by CBS News. It was a momentous occasion, as he was finally given an identifying marker on what would have been his 70th birthday. One of those in attendance was Patty Braxton, whose father was a detective involved in the boy's case. The family lived close to the spot where the boy was initially buried, and they made it a point to leave flowers for him during holidays. Sadly, her father passed away shortly before Joseph Augustus Zarelli was identified.
The next task for investigators is to find out who killed Zarelli, and according to authorities, the boy's case is ongoing. According to WHYY, they are offering a $20,000 reward to anyone who can provide information that leads to the identity of Zarelli's killer.