How Wrestler Lanny Poffo Got His Unique Moniker 'The Genius'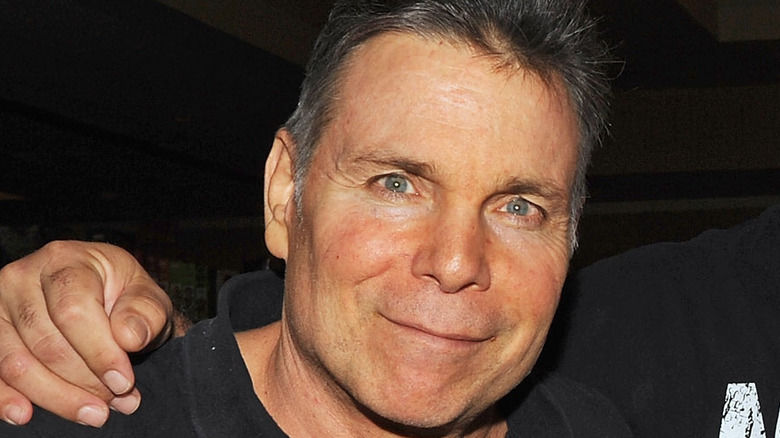 Bobby Bank/Getty Images
As most pro-wrestling fans will tell you, it's the "rope opera" — what pro-wrestling fans call the character-driven drama and involved storylines inherent to the sport — that keeps them coming back for more. Part of that appeal are the colorful nicknames and monikers pro-wrestlers adopt — not to mention the wild costumes they wear. Lanny Poffo, the younger brother of the late wrestling legend "Macho Man" Randy Savage, who died in early February 2023 at the age of 68, went by two nicknames in his career: "Leaping Lanny Poffo" and "The Genius," as TMZ reports.
Poffo first entered the ring in 1974 and matched up with many big names in competition, like Andre the Giant, Hulk Hogan, and others. After more than a decade in wrestling, Poffo rebranded himself as "The Genius" in 1989 and decided to wear a suitable costume for that nom de plume — or should it be nome de ring? From "Leaping Lanny" to "The Genius," here's how Poffo developed his most recognizable and well-known persona.
Poffo first wrestled in the All-South Wrestling Alliance
As TMZ goes on to note, Lanny Poffo debuted in the mid-1970s in the All-South Wrestling Alliance, but by 1985, he had transitioned to the WWE and premiered on TV, per the Sportster. While there, Poffo picked up his first in-ring nickname, "Leaping Lanny Poffo," based in part on the fact he was the first WWE wrestler to pull off a moonsault, an aerial move considered among the most difficult in the sport, as Bleacher Report explains.
Even as "Leaping Lanny," Poffo was known for reciting taunting poems he wrote in the ring while spouting other kinds of lofty rhetoric at his opponents and the audience. (Poffo reading a poem dedicated to Hulk Hogan, pictured above, is posted on YouTube.) By 1989, it was time for Poffo to consider a rebrand — and who is typically thought of as the kind of person who writes poetry? A genius, that's who. The only thing left to decide was the costume in which Poffo, with his new name, would compete.
'The Genius' wore a cap and gown
Once it was decided that Lanny Poffo would now be known as "The Genius," he wore a graduate's cap and gown in the ring while still reciting poetry and overall taunting his opponents and audience for being beneath his level of intelligence, per Cageside Seats. In 2015, Poffo spoke at his brother "Macho Man" Randy Savage's WWE Hall of Fame induction ceremony with — what else? — a poem he wrote. Perhaps Poffo's biggest accomplishment came in 1989 when he beat Hulk Hogan in a countout on "Saturday Night's Main Event." That match is posted on YouTube.
A cause of death was not provided at the time "The Genius" Lanny Poffo's death was announced. The wrestler's death was confirmed in a tweet from Poffo's long-time friend and colleague, the pro-wrestler "Hacksaw" Jim Duggan. "With a very, very heavy heart, I've been asked to let everyone know about the passing of our friend and colleague Lanny Poffo, The Genius. RIP Lanny," Duggan's tweet read.