The Grammy Performance That Had The Catholic Church Up In Arms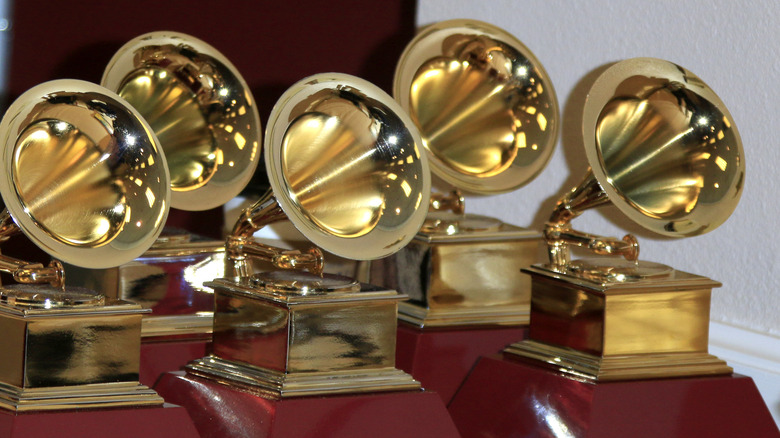 Kathy Hutchins/Shutterstock
The Catholic Church has a long history of speaking out against musicians, their songs, and their performances which the church finds sacrilegious. Madonna's 1989 video for her song, "Like A Prayer, " featuring her kissing a statue-turned-person resembling a saint and dancing in front of a field of burning crosses, led the Catholic Church to speak out against her. The Pope called for it to be banned in Italy, and the controversy ended up losing the singer a lucrative contract with Pepsi (via Rock and Roll True Stories). Kerrang reported on a wide-ranging list of artists the church banned, including metal bands Cradle of Filth and Slayer to classic rock standard-bearers The Beatles and the Everly Brothers. In 2012, Nicki Minaj joined the ranks of performers who offended the Catholic Church when she performed the song "Roman Holiday" live at the Grammy awards ceremony, causing the Catholic League to speak out against her. 
The Catholic League's website describes its mission: "When slanderous assaults are made against the Catholic Church, the Catholic League hits the newspapers, television, and radio talk shows defending the right of the Church to promote its teachings with as much verve as any other institution in society." After Minaj's performance aired, League President Bill Donohue penned an open letter entitled "Is Nicki Minaj Possessed?" which described the performance in horrified detail and claimed, "Whether Minaj is possessed is surely an open question, but what is not in doubt is the irresponsibility of The Recording Academy. Never would they allow an artist to insult Judaism or Islam."
An infamous performance that caught a lot of attention
The Washington Post compared Nicki Minaj's performance to star-making live performances like Madonna's "Like A Virgin" and Lady Gaga's "Paparazzi" at the 1984 and 2009 MTV Video Music Awards, respectively, calling it "unforgettable" but criticized its attempts to create what writer Allison Stewart termed "a tweetable moment" and called it an "indulgent mess" that set the "wrong tone" at the Grammy's. Minaj arrived at the Grammy's dressed in a red satin hooded set of robes accompanied by a man who bore a striking resemblance to a Pope, particularly due to his own flowing outfit of white and cream satin, complete with towering miter atop his head. 
The stage performance, which is available on YouTube, took place in front of a flame-lit set reminiscent of the stained glass windows so often found in churches and involved a confessional, a film clip in which Minaj sings "I Feel Pretty" in a whispered sing song before crawling across a ceiling as a bewildered priest looks on, a verse in which Minaj is shackled to a metal platform, singing as a group of dancers in monk's robes perform below her, and, eventually, a pantomimed exorcism performed by the "priest" who escorted Minaj on the red carpet pre-show that concluded with the singer levitating skyward. In his open letter, Catholic League President Bill Donohue took special offense at what he described as "the sexual statement that showed a scantily clad female dancer stretching backwards while an altar boy knelt between her legs in prayer."
The history of Roman Zolanski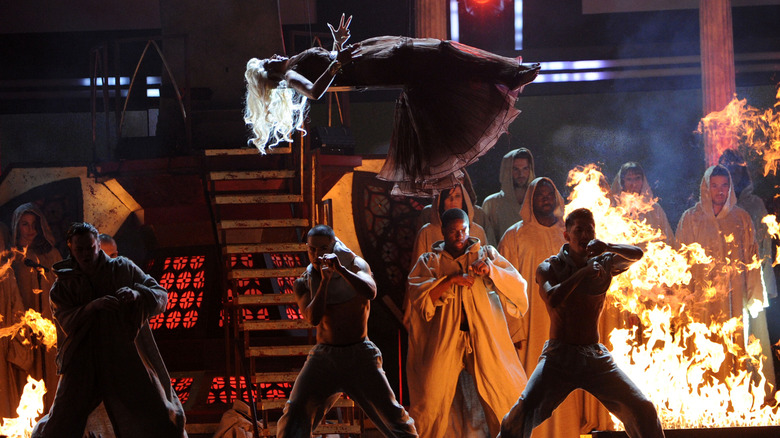 Kevin Winter/Getty Images
"Roman Holiday" was the debut single from Nicki Minaj's second album, "Pink Friday: Roman Reloaded." The song was performed in the character of Minaj's alter ego Roman Zolanski. She introduced reporters to Roman backstage at the 2011 Video Music Awards, saying (via The Hollywood Reporter), "The new album is going to have a lot of Roman on it. And if you're not familiar with Roman, then you will be familiar with him very soon. He's the boy that lives inside of me. He's a lunatic and he's gay and he'll be on there a lot." At the December 2011 Billboard Women In Music event, Minaj told MTV News that she released the song "Roman In Moscow" as a teaser before the release of her second album, calling it "the wackest thing on the album" (it didn't end up included as an album track).
Minaj described it as the story of the alter ego's recent trip to Russia at the behest of his mother Martha, another Minaj alter ego (via MTV News): "Well, [Roman] was there [in Moscow] secretly because [British alter ego] Martha wanted him to go there, so they put him in this thing with monks and nuns; they were trying to rehabilitate him." Per Spin, Roman is also responsible for Minaj's famous verse on Kanye West's 2011 song "Monster," and the song "Roman's Revenge," released ahead of Minaj's first album, "Pink Friday," features both Roman and a guest turn from Eminem performing as his alter ego Slim Shady (via MTV News).