Every Rock Star And Rock Song In Super Bowl 2023 Ads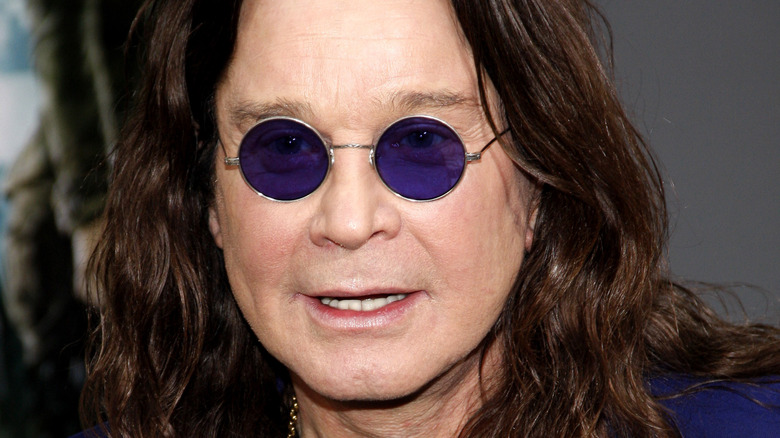 Tinseltown/Shutterstock
There are a ton of people who get excited about the Super Bowl for reasons other than who's playing. (It's... what, green guys and blue ones? Purple? One of the teams is an animal, right? They'll win, for sure. Animals are the best.) Whether it's for the actual game, the halftime show, or the commercials, it's estimated that somewhere around 100 million people are going to be tuning in.
According to CNN Business, the Super Bowl is one of the only big sporting events with a viewership that's holding pretty consistently. That, they say, makes advertising during it a pretty sweet bargain, even though a 30-second spot comes with a whopping $7 million price tag. Is it worth it? Yes, they say — and it also means that the 70-odd ads will all, well, add up to a premium.
Today, Super Bowl ads come with all the hype of a long-awaited movie. Advertisers want to entice viewers to tune in for the whole thing, so in our weird, weird, 21st-century world, advertisements come with teasers and trailers. They want to get the most out of their big-budget investments, after all, and anyone who's spending $7 million for 30 seconds of airtime had better make it count. In our era of celebrity, that means securing some all-star talent and killer soundtracks. While viewers won't get the full picture until game day, what do we know about the stars and songs worthy of some of the priciest seconds on television?
This article will be updated as more commercials are being released.
Dave Grohl
Fan favorite and all-around good guy Dave Grohl has teamed up with Crown Royal for ... well, no one's really sure what the commercial is, aside from the fact that it's going to run in the third quarter of the 2023 Super Bowl. That's according to Forbes, which says the wonderfully cryptic set of teasers is just right for building interest. A big-name, wildly popular rock star? Check. A rock star sitting at a mixing board — where all the magic happens — and seeming to thank random things? Check. (Every '90s child in the world cheered in unison when he thanked flannel for "keeping the grunge dream alive.")
The set of three teasers is a playbook on great advertising writing: In another, Grohl reads off a series of random words with varying degrees of surprise ... after pausing to put on his reading glasses. Peanut butter? Paint roller? Trash bags? Replay? Electric wheelchair? What does any of this have in common, and what's it got to do with Crown Royal? As if Dave Grohl wasn't enough, these questions are going to get people watching — and more importantly, remembering.
'I'm Alright' by Kenny Loggins
One of the front-runners for best Super Bowl commercial of 2023 is definitely Michelob ULTRA's New Members Day, which features a stacked cast of sporting greats — first and foremost, Serena Williams — as new members at a country club. They take over a la "Caddyshack," and topping it off is the soundtrack. That, of course, could feature no other song than Kenny Loggins's "I'm Alright," and who hasn't danced on the golf course to that one?
In his memoir (via Sports Illustrated), Loggins wrote that the whole thing came about simply because he'd kept in touch with the guy Barbara Streisand had been dating when he worked on the soundtrack to "A Star is Born." That was Jon Peters, and when Peters asked him to write a song for this weird little golf movie he was making, Loggins saw a rough cut and called it "laugh-out-loud funny." Ironically, he wasn't a fan of the gopher, but fortunately, he didn't say so.
While the commercial is light on gophers, a too-cool-for-the-room old guy is precisely the one that needs to be landing a golf ball in a snooty lady's glass of champagne. Who can't get on board with that?
Ozzy Osbourne, Joan Jett, Billy Idol, Paul Stanley, and Gary Clark Jr.
Opting to spend $7 million on a Super Bowl commercial is a big deal for almost any company, especially when doing it for the first time. In 2023, Workday is going to be making its first appearance, and they clearly subscribe to the "go big or go home" way of doing things. In an ad that was several years in the making, Workday recruited some of rock's heavy hitters to dress up as the sort of employee one might never, ever expect to actually see around a water cooler ... because of corporate dress codes, and such.
One teaser for their Super Bowl commercial features Ozzy Osbourne, spinning around from his computer to see who's interested in getting some piercings, while another features Joan Jett telling two perfectly ordinary and probably respectable employees that they are not, in fact, the rock stars they're congratulating each other on being. A third stars Gary Clark Jr., and Variety says those three "will be among the colorful musicians touting its wares," which confirms that Workday didn't reveal their full hand immediately. This was confirmed when they revealed Billy Idol and Paul Stanley's participation a few days later.
Will it work? Interestingly, Variety also says that some massive companies — including Monster and CareerBuilder — built their brands with the help of a gamble just like this one.
Sarah McLachlan
Sarah McLachlan might not be the first name that comes to mind when anyone thinks of a rock star, but those who attended Lilith Fair in the '90s know better. And there's no doubt that anyone who watches the animal rights commercials featuring her and her 1997 song "Angel" and isn't moved to tears definitely does have a rock for a heart. It's those commercials that are getting spoofed by McLachlan herself and Anheuser-Busch for the 2023 Super Bowl.
Sounds odd? It did to her, too, and she told Variety, "This is sort of stepping out of my comfort zone a little."
McLachlan appears alongside the Busch Guy, who's giving tips on wildlife survival and the importance of building a shelter when she appears next to a canine she seems to mistake for a lonely shelter pet. Tent. Shelter. Get it? Anheuser-Busch exec Krystyn Stowe says that without her, nothing about the commercial would work. And the wolf? 12/10, would pet.
'Alright' by Supergrass
Supergrass's 1995 hit — and yes, it was 1995, in spite of the video looking like something that came right out of 1978 — "Alright" was sort of an accidental hit. And although the band technically split in 2010, they were sort of back together in 2021 — just in time to see their song featured in the background of one of the most anticipated Super Bowl commercials of 2023.
That, says Variety, is a Rakuten commercial that sees Alicia Silverstone once again donning her very 1990s-era yellow-and-black checkered suit from "Clueless." Silverstone says that it was a sort of natural move for her to bring Cher back into a commercial for a shopping platform, saying that she felt her alter ego had matured by the end of the film: "I think that she would be buying the really eco[-friendly], animal cruelty-free clothes."
In addition to showing up backing Silverstone's return to the "Clueless" universe, Supergrass has been popping up at the odd festival, says the Independent. While they're still not saying anything about new material, the '90s nostalgia is enough to keep everyone happy. As if.
'Break the Ice' by John Farnham
When Rob Gronkowski is recruited to do some high-stakes kicking instead of catching, there's only one thing for it: A training montage. Everyone knows there's no such thing as just an acceptable training montage song, there are only great ones — and John Farnham's "Break the Ice" is one of the great ones. It plays as Gronk tries to find his center to make FanDuel's $10 million Kick of Destiny, and if there's one thing that's better than a Super Bowl commercial, it's a Super Bowl commercial that everyone can get involved in.
It's also worth noting that the song's appearance in a Super Bowl commercial comes at a time when Farnham's entire family could use some great news ... to say the least. In August 2022, The Daily Telegraph reported that Farnham had undergone a nearly 12-hour surgery to remove a cancerous tumor from his mouth. His cancer diagnosis came on the heels of a 2019 health scare when he was diagnosed as having a severe kidney infection that had resulted from prior surgery. His family thanked fans for their support, with Farnham saying in a statement, "Cancer diagnosis is something that so many people face every single day, and countless others have walked this path before me."
'Steal My Sunshine' by Len
The 2023 Super Bowl might go down as a fan favorite for those who grew up in the 1990s, especially with a fun commercial from Sam Adams. They try to brighten up Boston — complete with Bostonians hugging New York fans, and that's about the time that everyone knows this is pure fantasy. The song playing in the background is the right amount of catchy, though, it's a '90s-era hit called, appropriately, "Steal my Sunshine." Don't worry, the world's not ending — it is fantasy, and ends just as appropriately.
Back in 2014, The Guardian spoke with Marc Costanzo. One half of the group Len — the other half is his sister, Sharon — Costanzo said that the song got written one night after a party, and was never supposed to be anything serious. "The Len project was supposed to annoy people, but suddenly we were rock stars," he said. "It was really amazing, but fame freaks you out. When people used to come up to me in the street, I thought they were trying to fight me! But they just wanted to tell me how much they loved my song."
And that? That's the kind of attitude any Bostonian would be proud of.