The Tragic 2000 Death Of Kansas City Chiefs Player Derrick Thomas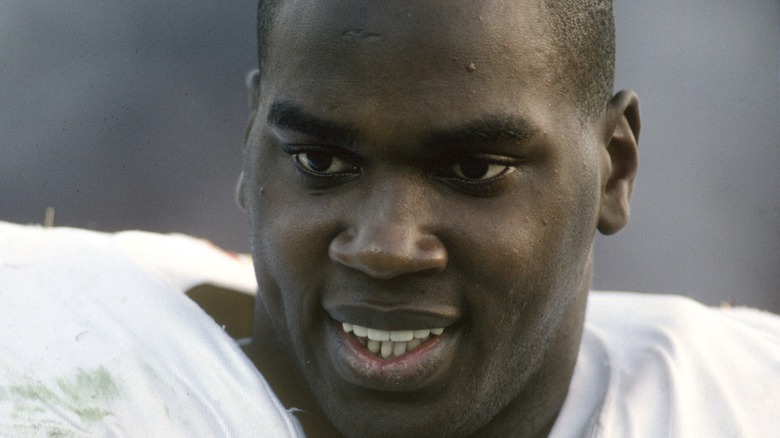 Focus On Sport/Getty Images
The snow began to fall heavily in the Kansas City metropolitan area that January Sunday in 2000. The elements were accumulating on the roadways faster than the overtaxed highway department crews could clear them, and accident reports were beginning to jam the phone lines. Between noon and 3 pm, more than 100 vehicles were involved in crashes (via CBS News). By mid-evening, that total had climbed to more than 430, including one multi-vehicle accident that claimed the lives of 10 people.
On one stretch of interstate, Kansas City Chiefs linebacker Derrick Thomas was driving with two friends en route to the airport. Thomas was hoping to catch a flight to Saint Louis so that the three of them could watch the Rams play the Tampa Bay Buccaneers in the NFC Championship. Before they made their exit, Thomas lost control of his 1999 Chevy Suburban and skidded off of I-435. Reports claim that the nine-time Pro Bowl player was weaving in and out of traffic and traveling at speeds that were too fast for the road conditions (per The New York Times). After Thomas' SUV left the interstate, it flipped over at least three times. Only one of the three occupants was wearing a seatbelt, and that person only sustained minor injuries. But Thomas and his friend Michael Tellis would not be so lucky. They would each be ejected from the Suburban with devastating consequences. Tellis was killed, and when emergency personnel reached him, Thomas was still alive — but he was in critical condition. Paramedics rushed him to the hospital with a broken neck and spine.
Thomas was in the middle of a storied career when the accident occured
Focus On Sport/Getty Images
Thomas was drafted by the Chiefs in 1989 (via Pro Football Reference). Thomas spent the entirety of his 11-season career with Kansas City after a successful college career at Alabama where he was a Dick Butkus Award winner (per the Kansas City Chiefs). The linebacker set the university's single-season sack record with 27, followed by the school's record for most sacks in a career with 52.
Thomas displayed his gridiron dominance as a defender the moment he arrived at Arrowhead Stadium in 1989. In his rookie season, Thomas racked up 10 sacks in 16 games, along with three forced fumbles. In his second year, Thomas would display skills that would arguably rival any defensive player in the game today. That season, Thomas chalked up six forced fumbles and set the single-season NFL sack record with 20. Seven of those sacks were in one game. On November 11, 1990, Thomas stormed behind the line of scrimmage to knock down Seattle Seahawks quarterback Dave Krieg in an unparalleled feat (via USA Today) — and his single-game sack record of seven still stands as of this writing.
Thomas received accolades throughout his career, including being named the NFL's Player of the Week 15 times, the NFL All-Rookie Team in 1989, and the Walter Payton Man of the Year Award in 1993. The ejection from his Suburban made that career come to a screeching halt that snowy January day in 2000 as medical professionals rushed to save the life of one of Kansas City's most beloved sports legends.
The accident would lead to heart failure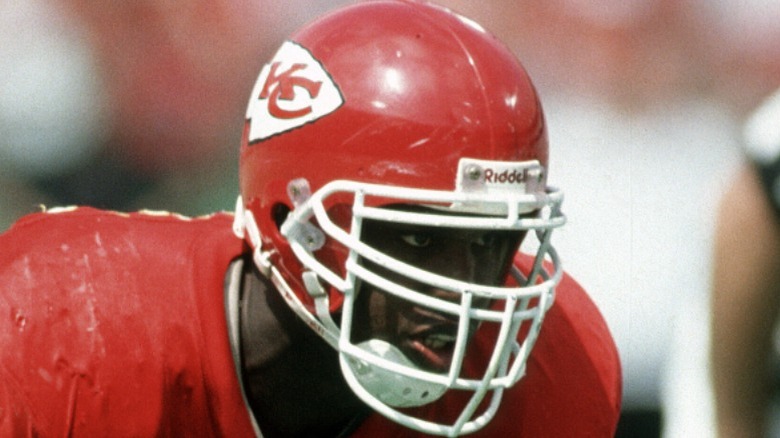 Focus On Sport/Getty Images
The Washington Post reports that Thomas wouldn't live beyond two weeks from the date of the crash. Thomas was admitted to a Kansas City medical facility with severe damage to his neck and spine, and was transferred to Jackson Memorial Hospital in Miami, Florida soon after. This facility has a reputation for being one of the best in the United States for spinal injury treatment, and doctors there were optimistic about Thomas being able to have mobility again. 
But that optimism was short-lived. When attendants were moving Thomas from his hospital bed to his wheelchair on February 8, the Chief's defensive star went into cardiac arrest. Attempts to revive him were unsuccessful. A blood clot was initially believed to be the cause of death, and it was determined later that Thomas suffered from a pulmonary embolism.
Thomas was elected to the NFL Hall of Fame in 2009, nearly a decade after his untimely death. His 126.5 sacks over 11 seasons still stand as an impressive career achievement all these years later (per Pro Football Hall of Fame). The Kansas City Chiefs also notes how Thomas was also elected to the College Football Hall of Fame in 2014.