The Tragic Real-Life History Of The Kansas City Chiefs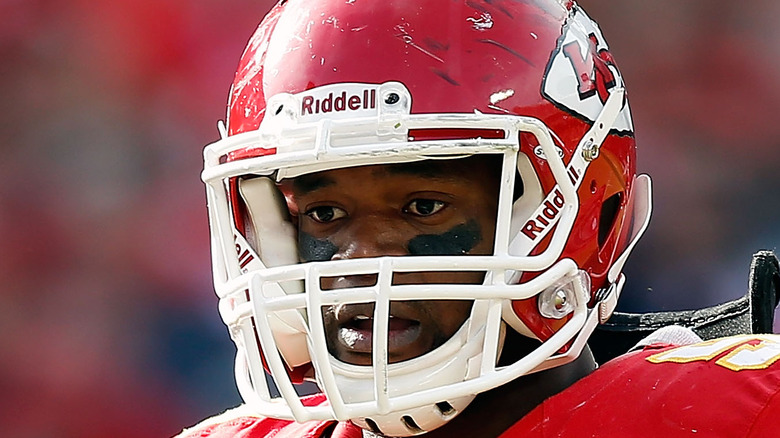 Jamie Squire/Getty Images
With four consecutive AFC Championship appearances, two trips to the Super Bowl, and one Super Bowl victory in the Patrick Mahomes era (as of 2022), the Kansas City Chiefs are set to become the NFL's next potential dynasty. Led by one of the game's best quarterbacks, the Missouri-based team has given fans a lot to look forward to every Sunday during football season when they march out onto the field at Arrowhead Stadium. 
Chiefs fans are known for their impressive stadium tailgating parties and for spirited enthusiasm, which even managed to land them a place in the Guinness Book of World Records in one season. On September 24, 2014, Chiefs fans set the record for loudest crowd roar ever recorded, as officially authenticated by Guinness World Records. The crowd that day collectively cheered their way up to an eardrum-shattering 142.2 decibels.
But not all stories about the growing Chief's dynasty are tied to their successes on the field. The Chiefs have endured a fair amount of failures over the years, which may have contributed to them being a stronger team. And this NFL team has certainly been forced to live with some tragic events that have forever changed the face of the team for the players as well as the fans who watch them every Sunday. Ranging from untimely deaths of active roster players to fans being killed outside of Arrowhead Stadium, these tragedies have given the Chiefs organization and their fans a lot to pray or meditate over.
The death of Mack Lee Hill
Mack Lee Hill played only two seasons for the Chiefs, beginning in 1964 (per Sportscasting). The rookie from Southern University wasn't picked in the NFL draft that year but signed a $300 non-guaranteed bonus with Kansas City. The running back wasted no time impressing his coaches in his first year. He carried the ball 105 times for a total of 576 yards, with a 5.49-yard average that was the highest in the AFL. He ran for four touchdowns, while also completing 19 passes with two receiving touchdowns. This led to his being selected for the 1964 AFL All-Star Game (per Fox Sports).
But then tragedy struck 13 games into his second season when he injured his knee during a game in Buffalo. In what should have been a very routine surgery, Hill experienced an embolism that sent his body temperature soaring to 108 degrees and sent him into convulsions. It's possible his body's reaction to anesthesia could have triggered the embolism. He died 90 minutes after the surgery.
The Chiefs organization never forgot Hill nor the impact he had on the team in the earliest years of its franchise. The team still celebrates him with their annual Mack Lee Hill Award which is given to the team's top rookie of each season (pictured: 2020 winner Clyde Edwards-Helaire). Hill's #36 that he wore as he marched down the field carrying the ball every game has also been retired, a tribute to a short but meaningful stint for his time with the Kansas City Chiefs.
Bruce McLenna died while serving in the National Guard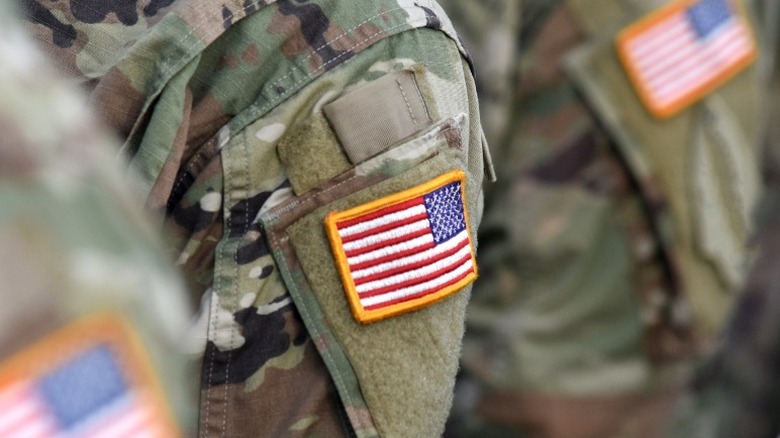 Bumble Dee/Shutterstock
Before the 1968 season even started, the Chiefs experienced the death of another running back with great career potential. Bruce McLenna became the first player to ever pass the 1,000-yard rushing mark in the history of Hillsdale College, running for 1,008 yards during the 1965 season (per Hillsdale Chargers). In 1966, McLenna was drafted by the Detroit Lions, playing in nine games for the team during 1966. He signed with the Kansas City Chiefs the following year, spending the entire season on the practice squad. But as the next season drew closer, McLenna was elevated to the second spot on the depth chart, ensuring that he would see a lot of time on the field for the Chiefs. 
Unfortunately, McLenna was never afforded the opportunity to suit up for a game with his new team. A member of the National Guard, he was killed just before the start of the season when the military vehicle he was traveling in went off the road and struck a ditch (via Sportscasting). The vehicle was en route to Camp Clark from Fort Leonard Wood when it lost control and crashed near Urbana, Missouri. 
McLenna was pronounced dead at the scene. An autopsy revealed that he had died from a broken neck sustained in the accident. 
A car crash during an ice storm took the life of Derrick Thomas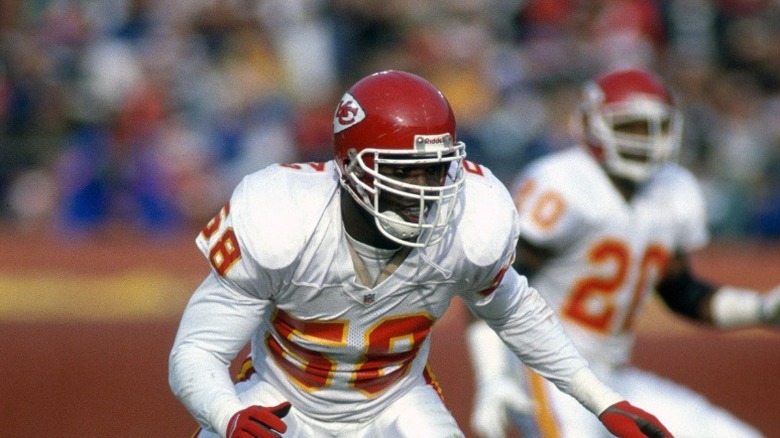 Focus On Sport/Getty Images
Tragedy struck the Chiefs again on January 23, 2000, when star linebacker Derrick Thomas was ejected from an SUV after losing control of it during an ice storm (per The Washington Post). Thomas was traveling with two friends to the Kansas City Airport on their way to see the NFC Championship Game in Saint Louis. Thomas and another passenger were both thrown from the vehicle, hospitalizing Thomas and killing his friend on the scene. Neither man was wearing their seatbelt. The third passenger, who was buckled in, survived the crash with only minor injuries. 
Thomas was admitted to a Kansas City hospital before being transferred to another one in Miami. According to the Greensboro News and Record, Thomas had been paralyzed in the accident and was wheelchair-bound when he suffered a heart attack and died on February 8, 2000. 
Thomas was a star on the Chiefs defense, making nine Pro Bowl appearances throughout his career. Drafted in 1989 out of the University of Alabama, Thomas remains the all-time sacks leader for the Chiefs with an astounding 126.5 (per The Football Database) and is listed by Pro Football Reference as number 25 all-time in the same category.
The Jovan Belcher incident helped officials rethink the impact of concussions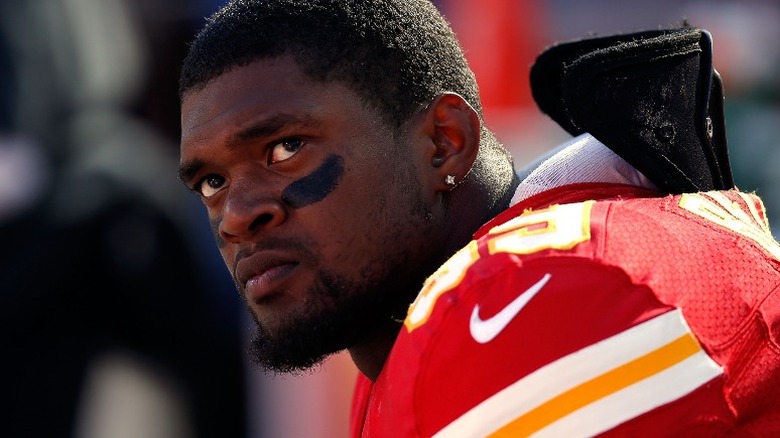 Jamie Squire/Getty Images
Not all tragedies involve automotive accidents, and the Chiefs Kingdom was rocked in 2012 by one of the most horrific incidents involving an active NFL player. On December 1, 2012, CBS reported that Jovan Belcher shot and killed his girlfriend Kasandra Perkins in the home that the two shared. Belcher's mother was in another room in the house at the time, caring for the couple's newborn child. Neither Belcher's mother nor the baby was physically harmed. Belcher then drove to the Chief's training facility, confronting then-general manager Scott Pioli and then-coach Romeo Crennel. Belcher presented a handgun and shot himself in the head in front of the two men.
A year after the murder-suicide, an autopsy revealed that Belcher suffered from chronic traumatic encephalopathy (CTE). CTE is a degenerative brain disease that is commonly found in athletes that experience frequent head trauma. This condition was found to be present during autopsies performed on fellow NFL stars Junior Seau and Dave Duerson, who both died by suicide. 
According to an article in The New Republic, while there is a correlation between CTE and a propensity to violent and uncontrollable behavior, doctors are quick to point out that there are often other factors involved that might influence this type of behavior.  
If you or anyone you know is having suicidal thoughts, please call the National Suicide Prevention Lifeline​ at​ 1-800-273-TALK (8255)​. If you or someone you know is dealing with domestic abuse, you can call the National Domestic Violence Hotline at 1−800−799−7233. You can also find more information, resources, and support on their website.
Joe Delaney drowns during an act of heroism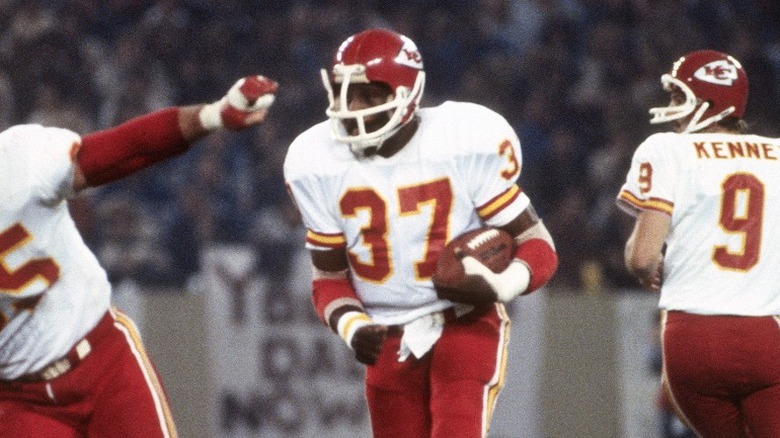 Focus On Sport/Getty Images
The Chiefs took a chance on Joe Delaney in the 1981 NFL draft, selecting the Northwestern University running back in the 41st overall pick that year. Sportscasting says that, though small in size and from a university not known for a strong athletics program at the time, Delaney was a star on the college field. He ran for over 3,000 yards and 31 touchdowns. In the backfield for the Chiefs in his rookie year, Delaney ran for 1,121 yards on 234 carries and made it into the end zone three times. While his second season was limited to only eight games due to a player's strike and eye surgery, Delaney nonetheless average nearly 50 rushing yards that season.
On June 29, 1983, Delaney was playing with friends in a park in Rustin, Louisiana, when they heard someone screaming for help. In a nearby pond, three boys had gone under and were feared to be drowning. Despite not knowing how to swim, Delaney rushed into the pond where he is believed to have saved the life of one boy. When he went back in to retrieve the other two, he never resurfaced (via Yahoo! Sports). The two other boys drowned with him.
Though talented and with a promising career ahead of him, Delaney sacrificed his life in an attempt to save others. President Ronald Reagan posthumously awarded Delaney with the Presidential Citizens Medal on July 13, 1983 (per Reagan Library).
Eric Berry was diagnosed with cancer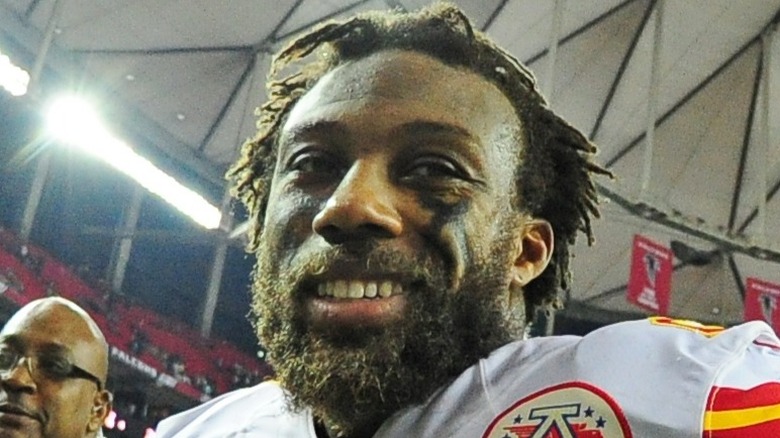 Scott Cunningham/Getty Images
In 2014, Eric Berry was entering his fifth season as a safety for the Chiefs, racking up defensive stats that would include 216 solo tackles and three interception touchdowns. Pro Football Reference lists Berry as a three-time Pro Bowl selection with one First Team All-Pro.
But Berry saw his career potentially come to an end in the middle of the 2014 season when he was diagnosed with Hodgkin's Disease, a form of cancer. News-Press reports that Berry had been through a battery of tests after a large mass was discovered on his chest. He began treatment immediately at Emory's Winship Cancer Institute. Many thought his time in the NFL was over.
Thankfully, a fully healed Berry returned at the beginning of the 2015 season and picked up where he left off. After a stellar season on the field that garnered him another Pro Bowl selection, Berry was named Comeback Player of the Year (via NBC). He played an additional three seasons for the Chiefs before injuries forced him to retire after the 2018 season.
Stone Johnson died from an injury sustained in practice
The defending AFC Champions were looking for the speedy Stone Johnson to give them more depth in the backfield. Johnson was an Olympic runner (pictured), coming in fifth in the 200 meters in the 1960 Olympic Games in Rome (per Baltimore Afro-American). Unfortunately, fate had other plans for Johnson when he was injured after kickoff in an exhibition game against the Houston Oilers. He was taken to the hospital in Wichita, Kansas, where he lay paralyzed in traction.
Johnson had defied the odds once before when he severely injured his back in high school and was told he'd never play again. That time, Johnson entered a successful physical rehabilitation program that led him to a full recovery and helped him along his way to becoming a track star and an NFL hopeful. 
This time, Stone Johnson never made it out of the hospital. After nine days in traction, Johnson succumbed to his injuries. He passed away on September 8, 1963. An autopsy revealed a broken neck and a blood clot on one of his lungs (via USA Today).
L'Jarius Sneed's brother was tragically murdered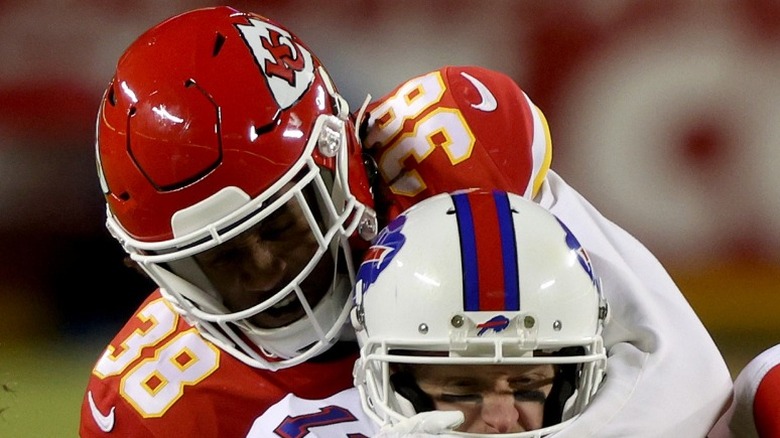 Jamie Squire/Getty Images
Week 14 of the 2021 NFL season saw Chiefs star cornerback L'Jarius Sneed leaving the team before a game with AFC West rivals Las Vegas Raiders to be with his family in Louisianna. Sneed has just received news that his older brother, T.Q. Harrison had been murdered in their hometown of Minden. Chiefs Wire reports that Harrison had been stabbed once in the back by a large kitchen knife. The injury also punctured Harrison's lung. Harrison drove himself to the hospital but crashed into a hospital wall. He was brought inside and then transferred to the Oschner-LSU Medical Hospital where he died during emergency surgery. 
Police arrested Angela Washington after Harrison's death and charged her with second-degree murder. 
Sneed returned to his team the following week, his defense helping them secure another top spot in the AFC West and another trip to the NFL playoffs.
Britt Reid severely injured a young girl in a car crash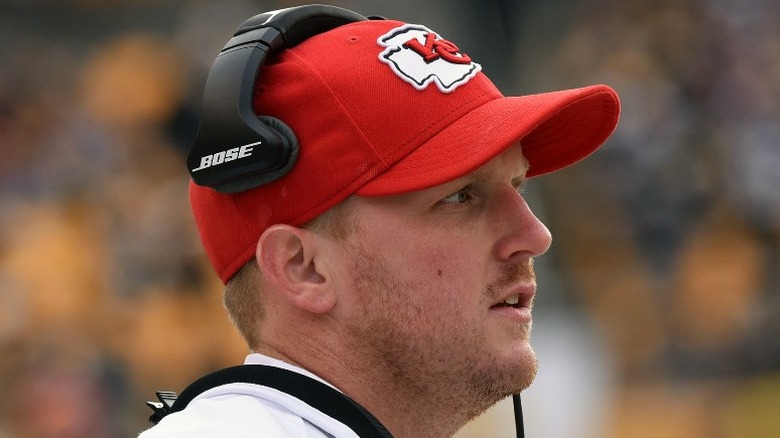 George Gojkovich/Getty Images
Days before Super Bowl LV in February 2021, Chiefs assistant coach Britt Reid was involved in a three-vehicle crash that injured two young girls. According to CNN, Reid was driving at a high rate of speed in his Dodge Ram when he struck two other vehicles that were at the side of the road. One of the vehicles had stalled earlier, and the driver had called a family member for assistance. Shortly after arriving to aid their family member, Reid's truck crashed into them. One of the children had moderate injuries and was soon released from a hospital. The second has not been as fortunate. Five-year-old Ariel Young suffered from "a severe traumatic brain injury, a parietal fracture, brain contusions, and subdural hematomas," according to the news source.
Reid had a blood alcohol concentration (BAC) of .113, well over the legal limit. He was charged with a Class D felony DUI and told to stand trial, where he faces a possible penalty of one to seven years in prison if convicted, per NBC News.
Young's family reports that she has permanent brain damage but is recovering slowly but surely. The Chiefs released a statement on November 21, 2021, that detailed an agreement with Young's family and attorneys, binding the team to provide Young with "world-class medical care and long-term financial stability for the rest of her life" (via CNN). 
A fan was killed in a hit and run incident at Arrowhead Stadium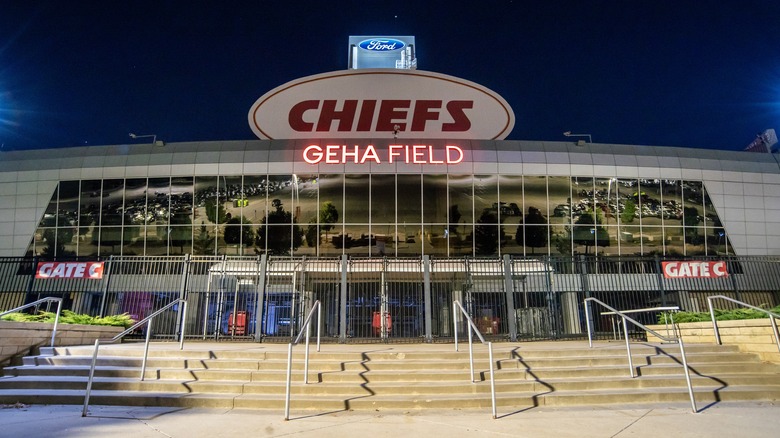 Paparacy/Shutterstock
Chiefs fans Steven and Laurie Hickle were leaving a game against the Buffalo Bills early on October 10, 2021. Walking out of the parking lot at Arrowhead Stadium, they began to travel over the Blue Ridge Cut-off in the pouring rain with other fans who were headed to their vehicles (per Wichita-Hutchinson Plus KWCH-DT). According to Steven's step-daughter Aubrey Filbert, her mother and Steven were season ticket holders and "top Chiefs fans." She told Kansas City news outlet KSHB that their pickup truck, parked in a nearby church parking lot during games, was bright red with the Chiefs logo on the side. 
While walking, Laurie states that Steven was hit by a truck, which drove away. He was then struck by two cars while on the ground, both of whom drove away without stopping. The 24-year Navy veteran was rushed to a nearby hospital where he died the following day. 
Despite pleas by Steven's family for information about who fatally struck him that evening, no one has ever come forward or been charged with a crime.
Another Chiefs fan was killed after a game in the Arrowhead parking lot
Kyle Van Winkle had been attending a Chiefs game in December 2013 when someone found him passed out in a Jeep Cherokee. Van Winkle had ridden to the game in a similar Jeep and might have mistaken someone else's car for his own when he got into the passenger seat (via Fox News). The owner of the Cherokee tried to wake Van Winkle but sent his son for help when he couldn't. 
Several people responded, including Joshua Bradley. An argument soon erupted between Van Winkle and Bradley, with Bradley initially choosing to walk away. But after Van Winkle said something, witnesses stated that Bradley reapproached Van Winkle and began hitting him. After knocking him to the ground, Bradley continued to hit and kick Van Winkle. Van Winkle died shortly after from what KSHB-41 reports was "blunt force trauma to the head and neck."
Bradley was charged with involuntary manslaughter and initially faced up to seven years in prison. But his attorneys reached an agreement with prosecutors that allowed Bradley to plead guilty in exchange for a suspended prison sentence and a five-year stint on probation. 
The deaths of Isiah Pacheco's siblings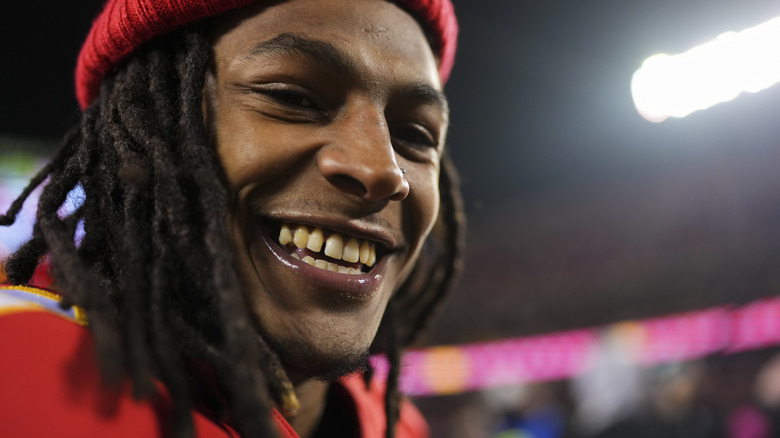 Cooper Neill/Getty Images
Isiah Pacheco kicked off his NFL career with Kansas City in 2022, but it had been a long road to get there. Along the way, he lost two of his siblings to tragic and violent deaths.
The first was his older brother, Travoise Cannon, who was stabbed and killed at his apartment in January 2016, reports NJ.com. Pacheco credited his brother for always being there for him. Then, on September 20, 2017, Pacheco's sister, Celeste Cannon, was discovered in her home. She had been killed by a single gunshot to the head, and when Donald Scurry Jr. was convicted of her murder and sentenced to 65 years in prison, NJ.com noted that it wasn't the first time he'd been charged with a murder. The first time, he had been acquitted.
Pacheco told NJ.com that he was trying to step up not only on the field but for the three children that his sister left behind. "My nephew, we're trying to introduce him to football, and he was out here in the stands and that brought a light to me." He added that for him, it's more than a game: "I play football for them. My family had a lot of ups and downs. ... it really hurt my mom deep inside. I'm the youngest one out of all my brothers and sisters and I just kind of bring that smile to my mom's face when I'm out here on this field ..."
Andy Reid lost his son to an overdose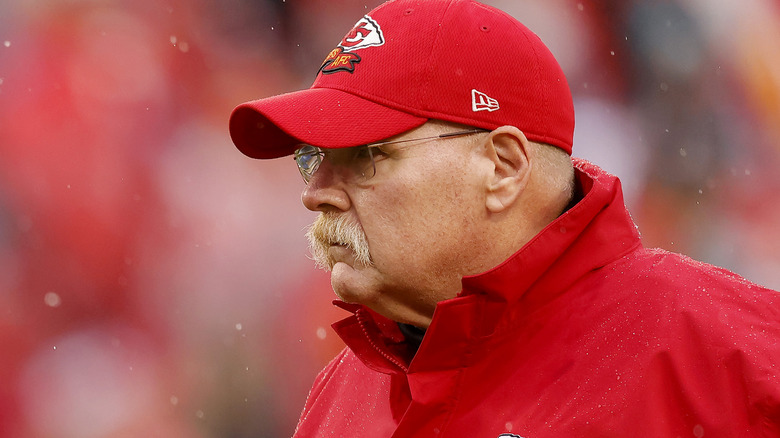 David Eulitt/Getty Images
The 2022 season kicked off Kansas City head coach Andy Reid's 10th year with the team, and it also marked 10 years since his son, Garrett Reid, was found dead in his Lehigh University dorm room.
According to District Attorney John Morganelli, Garrett's death was determined to be an accidental overdose of heroin, as per AP (via ESPN). At the time of his death, Andy was the coach of the Philadelphia Eagles, and his 29-year-old son had been working with the team's strength and conditioning coach during summer training camp at the university. His tragic passing came after what his family called a "battle that has been ongoing for the last eight years."
Five years prior began a stretch in and out of jail and rehab programs, after getting into a car accident while under the influence of heroin. Police not only found the drug in his possesion but also several hundred pills. He was given a two-year jail sentence. At the time of his sentencing, he had said, "I don't want to die doing drugs. I don't want to be that kid who was the son of the head coach of the Eagles, who was spoiled and on drugs and OD'd and just faded into oblivion." Unfortunately, as CBS News highlights, his troubles didn't end there, with smuggling charges coming on the heels of his initial sentence, followed by failing drug tests that added to his prison time. 
In the official statement made by the family after his death, they offered these words to other families dealing with addiction: "They will always have our support, encouragement, and understanding. Never give up!"
If you or anyone you know needs help with addiction issues, help is available. Visit the Substance Abuse and Mental Health Services Administration website or contact SAMHSA's National Helpline at 1-800-662-HELP (4357).
The murder-suicide involving Jim Tyrer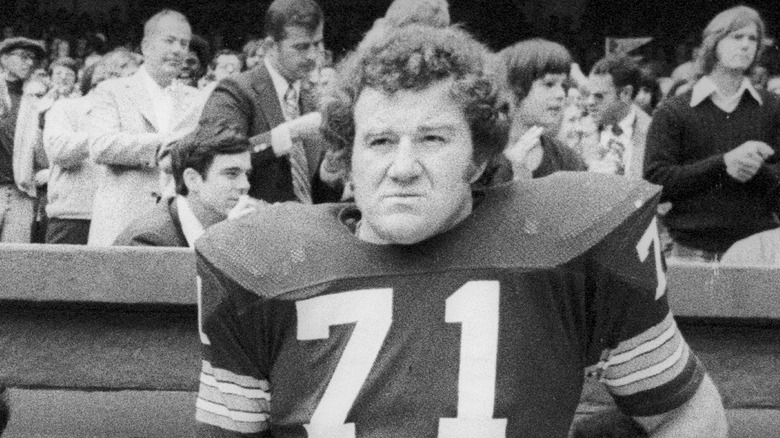 Ross Lewis/Getty Images
Jim Tyrer was the guy to beat during the years 1961 to 1973, anchoring his teams' offensive line at tackle (via The Washington Post). On September 15, 1980, he shot and killed first his wife, Martha Tyrer, and then himself. The oldest of their four children was away at college, while the other three were at home.
It's only in hindsight that Slate says his children know what probably happened, at least in part. At the time Jim was playing, offensive tackles used their heads to block — and he did, with those who faced off against him recalling that every time his helmet hit them, it was like getting hit by a truck. He was actually known for his massive head: Most helmets wouldn't fit him. His daughter, Tina Tyrer Moore, kept one of his helmets, modified so there was less than a half an inch of lining inside.
After his retirement, his friends and family spoke of depression, erratic behavior, and a series of business decisions that were not at all like the man they knew. Jim's children believe that their father had been suffering from chronic traumatic encephalopathy (CTE), and according to Jim's former teammate, writer, academic, and sports literature scholar Michael Oriard, Jim will never be given the ultimate honor: "If they put him in the Hall of Fame, the NFL will have to acknowledge how his life ended. And the NFL doesn't want to go there."