Here's How Stevie Wonder And Smokey Robinson Really Became Friends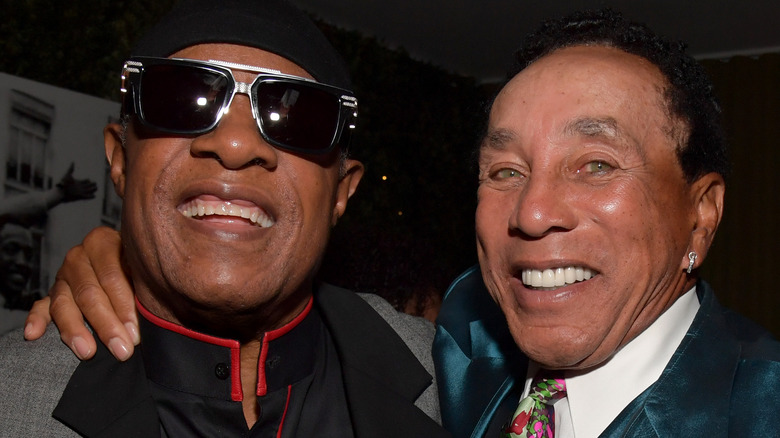 Lester Cohen/Getty Images
Stevie Wonder and Smokey Robinson are two of Motown Records' biggest stars, and they are also good friends. Berry Gordy Jr. founded the record label in 1958 — then known as Tamla Records — before it was renamed Motown Record Corporation in 1960. Smokey Robinson & the Miracles was one of the first musical acts to sign with Motown, and their song "Shop Around" was the record label's first song to land the No. 1 spot on the R&B singles chart (via Smokey Robinson). In the following years, the group released songs that proved to be just as successful.
Robinson also wrote songs for other artists on the label including Marvin Gaye and the Temptations. He was an integral part of Motown Records, and in 1962, he was made vice president of the company, as noted by the Detroit Historical Society. Just the year prior, an 11-year-old Steveland Morris auditioned at Motown and signed a contract with the label. He was later given the stage name Stevie Wonder. In an interview with VLAD TV, Robinson was asked about the first time he met Wonder. He asked the boy if he could sing, to which Wonder replied, "Yeah, I could sing better than you." Robinson said that he loves Wonder, and he was always a character. He also talked about performance battles that would go on between Wonder and Marvin Gaye, who was also signed with Motown Records. Robinson described Wonder as "a feisty little dude."
They worked on a song together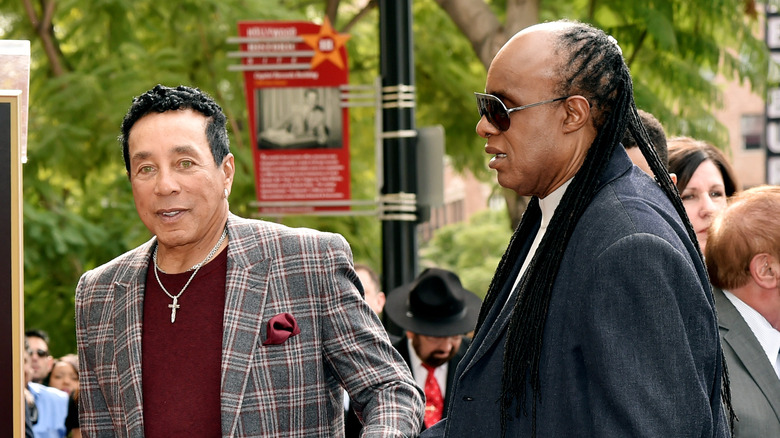 Kevin Winter/Getty Images
Smokey Robinson speaks highly of Stevie Wonder. As he said to VLAD TV, he always told other people that Wonder may be blind, but he was never handicapped. Wonder wasn't born blind, but his mother gave birth to him six weeks early, and he had to be incubated. Too much oxygen in the incubator caused him to have retinopathy of prematurity (ROP), which caused his blindness. However, as reported by Smooth Radio, that didn't stop him from pursuing his musical interests, and he learned how to play several instruments, such as the piano, harmonica, and drums, before the age of 10.
Wonder is also a songwriter, and together with producer Henry "Hank" Cosby, he wrote the track for the song "The Tears of a Clown," but the former couldn't pen the lyrics to go with it. He brought the recording at a Christmas party at Motown and played it for Robinson to get his help with the words. Robinson immediately thought of a circus when he heard the tune, and that's how he came up with the words to go with it. "I was trying to think of something that would be significant, that would touch people's hearts, but still be dealing with the circus," he said, per Society of Rock. The subject of the song is a clown, who after making everyone in the crowd happy cries alone, as he is sad. Smokey Robinson & the Miracles recorded the song and included it in their 1967 album "Make It Happen." The song was inducted into the Grammy Hall of Fame in 2002.
Stevie Wonder and Smokey Robinson are like brothers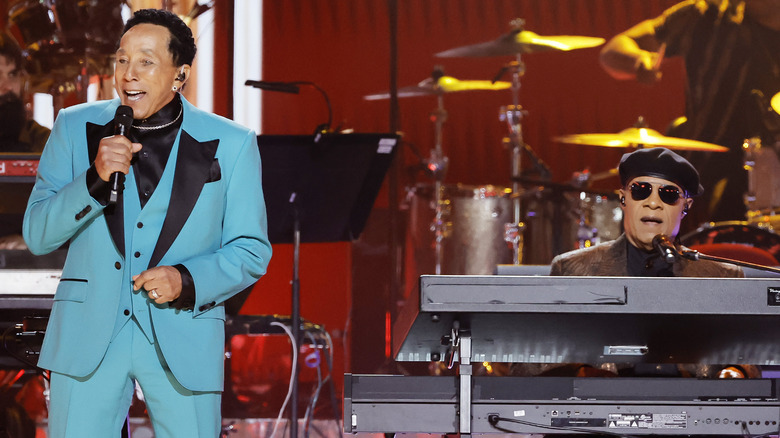 Kevin Winter/Getty Images
Smokey Robinson has fond memories of working with his dear friend, Stevie Wonder. He describes their relationship as being like brothers. "We'd be working together and Stevie would come up to me and whisper in my ear, 'Hey, Smoke, man, I'ma whoop your a**.' That's how we are with each other," Robinson said in an interview with AARP. He praised his friend on his ability to sing any kind of music genre. On February 3, 2023, the non-profit organization MusiCares honored Berry Gordy and Robinson as Persons of the Year. Among those who performed for the occasion were Dionne Warwick, Lionel Richie, Sheryl Crow, and John Legend, just to name a few. Stevie Wonder also made a surprise appearance, and he sang "I'll Try Something New" and "The Tears of a Clown," as reported by Variety.
At the 65th Grammy Awards held on February 5, 2023, Wonder and Robinson shared the stage for a special performance. The former started the set with the Temptations song "The Way You Do the Things You Do," and Robinson joined his friend on stage for "The Tears of a Clown." It was evident that the lifelong friends enjoyed performing together. When talking about Wonder, Robinson is all praise. As he told AARP, he sees his friend as an exceptionally talented individual and a good person. "He's my brother. We always have a great time," Robinson said.