The History Of The Kansas City Chiefs' Original Mascot, Warpaint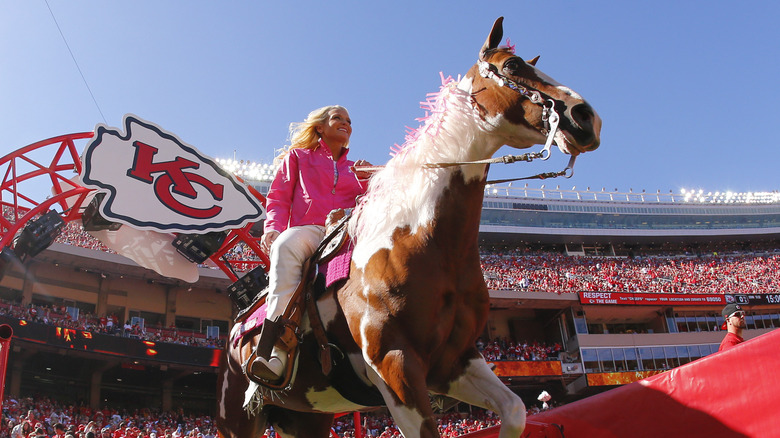 Kyle Rivas/Getty Images
The Kansas City Chiefs National Football League team has been around since 1960, although the franchise was originally based in Dallas and known as the Texans. The franchise moved to Kansas City in 1963 (via Britannica), and along with the new name came a new mascot in the form of a horse named Warpaint. Warpaint was a pinto horse, and the man who first rode him was Bob Johnson, who dressed in full Native American clothing, including a full headdress. Johnson would ride Warpaint onto the field to celebrate touchdowns, per WDAF-TV.  
Johnson rode Warpaint for 20 years, and he even rode Warpaint in the first Super Bowl, then known as the AFL-NFL World Championship Game, on January 15, 1966. Johnson said that Warpaint couldn't go to games in New Orleans because the stadium didn't have sidelines, but Johnson still went and sat on the bench with the team. He told WDAF-TV that he hasn't missed a Chiefs game in 57 years.
Warpaint was a celebrity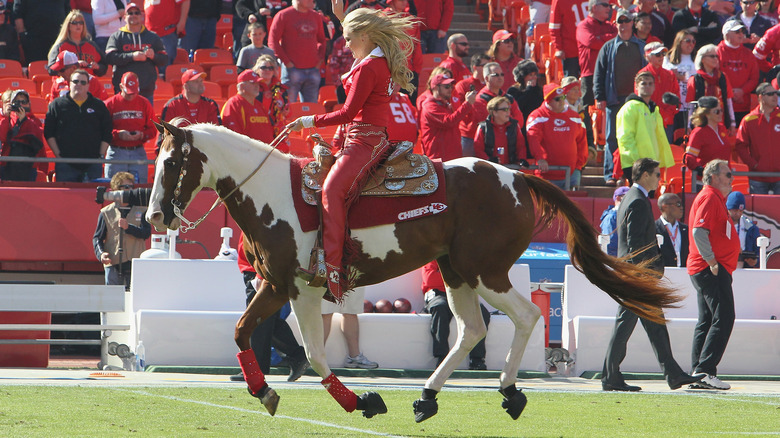 Al Pereira/Getty Images
Warpaint was a significant aspect of Chiefs' "Game Day" activities, including pregame parades, and many people loved seeing the horse take the field before games (via Chiefs). The Chiefs retired Warpaint in 1989, but she returned to Arrowhead Stadium in 2009 in honor of the National Football League's 50th anniversary with a few minor changes (via In Stride Edition).
Instead of a man dressed in Native American attire riding Warpaint, a cheerleader rode the horse. The event was a hit, and fans wanted more. "The fans had an overwhelming response to her and requested she remain a part of the home game day activities," Susie Derouchey, a Kansas City Chiefs Ambassador Cheerleader and Warpaint's rider told In Stride Edition. Warpaint went on to be a celebrity in her own right, visiting students at elementary schools and appearing in parades and rodeos, the Emporia Gazette reports.
Warpaint was retired in 2020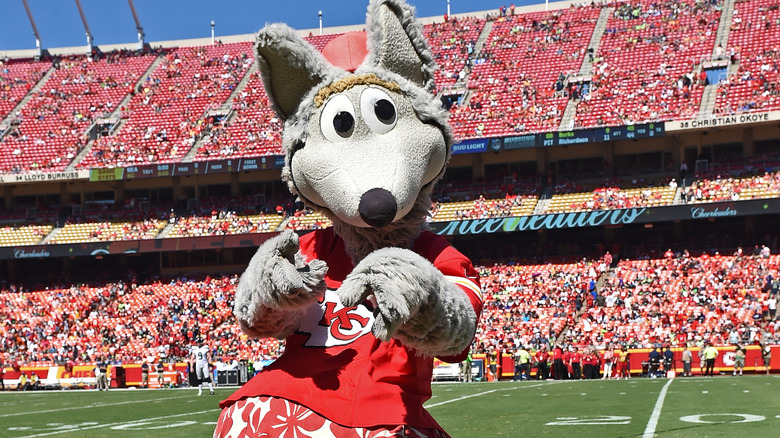 Peter G. Aiken/Getty Images
In 2020, the Chiefs released a statement, explaining that after conversations with the American Indian Community Working Group, they decided to retire Warpaint as the team's mascot in an attempt to remove offensive imagery and other forms of cultural appropriation. "We feel like it's time to retire Warpaint," team president Mark Donovan said, according to The Kansas City Star (via the New York Post). He added that there were "a lot of reasons" for the decision, but felt that it was ultimately the "right thing to do."
The chiefs replaced Warpaint with KC Wolf in 1989. KC Wolf is the only NFL mascot to be elected to the National Mascot Hall of Fame, according to Sporting News. Dan Meers is the man under the goofy wolf costume, and he is in high demand for his motivational speeches. He averages more than 150 speaking engagements every year across the United States, according to the Chiefs.