How The Philadelphia Eagles' Earle 'Greasy' Neale Got His Nickname
Earle "Greasy" Neale (above, 1922) coached the Philadelphia Eagles football team between 1941 and 1950 and in the words of columnist Ray Didinger writing for the Eagles' official website, "lifted the Eagles from a bumbling franchise on the verge of collapse to the best team in professional football." Didinger went on to note that Neale led the team to consecutive world championships in 1948 and 1949 and should be considered the greatest coach in the team's history when it comes to sheer accomplishment. Born November 5, 1891 in Parkersburg, West Virginia, Neale played baseball, football, and basketball in college and went on to have a career as a professional baseball player between 1916 and 1924, per Britannica. 
Neale started his coaching career in 1916 while still playing pro baseball and worked with a variety of college football teams, including Muskingum College, West Virginia Wesleyan, Marietta College, Washington and Jefferson College, the University of Virginia, West Virginia University and Yale University. He even played professionally himself before becoming a National Football League coach, joining the team in Irontown, Ohio that eventually became the Detroit Lions. According to the National Football Foundation, he was the first coach to be elected to both the College and Pro Football Halls of Fame. Greasy Neale's entry at the Pro Football Hall of Fame notes that he was a pioneer when it came to putting together his team's roster. He also studied films of the famous 1940 victory of the Chicago Bears over the Washington Redskins in the NFL Championship.
Greasy Neale made the Eagles champions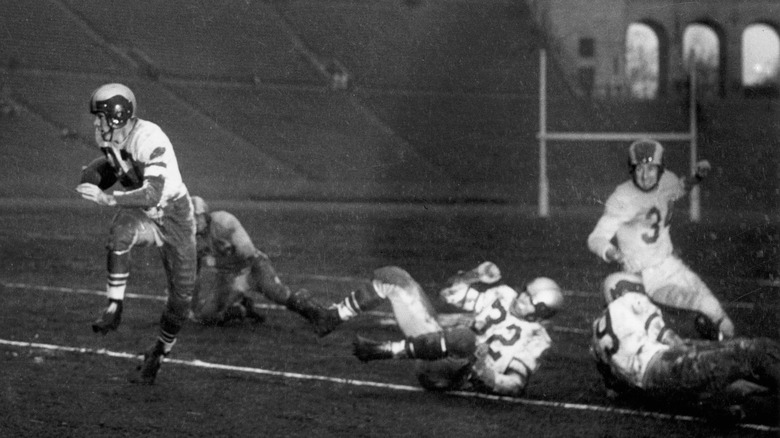 Vic Stein/Getty Images
Per History, the 1940 Chicago Bears' 73-0 win over the Washington Redskins remains the biggest margin of defeat in the history of the NFL. The Bears continued to be the champion team for the next two years, but Greasy Earle's Philadelphia Eagles were closing in, finishing in second place within three years and winning their first divisional title three years after that. According to the Pro Football Hall of Fame, after studying the Championship's game films, Earle utilized and, according to some, improved upon the Chicago Bears' T-formation. 
Studying game films was not the norm at the time. In a 1964 interview with Sports Illustrated, Earle told reporter Gerald Holland how he had run into a "newsreel man" at a restaurant and they got to talking, at which point he learned that they filmed the entire game in order to spotlight the highlights on screen later. Earle said he " almost choked on my rye whiskey — this was before I swore off — and I said after a minute, 'Would you by any chance have the entire footage of that Bears-Redskins game?' The fellow said, yes certainly he did." He bought it for $156 and spent several months watching it in Eagles owner Lee Thompson's apartment. "It was the T, adapted to our horses, that won us three divisional titles and our two NFL championships." He went on to create the Eagles Defense as well as the 4-3 Defense, which is still used today. 
Earle Neale had always been Greasy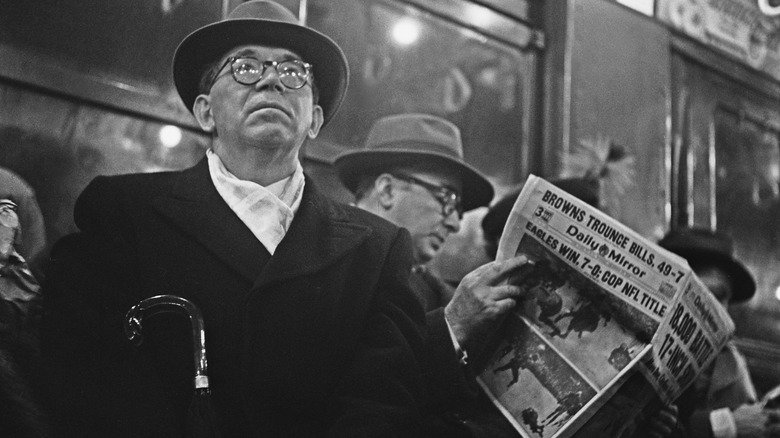 Michael Ochs Archives/Getty Images
Per the Society for American Baseball Research, Greasy Neale was dismissed as Eagles coach after the team's 6-6 record in 1950. Neale told the Miami Herald in 1969, "It came as a shock.We went 6-6, but we lost five games by a total of 18 points. I guess you have to have a championship team every year to satisfy them." 
At one point in the course of the Sports Illustrated interview, which took place at a cocktail party during the NFL's annual meeting, a man brought his son over to meet Greasy Neale. The boy asked Neale how he'd come to go by the name of "Greasy" and Neale was happy to tell the tale: "There was a boy I grew up with in Parkersburg, West Virginia, and he was a kind of Huckleberry Finn...He wasn't too particular about his appearance, and one day I called him 'Dirty Face' or 'Dirty Neck' or some such thing, and he got even by calling me 'Greasy,' because I had worked for a time as a grease boy in a rolling mill. The other kids picked it up, and it stayed with me for life. Of course, some sportswriters wrote that the nickname referred to my elusiveness as a ballcarrier in football and a base runner in baseball. But it was that boy back home who gave me the name." 
Neale died at a Lake Worth, Florida nursing home in 1973 at the age of 81 (via The New York Times).