The NBA Dallas Mavericks Game That Led To A Human Trafficking Case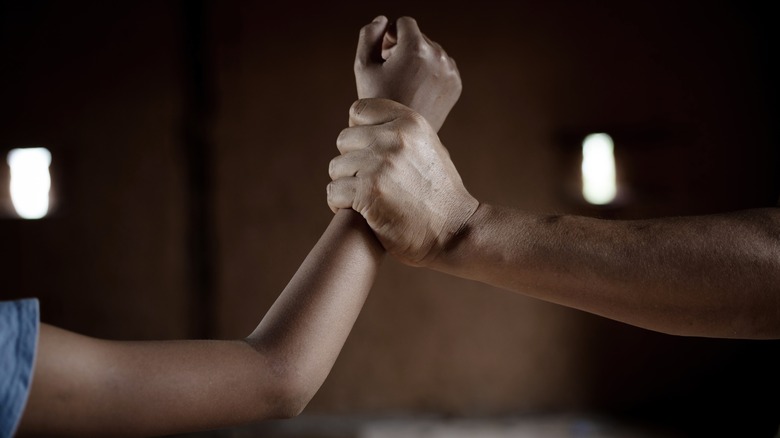 HTWE/Shutterstock
You may be compelled to think that human trafficking goes on behind the scenes, in dark corners of the world that you rarely cross. In fact, human trafficking goes on right in front of us, and you may have crossed paths with a victim of this insidious crime in your daily life. You may have unknowingly witnessed a human trafficking victim working at a restaurant where you dined, for example, or checking into the same hotel as you.
In 2022, as ESPN reports, an egregious example of human trafficking took place in front of thousands of people, after a man abducted a teenage girl at a Dallas Mavericks game and then sexually assaulted and trafficked her. Further still, while she was held in sexual captivity, her captors even advertised her on the internet using nude photos of the high school student. Fortunately, with the cooperation of authorities in both Texas and Oklahoma City, where she was being held, she was rescued and her captors were brought to justice.
Abducted At A Basketball Game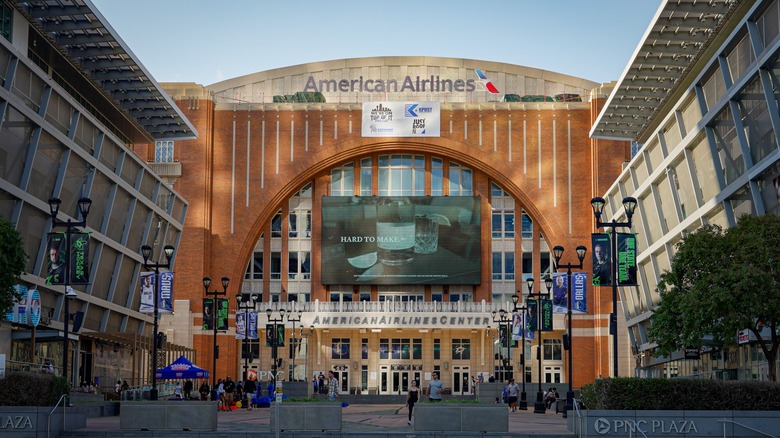 4kclips/Shutterstock
On April 8, 2022, according to ESPN, a 15-year-old girl and her stepfather went to a Dallas Mavericks game at American Airlines Arena. At some point during the game, she got up to use the restroom, leaving her phone, debit card, and ID at her seat. When she didn't return, her stepfather notified stadium security, who were unable to find her. Eventually, it was learned that she was seen leaving the arena and entering a parking garage.
According to WFIN, outside the arena, she came into contact with a man identified as Emanuel Jose Cartagena. He took her to an "unknown house" in Dallas, where he allegedly sexually assaulted her. There,  she and possibly other human trafficking victims were reportedly held in captivity and repeatedly sexually assaulted. The Dallas police were less than helpful, according to KFOR, considering hers a case of a teen runaway and refusing to investigate. Instead, the stepfather contacted the Texas Counter-Trafficking Initiative, which was able to find photos advertising the girl on prostitution websites. She was tracked to an Oklahoma City hotel and rescued.
"We are thankful for the work of the Oklahoma City Police Department and the recovery of our daughter. My heart breaks for the unimaginable things my daughter had to endure for the 11 days she was taken, and I am so glad she is safe as we work towards her recovery," said the girl's mother.
Captors Brought To Justice
After 10 days of sexual captivity, according to the New York Post, the unidentified teen girl who had been abducted from a basketball game was rescued. It would turn out that there were far more people allegedly involved in this crime besides just her alleged captor. Specifically, eight others were charged in May of 2022 with offenses including rape, distributing child pornography, and others, according to Fox News. Cartagena was the last to be charged, only being found and arrested in January 2023. Sarah Hayes and Kenneth Nelson, pictured, were part of the ring, both convicted on various charges including human trafficking, per the Oklahoma Department of Corrections.  
In addition to the shortcomings of the Dallas police, the girl's family has concerns about the way her sexual slavery was handled by the hotel where she was held captive. Specifically, the Extended Stay America hotel allegedly allowed a registered sex offender to rent a room, using a fake name and fake ID. However, the hotel claims that its employees, when they became aware of human trafficking going on in their midst, reported the incident and cooperated with authorities. "As soon as the local hotel staff was made aware of this crime, they assisted local law enforcement on this investigation and will continue to do so," reads a statement from the company.
The Department of Homeland Security provides resources to help individuals in the hospitality industry recognize signs of human trafficking. Signs to look for include guests who appear malnourished or injured, or who are dressed inappropriately for their age, among other signs.