Tom Brady And Drew Bledsoe's Complicated Relationship Explained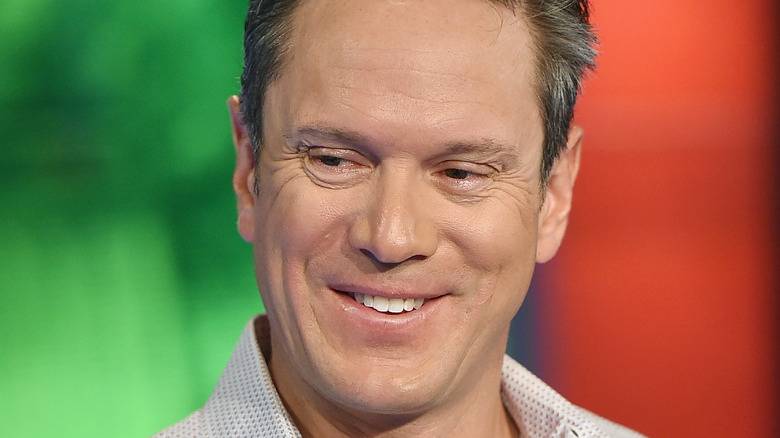 Mike Coppola/Getty Images
In sports, as in life, the pinnacle of success can sometimes be followed by a swift change of fortunes. Case in point: Drew Bledsoe (pictured), the former quarterback for the New England Patriots. Out of Washington State University, Bledsoe went No. 1 in the 1993 NFL draft, picked by New England (via Patriots.com). From there, Bledsoe, with a bright future in the league, was the Patriots' starting QB until 2001 when the Cougars alum lost his job to a certain someone named Tom Brady — ever heard of him?
With Brady under center, the Patriots won six Super Bowl championships, and as a result, Brady is now widely considered the greatest quarterback to have played the game. As of the 2022-23 NFL season, Brady started for Tampa Bay, where in 2021 he added one more Super Bowl win to his legacy. Where, though, does that leave Bledsoe? Appearing on the sports talk show "The Herd with Colin Cowherd," (posted on Youtube), in 2022, Bledsoe looked back on his NFL career, while he also shared his thoughts on the fact that whenever his own name is now mentioned, it seems to inevitably bring up No. 12.
Bledsoe lost his job to Brady after an injury
Arturo Holmes/Shutterstock
As Patriots.com writes, while behind center for New England, Drew Bledsoe brought the Patriots back to the playoffs after a lengthy drought, and he took the team to the Super Bowl in 1997, but lost to Green Bay (per Pro-Football-Reference). In his nine seasons as starter, the four-time Pro-Bowler also set a number of team records, including most passing attempts, completions, and yards (per Patriots Hall of Fame). That all changed when Bledsoe injured his chest in the second game of the 2001 NFL season. To be fair, that injury could have killed him, according to Sports Illustrated.
After leaving New England, Bledsoe played for the Buffalo Bills, where he continued to put up strong numbers. but he left when he learned he'd be benched once again for J.P. Losman. Bledsoe then went to the Dallas Cowboys, where he again lost his starter position to Tony Romo. Bledsoe retired in 2007. Does Bledsoe blame Brady for his mixed success after leaving New England? "I don't spend a lot of time thinking about that stuff, and I love Tom to this day," Bledsoe told sports talk show host Colin Cowherd (via Fox Sports). When it comes to discussing his own career in the league, though, there is one thing Bledsoe would like to change about the conversation.
Bledsoe is more than just the guy Brady replaced
Though he never started a Super Bowl, Drew Bledsoe was with the Patriots at Super Bowl XXXVI in 2001, where, led by Tom Brady, the Patriots beat the Los Angeles Rams, then based in St. Louis. In the AFC championship game that year, Bledsoe stepped in for an injured Brady and helped lead his team to a victory over Pittsburgh (via Patriots.com). One might think that would earn Bledsoe his starting position back, but when it came time for the Super Bowl, that was not the case: Brady took the opening snap.
In an interview with Colin Cowherd on his sports talk show, "The Herd with Colin Cowherd" (pictured above), Bledsoe explained that all things considered, he can't complain about the success he had in his NFL playing career, and pointed out that as far as the most passing yards in the league, his stats only rank behind big names like Dan Marino, John Elway, Brett Favre, and few others. "It's a pretty good list to be on," Bledsoe said (via Fox Sports).
Still, Bledsoe added, "The only thing that does kind of bother me sometimes though, and this is just being totally honest, I feel like my career has kinda been treated like a footnote — you know like it's just a footnote to Tom's career." Nevertheless, Bledsoe said, "... [I]t was a nice career, and that's the only part that, if I ever think about it, bugs me."