Lily Dale: The Spiritualist Hotspot Of New York State
In 1848, sisters Maggie and Kate Fox from Hydesville, New York, propelled a movement now known as spiritualism. According to The Guardian, as children, the girls claimed they could communicate with the dead via "rapping" or taps on walls and tables. The Fox sisters quickly rose to prominence, and spiritualism spread like wildfire. But what exactly is this practice? The BBC notes that spiritualism is an amalgamation of science, religion, and entertainment. But at its core, spiritualism denotes the belief in an afterlife and that certain individuals hold the ability to communicate with the dead.
As a result of this movement, CNN reports that various spiritualist communities popped up in the state of New York. This includes Lily Dale. Founded in 1879, The New York Times describes Lily Dale as a quaint small town straight out of a fairy tale. However, Smithsonian Magazine writes that Lily Dale's origins lie in the summer of 1871. That's when spiritualists began to gather in the area to discuss their beliefs openly. They built houses and other buildings, and Lily Dale was born.
Although the Fox sisters (pictured) later admitted that they were not mediums and had made everything up, it was too late; the spiritualism craze lived on (via History). In fact, New York Heritage states that Lily Dale continues to thank the Fox sisters for their role in the community's establishment.
Lily Dale comes to life in the summertime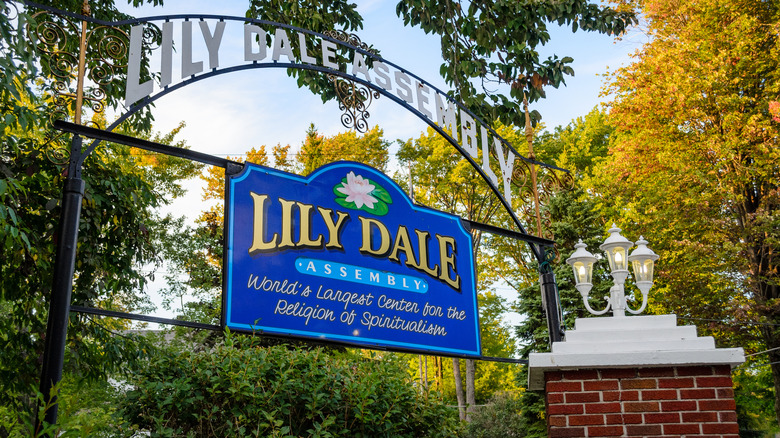 Zack Frank/Shutterstock
Literary Hub reports that Lily Dale is close to Buffalo, New York, and next to Cassadaga Lake. Smithsonian Magazine writes that its surrounded by greenery and victorian homes. A 2018 article from The New York Times notes that Lily Dale was at the time home to 52 mediums that have passed rigorous tests given to them by the Lily Dale Assembly, the regions governing body which includes several members who practice spiritualism. Atlas Obscura adds that all of Lily Dale's residents are spiritualists. Moreover, homeowners can only rent or sell their properties to other spiritualists.
Per The Guardian, this makes Lily Dale the largest spiritualist community in the world. Although anyone can visit year-round, Lily Dale is best known for their summer offerings (via the Lily Dale Assembly). According to Smithsonian Magazine, summer visitors must pay an entrance fee. Atlas Obscura notes that the summer season runs from June to September and brings in an estimated 30,000 people.
Once inside, believers and nonbelievers can expect a flurry of meetings and demonstrations regarding mediumship and more (per Smithsonian Magzine). However, visitors primarily visit Lily Dale for a session with a medium, which The New York Times states can cost about $80 to $100 for a half-hour reading. Simply put, Lily Dale is where people hope to commune with the dead for guidance, healing, and more. 
Spiritualism endures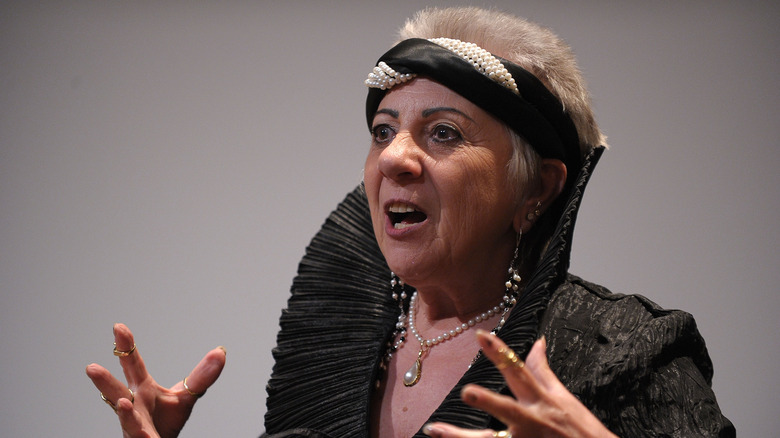 Michael Loccisano/Getty Images
Although Spiritualism flourished in the 1800s, Insider reports that the movement continues to thrive today. In fact, the publication notes that psychic professionals will earn a total of $2.3 billion by 2023. This is primarily due to a resurgence of Spiritualism in the media. Lynne Forget, a medium at Lily Dale, said, "At one time Lily Dale was pretty unique because this type of thing was seen as not a normal thing to do. It's everywhere now." Another Lily Dale Medium, Gerta Lestock (pictured above), proclaimed to The New York Times that Spiritualism has grown because it reassures people about death.
She said (via The New York Times), "What makes us different from other religions, is that we bring evidence that life continues." As for Lily Dale itself, photographer Shannon Taggart, who considers Lily Dale her muse, explained to CNN that the community has more to offer than communication with the dearly departed. She notes that Lily Dale feels like a time capsule and a living part of history. In 2001, Visitor Jackie Laird told ABC News that she and others came to Lily Dale for "inner peace." If a visit to Lily Dale isn't in the cards, Atlas Obscura notes that Lily Dale's mediums now offer readings over Zoom.