Queen Elizabeth II's Deep Affection For Cows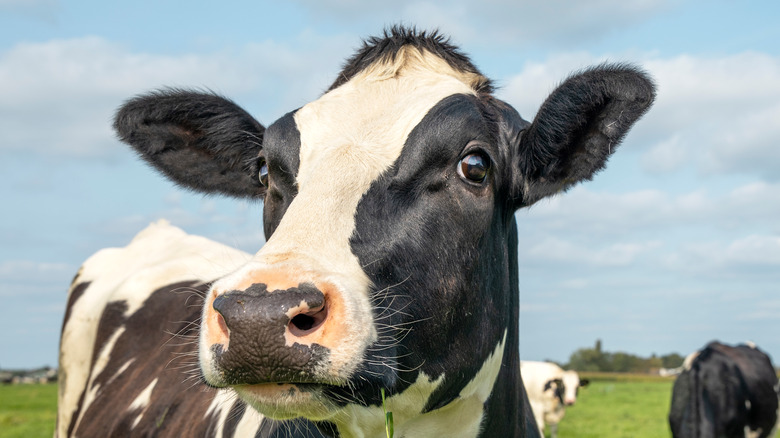 Clara Bastian/Shutterstock
As most followers of the British royal family are well aware, the late Queen Elizabeth II of England loved horseback riding and her corgi dogs. Fewer may realize, though, that the late monarch also had a special place in her heart for an arguably much less glamorous animal: cows, according to Country Living. This isn't such a surprise. After all, the queen, who died in 2022 at the age of 96, raised pigs and other farm animals, per Livestock Conservancy. As part of her traditional role as queen of England, she could even lay claim to all the swans in Great Britain, based The New York Times reporting.
Clearly, the longest reigning female monarch was a nature lover and an advocate for conservation, never more so than when it came to her beloved cows. That was especially true of the herd of 200 Jersey cows she owned, descended from cows gifted to Queen Victoria, Elizabeth's great-great grandmother, per The Bullvine. Several instances in particular from throughout Elizabeth's life highlight this aspect of her personality. Two examples relate to the queen's deep affection for her bovine friends, in particular.
Cows paraded at Queen Elizabeth II's 90th birthday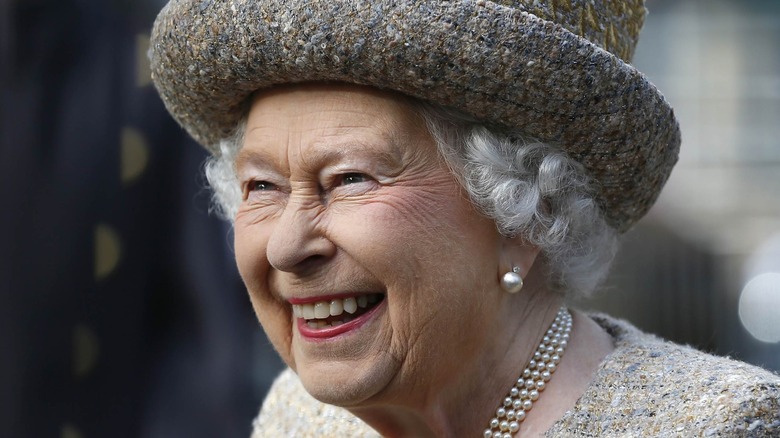 Wpa Pool/Getty Images
Queen Elizabeth's enthusiasm for cows came to the fore at her 90th birthday celebration. At that time, the queen, alongside her husband Prince Philip, who died in 2021, were treated to a viewing of Jersey and Red Sussex cows. During the ceremony, Elizabeth was captured on camera (the footage is posted on Youtube) excitedly pointing and mouthing the word "cows!" to her husband. The sheer joy she felt from simply seeing the cows delighted her fans and followers.
As the Mirror reports, Elizabeth owned more than just Jersey cows, descended from Queen Victoria's Pretty Polly bloodline. At her Windsor estate, she had the world's biggest herd of Sussex cows. Those Jerseys took home the world championship on more than one occasion, according to Farmers Guardian. On the topic of the queen's love for cows,  one-time president and member of the Sowden Jersey breed society, Malcolm Huxtable, said (via FG), "It is probably one of the greatest privileges we have ever had to have the continued support of Her Majesty The Queen as our breed's patron."
Her royal highness treated her cows likely royalty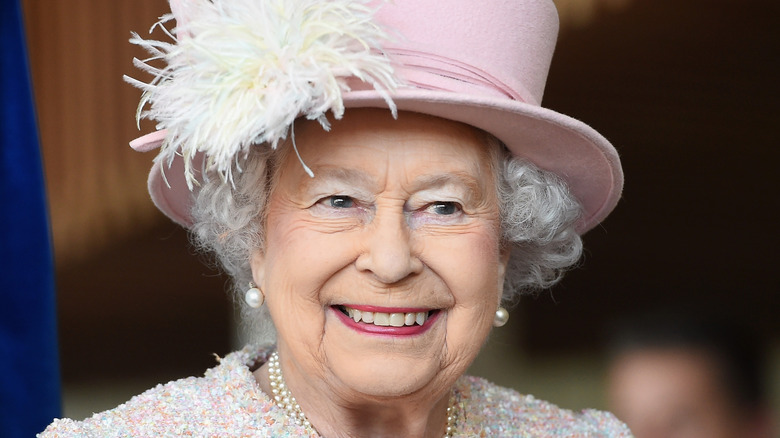 Stuart C. Wilson/Getty Images
Also notable in regard to the late British monarch's love for cows, on the 60th anniversary of the queen's coronation, or her diamond jubilee, the British TV show Countryfile devoted a series of episodes to her and the royal family. In those episodes, it was revealed her herd of Sussex cows slept on waterbeds. Reportedly, these accommodations were for more than just comfort. For of these heavy animals, water-filled mattresses also help protect knees, udders, and other body parts from undue stress and strain, according to Country Living. As Modern Farmer notes, that helps improve milk production.
Speaking with Farmers Guardian, Malcolm Huxtable of the Sowden Jersey breed society said, "I have such amazing memories of meeting The Queen at agricultural shows, like Devon County Show and The Royal Show. Her knowledge of the Jersey breed and of her own Windsor herd is immense and on every occasion of our meeting, we would discuss if we shared bloodlines in our respective herds. It was a true honour." According to Livestock Conservancy, the late queen of England's advocacy also helped bring the rare English cattle breed, Red Poll, back from the brink of extinction.