The Stunning Number Of Corgis The Queen Has Owned In Her Life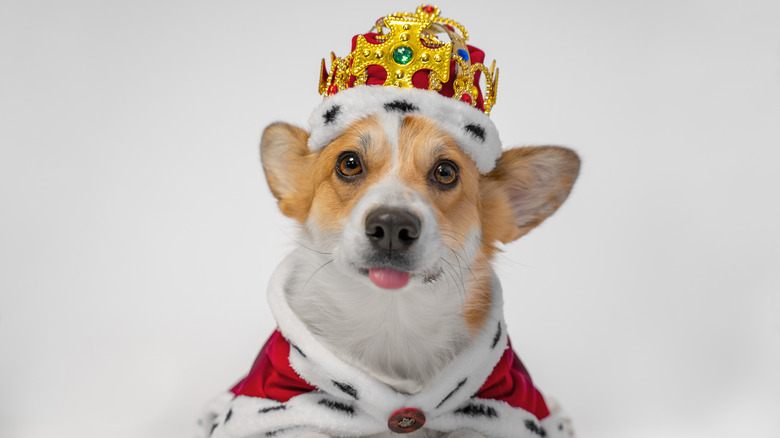 Shutterstock
While dogs might be man's best friend, it is Pembroke Welsh Corgis that became Queen Elizabeth II's pet of choice. The love affair began on her 18th birthday when she received Susan, formally registered as "Hickathrift Pippa," as a gift. The two became such a pair that Queen Elizabeth took the dog on her honeymoon, according to the American Kennel Club.
Corgis were part of the Queen's childhood. Her family first got a corgi named Dookie in 1933 from famed breeder Thelma Gray, and then received Jane a few years later, reported Marie Claire magazine. Susan wasn't just a furry friend of Queen Elizabeth, though. She was the linchpin of her royal breeding program.
The kennel registered under the affix of Windsor, and housed at that castle, lasted for many years and bred 14 generations of Susan's progeny, according to Reader's Digest. The dogs lived the luxurious lifestyle of royal pets, sleeping in their own room and eating gourmet food by a personal chef. The corgis not only kept the Queen company, reported Vanity Fair, but lent warmth to her image. Numerous photos of her walking her pets exist, and various gift shops sell stuffed royal corgis.
The Queen stopped breeding corgis after her mother's death in 2002 when she realized that she didn't want to leave any young dogs behind, according to the Telegraph. Willow, the last of Susan's descendants, died in April 2018, and Whisper, the Queen's remaining corgi, passed away six months afterward.
Numerous beloved pets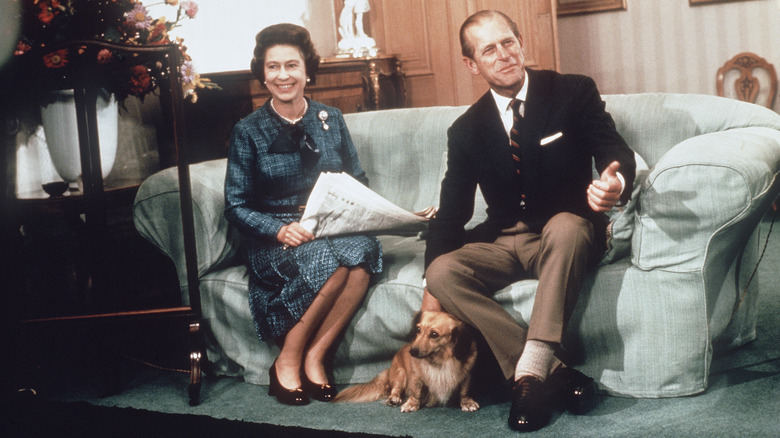 Anwar Hussein/Getty Images
The Queen has owned more than 30 corgis throughout her life, but also has owned a few dorgis, a mix of a dachshund and a corgi. Vulcan, according to People magazine, died during the pandemic at Windsor Castle, leaving her with just one pet, another dorgi named Candy.
Queen Elizabeth adopted two puppies in March 2021 reported The Sun, which quoted a palace insider saying, "The Queen is delighted. It's unthinkable that the Queen wouldn't have any corgis. It's like the Tower of London not having any ravens."
The Queen dubbed her new pets Fergus and Muick, another Sun article revealed. The first one honors her war hero uncle, Fergus Bowes-Lyon, who died at 26 during the Battle of Loos in France during World War I, and the second pup's name comes from a spot the Queen adores on her Balmoral estate in Scotland, Loch Muick.
Like his namesake, Fergus, unfortunately, passed away too soon — just a month after Prince Philip's funeral, reported Town and Country magazine. Buckingham Palace had no comment about the cause of death. "The entire situation is very tragic," said an unnamed source to Us Magazine. "The queen is absolutely devastated by Fergus' passing."