The Teams That LeBron James Has Scored The Most Points Against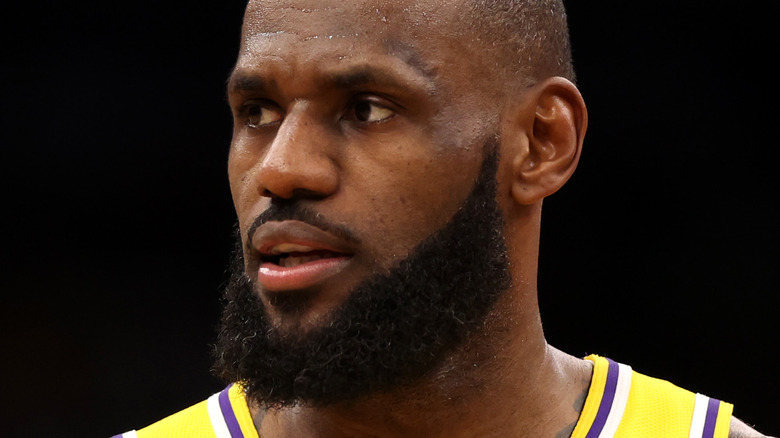 Maddie Meyer/Getty Images
On February 8, 2023, Los Angeles Lakers forward LeBron James rewrote the NBA's history books when he scored 38 points against the Oklahoma City Thunder and broke Kareem Abdul-Jabbar's nearly four-decade-old record to become the NBA's all-time leading scorer with 38,390 points. Although it was a bittersweet moment of sorts at the end as the Lakers lost to the Thunder, 133-130, it was an emotional milestone for James, who had indeed come a long way from the time he entered the NBA in 2003 with lots of hype and expectations as a future legend before he even played a minute of professional basketball.
"Everything just stopped," James said after the game, as quoted by ESPN. "It gave me an opportunity to embrace it and look around and seeing my family, the fans, my friends. It was pretty cool. I probably can count on my hands how many times I have cried in 20 years, either in happiness or in defeat. So that moment was one of them when I kind of teared up a little bit. It was 'I can't believe what's going on' tears."
Now that the dust has settled, with the possibility of 40,000 career points definitely on the horizon, some of you may be wondering which teams allowed James to score the most points across his career, both in terms of total points and points per game. The folks at NBC Sports did all the number-crunching, and a few teams stand out for letting "King James" score a (relative) ton of points compared to others.
LeBron has scored the most total points against the Bucks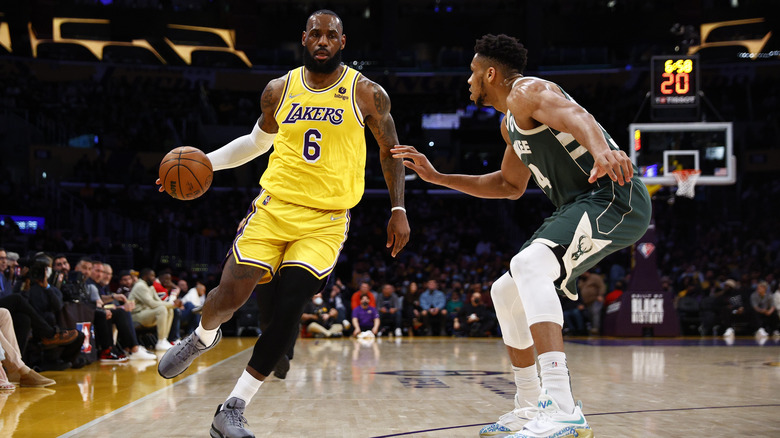 Ronald Martinez/Getty Images
It would seem that the King doesn't exactly "fear the deer," as LeBron James has scored a total of 1,751 points in 61 games so far against the Milwaukee Bucks, according to NBC Sports. That's only about 4.5% of the 38,390 career points that James has scored as of this writing, but the stats indeed show that LeBron has often had the Bucks' number. Right behind Milwaukee are three other Eastern Conference teams — the Indiana Pacers (1,743 points in 64 games), Chicago Bulls (1,707 points in 60 games), and the Atlanta Hawks (1,706 points in 62 games). 
That said, it will be interesting to see if James keeps scoring big against Milwaukee as his career continues. The Bucks currently have five-time All-Defensive selection, two-time MVP, and one-time Defensive Player of the Year Giannis Antetokounmpo as their top player, and he's got a good four inches on the 6-foot-8-inch James, as well as the ability to play and defend multiple positions. Milwaukee also boasts a four-time All-Defensive First or Second Team member in Jrue Holiday, and although he mainly plays both guard positions, he's not the type to let a height disadvantage prevent him from shutting down a high-scoring forward like LeBron.
He's scored the most points per game vs. Boston, but one of his former teams isn't far behind...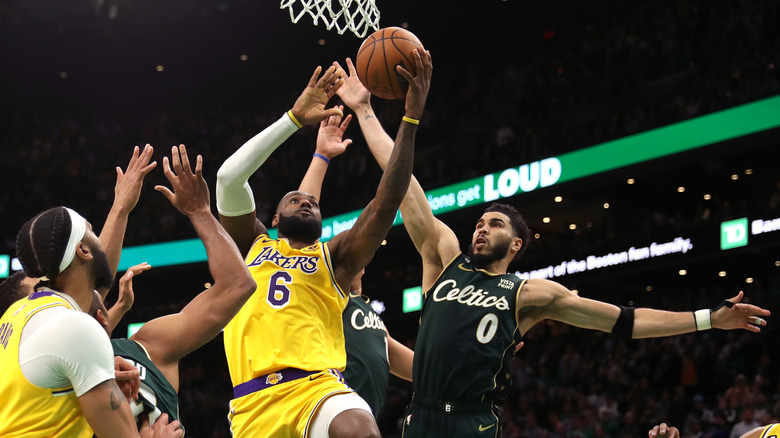 Maddie Meyer/Getty Images
Aside from ranking each of the NBA's 30 teams in terms of how many total points they allowed LeBron James to score in his 20 NBA seasons so far, the NBC Sports article also listed the number of points per game each team has allowed the Los Angeles Lakers superstar to score. The Boston Celtics are leading the way at the time of writing, as James has scored 1,644 points against them in 57 games, good for an average of 29.1 points. This would have been more noteworthy had the Lakers and Celtics had a chance to revive their age-old rivalry during the still-ongoing LeBron era in Los Angeles, but what's arguably more fascinating is who's ranked second behind Boston in points per game allowed.
Yes, it's the Cleveland Cavaliers — the same team that drafted James way back in 2003 and won their first-ever championship during his second stint with the organization — who have allowed LeBron to score more points per game than any other team. Although James has played just 20 games against Cleveland in 20 years (largely on account of the fact he played 11 seasons for the Cavs across both stints), he scored an impressive 580 points against them, which equates to an average of exactly 29 per contest. Based on that stat (and his 28-ppg career average vs. his other former team, the Miami Heat), it does seem like James is the type of player who oftentimes comes up big against his former employer.