Here's What You Need To Know About Giannis Antetokounmpo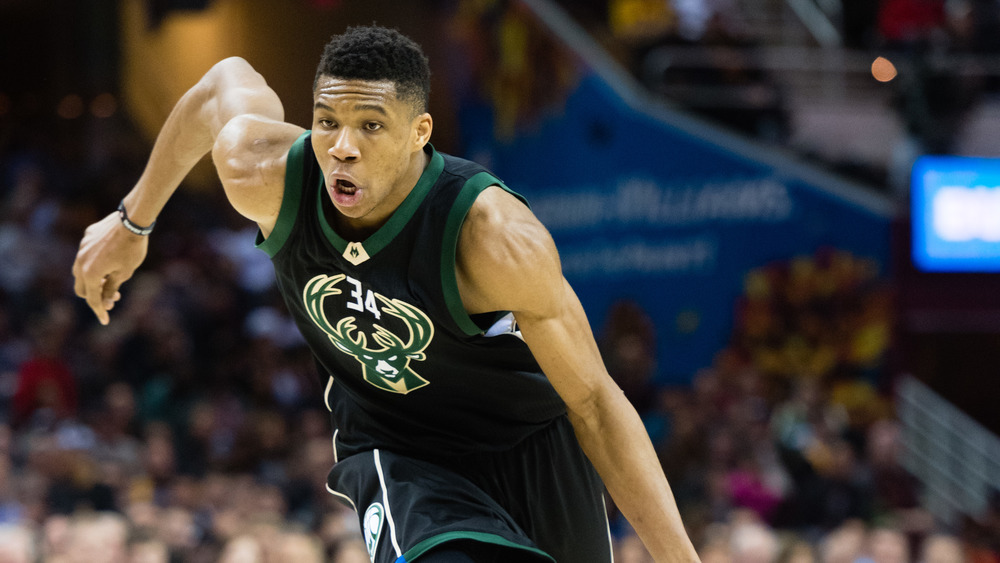 Jason Miller/Getty Images
Basketball player Giannis Antetokounmpo, who was named Most Valuable Player twice, just signed a record $228 million deal to play for the Milwaukee Bucks for five more years, per ESPN. The contract cements the nearly 7-foot tall Antetokounmpo as one of the most sought after players in the NBA. But life has not always been kind to Antetokounmpo, and it wasn't until his skill on the court attracted scouts that he was able to help his family.
Antetokounmpo was born in Greece to Nigerian parents in 1994. Though he was born in Greece, went to school in the country, and speaks Greek fluently, Antetokounmpo didn't become a Greek citizen until 2013, when he was 18, reported The New York Times. His parents had come to the country without papers, in search of a better life.
He and his older brother, Thanasis, also an NBA hopeful, often pitched in to help their parents. Antetokounmpo told the BBC the brothers sold handbags, watches, DVDs, and key chains on the streets of Athens to help make ends meet. Their parents, by virtue of their immigration status and without papers, were unable to find jobs, so they did odd jobs or often babysat. 
Since he was born in Greece, Antetokounmpo didn't have Nigerian citizenship, but he was able to get a Nigerian passport in 2015. When he became a Greek citizen, the family changed their surname from Adetokunbo to Antetokounmpo, to follow Greek spelling standards.
All-Star dreams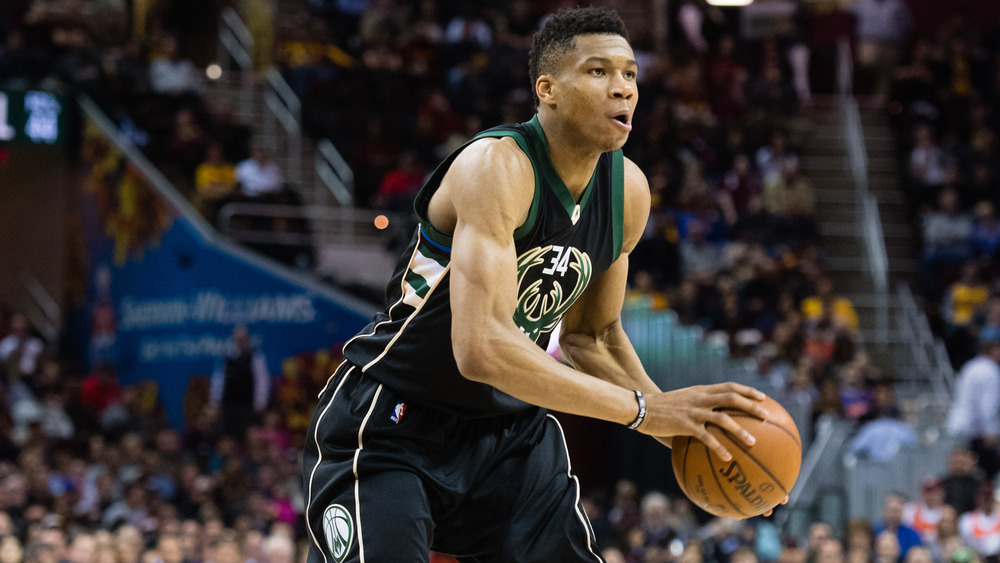 Jason Miller/Getty Images
Antetokounmpo dreamed of becoming an athlete, even as a child. His father was a former football player, something that Giannis inherited. A coach who saw Antetokounmpo and his brothers chasing each other in an Athens neighborhood persuaded him to try his hand at basketball. He was 12.
He started playing for Filathlitkos, which the BBC said was in the third tier of Greek basketball. Desperate for younger players and to keep the talented Antetokounmpo brothers, the team started supporting the family, including finding jobs for their parents.
In 2013, NBA scouts recruited Antetokounmpo, and the Milwaukee Bucks snapped him up as their 15th draft pick that year. By 2014, he became the league's most improved player. And in 2018, he was named MVP. For the 2019-2020 season, Antetokounmpo became just the third player to win both MVP and defensive player of the year, following Michael Jordan and Hakeem Olajuwon, wrote ESPN. He picked up a nickname: The Greek Freak.
Antetokounmpo's father died in 2017, so Giannis moved his family to Milwaukee. His older brother, Thanasis, made his NBA debut with the New York Knicks in 2014, but now plays with the Bucks. Their younger brother, Kostas, won the NBA championship with the Los Angeles Lakers this season. Their two other brothers are also athletes, playing basketball and football.
What a long way to go — from selling watches in the streets to a $228 million contract.