Why The Detective Who Arrested Jodi Arias Called Her Case A Travesty
In June 2008, salesman Travis Alexander was found dead in his Mesa, Arizona home (via ABC News). Per A&E, the 30-year-old suffered at least 27 stab wounds, had been shot in the head, and had his throat slit. Detectives quickly turned their attention to Jodi Arias, Alexander's ex-girlfriend. The two met in 2006 and had a turbulent but passionate relationship. Although Alexander was Mormon, he and Arias engaged in premarital sex. Moreover, Alexander's friends had doubts about Arias and noted that she was controlling and too fixated on Alexander. After five months, the couple broke up but continued to see each other.
People reports that Arias was enraged when she discovered that Alexander was dating other women. She lashed out, prompting Alexander to tell his loved ones, "Don't be surprised if you find me dead one day." ABC News states that this is precisely what occurred on June 4. When Alexander failed to show up for a trip to Cancun, his concerned friends went to his home and discovered his body in the shower. The police questioned Arias, but she denied being involved in the killing or being at Alexander's home.
However, authorities found a digital camera in Alexander's washing machine that proved otherwise (via A&E). According to the Crime Museum, the camera had sexual photos of Arias and Alexander that had timestamps from the day of the murder. This, and the lurid details of the relationship, ultimately catapulted Arias into infamy.
The murder trial exploded in the media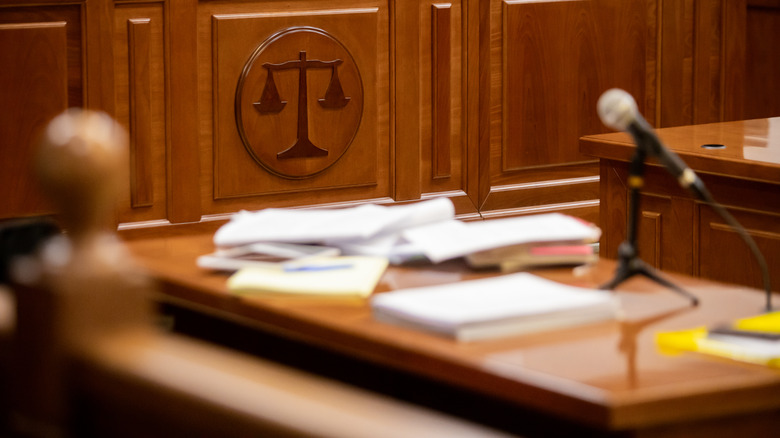 Salivanchuk Semen/Shutterstock
According to A&E, the authorities arrested and charged Jodi Arias with first-degree murder in July 2008. The Crime Museum states that her trial began in January 2013, and prosecutors hoped to sentence her to death. ABC News writes that Arias later admitted to murdering Travis Alexander on the stand. She argued that Alexander had been abusive and that she had killed him in self-defense. Prosecutors, on the other hand, contended that Arias killed Alexander out of jealousy for dating other women. Needless to say, the trial was sensational. It brought to light the couple's sexual relationship and Alexander's deep ties to Mormonism.
Another article from ABC News reports that evidence in the trial included a 40-minute sexual phone call between Arias and Alexander. Likewise, Arias openly discussed their sex life while on the stand. And then there were the photos in the camera discovered in the washing machine. Per The U.S. Sun, the images showed Alexander naked in the shower and his bloody body after the killing.
USA Today explains that these risqué details made the murder case incredibly popular in both the news and social media. They portrayed Arias as a beautiful seductress and Alexander as a religious man who had fallen victim to her deceit. Psychologist Patricia Taylor told the publication, "We [the country] love sex." She added, "We love violence, and we love to see people who we see as coming from a higher echelon, we love to see them fall."
Nathan Mendes believes the attention on Jodi Arias is excessive
Jodi Arias was found guilty of first-degree murder in May 2013, states A&E. In March 2015, she received a life sentence without the possibility of parole. Years after Travis Alexander's murder, the man who arrested Arias, Nathan Mendes, revealed how he felt about the case (via Oxygen). He told Fox News, "I think people should realize the whole thing is a travesty." He continued, "As sad as it is, everybody focused on Jodi. Books are named Jodi Arias, shows have the name Jodi Arias. Taglines are Jodi Arias. It's almost like we forgot Travis even existed in all of this. It became such a circus about Jodi."
Beyond the sexual aspect of the case, USA Today reports that much of the public's fascination with Arias had to do with her looks. She is not the archetypal killer — she's attractive, blond, and charming. The Albuquerque Journal agrees. Scott Bonn, a sociology and criminology professor, told the publication, "If she was a homely, overweight Korean man we'd never have heard about her." Bonn added, "Pretty, young white girls who sing in the choir are just not supposed to hack up their boyfriends."
ABC15 notes that the interest in Arias continues. In 2020, Dr. Bryanna Fox, an associate professor at the University of South Florida, announced that the curriculum in her criminology class included Arias. Fox said, "When we think of a horrible murderer, it's important to know, they can look like Jodi Arias."