Despite A Record-Setting Play, The Super Bowl Has Yet To See This Happen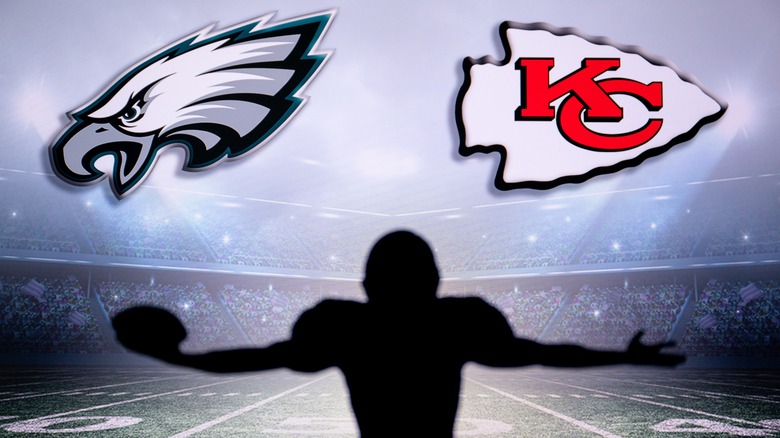 kovop/Shutterstock
Update: A previous version of this story said Toney returned a kickoff 65 yards, but it was a punt return. 
Super Bowl LVII was one for the ages. The Kansas City Chiefs and the Philadelphia Eagles went back and forth across all four quarters, but the Chiefs were able to pull out a dramatic victory in the waning seconds. The day after, Monday morning quarterbacks are still debating whether or not the Kansas City team unfairly benefitted from a bad call by the officials.
One of the more thrilling moments in the game took place early in the fourth quarter. Kansas City Chiefs wide receiver Kadarius Toney caught a punt and then returned it 65 yards. He didn't reach the end zone, but he did make it to just inside the Eagles' 10-yard line, setting up an easy touchdown for the Chiefs. It was definitely a heart-stopping moment (perhaps more so for Chiefs fans), and as Super Bowls go, it was something of a rarity. Long special teams returns, and special teams returns for touchdowns, in particular, occur so rarely that they're highlight reel stuff even during mundane regular-season games, to say nothing of the Super Bowl.
In fact, special teams' returns for touchdowns are so rare in Super Bowls that one way a team can score a TD through special teams has never happened.
The Special Teams TD is special
Sean M. Haffey/Getty Images
Depending on how thinly you want to split hairs, there are either two ways to score a touchdown (TD) in the NFL, or there are six. The simplest explanation is that there are only two ways: Rushing and passing. Put simply, if a player carrying the ball runs it across the goal line, that's a rushing TD. If a player catches the ball in the end zone or runs into the end zone after catching it via a forward pass, that's a passing TD. However, TDs don't just occur when the offensive team has possession; a fumble can be recovered by the defense and run into the end zone, or a pass can be intercepted by the defense and run into the end zone. That's four. Throw special teams into the mix, and the receiving team can return a punt for a TD or can return a kickoff for a TD. That brings us to six.
Those final two categories of TDs are rare indeed, but not exceptionally so. Across the entirety of the 2022 NFL regular season, there were only six kickoffs returned for touchdowns, and only three punts returned for touchdowns.
In terms of Super Bowls, special teams' touchdowns are a rarity, having only occurred 14 times. But when we split these hairs even thinner, we see an unusual statistic. All of those TDs have been kickoff returns; according to Sportscasting, there has never been a punt returned for a touchdown in all Super Bowls up to and including Super Bowl LVII.