Why That Final Call In Super Bowl 2023 Was So Controversial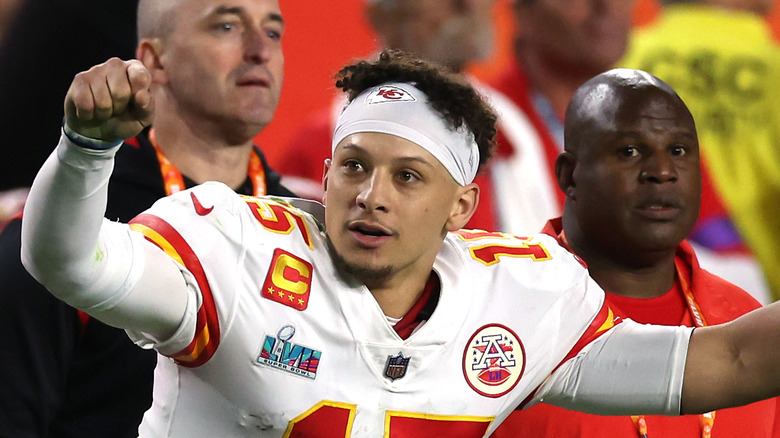 Ezra Shaw/Getty Images
Super Bowl LVII was one of the more exciting and highest-scoring games in the championship's storied history. The come-from-behind victory on Feb. 12, 2023, by the Kansas City Chiefs who were down by 10 points at half-time, and what at first appeared a game-ending ankle injury for the Chiefs' quarterback, Patrick Mahomes, made for exciting viewing.
But there were some fans, specifically Eagles fans, who took exception to a referee's penalty call in the game's final minutes against an Eagles defensive player that helped cement the Chiefs' victory. Eagles' fans weren't alone in their derision over the call. Several football commentators questioned the referee's call. "On this stage, I think you let them play, finish this thing out," Fox broadcaster Greg Olsen, an NFL veteran who played for three different teams in a 14-season-long career as a star tight end said during the broadcast, per CNN. "I don't love that call."
Less than 2 minutes left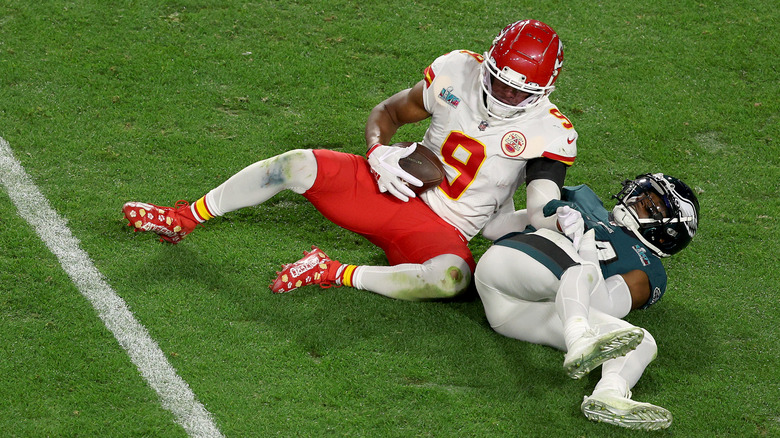 Rob Carr/Getty Images
The call Greg Olsen and others didn't love happened with less than two minutes to play in Super Bowl LVII, held in Glendale, Arizona. The score was tied up at 35 late in the fourth quarter. The Chiefs were driving downfield but were looking at a third down and eight to go from the Eagles' 15-yard line when Chiefs quarterback Patrick Mahomes overthrew the ball to JuJu Smith-Schuster. It was an incomplete pass, and it appeared the Eagles might have one more shot at getting their hands on the ball before time ran out.
That's when the referee threw a yellow flag. The call was defensive holding against Eagles cornerback James Bradberry. On instant replay, it appeared Bradberry did indeed make contact with Smith-Schuster, but that the contact didn't affect the play. Mahomes overshot the mark. The foul gave the Chiefs an automatic first down, allowing them to take their sweet time with the game-winning field goal as the clock ticked down on the Eagles' chances for one more shot at an offensive drive.
An Eagle fesses up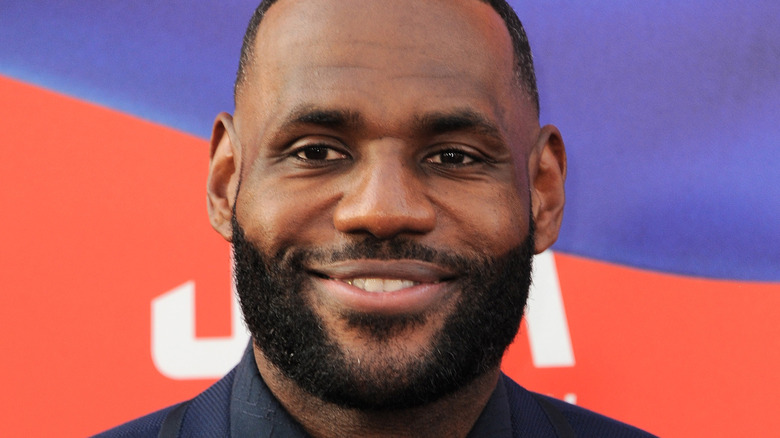 Tinseltown/Shutterstock
Besides Greg Olsen, ESPN sports commentator Kirk Herbstreit took strong exception to the call. "Usually don't get involved in ripping referees but HATE that defensive holding call on Bradberry," Herbstreit Tweeted. "35-35 late on a 3rd down incompletion on what was a marginal foul??? Let em play man!! Bad call-hate that is what many will take away from this game." Even NBA giant LeBron James chimed in. He pointed out on Twitter that James Bradberry's hand on JuJu Smith-Schuster's back "had no effect on his route!"
Even so, Bradberry admitted he had indeed caused a foul. "It was a holding. I tugged his jersey," Bradberry said, per the AP. "I was hoping they would let it slide." Super Bowl referee Carl Cheffers told NBC Sports that the "defender grabbed the jersey with his right hand and restricted him from releasing to the outside. So, therefore, we called defensive holding" and that "it was a clear case of a jersey grab that caused restriction." That may be technically true, but the call will likely remain a controversy for years to come.
More weigh in on the controversial decision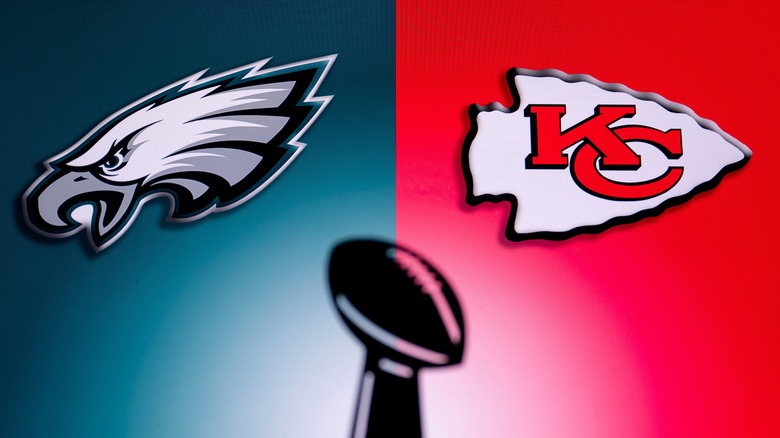 kovop/Shutterstock
Throughout Super Bowl LVII, the Eagles accumulated a total of six penalties while the Chiefs had three, resulting in the loss of 33 yards and 15 yards respectively. However, there is no doubt that the call by referee Carl Cheffers made in the final minutes of the game was a controversial one. After all, it is not typical for penalties to be called in the final minutes of an NFL game.
Retired NFL Hall of Fame coach Tony Dungy defended Cheffers' call (via Twitter), "To all the people saying the refs shouldn't have called holding on the Eagles with 1:50 left—that's like saying they shouldn't have called the Chiefs D [defense] for being offsides on 4th-2. Penalties are penalties whenever they're committed. If you see it you have to call it. Even in a SB [Super Bowl]."
The 2022 NFL Rulebook outlines in Article 6 that defensive holding is a foul. Bradbury's actions did not meet any of the exceptions listed in Article 5. Shannon Sharpe commented on the call (via Fox Sports), "[The referee] cannot be in a situation and say, 'The ball game is tied. You know what, it's a flag. It's a penalty, but I'm not gonna call it because I don't want people to think I impacted the game.' No, James Bradberry impacted the game. He got out of position, he held to keep JuJu from beating him on the whip route, and that's what happened. It's really that simple."