A Teenage Bob Dylan Saw Buddy Holly Perform Just Days Before His Death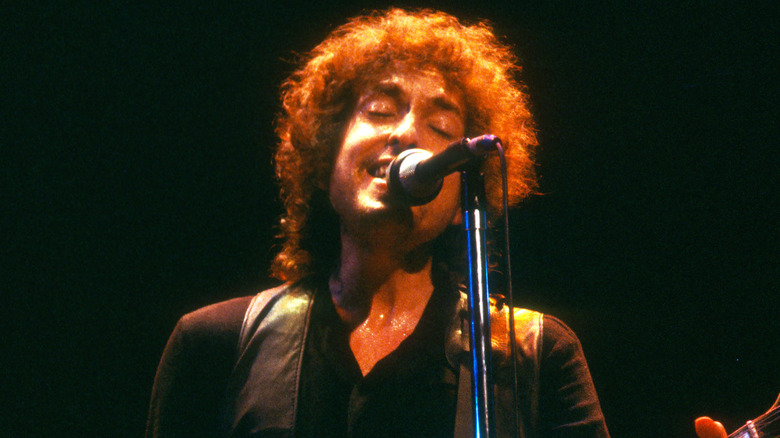 Larry Hulst/Getty Images
Among the 2,000 rock and roll fans packed into the armory in Duluth, Minnesota, on the evening of Jan. 31, 1959, to see the Winter Dance Party Tour, was a 17-year-old from Hibbing, 75 miles north, named Robert Zimmerman. He'd paid $2 for his ticket (about $20 today), arrived late, and missed The Big Bopper AKA J.P. Richardson, but caught Richie Valens, according to "Bob Dylan: The Essential Interviews" and the Duluth News Tribune. Finally, his hero, Buddy Holly, came on stage and put on an incredible show.
The armory where Zimmerman saw Holly play was a massive brick building the Minnesota National Guard built for training back in 1915 that also served as a civic center and concert venue, according to MPR News. The screaming, dancing fans, ducktail hairstyles kept in place with Brylcreem for the boys, and poodle skirts and bobby socks for the girls, went wild for Holly with his signature hiccuping singing style and thick horned-rimmed glasses. Zimmerman and Holly's other fans did not know that in just a few days, their hero would be gone forever.
The day the music died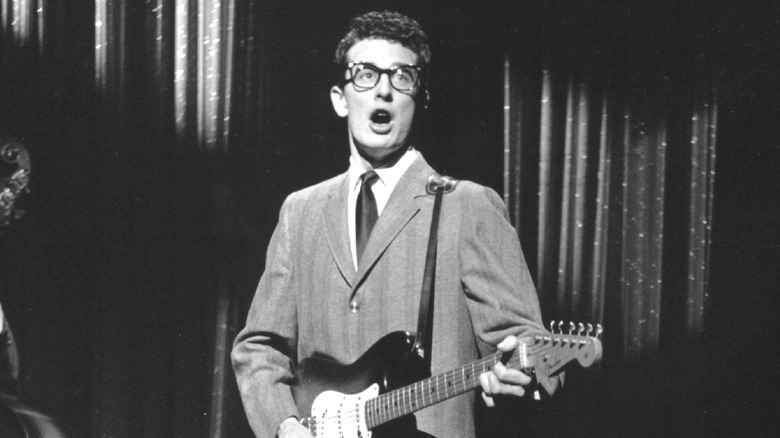 Michael Ochs Archives/Getty Images
The Winter Dance Party Tour, which began in Milwaukee on Jan. 23, bounced around Minnesota, Wisconsin, and Iowa, in hellish weather — raging snow storms and sub-zero temperatures — on a rickety tour bus that kept breaking down, according to Rolling Stone. After the Duluth Armory show, the musicians were heading to Green Bay, Wisconsin, when their bus died on an icy highway amid howling wind, pelting snow, and plunging temperatures. They set newspapers on fire in the aisle to stay warm.
Buddy Holly's drummer, Carl Bunch, ended up in the hospital with frostbite, which convinced Holly to charter a plane after the show in Clear Lake, Iowa, on Feb. 2, 1959, per the Duluth News Tribune. A few minutes into the early-morning flight, the plane crashed in a cornfield, killing the 22-year-old Holly, Richie Valens, The Big Bopper, and the pilot, Roger Peterson. The singer Dion, and Waylon Jennings, who'd been backing Holly and some of the other musicians on the tour on bass, both declined to fly that night, a decision that saved their lives, per Rolling Stone.
Buddy Holly's concert stuck with Bob Dylan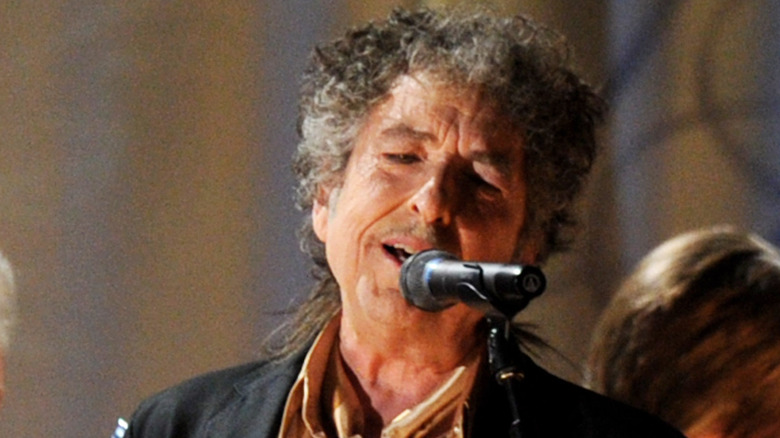 Kevin Winter/Getty Images
The same year as the Buddy Holly concert in Duluth, Minnesota, Robert Zimmerman began using the name Bob Dylan (legally changing it in 1962), according to "Bob Dylan: Prophet, Mystic, Poet," and began his rise to fame. But he never forgot that concert, especially in moments in which the world was honoring Dylan. "One time when I was about 16 or 17 years old, I went to see Buddy Holly play at the Duluth National Guard Armory and I was three feet away from him and he looked at me," Dylan said during his Grammy Award speech for Album of the Year for "Time out of Mind" in 1998 (via YouTube). "And I just have some kind of a feeling that he was — I don't know how or why — but I know he was with us the whole time we were making this record in some kind of way."
During his 2016 Nobel Prize in Literature lecture, Dylan returned to that night in Duluth in the winter of 1959. "He was mesmerizing," Dylan recalled, per The Nobel Prize."I watched his face, his hands, the way he tapped his foot, his big black glasses, the eyes behind the glasses, the way he held his guitar, the way he stood, his neat suit... Then, out of the blue, the most uncanny thing happened. He looked me right straight dead in the eye, and he transmitted something. Something I didn't know what. And it gave me the chills."