The Truth About Bob Dylan's Real Name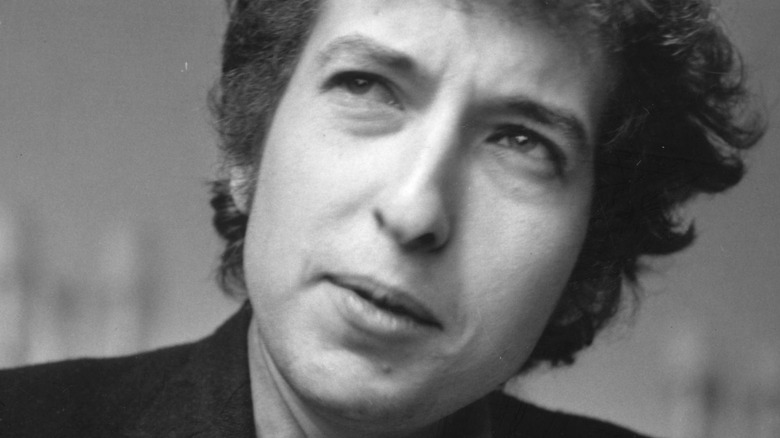 Evening Standard/Getty Images
Dylan is a not uncommon name these days. The same could be said for Bob. When combined — Bob Dylan — there's global recognition. It would be hard to find someone who has not heard of him. Over his near six-decades-long career, Dylan has released 39 studio albums and still performs regularly. He has worked with and influenced other top names in the music industry as well, including The Beatles (per Cheatsheet). He was also a member of the band the Traveling Wilburys, which included fellow music legends George Harrison, Jeff Lynne, Tom Petty, and Roy Orbison in the 1980s. Despite this lengthy career, Dylan did not have a No. 1 single on the Billboard charts until he released "Murder Most Foul" (which is 17 minutes long) in 2020 (via an interview in The New York Times). This accomplishment showed that he remains a force to be reckoned with even into the 21st century.
Dylan has always kept an aura of mystery around himself, rarely giving interviews or making appearances other than concert performances. Despite his secretive nature, his real name has long been public knowledge.
Bob Dylan was born Robert Allen Zimmerman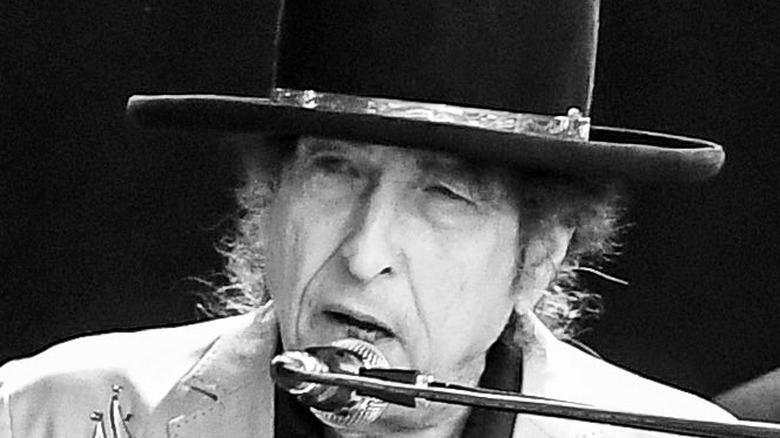 Dave J Hogan/Getty Images
According to Britannica, Bob Dylan was born as Robert Allen Zimmerman in Duluth, Minnesota in 1941. At 14 he got his first guitar and began playing in rock bands during high school. In college, he discovered folk music and an interest in poetry, which is reflected in his lyrics that have become so beloved in American culture. Poetry also influenced his stage name. There was a popular consensus that he began using the last name Dylan due to his affinity for the Welsh poet Dylan Thomas.
He made the name change in 1962, just as he began to gain a following for his music after moving to New York City. It was not the first stage name that Dylan adopted. First, he called himself Elston Gunn, and then Robert Allen. He even once spelled his name as Bob Dillon. He denied the claims that he chose his name based on Dylan Thomas in 1966. He was familiar with the poet's work, but considered him to be simply a subconscious influence ("I've done more for Dylan Thomas than he's ever done for me"). He likened the sound of Allen to Dylan and settled on Dylan (via Far Out). 
Numerous celebrities have changed their names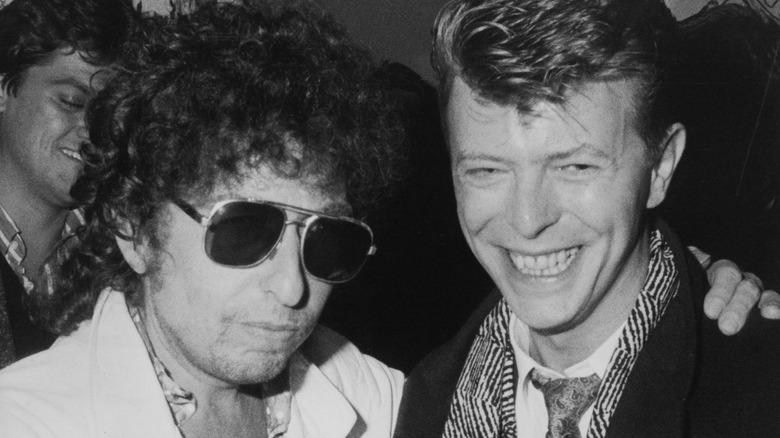 Michael Ochs Archives/Getty Images
All these years later, Bob Dylan remains a mysterious figure in the music industry. His name change added to this mystery because it allowed him to create a persona separate from himself (via Far Out). He is far from the only performer to create such a distinction between his real self and the on-stage version. David Bowie (with Dylan, above) famously had the (temporary) alter-ego Ziggy Stardust, and DJ Calvin Harris draws a strict line between the use of his stage name and his real name, Adam Wiles.
Perhaps Dylan's purpose behind the use of a stage name applies to other celebrities who have changed their names as well. While few of us in this world will likely ever experience A-list fame and the sometimes unwanted attention that comes with it, we can only speculate as to why it could be beneficial to distinguish one's private life from public life. Even performers who keep their birth names seem to transform into superhumans when on stage. Or maybe Robert Allen Zimmerman just didn't have the same ring to it as Bob Dylan.