The Horrifying Hobby Killer Charles Albright Used On His Victims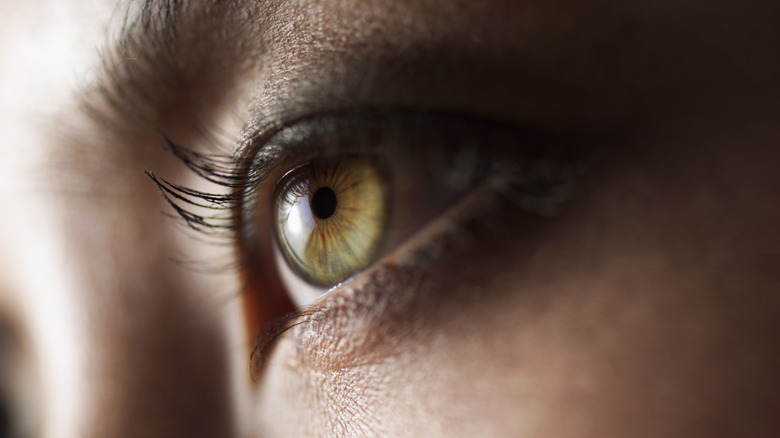 Digital Vision/Getty Images
The following article includes graphic descriptions of violence against women.
In the early 1990s, an unknown killer murdered three sex workers in the Dallas area. The killer brutally shot Mary Lou Pratt, Susan Peterson, and Shirley Williams to death. However, investigators were shocked to find that each woman had their eyes removed with careful precision, according to Texas Monthly. In fact, medical examiners discovered the tip of a blade of an X-Acto knife "embedded" in the skin near William's right eye. According to Oak Cliff Advocate Magazine, the killer dumped Pratt and Peterson's in vacant lots. John Matthews from the Dallas Police Department knew Peterson and took it upon himself to investigate her murder.
Oak Cliff Advocate Magazine reports that Matthews discovered that the vacant lots had the same owner, Fred Albright. He, however, was dead. Oxygen states that investigators spoke to various sex workers hoping to catch the murderer. This included Veronica Rodriguez, who claimed that one of her clients had tried to attack and kill her. Texas Monthly notes that after the violent encounter, Rodriguez fled to her friend Axton Schindler's home. Coincidentally, he rented a house from Fred Albright.
Investigators didn't think much of this until one of Pratt's friends anonymously called and told them she had dated a man named Charles Albright, Fred's son. The caller revealed that Charles had a distinct affinity for eyes. Likewise, he was known to hire sex workers, and Rodriguez later identified him (via Oak Cliff Advocate Magazine). In March 1991, the authorities arrested Charles for the murders.
Charles Albright immensely enjoyed taxidermy
Michaelparkart/Shutterstock
According to Texas Monthly, Charles Albright's friends and loved ones were shocked and devastated by his arrest. They described him as a handsome, intelligent man that took pleasure in the arts, not violence. Nevertheless, the authorities knew that they had their suspect. He had an extensive criminal record that included theft and molestation. Although they never found a murder weapon or the victim's eyes, a search of Albright's home turned up X-Acto blades and an anatomy book.
Furthermore, Oak Cliff Advocate Magazine writes that they discovered countless photographs of women's eyes. Albright had two talents — taxidermy and painting. His admiration for eyes was evident in these hobbies. The Cinemaholic writes that Albright's mother introduced him to taxidermy. Texas Monthly notes that Delle Albright showed her young son how to properly use a scalpel to cut the eyes out of dead birds.
The publication notes that Albright yearned to purchase fake eyes for his taxidermied birds. Delle refused and made him use buttons instead. Moreover, Albright had a strange habit of painting women without eyes. He even pranked a friend by cutting the eyes out of his former girlfriend's photos and pasting them onto pictures of his current girlfriend. How, then, did Albright escalate to killing three women and taking their eyes out?
'You might not want to see that beauty go to waste'
By all accounts, Delle Albright, who adopted Charles Albright as a baby, was a dominating force in his life (per Texas Monthly). Albright later searched for his birth mother and told friends she was a sex worker. It's unknown if this story is true. Records indicate that Albright's birth mother worked as a nurse. Nevertheless, his motive in killing the sex workers could have stemmed from rage towards both mother figures. Oak Cliff Advocate Magazine reports that prosecutors convicted Charles Albright of Shirley Williams' murder in December 1991.
Texas Monthly states that hair fibers found in Albright's vacuum cleaner were a match for Williams. However, Oxygen notes that the evidence regarding the murders of Mary Lou Pratt and Susan Peterson was circumstantial. He received a life sentence for killing Williams, but prosecutors dismissed the charges regarding Pratt and Peterson. In a 1993 interview with Texas Monthly, Albright insisted that he was wrongly convicted but admitted that he had a fondness for eyes.
When asked why a killer would want his victim's eyes, Albright argued that it was incomprehensible (via Texas Monthly). He said, "That would be the last thing I would want to keep out of a body. It would be a hand or a whole head, maybe, if you were a sick artist and you thought the woman was fabulous. You might not want to see that beauty go to waste." According to Audacy, Charles Albright died in prison in 2020 at 87.