A Chilling Letter From Serial Killer Dennis Nilsen Is Displayed In A True Crime Museum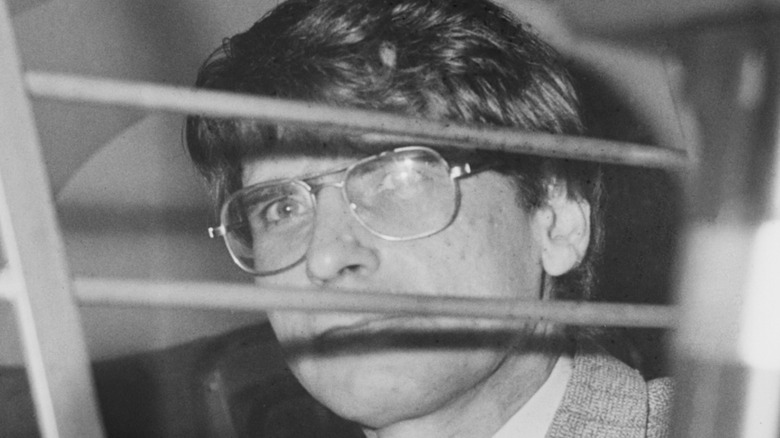 Harry Dempster/Getty Images
Dennis Nilsen would never come to terms with his sexuality. Though he acknowledged that he was attracted to men at a young age, he was never comfortable with his feelings and worked to keep them repressed (via Biography). After a stint in the army, Nilsen received training as a police officer (per Police Professional). His time as a cop was brief, lasting only eight months. But he soon found a job with the civil service as a recruiter.
Biography tells of how Nilsen began the spiral to his murder spree soon after a male roommate moved out. Nilsen started to drink heavily to combat the loneliness in his life. Some nights, Nilsen ventured out to the gay pubs in search of company. These reportedly did nothing more than just "reinforce his loneliness." Perhaps this is what drove him to kill for the first time. On December 29, 1978, he woke up with a male companion that he had brought home from a bar the night before. Nilsen didn't want him to leave, so he strangled him to death. After Nilsen washed his victim's body, he put it in his bed so that he could sleep next to it that night. He then stashed the body under the floorboards before removing it and burning it in the backyard. 
Before he was caught in 1983, Nilsen killed at least 14 more men and boys. He was sent to prison for the rest of his life, where he died in May 2018. While locked away, he sent a good deal of correspondence out into the world. 
The Real Crime Museum in Torquay has Nilsen's last letter on display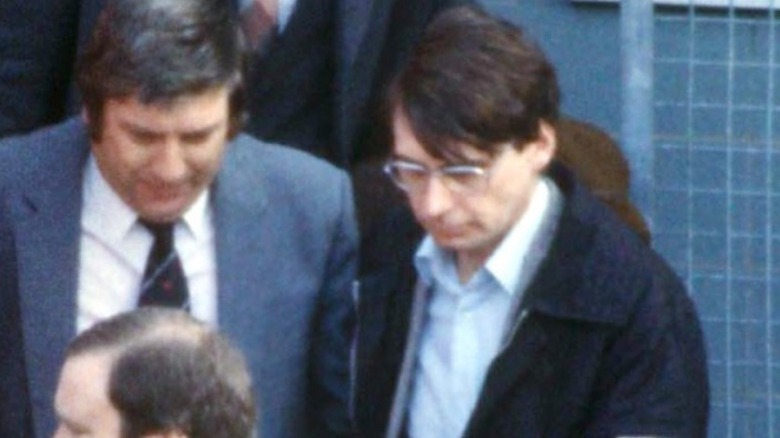 Bryn Colton/Getty Images
The Daily Star reports that Dennis Nilsen exchanged nearly 10 letters with the owner of the Real Crime Museum, George Bamby-Salvador. The English Riviera reports that the museum was constructed inside underground bunkers that were used during WWII. Among the numerous displays devoted to footballer violence, police detection methods, and organized crime, the museum has put together quite a display devoted to serial killers. Personal items from some of the United Kingdom's most ruthless murderers are quite popular, as tourists flock to see memorabilia from the infamous Acid Bath Killer and the largest display of Charles Bronson's artwork assembled in the world (the killer, not the "Death Wish" actor).
But the letter from Nilsen has become quite the attraction for the museum, too. The last known letter penned by one of England's most vile killers is a detailed personal account of his experiences as a teenager in the British Army. The convicted murderer cracked some jokes about tourists near the beaches needing to watch out for seagulls who might try to snatch their food, quips about William the Conqueror (whom he referred to as "Conquering Bill") defeating the Vikings at the Battle of Hastings, and makes observations about the sea suffering from overfishing. Nilson also makes a mention of Brexit in the February 2018 letter, asking if Bamby-Salvador is in favor of the strategy or opposed to it. Nilsen doesn't make any reference to the crimes he was imprisoned for, but the receiver stated that some of those details were given in the previous letters.
The poem in the letter is a bit chilling, considering the words were written by a brutal killer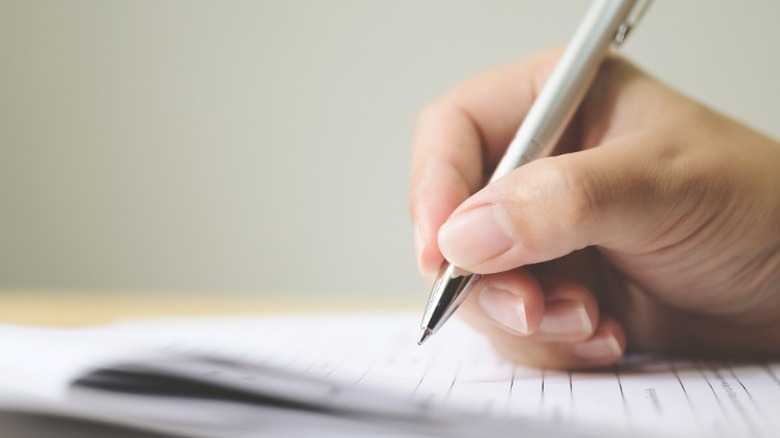 Monster Ztudio/Shutterstock
A great deal of the letter is a poem that Dennis Nilsen had written, which contains some pretty creepy lines when you consider the context (via the Daily Star). In a piece that Nilsen titled "And Then There Was," the convicted murderer opens with the lines, "And then there was a vision in my eyes/Was, is ... and always/This traumatic flash of eager solace to adhere to ... in my mind / And in my focused being / A potent rock-not eroded / From the needs of want / Which came to be ... exploded." The typewritten poem continues, Nilsen making mention of "irresistible impulses" that "drag all parties down beneath a degradation." The piece goes on before he writes about "hate and veneration" that is "built by blood."
Nilsen died after suffering an abdominal aortic aneurism approximately two months after he sent his last letter. BBC reports that the prisoner had been admitted to the hospital two days before his death after complaining about stomach pains. He underwent surgery, but the coroner's inquest revealed that Nilsen refused a further stay in the healthcare center. The rupture he ultimately suffered caused him to be in "excruciating pain" while confined to his prison cell before he finally died. According to BBC, the Hull Coroner's Court was told that Nilsen also spent his "final hours lying in his own filth." Some of his victims' families might take a bit of satisfaction knowing that the final moments of Nilsen's life were wrought with that pain.