It Turns Out There's A Scientific Reason Behind Why We Feel Happy At Concerts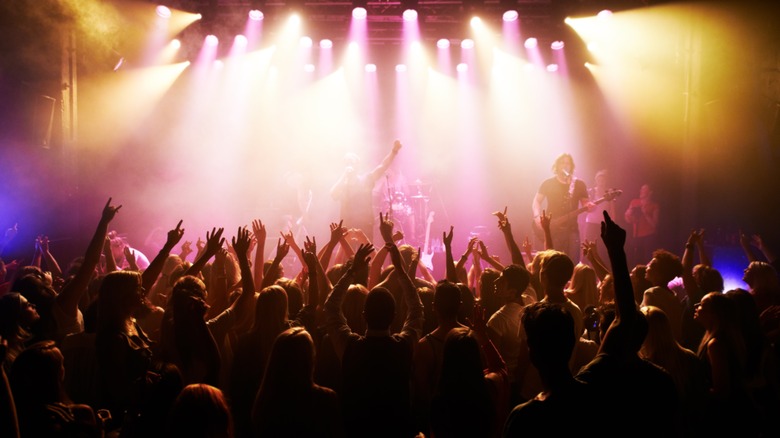 PeopleImages.com - Yuri A/Shutterstock
Concerts frequently make news headlines, especially in the form of high-profile concert tours by the likes of Taylor Swift. The demand for tickets to concerts on her Eras Tour was so high that Ticketmaster crashed once they went on sale. The crash and devastated fans even prompted some congressional representatives to speak out, accusing Ticketmaster and Live Nation (the two companies merged in 2009) of being a monopoly in the live music industry (per NPR).
Concert ticket prices have dramatically increased over the last 30 years. Since streaming sites removed the need to purchase music, artists now need to make more money from live gigs. People also buy tickets and then resell them at higher prices. Demand and inflation drive up prices as well (per Yona Marie Music). Despite these higher prices, people clearly still want to attend concerts simply for the unparalleled experience. There's actually a scientific reason that explains why we love concerts so much.
Scientists frequently study the effects of music on humans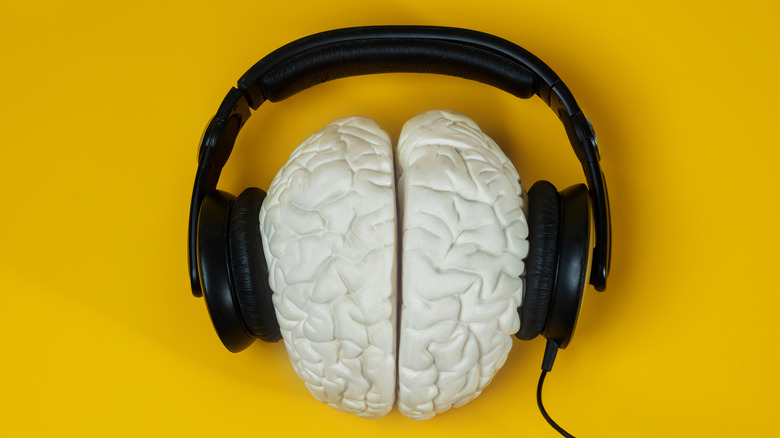 Serrnovik/Getty Images
Scientists have long studied the effects of music on humans. Individuals with Alzheimer's Disease struggle to recall names and conversations, but can easily recall memories tied to music, for example. Researchers looked into the science behind watching live music as well. It comes down to endorphins. The human body releases these hormones when engaging in something enjoyable, such as eating or exercising. This is why such activities are common mood boosters. As it turns out, the human body also releases endorphins when singing, dancing, or playing an instrument. Such activities increase one's pain threshold as well (per Evolutionary Psychology).
Concertgoers may not be the ones actually performing, but most sing and dance along with the artists on stage. According to Healthline, singing together in groups makes people feel included in a social group, thus giving them a sense of community. This leads to the release of oxytocin, a hormone connected to the feeling of love.
Concerts create a sense of unity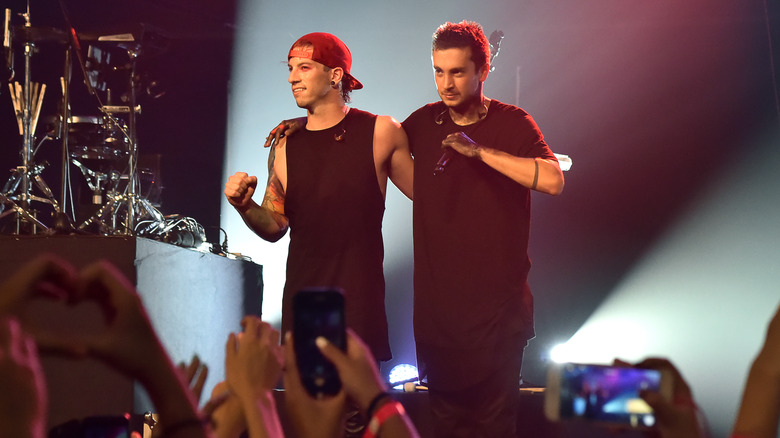 Maj.l/Shutterstock
Devoted fanbases often describe the sense of community that they feel during concerts given by their favorite artists. Study Break blogger and Twenty One Pilots (pictured above) fan Bekah Black states that Twenty One Pilots concerts feel like a "second home." She explains that the subject matter of Twenty One Pilot's songs connects with listeners. The lyrics convey mental health struggles, but with twinges of optimism. Hearing the songs live makes for a "profound sense of unity," and as previously mentioned, such a sensation releases oxytocin.
It's no wonder that fanbases often have their own nicknames. Fans of the Grateful Dead are called Deadheads. Fans of Taylor Swift are called Swifties. That alone gives off a sense of community. Being surrounded by fellow fans at a concert likely exacerbates the feeling. Everyone is on the same page and releasing endorphins and oxytocin together as they sing and dance along. For fans, this makes it worth the ticket cost.