Whatever Happened To The '90s Rock Bands You Used To Love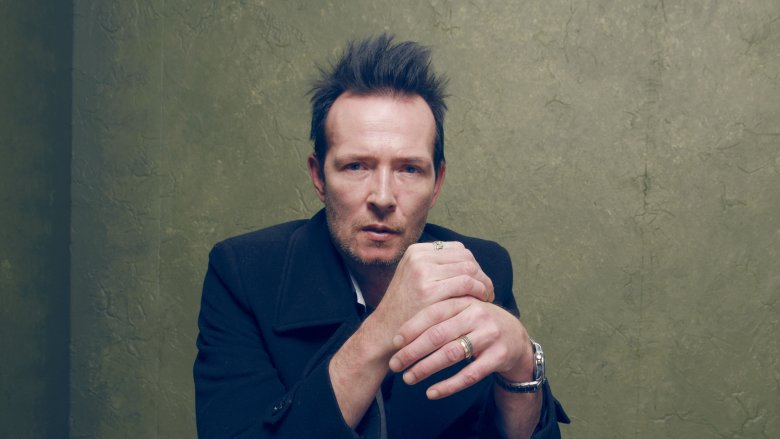 Getty Images
The '90s were a hell of a time for music. You've got the coming of Britpop, grunge's heyday, a flourishing hip-hop scene, innovation in EDM and, of course, the rise of the Spice Girls. It may not have been as blindingly audacious as the '80s, and you could argue that it never quite hit the dizzy commercial heights of the '00s, but the '90s was a stellar enough decade in its own special way.
The dominance of alt-rock naturally led to success for some of the genre's best ever artists. While the biggest of these '90s rock bands — Oasis, Blur, Radiohead, Foo Fighters, Pearl Jam, and so on — have managed to utilize their momentum to catapult themselves into even more spectacular careers in the ensuing years, some '90s rock bands have, sadly, fallen off the radar. Some disbanded, some were beset by tragedy, and others have managed to persevere, touring and recording to this day. Every one of them, however, can easily be counted among the finest acts of one of music's finest decades.
Garbage
You might remember Garbage for any number of reasons. They're the band whose first two albums, Garbage and Version 2.0, won a string of awards (including Grammy nominations), and sold millions of copies worldwide. They also contributed the title song to The World Is Not Enough in 1999. Oh, and they were one of the architect acts of the post-grunge (or, in their own words, anti-grunge) movement.
The band's third album, Beautiful Garbage, was released in 2001 and ultimately failed to prove as successful as its predecessors, thanks mostly to some less-than-lukewarm critical reviews. After the release of their fourth album, Bleed Like Me, the group announced an indefinite hiatus in 2005. They finally reunited in 2011 and have released two albums since: Not Your Kind of People and Strange Little Birds. Their next album is expected to be released in 2019 or 2020 — so Garbage might be around for a while. If history is any indicator, stay tuned for a possible hiatus after their eighth album.
The Verve
The Verve (whose biggest hits include "Bitter Sweet Symphony" and "The Drugs Don't Work") were one of Britain's most successful rock acts during the '90s. They were part-Britpop, part-shoegaze, and won numerous BRIT Awards, topped the charts repeatedly and were nominated for a Grammy in 1999 for "Bitter Sweet Symphony."
While they may have put out some of the most recognizable songs of the decade, things haven't exactly been smooth sailing for the Verve. They've split up three times in their 19 years on the scene, and, since the most recent split (in 2009), it's been reported that guitarist Nick McCabe and bassist Simon Jones aren't on speaking terms with front man Richard Ashcroft — and haven't been since 2008. Prior to this, the band had split in 1999, reunited in 2007, and then quickly succumbed to the excesses of partying and in-fighting that had ended them almost a decade before. Jones and McCabe have since gone on to form their own band, Black Ships, who nowadays are known as Black Submarine. They're still going, and Ashcroft has had decent success in his own solo career.
Stone Temple Pilots
Going by record sales and chart performance alone, Stone Temple Pilots were one of the most successful bands of the '90s. They scored six Top 10 hits on the Billboard 200, with 1994's album Purple enjoying three weeks at No. 1. By 2015 they had sold 2.4 million albums in the United States alone, and there's a decent argument to be made for front man Scott Weiland having one of the most iconic and recognizable voices in alt-rock.
The next two decades weren't kind to Stone Temple Pilots. They split in 2002 and faltered with their 2008 reunion when Weiland was fired from the band and a number of lawsuits were pursued over the right to perform under the band's name. The band replaced Weiland with ex-Linkin Park vocalist Chester Bennington. Eventually, in 2015, Weiland was found dead while touring in Minnesota. Only two years later, Bennington died by suicide. Since then, the band has struggled onward with a new singer — Jeff Gutt — and continue to release music under the Stone Temple Pilots name.
Dave Matthews Band
Dave Matthews Band formed in 1991 in Charlottesville, Virginia. By the end of the decade, they had won Grammy awards and nominations, sold out huge venues across America and sold millions of albums worldwide, with even their live albums managing to go platinum. In 2003, Dave Matthews himself and lead guitarist Tim Reynolds headed out on an intimate acoustic tour without the rest of the band. Months later, Matthews released his first solo album, which netted him another Grammy. The band never split, however, and continued to tour and release music without incident until 2008, when long-time member and saxophonist LeRoi Moore died after complications suffered from an ATV accident.
The band's next album, Big Whiskey and the GrooGrux King, was named in honor of and inspired by, Moore. It went platinum and was nominated for two Grammys in 2010. In 2018, the band's violinist Boyd Tinsley announced his hiatus from the group to focus on his health, but was subsequently fired when allegations of sexual abuse were levied against him. Despite this, the band is going strong, with a ninth studio album released in 2018.
Counting Crows
Counting Crows found their greatest success in (you guessed it) the early '90s, with a number of successful tours and a debut album, August and Everything After, which sold 10 million copies. They continued from strength to strength over the course of the '90s and survived the decade's end to release Hard Candy, their fourth album, in 2002. The band carried on since then — with one particular high point coming in 2004 when the band was nominated for an Academy Award for "Accidentally in Love," their contribution to Shrek 2.
In 2009, Counting Crows left their label Geffen Records. The band's members embarked on their own individual projects through the early 2010s, though Counting Crows as a group continued to release live and covers albums up until 2013. In 2014, the band released Somewhere Under Wonderland, their seventh studio album, to largely positive reviews from critics. They toured again in 2018 and 2019.
Sonic Youth
Sonic Youth is a name synonymous with '90s rock bands, and perhaps even with the '90s. Their brand of noisey, post-punk music places them up there with some of the best rock bands of the decade. Although they emerged during the '80s, they found true commercial success in the '90s, hitting such highs as a headline set at Lollapalooza, a number of critically acclaimed experimental albums, and a guest spot on The Simpsons.
This momentum carried on through much of the '00s, branching out from their initial sound and collaborating with such legends as John Paul Jones and Yamantaka Eye. They weren't entirely safe from the tribulations of their third decade, however — one particular lowlight includes receiving a rare 0.0 score from Pitchfork for their album NYC Ghosts & Flowers. In 2011, the band came to an end when both Kim Gordon and Thurston Moore separated after 27 years of marriage. Other members, such as Lee Ranaldo, have moved on to solo projects.
Hootie & The Blowfish
Hootie & the Blowfish had a good '90s, but not a great anything else. Their debut album, Cracked Rear View, was released in 1994, earned them a best new artist Grammy in 1996, and went platinum 21 times in the U.S. by 2018. Their second album sold 4 million copies domestically. They even contributed a song to the Led Zeppelin tribute album Encomium. After that, though, things went a little downhill.
Hootie-mania died out hard, and their movements through the late '90s and '00s were basically nonexistent, save for a few covers, some touring and, inexplicably, a ballet. The group went on hiatus in 2008 so Darius Rucker could pursue his solo career. He scored several early hits on the country music scene on his way to bona fide country stardom and has largely stood down from his role with the Blowfish. But the band will be reuniting in May 2019 for a 44-city tour alongside Barenaked Ladies, celebrating the 25th anniversary of Cracked Rear View. After that? A brand new studio album. So it looks like Hootie will be sticking around for a while after all.
Mazzy Star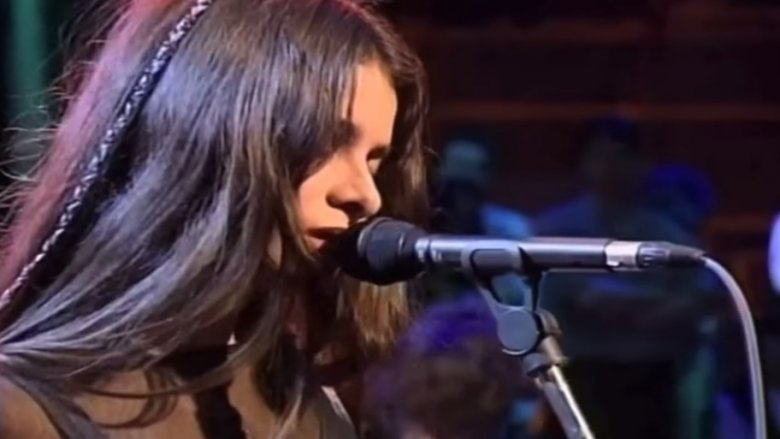 YouTube
Mazzy Star was probably the best female-led dreamy alt-rock-folk act of the '90s. They were formed from the disbanded members of a group called Opal, with added vocalist Hope Sandoval. Performing as Mazzy Star, they then released their first album, She Hangs Brightly. It was their second LP, however, which featured the track "Fade into You," the song that put Mazzy Star on the map. Their third album, Among My Swan, was released in 1996. After that, they leaped back off the map, going on hiatus to avoid being creatively controlled and drained by their label.
They briefly reunited in 2000 for a tour of Europe but didn't do much else until 2010, when they reformed for good. In 2013, they released Seasons of Your Day, their fourth album, which achieved both commercial and critical success. Their comeback was beset with tragedy, however, after the death of drummer Keith Mitchell in 2017. The band reunited on stage in 2018, and released a new EP around the same time.
The Cranberries
The Cranberries might sound like a rejected name for a '50s girl group, but they actually happen to be one of Ireland's greatest ever bands and an iconic facet of the '90s music scene. Despite enjoying heady heights during the middle part of the decade (including a triple platinum album in No Need to Argue), but their subsequent albums never quite matched it commercially. They continued to release music until their hiatus in 2004.
They reunited five years later and released two albums: Roses, which was released in 2012 and Something Else, which was released in 2017. Unfortunately, the band's renewal was shattered in 2018 with the sudden and unexpected death of Dolores O'Riordan, the band's vocalist. Since then, The Cranberries have slated one final album with O'Riordan's vocals, appropriately titled, In The End.
Suede
Suede is likely the most successful band on this list, both during the '90s and throughout the ensuing decades. They were one of the Britpop greats, often counted up there among Blur, Oasis, and Pulp in the pantheon of British '90s rock bands. Their self-titled debut album topped the charts and won a Mercury Prize, and the band continued to see success even after guitarist and vocalist Bernard Butler left the band in 1994.
Things soured during the 2000s, however, when their label shut down. Their later releases were afflicted by poor commercial performance and health and drug problems within the band. Finally, they broke up in 2003. In 2010, however, Suede reunited (albeit without Bernard Butler) and a number of incredibly successful shows inspired the band with a growing enthusiasm for touring. Their most recent albums, Night Thoughts and The Blue Hour, were released in 2016 and 2018 respectively. In 2013, Jeremy Allen of The Guardian called Suede's comeback an example to other Britpop acts of how to nail a reunion. If only they'd been around when the Beatles broke up.