Jimmy Page Recorded The Death Wish II Soundtrack For Free After An Unthinkable Tragedy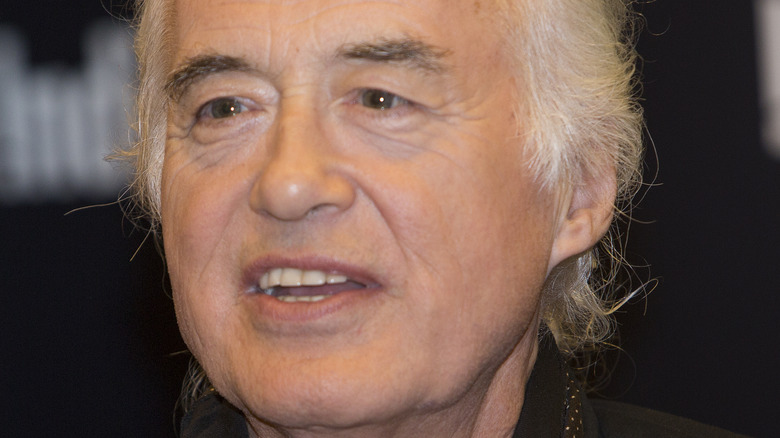 robin jason/Shutterstock
Film director Michael Winner opened the door to find his neighbor, Jimmy Page of Led Zeppelin, standing there. He looked thin and a bit wobbly, as "if the wind blew he'd fall over," Winner would later recall, according to "Jimmy Page: The Definitive Biography." Page was there to discuss recording the soundtrack to Winner's newest movie, a Hollywood action thriller starring tough-guy actor Charles Bronson, who was reprising his role as Paul Kersey, a quiet everyman pushed to his limits who becomes a vengeful vigilante.
The original film, 1974s "Death Wish," was a box-office smash for the British-born Winner, and he was hoping for another hit with its sequel "Death Wish II," which was already in the can and set for a 1982 release, per "No Quarter: The Three Lives of Jimmy Page." It just needed a musical score. Getting Page to sign onto the project had been touch and go but turned out well for Winner, who'd finagled an unimaginatively sweet deal.
Two Deaths and a breakup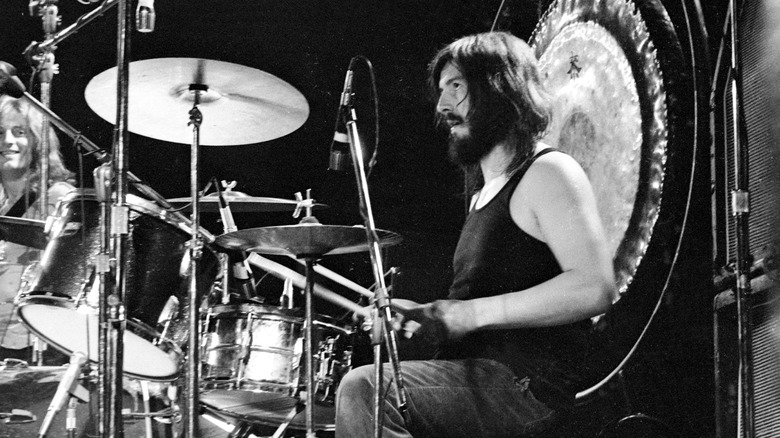 Michael Ochs Archives/Getty Images
By early 1981, Jimmy Page's life had imploded, and he'd hung up his guitar. Two recent deaths had shaken him to the core. On October 15, 1979, Philip Churchill-Hale, a 23-year-old photographer and friend of Page, died at Page's East Sussex mansion after choking on his own vomit following a night of heavy drinking and drug use, per "No Quarter: The Three Lives of Jimmy Page." Less than a year later, John Bonham, Led Zeppelin's 32-year-old drummer, who had been holding the band together, died in the same manner as Churchill-Hale.
On September 25, 1980, Bonham, after consuming 40 shots of vodka in four hours, asphyxiated on his own vomit in another of Page's homes, according to This Day in Music. The death precipitated the band's breakup. In a statement released in December 1980, the remaining members of Led Zeppelin said that losing Bonham and their "deep respect for his family," along with a "sense of undivided harmony felt by ourselves and our manager, have led us to decide that we could not continue as we were," per Express.
If you or anyone you know needs help with addiction issues, help is available. Visit the Substance Abuse and Mental Health Services Administration website or contact SAMHSA's National Helpline at 1-800-662-HELP (4357).
Isaac Hayes almost got the job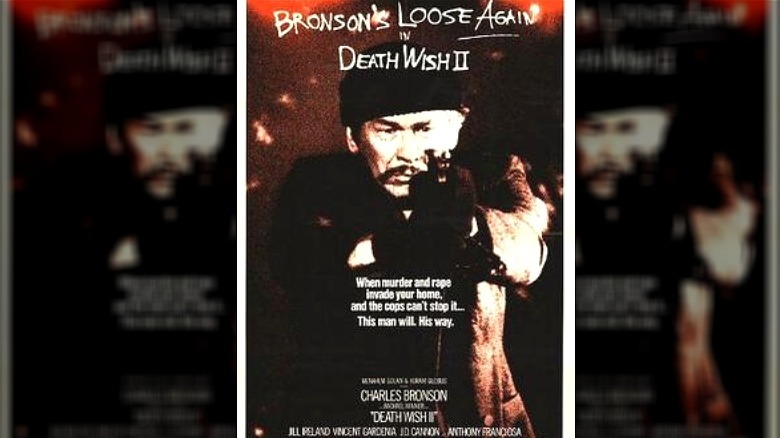 Filmways Pictures
After Led Zeppelin's breakup, Jimmy Page was flailing, unproductive, and using heroin and cocaine. Led Zeppelin's manager, Peter Grant, felt he needed to get Page out of his funk. The film score seemed like the perfect opportunity, and he was willing to do whatever it took, per "Jimmy Page: The Definitive Biography." Winner had Isaac Hayes lined up for the job in a deal that involved Hayes being paid by his own record company, meaning Winner wouldn't have to pay for the film score. Grant was so desperate to get Page back to work that he agreed to pay Winner $175,000 to give the job to Page, according to "Michael Winner: Winner Takes All." And Page had only eight weeks to deliver the finished score.
Page went to Winner's to watch "Death Wish II" and afterward told the director, "I'm going to my studio. I don't want you anywhere near me and I'm going to do it all on my own," per "No Quarter: The Three Lives of Jimmy Page." Winner reluctantly agreed, and eight weeks later, Page delivered the finished score. "Death Wish II came to me at the right time, because I was obviously shattered by the death of John," Page would later say, per "No Quarter." "So, it was really good because it kept me focused creating 45 minutes of music for a 90-minute film."