The Only Former American Presidents Still Alive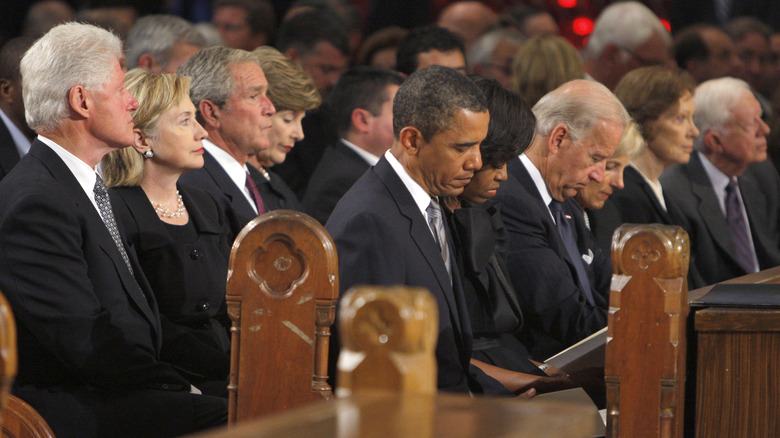 Pool/Getty Images
For only the third time in U.S. history, there are five former U.S. presidents alive at the same time (as of February 2023). There have been way more times in the country's history — six to be exact — when there were no living ex-presidents. That may have to do with the usual steps politicians take to get to the top, which means they're no spring chickens when they finally arrive. On average, they're already middle-aged when they're able to make the leap to the leader of the nation.
Fifty-five is the average age, but there have been some, including the current president, Joseph R. Biden Jr. — 78 at his inauguration — who were quite a bit older than the average. Chalk it up to modern medicine or good genes, the five men who once held the highest office in the land and are still among us range in age from 61 to 98.
Jimmy Carter: The oldest former president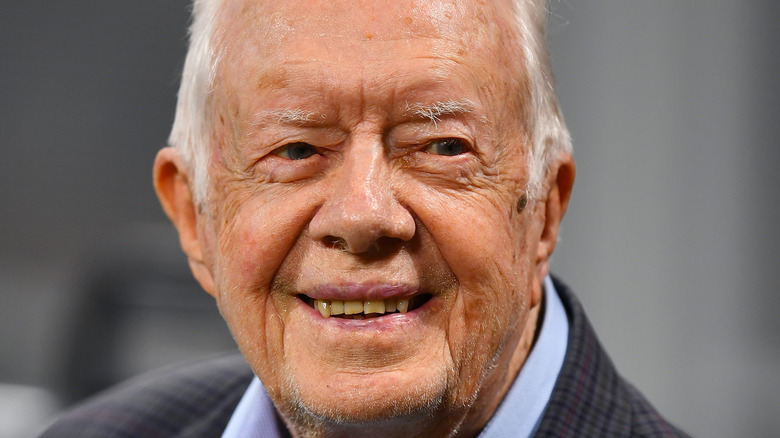 Scott Cunningham/Getty Images
The oldest living former president is Jimmy Carter, who, at 98, is also the oldest ex-president in history (as of February 2023). Carter served as the 39th president from 1977 to 1981. He was 52 years old when at his inauguration on Jan. 20, 1977. He was one of the few presidents in the modern era, along with Gerald Ford and Donald J. Trump, who didn't start or escalate any foreign conflicts involving the U.S. military. Carter told PBS News Hour in July 2012 that during his administration, "[We] tried to keep the peace. And we cherished our human rights."
His post-presidential life has revolved around humanitarian endeavors, including helping to nearly eradicate Guinea worm disease to (literally) building homes for the disadvantaged through Habitat for Humanity. In 2002, the Nobel Foundation awarded him its Peace Prize. On Feb. 18, 2023, the Carter Center announced the former president would receive hospice care and spend whatever time he had left at home with his family rather than seeking any further medical interventions.
Barack Obama: The youngest former president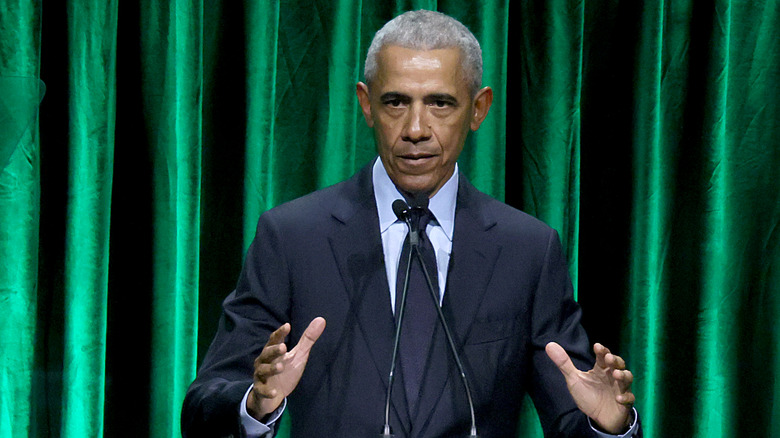 Dia Dipasupil/Getty Images
Barack Obama, who is the youngest living former president at 61, holds several distinctions when it comes to his presidency, which lasted from 2009 to 2017. He was the first African-American elected to the position as the 44th president, and he had a quick political rise to the top, having been in the U.S. Senate for a mere four years before the country elected him president. Obama was also nearly a decade younger than the average when he took his Oath of Office.
He was 47 at the time of his first inauguration on Jan. 20, 2009, joining five other former presidents who were the same age or younger. The youngest, at 42, was Theodore "Teddy" Roosevelt. Like Jimmy Carter, the Nobel Foundation awarded Obama its Peace Prize in 2009 for "his extraordinary efforts to strengthen international diplomacy and cooperation between peoples," per the Associated Press. Obama's post-presidency has included working with his non-profit Chicago-based Obama Foundation and donating $2 million to a summer jobs program in Chicago.
Bill Clinton: One of the country's younger presidents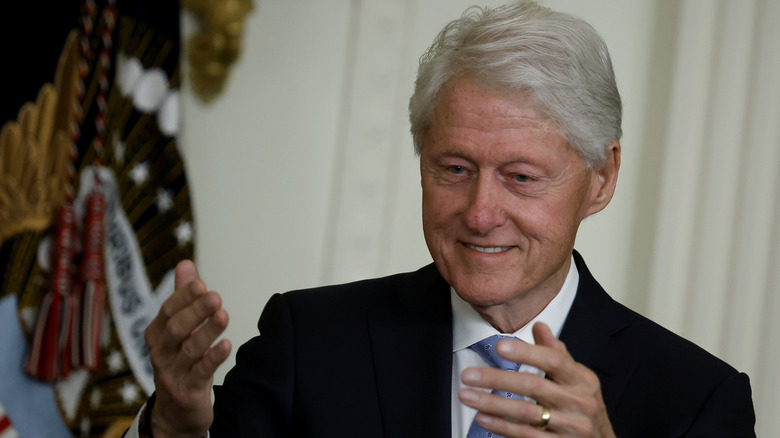 Chip Somodevilla/Getty Images
The three other living former presidents — two of whom served back to back — are 76 and were all born in the summer of 1946. Bill Clinton, born on Aug. 19, 1946, was the 42nd U.S. president. He served from 1993 to 2001 and, at 46, was a year younger than Obama when he began his presidency (which lasted for two terms). He was the first Democrat to win a second term since Franklin D. Roosevelt. When he left office at age 55, he was one of the youngest men to enter post-presidential life.
Since leaving office, Clinton, through his Clinton Foundation, has helped to combat HIV/AIDS and malaria in Africa, fight climate change and childhood obesity, and promote economic opportunities for the underprivileged, among other initiatives. He has also remained a powerful player in the Democratic party and was involved in his wife, former Secretary of State Hillary Clinton's 2016 presidential campaign.
George W. Bush: The artist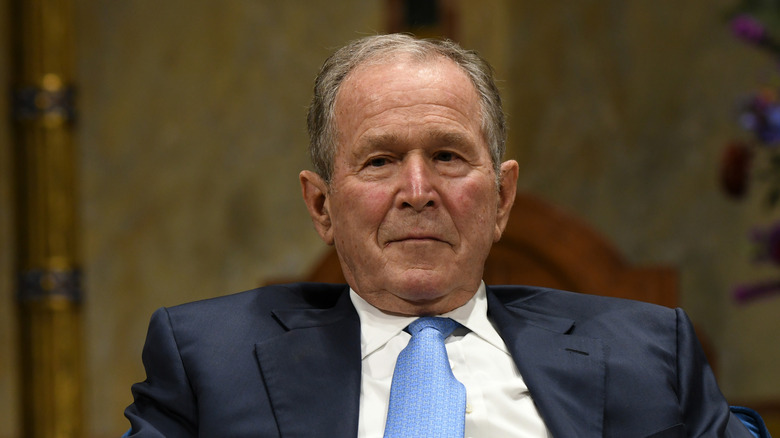 Michael Kovac/Getty Images
President George W. Bush, born July 6, 1946, succeeded Clinton and was also a two-term president, serving from 2001 to 2009. At 54, when Bush became the 43rd president, he was about the average age for the country's top spot. He was only the second son of a former president — George H. W. Bush — to be elected to the nation's top spot. The other was John Quincy Adams, the son of John Adams, who was elected in 1824. 
Since leaving the White House, Bush has lived a quiet life away from politics. He took up painting and produced a series of portraits of U.S. military veterans and immigrants. Bush, through his George W. Bush Institute at Southern Methodist University in Dallas, Texas, has advanced policies in such areas as women's initiatives, global health, and education. "I want people to be really impressed by what we do here: running an Institute that is results-oriented and focused on fundamental principles that will endure way beyond my time," Bush told SMU Magazine.
Donald J. Trump: The oldest president until Biden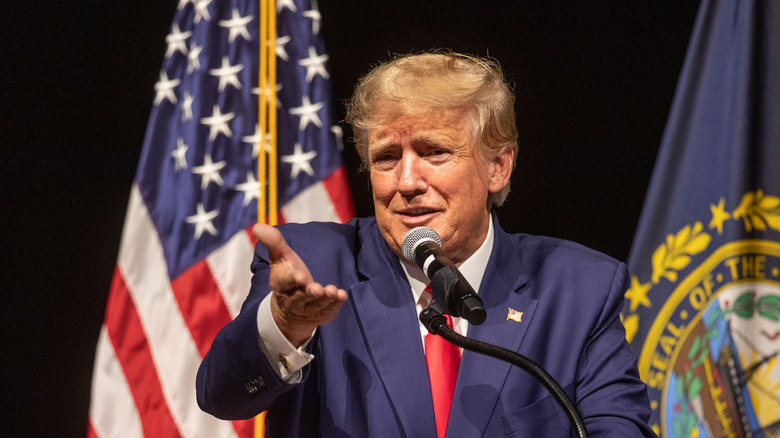 Scott Eisen/Getty Images
Donald J. Trump, born June 14, 1946, served one term as the 45th president from 2017 to 2021. He was 70 when he took office, making him the oldest president at the time of his inauguration until President Biden in 2020. Trump has announced his candidacy for president in 2024, and if he wins the Republican nomination, by November 2024, he'll be 78. And if he faces Biden, who will be 82 on Nov. 20, 2024, they would be two of the oldest candidates to go head-to-head.
The oldest presidential candidate in history was 85-year-old Harold Stassen, the former governor of Minnesota who ran in 1992 in the Republican primary, his tenth try for the White House. The last time there were this many former presidents alive at once was back in the mid-1990s when Carter, George H. W. Bush, Ronald Reagan, Gerald Ford, and Richard M. Nixon were all alive. And before that, you'd have to go back to the 1860s.