How Albrecht Muth Conned His Way Into The Inner Circles Of Washington, DC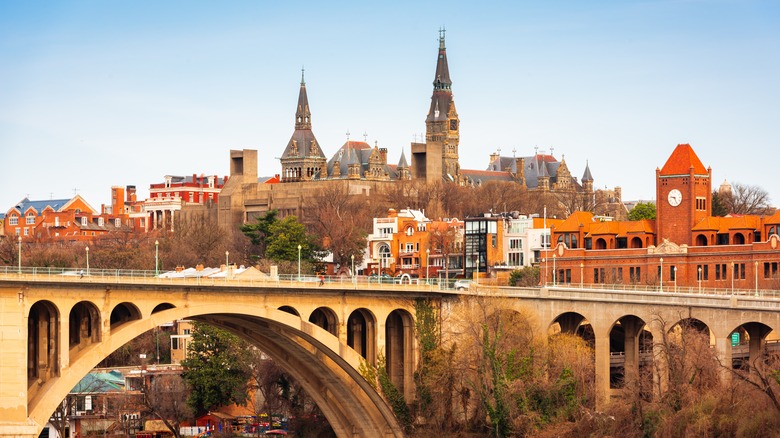 Sean Pavone/Shutterstock
In August 2011, journalist Viola Drath was found dead at her Georgetown, Washington, D.C. home. According to ABC News, the police quickly zeroed in on Drath's much younger husband, Albrecht Muth. CBS News reports that Muth, then 47, claimed that his 91-year-old wife fell and died. But investigators concluded that this was not the case and noted that Drath had been beaten and strangled. Days after her death, investigators charged Albrecht with second-degree murder. No one else had been inside their home, and all the evidence pointed to Muth. Likewise, they cited Muth's long history of domestic abuse. In 1992 and 2006, the police arrested him for assaulting Drath (via The New York Times Magazine).
The Guardian states that Drath's murder and Muth's subsequent trial became a media sensation. Beyond their significant age gap, The New York Times explains that the couple was known for their high-profile connections with Washington, D.C.'s political elite. The publication writes that Muth met Drath, a journalist, in 1982, when he was a teenager and a college student.
When Drath's first husband died in 1986, Muth lavished her with attention and won her over. Moreover, the two had various things in common; both were German and interested in politics. Per CBS News, they married in 1990 when he was 26, and she was 71. Muth later admitted to investigators (via AP News), "We had a marriage of convenience."
Muth used his marriage to Viola Drath to his advantage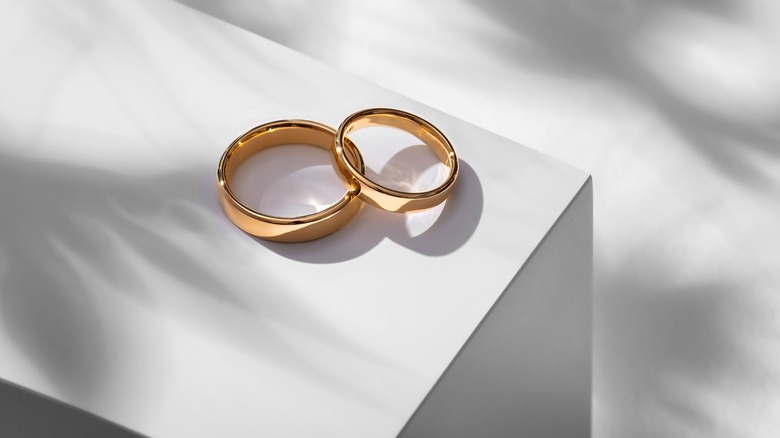 bigshot01/Shutterstock
Long before she married Albrecht Muth, The New York Times Magazine reports that Viola Drath's career made her well-acquainted with high-profile individuals such as Norman Mailer and Henry Kissinger. Once they tied the knot, Viola proudly paraded her young husband around, and Muth, who wanted a career in politics, used Drath's money and network in Washington, D.C., to climb the social ladder. Per The Guardian, the couple gained a reputation for throwing star-studded dinner parties at their Georgetown residence. Guests included Antonin Scalia and Dick Cheney, amongst others. In addition, acquaintances noted that Muth was unconventional. He told guests intricate stories and said he went on missions for the U.N. and German Intelligence.
Oxygen reports that Muth founded a group called the Eminent Persons Group in 1999. Like the dinner parties, Muth used Drath and this organization to lure notable people. Moreover, he saw it as a gateway to political prominence. According to The New York Times Magazine, George Soros helped fund this project, and the former Prime Minister of France, Michel Rocard, became involved. With Rocard in, Muth was able to entice other political heavyweights. Muth was obsessed with gaining power and acclaim. He explained to Drath's grandson that individuals in a position of influence "fire at a different level of the human condition."
A few years later, the Eminent Persons Group began to crumble. Muth's associates noted that they found his personality and wild stories questionable. In 2006, Muth physically assaulted Drath and left her.
Albrecht Muth's web of lies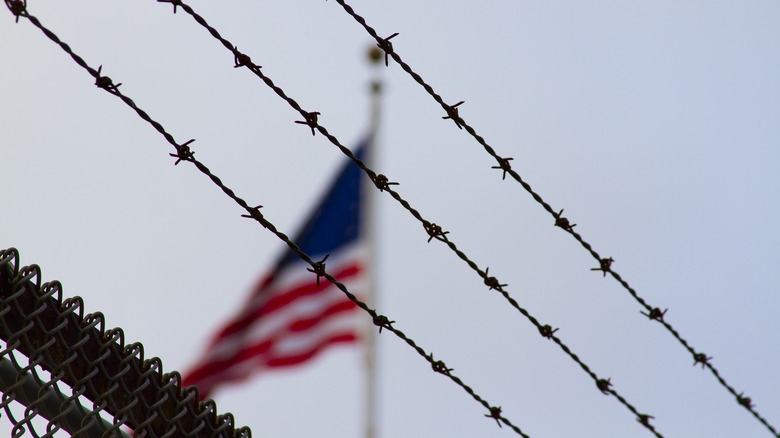 Shootingrichard/Getty Images
While apart from Viola Drath, The New York Times Magazine states that Albrecht Muth emailed colleagues that he was in Iraq serving as an adviser for militia leader Moqtada al Sadr. Muth said his goal was to help peacefully end the Iraq War. When he returned home from this venture in 2008, Muth and Drath reconciled. Their bliss, however, was short-lived. After years of domestic abuse, Drath wanted out of their marriage. Meanwhile, Muth was enraged that Drath had taken him out of her will. This likely contributed to Muth killing her after a night of drinking in August 2011, per the Department of Justice
According to The Guardian, all of Muth's dirty laundry came to light at his murder trial. Prosecutors told the Jury how Muth made false claims throughout his marriage to Drath. For instance, Muth was never a spy or in the Iraqi military. In fact, The New York Times Magazine states that Muth was living in Miami when he sent out the emails that claimed he was in Iraq. 
According to The New York Times Magazine, Muth managed to dupe his friends, people in power, and his wife. Prosecutors described Muth as "a career con-man" and a "serial wife-abuser" (via CBS News). Drath's murder, they said, was a "long time coming," per CBS News. In April 2014, the Department of Justice reported that prosecutors convicted Muth of Drath's murder and sentenced him to 50 years in federal prison.
If you or someone you know is dealing with domestic abuse, you can call the National Domestic Violence Hotline at 1−800−799−7233. You can also find more information, resources, and support at their website.