Is This Is Spinal Tap's Nigel Tufnel Really Based On Jeff Beck?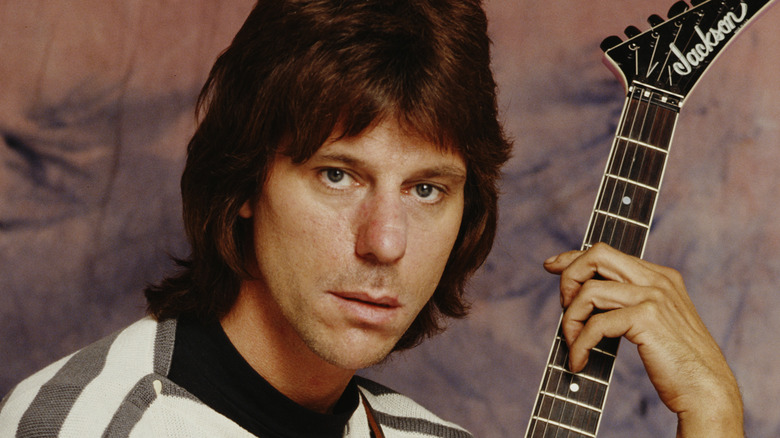 Michael Putland/Getty Images
The 1984 classic mockumentary "This is Spinal Tap" tells the story of the fictional band Spinal Tap, billed as England's loudest band. Today, in what is clearly a satire of classic rock 'n' roll excess, many bits from the film are well known, like the band Spinal Tap's inability to keep a drummer — they keep dying — and a guitar amp used by Spinal Tap lead guitarist Nigel Tufnel (Christopher Guest) "that goes up to 11." When punchlines like that work their way into casual conversation, you know a comedic film is here to stay.
Though parallels can be drawn between the band Spinal Tap and real-life hard rock acts, Spinal Tap — the band and the movie — are completely made up, according to Guest himself, who starred in the film and co-wrote the script (per Flavorwire). That fact hasn't stopped fans of the film from scouring for clues as to which musicians might have been Spinal Tap's actual inspiration. One character in particular, Tufnel, is often thought to be patterned after rock guitarist Jeff Beck, who died in early 2023 at the age of 78 from a case of bacterial meningitis, as The Guardian reports. In a 2010 interview with Undercover (per Clash), Beck himself sat down to set the record straight.
Spinal Tap was partially inspired by an actual experience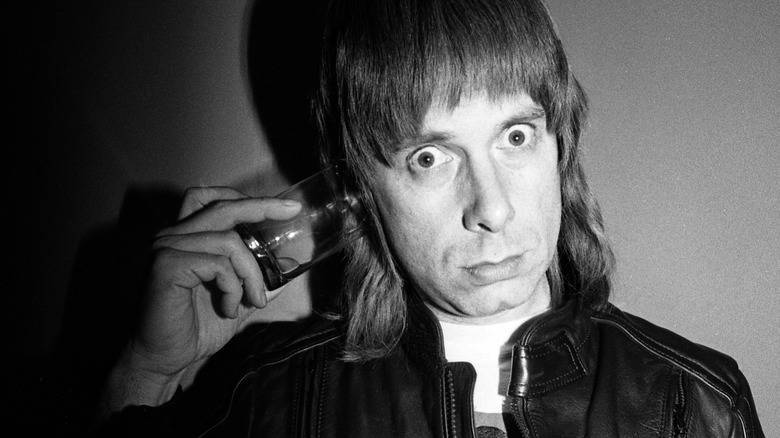 Martyn Goodacre/Getty Images
Though details of the fictional band Spinal Tap are not based on any one band, according to script co-writer Christopher Guest, the overall idea for the movie did come from an actual experience Guest had in the '70s. In a 2014 appearance Guest made in New York at a Spinal Tap 30th anniversary film screening, Guest (picture above as Nigel Tufnel) recalled a time when he observed a British rock band in an LA hotel lobby (via Flavorwire). The band's manager, Guest said, approached the desk to check himself and the band in.
The manager then turned, Guest continued, "And one of the musicians was standing there, and he said, 'Where's your bass, where'd you put your bass?' 'I don't know.' 'What do you mean?' 'I think I left it at the airport.' 'You left your bass at the airport?' 'My what?' 'Your bass. Where's your bass?' 'I don't know, do I?' So you're saying you left your bass at the airport?' 'Well I don't know, do I?' And I guess somewhere in my head, this lodged into some kind of bizarre one-act play, where this circular thing just kept going around." As Guest recalled, that exchange went on for 20 minutes.
Beck admitted he saw some similarity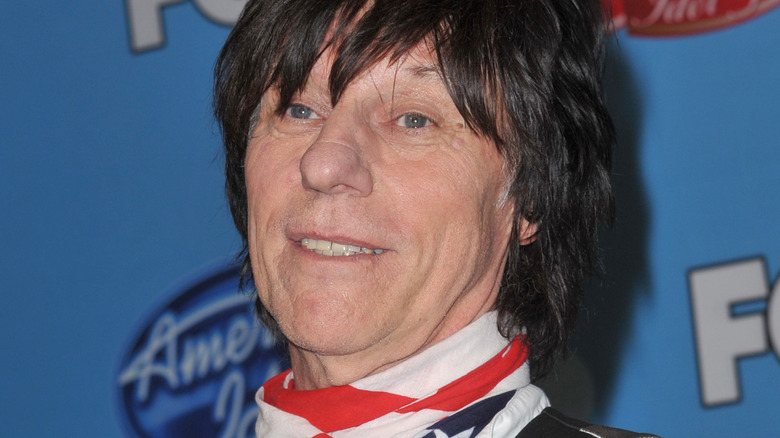 Featureflash Photo Agency/Shutterstock
As Clash reports, Jeff Beck himself spoke with Undercover about whether or not Spinal Tap guitarist Nigel Tufnel might in fact be based on him. Beck admitted he's a fan of the film, but said he saw few similarities between himself and Tufnel, save one: the character's hair. "But it ends there," Beck added. Beck was aware that actor and script co-writer Christopher Guest had watched Beck perform. "But Nigel is based on different characters from glam rock," Beck said. "Ironically, I was the only one who wasn't glam rock." Still, Beck said, "I loved every minute of that movie."
On the topic of the Beck/Tufnel controversy, Guest added he's often approached by people who inquire whether Beck was Tufnel's inspiration, among other musical points of reference. Via Flavorwire, Guest said, "People would say, 'You're doing Jeff Beck,' and Jeff Beck said, 'You're doing me.' No, no, I'm just me, doing this other thing. But it is interesting how after the fact, it becomes some other animal." To perhaps tempt the Tufnel-truthers, Beck did play alongside guitarists Joe Satriani, Slash, and Guest as Tufnel in the 1992 Spinal Tap reunion album, "Break Like the Wind," as JamBase reports. Around that same time, Guest gave an interview as Tufnel to MusicRadar. "Beck does play great ... I mean, no one plays like Beck!" Guest as Tufnel said.