Fred Saigh's Journey From Beloved St. Louis Hero To Federal Criminal To Hero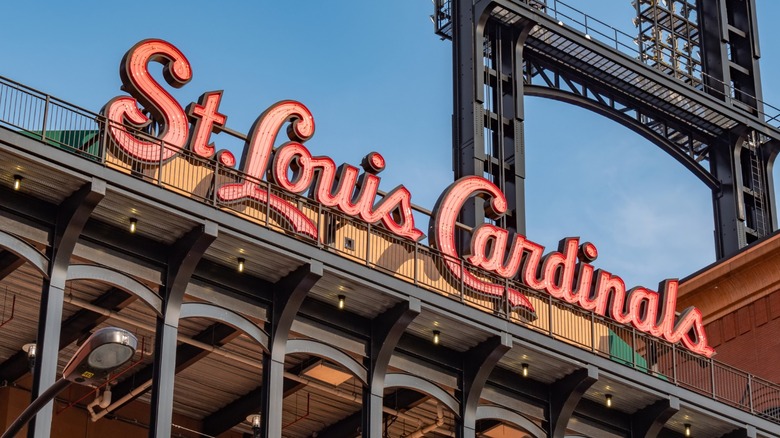 4kclips/Shutterstock
A visit to the midwestern city of St. Louis isn't complete without a trip to its historic downtown. Tourists from all over the world flock to the architectural uniqueness of the Gateway Arch, walk the Mississippi riverfront, and dine in the many unique restaurants the city has to offer (per Explore St. Louis). St. Louis is also a sports hub, drawing in millions of attendees each year to watch their beloved Blues compete on the ice or the 11-time World Series Champion Cardinals take the field at Busch Stadium (Champs or Chumps). An entire area of downtown St. Louis comes alive with each Cardinal home game, giving this district the life and vibrancy that only a true baseball city could muster. But the roar of the crowd and the smell of roasting peanuts wafting through the air nearly became a memory for the people in the city. There was a time in the mid-20th century when the Cardinals almost moved from their home in the Gateway City to a new facility in Houston, Texas.
The migration of one of baseball's oldest and most storied baseball clubs would have had devasting consequences on the downtown that it's called home for decades. The move out of St. Louis was almost a sure thing had it not been for a man named Fred Saigh. His efforts to keep the Cardinals where they belong are still remembered by the fans, even though he was sent to federal prison for a stint in the 1950s.
Saigh takes control of the Cardinals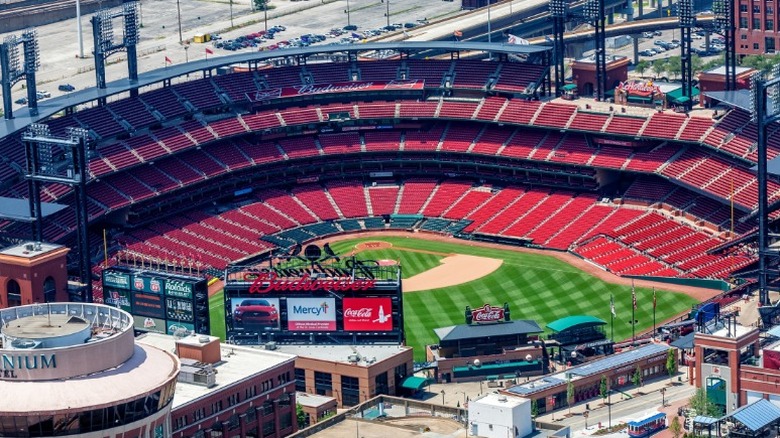 James R Poston/Shutterstock
Fred Saigh was a prominent businessman and tax lawyer in St. Louis. He had a variety of business ventures in the city and had built up a nice portfolio of commercial property by the 1940s (per History of Cardinals). At that time, the Cardinals were owned by Sam Breadon, and the National League ball team did not have a stadium of its own back then. In those days, the team paid a fee to play their home games in the stadium that was occupied by another MLB team, the Saint Louis Browns. Breadon had wanted to build his ballpark for his Cardinals and had a nice sum set aside for it. The $5 million in funds could easily cover the costs, but Breadon had two obstacles. One, he had been diagnosed with prostate cancer and was in ill health. Second, he had yet to find a usable location to build the proposed new stadium. If he didn't break ground soon, he was going to have to pay income taxes on the money he had saved to pay for construction.
Saigh persuaded Breadon to sell the team to him. He brought in an investor, St. Louis businessman Robert Hannegan. Not long after their $4 million deal to buy the team was inked, Hannegan's failing health pushed him to sell his shares to Saigh. With Saigh in control of the club, he built a solid rapport with other team owners. He was responsible for getting other teams interested in revenue sharing from broadcasts, as well as getting the current baseball commissioner replaced. But trouble would soon follow.
From hero to inmate to hero
Hendrickson Photography/Shutterstock
Fred Saigh was a dominating force in St. Louis with his powerhouse baseball team. But his reputation suffered greatly when it was revealed that he had been evading federal income taxes for several years (via History of Cardinals). Saigh was indicted on charges that he owed nearly $50,000 to the government. He ultimately pled no contest and was sentenced to serve a 15-month prison sentence at a federal penitentiary in Terre Haute, Indiana (he only served five). This prompted St. Louis Browns owner Bill Veeck to pounce. Together with other team owners, he began to put pressure on Saigh to sell the Cardinals. Veeck wanted the Cardinals out of his city and worked to find a group of investors in Houston that were eager to buy the team and move them to Texas. 
Under pressure to sell but wanting to keep his Cardinals in St. Louis, Saigh had a homerun of an idea. He approached beer magnate Gussie Busch, president of Anheuser-Busch, with an offer to sell the team to him. Busch agreed to a sale price that was $3.75 million less than what Saigh was offered if the team was moved to Houston. This kept the Cardinals at home where they belonged and began a new Cardinal era under the ownership of the beer company.
Saigh bought enough shares in Anheuser-Busch to become its biggest shareholder outside of the owner's family. He stayed in the business community and amassed a fortune worth half a billion dollars when he died at 94 (per the Chicago Tribune). He remains a hero to fans who remember his devotion to his city.