Disturbing Details About Jeffrey Dahmer Copycat, Chance Seneca
Chainarong Prasertthai/Getty Images
The following article contains graphic descriptions of violence.
Notorious serial killer Jeffrey Dahmer is known for murdering and cannibalizing his primarily gay victims. Although Dahmer died in 1994, he inspired at least one copycat – Chance Seneca. On June 20, 2020, 19-year-old Seneca invited Holden White, a man he met on the dating app, Grindr, to his Lafayette, Louisiana, home. Unbeknownst to White, ABC 13 reports that Seneca had kidnapped two other men the day before. Nevertheless, there's little information regarding those crimes. What is known, however, is that White believed that he and Seneca would have sex, according to BuzzFeed. 
KLFY reported that White, then 18, noted that he did not think anything was amiss with the situation at first. But things quickly went awry. White later recounted, "He left the room to get something, and then he came back. And when he came back, he had came up behind me and that's when he wrapped a cord around my throat." White attempted to fight back but lost consciousness. Seneca then placed White in the bathtub, where he proceeded to cut White's wrists. Seneca also stabbed White in the neck with an ice pick and hit the back of his head with a hammer.
Holden White survived the attack
Chance Seneca wanted to cut off Holden White's hands to keep them but couldn't; he panicked when he slit the wrists and saw White's bones. Instead, he called 911, told dispatchers that he killed White, and said (via Oxygen), "It's my fault ... I didn't want all this to happen."
Meanwhile, KLFY writes that White (pictured) was alive but was sure he would not make it. He told the station that while in the bathtub, "I was saying my final words to myself which were just, 'Stay calm." White later woke up from a three-day coma and spent a month in the hospital. Likewise, White could not work for months, and as of 2021, he was still physically recovering from his ghastly injuries. The authorities arrested Seneca and charged him with second-degree attempted murder and later with a hate crime.
White told KLFY that he was confident that Seneca targeted him because he was Gay. White explained, "He said this in prison. He said he chose me because I have a smaller stature and it would be easier to kill me. He knew what he was doing. This was preplanned, and when you look at his Facebook, his profile picture is Jeffrey Dahmer, and if you know the previous history about Jeffrey Dahmer, then you can clearly understand all the reasoning on why he wanted to do what he did. So this is a hate crime to me. It will always be a hate crime to me."
Chance Seneca said he would try to kill again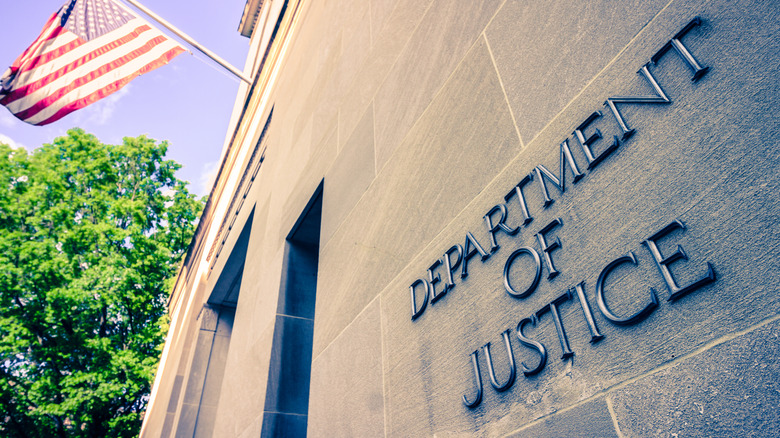 CHRISTOPHER E ZIMMER/Shutterstock
On top of state charges, the Department of Justice indicted Chance Seneca on federal charges of a hate crime and kidnapping in March 2021. Seneca agreed to a plea deal and pled guilty to one count of kidnapping in September 2022. In a press release, the Department of Justice disclosed the lurid facts of the case. Seneca divulged that he planned to kidnap, kill, and dismember Holden White. He also admitted to using the dating app Grindr to specifically prey upon gay men. Seneca said he would continue kidnapping and killing unless he was apprehended or dead.
In January 2023, prosecutors sentenced Chance Seneca to 45 years in federal prison for Holden White's kidnapping and attempted murder. Although Seneca's defense claimed that he could not have committed a hate crime because he is gay, the judge thought otherwise, per KADN. Seneca acknowledged that he was influenced and obsessed by Jeffrey Dahmer's crimes. Like Dahmer, he wanted to consume and preserve his victims, according to the Department of Justice. 
With Seneca's conviction, U.S. Attorney Brandon B. Brown for the Western District of Louisiana stated (via Department of Justice), "No one should ever be subjected to the type of horrendous actions that this defendant inflicted upon the victim in this case." On the other hand, White told The New York Times that he was unhappy with Seneca's sentence. He said, "It's not what I asked for." White added, "Life is what I asked for." At the time of this publication, Seneca has yet to be tried for his state charge of attempted second-degree murder.
If you or a loved one has experienced a hate crime, contact the VictimConnect Hotline by phone at 1-855-4-VICTIM or by chat for more information or assistance in locating services to help. If you or a loved one are in immediate danger, call 911.