How St. Lucia, The Only Country In The World Named After A Woman, Got Its Name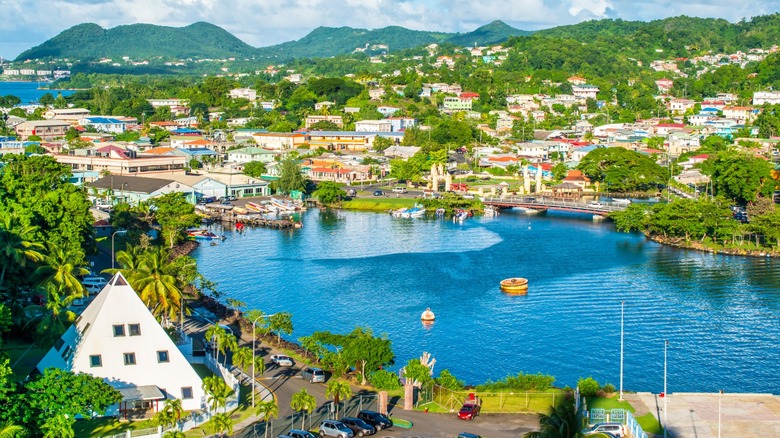 Napa74/Getty
When traveling the world, some of the most popular places to go are tropical island destinations. Though it is true that cities like New York, London, and Paris are often at the top of many travel bucket lists, places like Hawaii, Tahiti, and The Maldives are ranked among the best places to visit in the world. To be fair, it is hard to argue with locations that have warm weather, beautiful beaches, and amazing cultures to experience.
The Caribbean Sea is a region in the Americas that is home to many island paradises. Jamaica, The Bahamas, and Turks and Caicos are some of the most well-known places in the region. In addition to those widely visited destinations, there is another island in the same sea that is not only lovely but also has a unique claim to fame. According to World Atlas, it is the only country out of 195 sovereign states recognized by the United Nations that is named after a woman. That island is St. Lucia.
History of An Island Paradise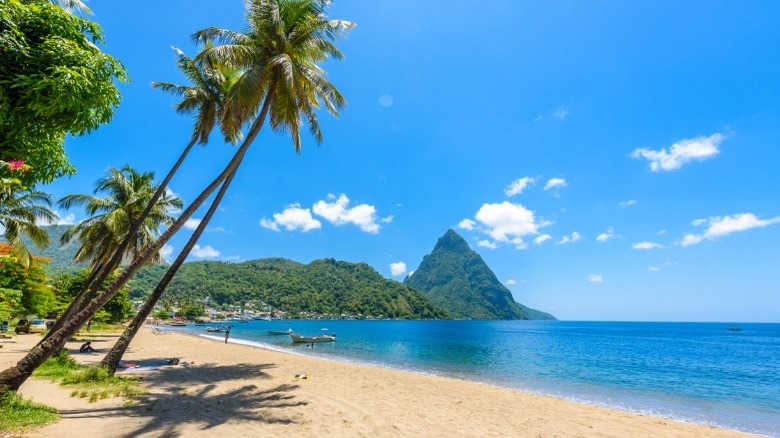 Simon Dannhauer/Getty
About 24 miles south of the island of Martinique lies St. Lucia. The island has what is known as a tropical maritime climate and possesses lush forests and stunning beaches. With the combination of a beautiful landscape and ideal weather, St. Lucia has become a place that music lovers, honeymooners, and adventure seekers alike have begun to visit more regularly. 
St. Lucia has a history dating back to 200 AD when it was home to Arawak Indians and known as Louanalao, the "Island of the Iguanas" (via St. Lucia). Subsequently, in 800 AD the Carib Indians arrived and combined their culture with the existing one and inhabited the island until the 17th century. It was then that the Europeans arrived and colonized the island. The English and the French fought over St. Lucia for centuries before it eventually became a part of the British Commonwealth where it remains today.
Who Was St. Lucia?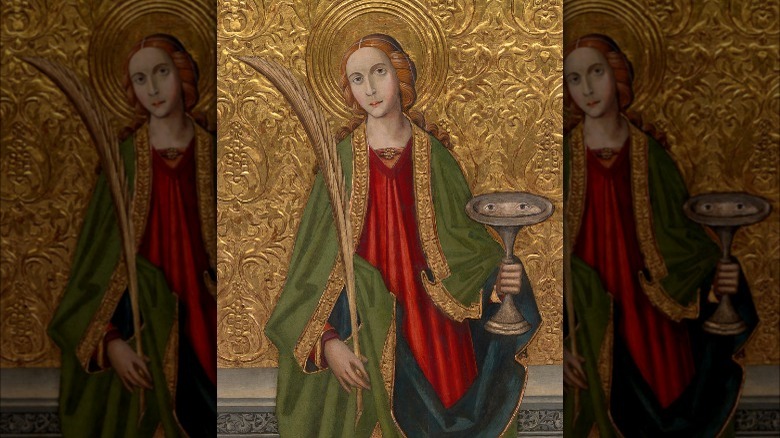 Heritage Images/Getty
The island of St. Lucia has gone through multiple name changes over the centuries. It is believed that in 1502, that the island was named by French sailors who had shipwrecked in the area, according to St. Lucia's government website. The practice of naming islands after Catholic saints was fairly common during this time. However, the name may have originally been Sainte Alousie. Other variations from centuries ago include different spellings, but regardless, the person the island is named for is known today in English as St. Lucy, the patron saint of the city of Sicily, of virgins, and of sight, per Britannica. They named the island in honor of St. Lucy, as legend says, because they arrived there on her feast day which is December 13.
So who was St. Lucy? St. Lucy of Syracuse (or St. Lucia of Sicily) was a young Italian woman who was martyred for her faith in 304 AD.  Legend says that she was saved multiple times via divine intervention from being forced into prostitution and burned to death, before eventually being killed by a sword. However, in reality, it was more likely that she fell victim to a wave of persecution against Christians that occurred in Rome during that time. By the 5th century she had become a popular saint and centuries later would have a country that bears her name.