Where The Rumor Phil Lesh From The Grateful Dead Is Courtney Love's Godfather Started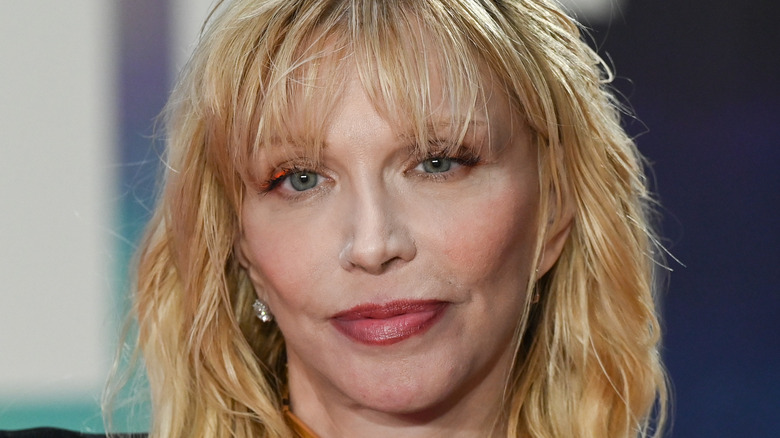 Stuart C. Wilson/Getty Images
Grunge musician Courtney Love may have a family connection to '60s icon Phil Lesh from the Grateful Dead, Stereogum reports. According to Love, Lesh may be her godfather but she's not sure, and she recruited musician John Mayer — who played with other former members of the Dead in the post-Garcia project, Dead & Company — to get to the bottom of it. It all got started in 2018 when Mayer posted a picture of himself on Instagram with retired NBA star and outspoken Deadhead Bill Walton and Dead & Company — as well as one of two Grateful Dead drummers — Mickey Hart.
Surely with connections like those, Mayer could help Love settle what could be one of her life's greatest mysteries, apparently passed down from her father: Could former Grateful Dead bassist and co-founder Phil Lesh really be her godfather? In her response to Mayer's Instagram photo, Love wrote that her father told her that was the case but she was too shy to ask Lesh in person when she had the chance. In her Instagram comment, Love wrote, "it may be true . will you find out ? [sic]."
Courtney Love's dad managed The Warlocks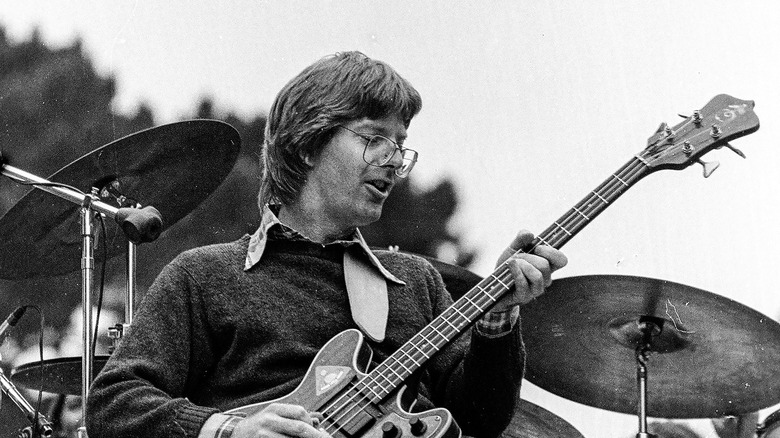 Larry Hulst/Getty Images
As Courtney Love's Instagram comment on John Mayer's post explained, her estranged dad whom she referred to in her post as "insane" managed The Warlocks in the 1960s. "The Warlocks" was what the Grateful Dead called themselves before they changed their name. In 2017, Love's father, Hank Harrison, who died in 2022 at the age of 81, published a book called "Love Kills: The Assassination Of Kurt Cobain," which supported the unfounded conspiracy theory that his daughter played a part in the shooting death of her husband, Nirvana lead singer Kurt Cobain, per The Galt Herald.
Cobain's 1994 death was ruled a suicide. Despite that fact, Love clearly had several reasons to doubt her dad's credibility, not least of which, Harrison allegedly gave his daughter LSD when she was a toddler. According to Love, " ... my insane father who briefly managed the warlocks ( and apparently stole from them ) after dosing me at 4 . and loads of other crazy stuff . told me phil ( lesh ) is my godfather [sic]."
Love sweetened the deal with a Rolex
To perhaps convince John Mayer — a noted wrist watch enthusiast — to do her a favor and find out from Phil Lesh if he might actually be her godfather, Courtney Love then posted the following on Mayer's Instagram photo of him standing beside Bill Walton and Mickey Hart (above), "and i'll get you a nice rolex john . lol lol . [sic]" It's unclear if Mayer ever followed up on Love's request and spoke with Lesh, so the mystery of Love's godfather remains.
As HuffPo reported, though, this was not the first Love had words for Mayer on social media. In a Twitter interaction, eight years prior to her Lesh inquiry, Love had words in reaction to an interview Mayer did with Rolling Stone. She commented on Mayer's sex appeal, " ... oh dudes Mayers a little bland for me and youngish ... hes neither Yale Harvard Oxford and hes not really rock, so not for me [sic]" — along with other more strongly worded Love-style verbiage. Based on that alone it's easy to understand why Mayer was perhaps in no rush to get in touch with her.