The Real Reason The Grateful Dead Broke Up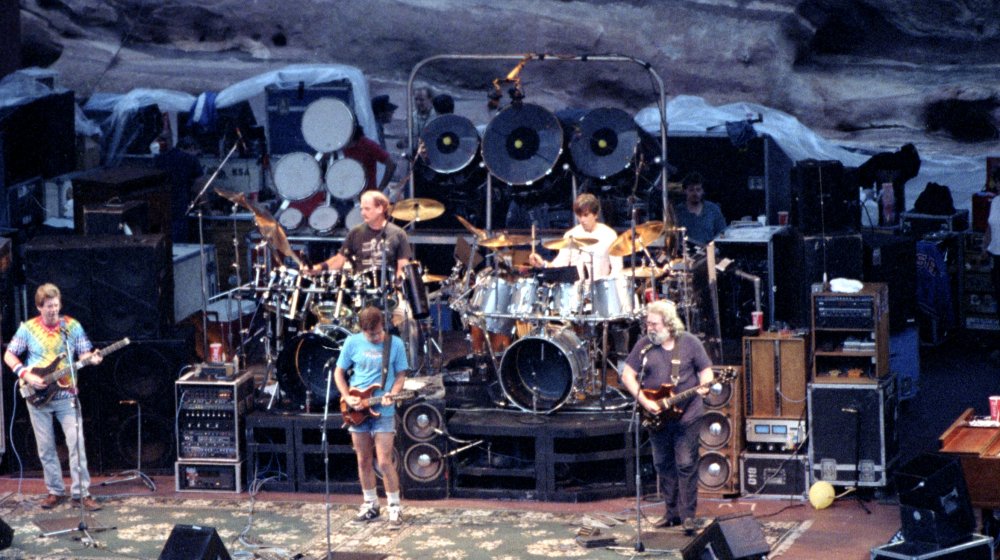 Tim Mosenfelder/Getty Images
The jam band scene as the world knows it today might not exist without the Grateful Dead. The Dead are synonymous with sixties counterculture, and a devoted following known as "Deadheads," who were — and continue to be — enthusiastic about how the band formed a brand new genre fusing folk, blues, and bluegrass. The Grateful Dead paved the way for similar guitar-based jam bands like the String Cheese Incident, Widespread Panic, Moe, and more, as they toured the country for three decades, performing hits like "Shakedown Street," "Touch of Grey," "Fire on the Mountain," and "Scarlet Begonias." Today, their work resonates as much as it ever did.
Sadly, the Grateful Dead ultimately broke up in 1995, but it was not because they wanted to stop making music and touring together. Lead singer Jerry Garcia died on August 9, 1995 ... and the Grateful Dead, as most people know it, died that same day.
Fare Thee Well
Larry Hulst/Getty Images
Garcia struggled over the years with health issues, due to a combination of drug addiction and his battle with diabetes, as described by AllMusic. He died from a heart attack a month after the band performed what would prove to be their very last show together, at Chicago's Soldier Field. 
By the end of the year, the rest of the band, including guitarist Bob Weir and drummer Mickey Hart, announced the band's official end. "The remaining members of the band met yesterday and came to the conclusion that the 'long strange trip' of the uniquely wonderful beast known as the Grateful Dead is over," the band said in their official statement. "Although individually and in various combinations they will undoubtedly continue to make music, whatever the future holds will be something different in name and structure."
However, in 2015, the band reunited for the first time since Garcia passed, by having the contemporary musician John Mayer fill in Garcia's place, as Uproxx explains. The group still tours with Mayer as the lead, but they are no longer named the Grateful Dead: they're now billing themselves now as Dead and Company, although original member and long-time bassist, Phil Lesh, no longer plays shows with the band.