Michael Jordan Gave Shaquille O'Neal Some Tough Advice In Their First Matchup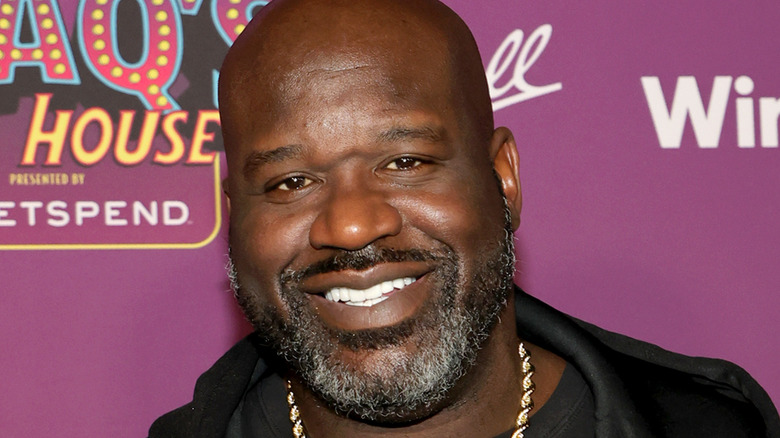 Ethan Miller/Getty Images
Early in his career, retired Los Angeles Lakers center and four-time NBA champion Shaquille O'Neal got some important in-game advice from Michael Jordan, as O'Neal himself recalled in a 2019 episode of "NBA Tonight" (via Youtube). Those MJ words of wisdom for Shaq came in 1993, as Jordan and the Chicago Bulls faced Shaq's team at that time, the Orlando Magic. It was Jordan's second-highest point-scoring performance of his career, but the Bulls would still end up losing, 128-124 in overtime, according to FanNation from Sports Illustrated.
As O'Neal later recalled on the "NBA Tonight" TV Show, he was intimidated by the prospect of facing Jordan, the first time he played who many consider the greatest ever in NBA history. At least the 7-foot-1, 325-pound O'Neal didn't have to guard the six-time NBA champion, he recalled thinking. A rookie, Shaq had only entered the league that same season. One thing was for certain, though, Shaq said (via Youtube): " ... [I] can't let him dunk on me ... I'm not getting dunked on, I'll never live that down from family members, homeboys, barbershops. That'll be a poster forever."
Jordan put up 64 points in the game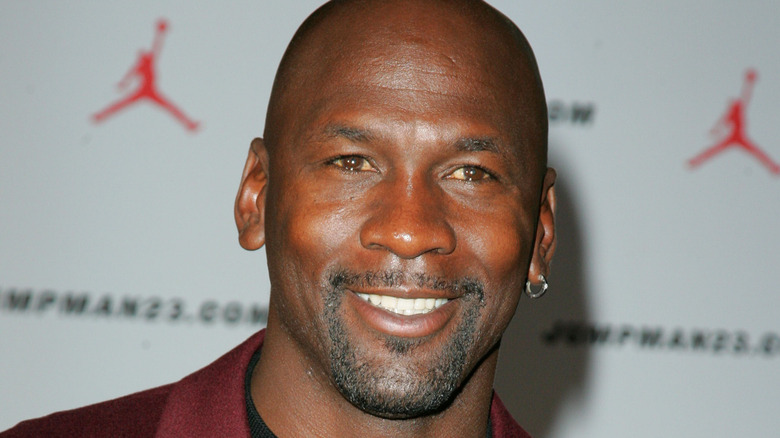 landmarkmedia/Shutterstock
Despite the four-point overtime Bulls loss in the 1993 game between the Orlando Magic and the Chicago Bulls, Michael Jordan would give a 64-point performance. Though his team won, in a 2020 appearance on "The Late Show with Stephen Colbert" (via Bleacher Report) Shaquille O'Neal recalled just how terrified he was to play Jordan in the game, a basketball hero from The Big Aristotle's childhood, as O'Neal's sometimes called. 
In that Late Show interview, O'Neal said (per Bleacher Report) "I was terrified and happy at the same time." Shaq went on to add, "Happy because as a kid, me and my friends were watching this guy. He has his own shoe, he won the dunk contest, he could fly. But then, when I got in the game and saw him do his first move and he hit his shot and he just hit like four or five shots in a row, I was like, 'Wow.' All this stuff I saw on TV, it's real life. I was terrified." O'Neal's opportunity to prove his worth against his childhood hero came in that `93 Magic-Bulls game when Jordan drove the baseline.
O'Neal fouled MJ hard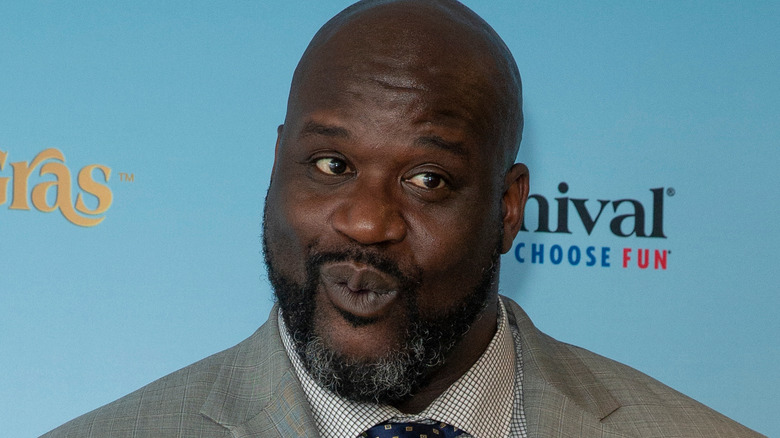 lev radin/Shutterstock
As Michael Jordan drove hard on the baseline in that '93 game against the Orlando Magic, Shaq had no choice but to foul him, and foul him hard. As O'Neal stated on "NBA Tonight," there was no way Shaq could let MJ posterize him. After doing so, O'Neal tried to be a good sport and help the GOAT up off the court. According to Shaq, that's when Jordan said, "'Don't ever help nobody up. Great foul. I don't do that. I don't need your help. But I'm coming back, don't you worry!' Mike is the guy that taught me how to get to the next level ... [Jordan] taught me something very valuable," O'Neal said.
Despite Jordan's historic 64-point performance in that game, his supporting cast on the Bulls failed to show up, FanNation reports. In contrast, O'Neal put up 29 points, with 24 rebounds, and five blocked shots, in that team victory, including a well-timed hard Jordan foul. MJ later recalled the frustration of such a stellar performance with an "L" for his team in the loss column. Via the Chicago Tribune, "The points don't make a difference to me ... It's just wasted energy in a sense because we didn't finish the game the way we should have," Jordan said.