Tragic Details About Boxing's Biggest Legends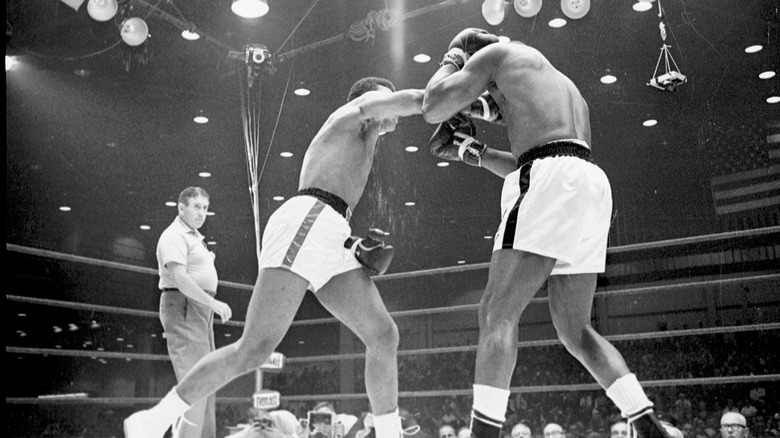 John Pineda/Getty Images
It's no secret that the sport of boxing attracts some extremely tough characters. The backstories of some of the world's greatest boxers are among the most tragic in sports. Often, those who are driven to fight in the ring have already gone through immense pain in their personal lives, or else feel they have nothing to lose risking their health in the game. Impoverished backgrounds, personal tragedies, and psychological issues are commonplace among the greats.
On the other hand, the sport itself also involves an extremely high level of risk that sometimes results in disaster. Terrible boxing injuries, ranging from broken bones to full-blown paralysis, are sadly commonplace — and it is not that unusual for fighters to die in the ring. Every year, some terrible accident leads to a call for a ban on the sport.
The tenacity and strength of many well-known boxers go well beyond the matches they've fought in. These fighters have been to hell and back — both in the ring and at home.
The following article includes descriptions of addiction, sexual assault, suicide, and hate crimes.
Sonny Liston
Hulton Archive/Getty Images
Notoriously tough boxer, Charles "Sonny" Liston, was an incredibly talented heavyweight fighter with 50 wins to his name and just four losses. However, despite his amazing ring record, Liston lived a life of infamy, up to his neck in the criminal underworld.
Liston was sadly involved in crime from a young age. He grew up in extreme poverty as one of 25 children and often went hungry as a child. By the time he was a man, he had been to jail multiple times for armed robbery. Thankfully, while in prison, Liston learned to box, and his incredible ability to knock men out cold soon brought him into the world of professional fighting. During his career, Liston took on the greats, knocking out Floyd Patterson to become the world heavyweight champion. However, he was always unpopular with the masses for his thug-like reputation, and he even frightened Muhammad Ali with his behavior.
Unfortunately, Liston was never really able to leave his life of crime behind because his handlers and contract holders were mobsters from the start. It is widely believed he threw his matches against Ali upon their request, and he was forced to give much of his prize away to gangsters. When he wasn't fighting, Liston wound up working as a loan shark in Las Vegas — and some believe that his ties to the mob eventually killed him. In 1971, Liston was found dead with track marks on his arm and heroin in his system. His wife and friends have insisted ever since that Liston was terrified of needles.
Muhammad Ali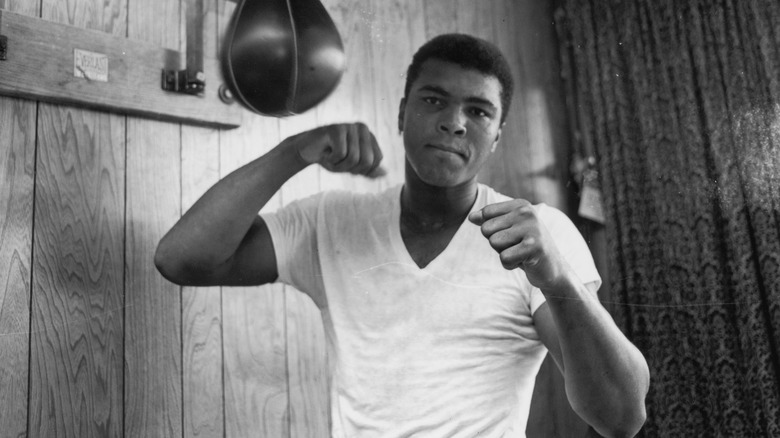 Harry Benson/Getty Images
Muhammad Ali, quite possibly the most impressive and charming boxer to have ever lived, was unbeatable in the 1960s. By the time he retired in 1981, he had achieved a ring record of 56 wins and just five losses. However, his incredible exploits were not without consequences. Repeated blows to his head throughout his life inevitably took their toll on his health, and Ali was crippled in later life by Parkinson's disease.
Although the famous boxer was diagnosed with Parkinson's in 1984, at the age of 42, Ali first showed signs of the illness in his mid-30s when he was still fighting. Studies of Ali's speech have revealed that he started to slur his words worryingly early in life; most people develop Parkinson's around 60 years of age, so Ali's early onset diagnosis was unusual. It is believed the battering he took from his late-career matches against George Foreman and Joe Frazier may have contributed to the onset of the disease. Ali did not make much effort to protect his head and took many blows to the face in the 1970s — he even had his jaw broken in 1973, in a nasty bout with Ken Norton.
Known for gracefully dancing around the ring, in later life Ali used a wheelchair and struggled with a powerful tremor. He campaigned to support people living with Parkinson's until he died, in 2016.
Joe Louis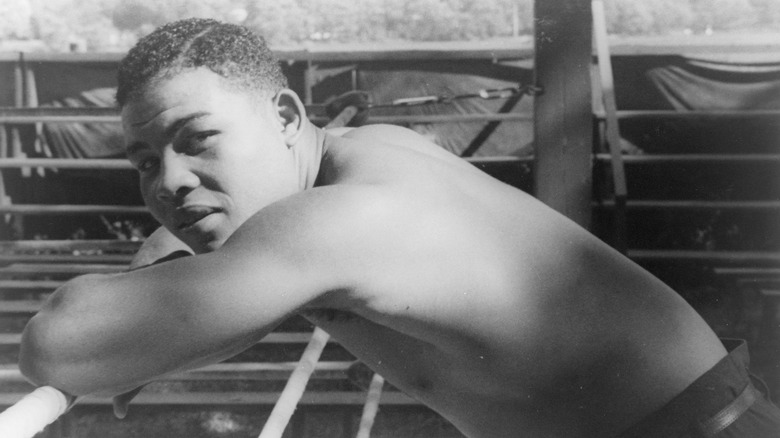 Donaldson Collection/Getty Images
Joe Louis — "The Brown Bomber" — was one of the first really famous African American boxers. He became a major celebrity during the Great Depression and World War Two, rising to fame with 50 wins and 43 knockouts.
Before he was a champion, Louis lived an extremely humble life. His grandfather had been enslaved, and his father was unfortunately sent to an asylum while Louis was still a child. But boxing changed things for Louis for a time. Supremely talented, he went on to become the world heavyweight champion in 1937, and he was widely celebrated for defeating Nazi Germany's Max Schmeling in 1938.
With fame came money — but Louis never managed to hold on to it. Too generous for his own good, he gave $100,000 away to support American troops during World War II, and he regularly handed out cash to friends and family. By the 1950s, Louis was so broke that he wound up owing the IRS over $1 million in unpaid taxes. Sadly Louis spent years fretting about money, and he struggled to find a way to pay it back. He returned to boxing and tried his hand at wrestling, to no avail, and eventually got a job at a casino. Thankfully, toward the end of his life, the government forgave his debt, giving him liberty to rest in his twilight years.
Kassim Ouma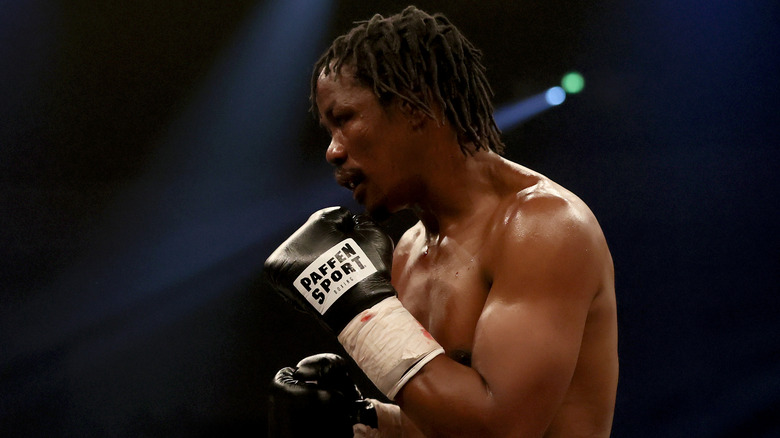 Martin Rose/Getty Images
Kassim Ouma, a light-middleweight world boxing champion from Uganda, has a backstory so crazy it was made into a movie in 2008. Before he was a star boxer, Ouma was a child soldier in Uganda, and he served 12 years in Museveni's National Resistance Army after being kidnapped at just six years old.The rebels who took Ouma routinely forced local children to shoot people using coercive methods — and the scared kids simply obeyed or were shot themselves. While Ouma does not like to talk about the men he killed, he has related that his experience was deeply traumatizing and that at one point he was forced to shoot one of his friends.
Thankfully, in 1998, Ouma went to the U.S. for a boxing tournament with the Ugandan army and stayed for good. After spending some time homeless in America, he quickly got back on his feet by working at a pizza restaurant and entering pro-boxing bouts in his free time. His skill in the ring was obvious, and he won the IBF junior world light-middleweight title in 2004.
Ouma successfully claimed asylum in America, but his desertion was not without consequences; his father was beaten to death in revenge for his flight to the U.S., and he can now never return to his home country. When he is not boxing today, Ouma is involved in various activities to help support friends and family in Uganda. In addition to sending money home, he has worked with Congress on the political situation in the country and set up his own charity to help people in his village back home.
Jack Johnson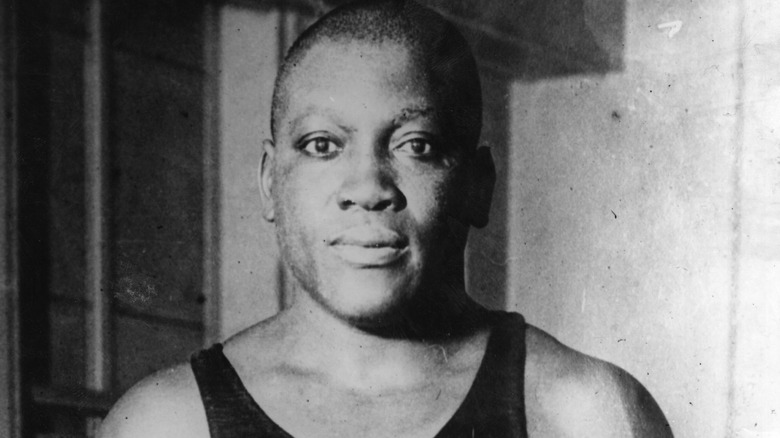 Hulton Archive/Getty Images
Jack Johnson was the first African American boxer to become the world heavyweight champion, in 1908. Although he was a powerful figure in the boxing ring, he faced much racism throughout his career, not least because he had many romantic relationships with white women. Johnson's parents had been enslaved and he grew up in the Jim Crow south, where his status as a celebrity upset many people. When he won a major bout in 1910, for example, an angry crowd of white racists was so incensed they burned down a Black tenement building and cut the throat of a Black man on a street car.
All three of Johnson's wives were white, which enraged those who refused to tolerate interracial relationships. Johnson was eventually charged under the Mann Act for passing through states with immoral intent — simply for transporting his girlfriend Belle Schreiber and his wife Lucille Cameron across state lines. Both women had worked as prostitutes, which meant it was possible to prosecute Johnson under the act, despite the fact he was in committed relationships with both partners.
Johnson was found guilty in 1913, and he fled the U.S. and traveled the world for the next seven years. He made the most of his time on the run, hiding in Europe, Latin America, and Cuba before finally surrendering himself to the U.S. government in 1920 to serve his jail term. In 2018, he was awarded a posthumous pardon by the Trump administration, after years of campaigning by his supporters.
If you or a loved one has experienced a hate crime, contact the VictimConnect Hotline by phone at 1-855-4-VICTIM or by chat for more information or assistance in locating services to help. If you or a loved one are in immediate danger, call 911.
Matthew Saad Muhammad
"Miracle" Matthew Saad Muhammad was a boxing champion in the late '70s and '80s, and eight-time world champion in the light-heavyweight division. Although Muhammad had some great successes in the ring, his life was never easy, even after he achieved great fame. Before he converted to Islam, Muhammad was named "Franklin," after the street he was found on in Philadelphia as a boy. His mother died when he was still very young, and his aunt eventually abandoned him when he was just five years old. He was found sleeping on the streets by a group of nuns, who raised the small boy themselves and gave him his name.
As a young boy, Muhammad grew up an orphan in a rough neighborhood and learned to box to protect himself against tough local gangs. He quickly developed a talent for the sport, and by his early 20s he had gone professional. During his glittering career, he would achieve 35 knockouts and earn $4 million.
Unfortunately, Muhammad's problems did not end with his boxing successes, and his time at the top was short-lived. In later life, he lost most of his money through overspending, and he wound up unhoused again, just as he had been in his youth. Outside of his boxing career, Muhammad is well-remembered for bringing attention to the problem of homelessness in the last years of his life.
Johnny Tapia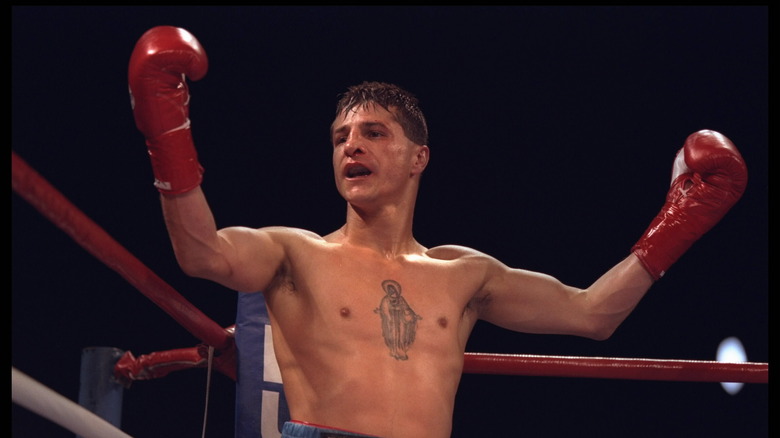 Al Bello/Getty Images
Johnny Tapia's life story is one of the saddest in modern boxing. Throughout Tapia's short life, he excelled at fighting, and he became a renowned boxing champion in three different weight classes. However, his personal life was filled with tragedies he struggled to cope with.
Both of Tapia's parents were murdered in New Mexico, where the sports star was born. His father was killed while his mother was still pregnant with him, and his mother was kidnapped, raped, and stabbed to death with a screwdriver when he was just six years old. Worse still, Tapia witnessed the kidnapping himself, which scared him for life. Although he would become a world boxing champion five times, Tapia never recovered from the horrors of his childhood. He struggled with severe depression, as well as a cocaine addiction that got him barred from the sport for three and half years. In 2001, he went so far as to attempt suicide, and five years later a cocaine overdose nearly killed him.
Speaking to a journalist at The Bleacher Report, Tapia once commented that it was boxing that ultimately kept him alive for so long. Sadly, Tapia died young anyway, passing away in 2012 from heart failure.
If you or anyone you know is having suicidal thoughts, please call the National Suicide Prevention Lifeline​ by dialing 988 or by calling 1-800-273-TALK (8255)​.
Ray Mancini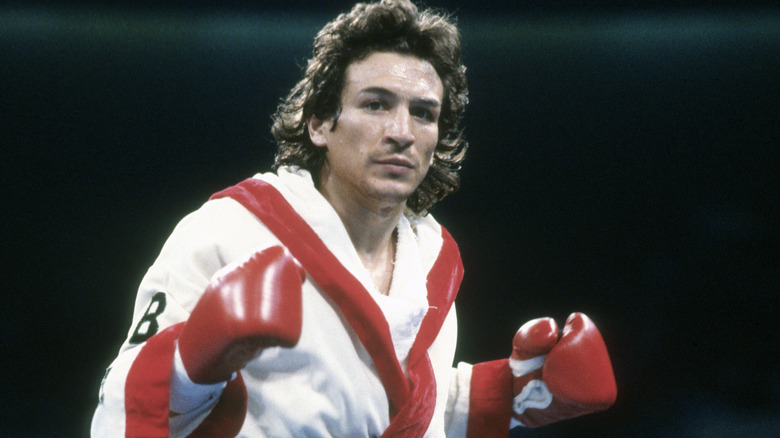 Focus On Sport/Getty Images
Ray "Boom Boom" Mancini was once the world lightweight boxing champion, but his performance in the ring rapidly declined after a tragic accident left one of his young opponents dead. Although the dreadful match in question is by no means the only fatal fight to haunt the boxing world, the terrible death of Duk Koo Kim is still remembered as one of the worst accidents in the sport's history.
If Mancini's opponent Kim had survived, his story might have been inspiring. Born into dire poverty in South Korea, he went through a period of homelessness in Seoul as a young man before he became a talented boxer. During his career, he distinguished himself with 17 wins, but his match against world champion Mancini proved a mistake. Kim went 14 rounds during the fight against the much bigger Mancini before finally collapsing. The boxer, who famously declared he would kill or be killed in the ring, refused to tap out when he took a pounding, and he slipped into a coma and died five days later. Kim left behind a pregnant fiancé, and his mother, unable to cope with the grief, killed herself by drinking pesticide. The referee, unable to stop the match, also killed himself, sending a shockwave across the boxing world.
Mancini would lose his championship title and quit boxing over the next two years. Although he made a comeback, commentators say he never fought with the same intensity again, and lost most of his endorsements. Worst of all was the guilt — nobody would let him forget the terrible fight, which overshadowed the rest of his fighting career.
Floyd Patterson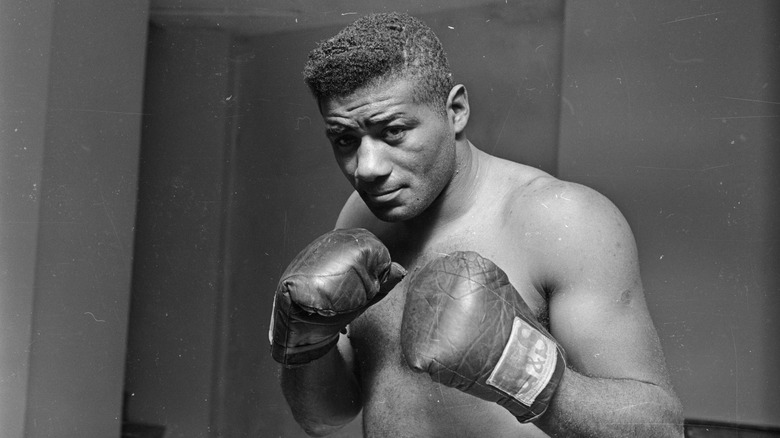 Mccabe/Getty Images
World heavyweight champion Floyd Patterson suffered through the school of hard knocks before he started knocking people out. Resolutely gentle and kind, his personality belied his early start in life. Born during the Great Depression in 1935, Patterson slept in one bed with two of his ten brothers, all while his parents desperately struggled to pay to keep a roof over their heads.
Bullied for his shabby appearance as a child, Patterson routinely skipped school, and he failed to learn to read until his teens. To ease the family's burden, he worked as a shoe-shiner and stole food whenever he could, landing him in regular trouble with the police, some of whom physically accosted the African American boy they had no sympathy for. Preferring to stay out of the house, and upset by his life at home and at school, Patterson slept in subway stations and became mute, refusing to talk to people altogether.
His strange behavior eventually landed him in a school for the emotionally disturbed, but thankfully in his new school, he learned to box — a skill that would one day earn him $8 million and pull him out of poverty for good.
Gerald McClellan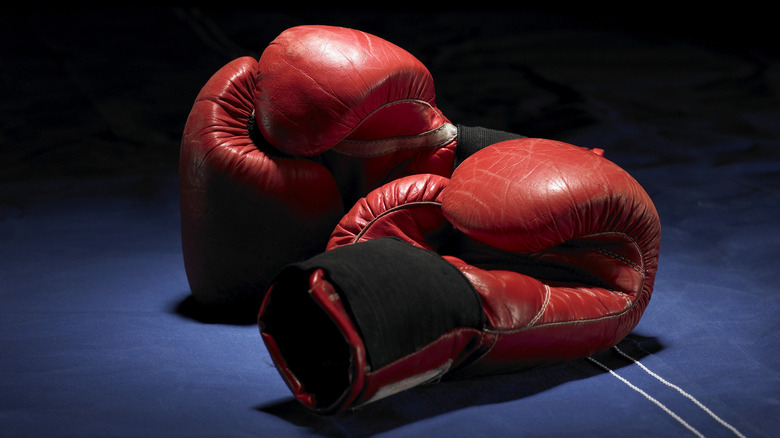 Phil Ashley/Getty Images
Gerald McClellan was once the world middleweight champion. During his career, he achieved an incredible 29 knockouts, 20 of which took his opponents out in the first round. In one particularly famous fight in Puerto Rico, McClellan ended a match in just 30 seconds with his fearsome fists. Seemly unbeatable, nobody expected that he would wind up seriously disabled from the sport, following a brutal fight that nearly killed him.
McClellan went up against world champion Nigel Benn in 1995, part of a bid to move up a weight class and snatch the super-middleweight title from the British Boxer. But Benn was much tougher than anyone McClellan had ever faced before: He not only withstood McClellan's powerful blows, the pair also fought ten whole rounds before McClellan was finally defeated and taken to hospital.
McClellan's injuries from the fight were so bad, a boxing ban was discussed in the UK immediately after the match. Although doctors were able to remove a blood clot from McClellan's brain, the boxer lost his eyesight and most of his hearing. Severely disabled, he now needs round-the-clock care and lives with his sister on disability benefits.
George Chuvalo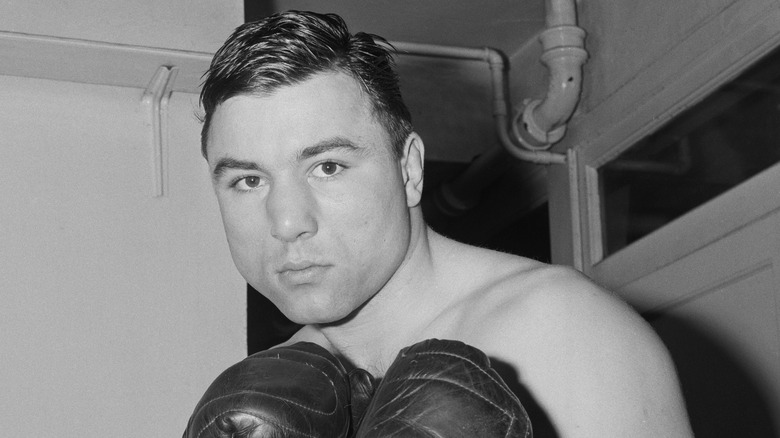 Ron Case/Getty Images
In his prime, Canadian-Croatian boxer George Chuvalo was so tough that he once put Muhammad Ali in the hospital. During his unusually long and successful career, he won 73 bouts and fought some of history's most incredible fighters. However, away from the spotlight, Chuvalo's home life became so awful he regularly contemplated suicide in the 1990s.
The trouble began for Chuvalo when three of his sons secretly got addicted to heroin. Initially, one of the boys began shooting up for pain relief after a nasty motorcycle accident, but before long, all three were using hard drugs recreationally and robbing people to pay for it. Sadly, after his youngest son killed himself with a rifle, the two remaining brothers became more reckless with their dosing. They both spent time in and out of prison, and eventually, both of them died of overdoses. Unable to bear the agony of loss, Chavulo's wife also deliberately overdosed after losing her second son.
Remarkably, despite suffering through a lifetime of tragedy, Chuvalo somehow persevered, and he went on to remarry and became a devoted grandparent. In Canada today, he is not only a well-known celebrity, but also a staunch campaigner against substance use disorder.
If you or anyone you know needs help with addiction issues, help is available. Visit the Substance Abuse and Mental Health Services Administration website or contact SAMHSA's National Helpline at 1-800-662-HELP (4357).