A Complete Timeline Of The Whirlwind Changes To Motley Crue's Lineup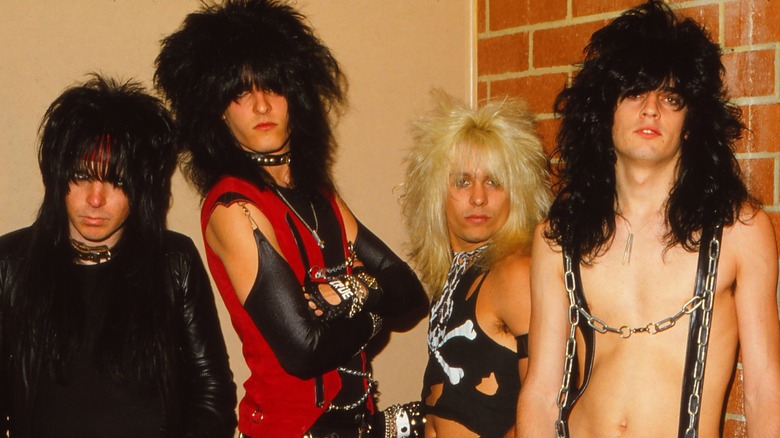 Joel Selvin/Getty Images
Since they debuted, Motley Crue has defined the excess and decadence of the heavy metal era of music. Widely known for their crazy stage antics and penchant for mind-altering substances, the boys from Crue can more than make their way around a party. They were no slouches musically, either, writing some of the biggest hits in heavy metal history. No soundtrack of the '80s is complete without hits like "Girls, Girls, Girls," "Dr. Feelgood," and "Kickstart My Heart." Even their slower songs, like "Home Sweet Home," set new standards for power ballads.
For the majority of their career, Crue consisted of Tommy Lee Jones on drums, Mick Mars on guitar, Nikki Sixx on bass, and Vince Neil on vocals. However, that is far from the only lineup that has performed under the Crue banner. Since they first debuted in 1981, Nikki Sixx is the only member to have consistently been a part of the band through 2023. Both Tommy Lee and Vince have left the band at various points, and Mick Mars retired from the road before the band's 2023 tour. Between 1981 and 2023, here's the complete timeline of the whirlwind changes to Motley Crue's lineup.
Nikki Sixx and Tommy Lee first get together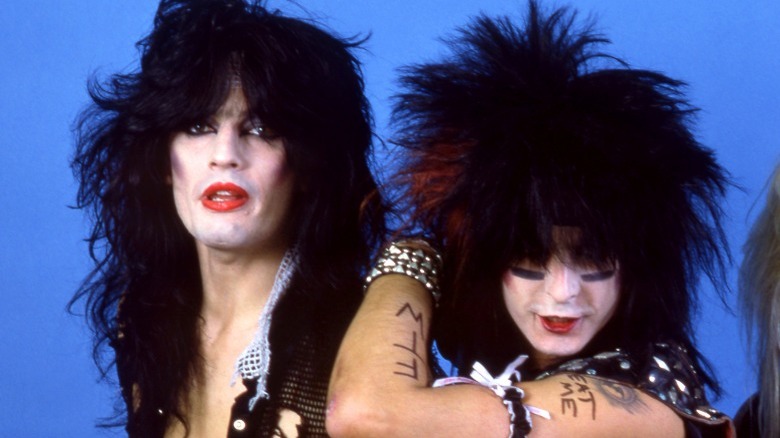 Icon And Image/Getty Images
The two original founding members of what would eventually become Motley Crue were Nikki Sixx and Tommy Lee. Before they started playing together, they were previously active in the music scene but in different bands. Tommy Lee played in a band called Suite 19, and Sixx played in a band called London. However, both bands dissolved after only some local success, and soon Sixx and Tommy Lee found themselves connected through Greg Leon.
Leon had previously been the guitarist for Tommy Lee's band Suite 19 but had teamed up with Sixx following their demise. After Tommy Lee's short stint in another band, which saw him get kicked out after hooking up with the lead singer's sister, Leon gave his phone number to Sixx. Soon, they were jamming together. Unfortunately for Leon, Sixx quickly kicked him out of the band for not fitting the right aesthetic.
However, as Leon recalled in a July 2007 interview, he stopped playing with Tommy Lee due to joining the band Quiet Riot. Quiet Riot had just lost legendary guitarist Randy Rhoads to Ozzy Osbourne's band, and Leon was slotted to take his place. While Leon went on to play with Quiet Riot and Dokken, Sixx and Tommy Lee would later become Motley Crue.
The Robin Moore and Mick Mars incident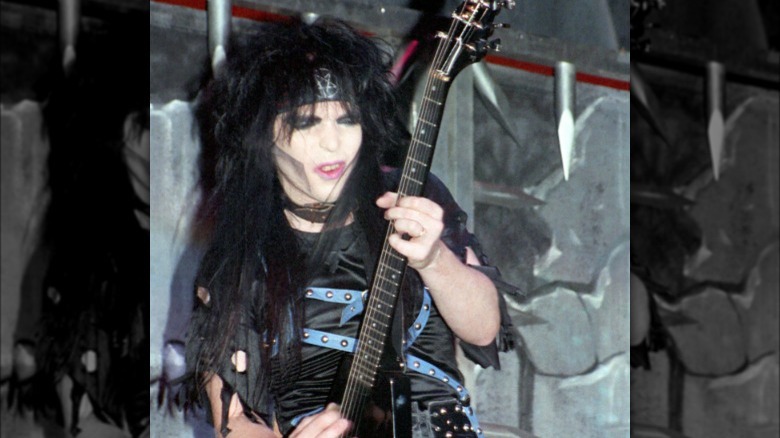 Larry Marano/Getty Images
One of the most memorable scenes in the 2019 film "The Dirt," which was based on Motley Crue's autobiographical book released 18 years earlier in 2001, was Mick Mars' entrance into the band. He shows up one day and starts jamming with them as the second guitarist, only to immediately kick the other guitarist out of the band, telling him it wasn't big enough for the both of them. While many people might have thought this was just a funny story, it turns out it was actually true.
After Tommy Lee and Nikki Sixx kicked Greg Leon to the curb, they replaced him with Robin Moore. However, for all his skill he didn't really fit the band's ethos, and Sixx and Tommy Lee remained on the hunt for someone else while they bided their time with Moore. As soon as Mars showed up it was quickly the end of the line for Moore. Mars learned the opening riff to "Stick to Your Guns" and blew away Tommy Lee with his playing. On the spot, he kicked Moore out of the band, more or less how it was shown in the film. Now, they were a three-piece of Tommy Lee, Sixx, and Mars. All they still needed was a lead singer.
1981 – 1992: The classic Motley Crue lineup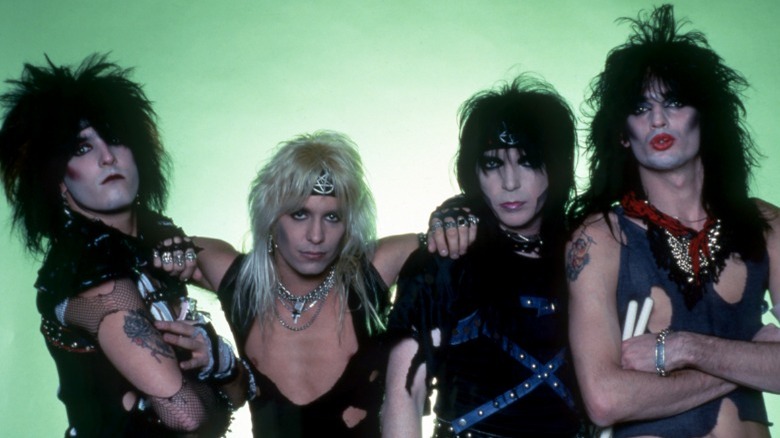 Icon And Image/Getty Images
After Mick Mars had effectively established himself as the sole and only guitarist in Motley Crue, the core of him, Nikki Sixx, and Tommy Lee, was finally set. As noted in the band's autobiography, "The Dirt," they began rehearsing with a singer named O'Dean and even recorded several songs in the studio. However, like Robin Moore before him, O'Dean did not fit in with the attitude and aesthetic of the Crue, leading to his dismissal. The final straw for Sixx was when O'Dean's obsession with his trademark white gloves started to interfere with Sixx's visions for the recording.
Needing a replacement, Tommy Lee remembered an old classmate of his from high school who he knew was a singer. His name was Vince Neil. As soon as they started playing together, Vince, Tommy Lee, Sixx, and Mick Mars all hit it off, and Motley Crue was officially born. By the end of 1981, their debut album, "Too Fast for Love," had been released and the guys started on their first tour. Their second album, "Shout at the Devil," came out two years later and sold more than a million copies.
The classic Crue lineup lasted from 1981 to 1992 and saw the band reach monumental heights of superstardom. However, the good times also bred widespread personal issues, prompting the band to clean up their act at the end of the '80s in time for the release of "Dr. Feelgood." Unfortunately, the disagreements were far from over.
1992 – 1996: Enter John Corabi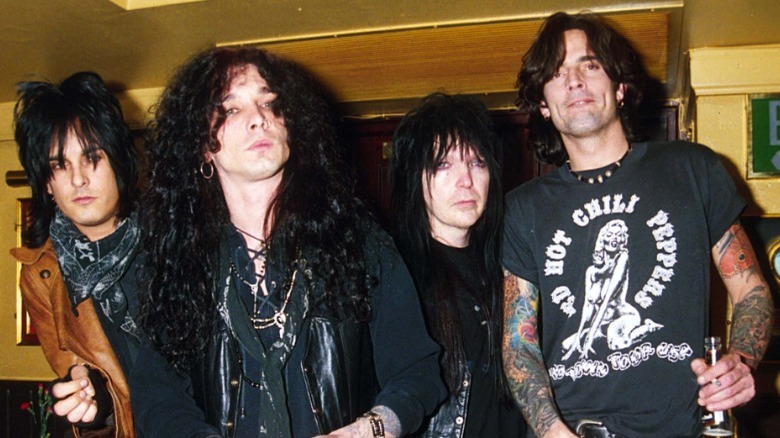 Dave Benett/Getty Images
Following the release of "Dr. Feelgood" in 1989, Motley Crue was seemingly back on top. The band had a top 10 hit and was soon back embarking on world tours. However, when they began working to record a follow-up, Vince Neil and the band split ways. After getting dismissed, Neil started to spiral out of control, taking a porn star with him to Hawaii and relapsing into substance abuse. He eventually worked to get sober again, but he was out of the band.
Part of the reason the band let Neil go was his increasing devotion to driving race cars, and he soon embarked on his own solo career. While away from the Crue, he released two albums: "Exposed" in 1993 and "Carved in Stone" in 1995. John Corabi replaced Neil in the Crue, and in 1994, the band released "Motley Crue" to immediate commercial success. However, the marriage of the Crue and Corabi was not to be. In 1996, just two years after the release of "Motley Crue," Corabi was kicked out of the band. Facing criticism from the heavy metal crowd, Motley Crue needed a new lead singer... again. Luckily, they would soon find a familiar face amongst all the noise.
If you or anyone you know needs help with addiction issues, help is available. Visit the Substance Abuse and Mental Health Services Administration website or contact SAMHSA's National Helpline at 1-800-662-HELP (4357).
1997 – 2000: Welcome back Vince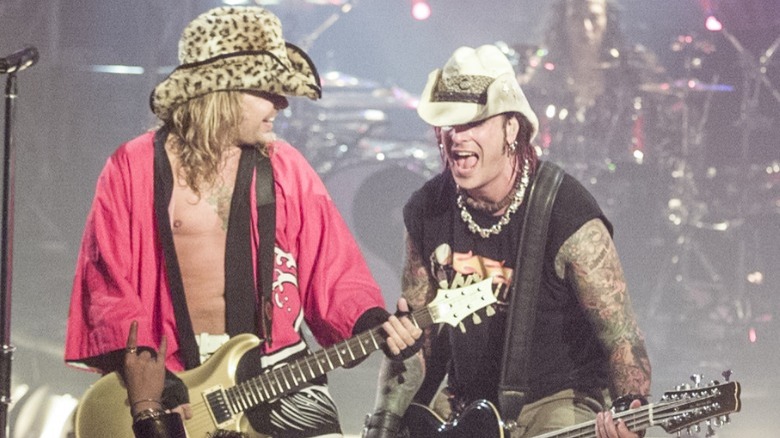 Bill Tompkins/Getty Images
When the Corabi years ended in 1996, there was really only one choice to take over as Motley Crue's vocalist again: Vince Neil. Fresh off the release of his 1995 album "Carved in Stone," Neil rejoined Motley Crue in 1997 in time to release "Generation Swine," the band's seventh studio album and first since "Motley Crue" with Corabi in 1994. And while "Generation Swine" sold well at first, the personal problems in the band started to overtake the music once again.
Much of the dysfunction was led by Vince Neil and Tommy Lee, but Nikki Sixx also got in on the action, too. Sixx found himself in trouble with the law for his stage antics, while Lee was infamously married to Pamela Anderson, which culminated in an embarrassing sex tape being released. Neil, for some bizarre reason, thought that it was also the time for him to release a competing sex tape, which he did in 1998.
Still, the band released a greatest hits collection in 1998, and the following year went on a massive 40-city tour with old friends the Scorpions, which featured stops at iconic venues like Red Rocks Amphitheatre in Colorado and the 1999 Rock Fest. They released a live album cut from that tour, known as "Entertainment or Death," but lineup changes were once again on the horizon for the Crue in the not-so-distant future.
2000 – 2002: Randy Castillo and Samantha Maloney's turn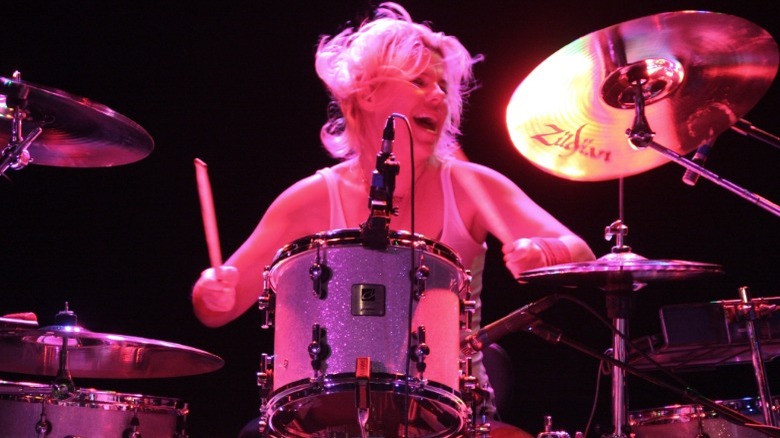 Angela Weiss/Getty Images
As Tommy Lee's personal struggles started to mount throughout 1998 and 1999, he became increasingly distant from the band. He was in the middle of his high profile and tumultuous relationship and subsequent marriage to former "Baywatch" star Pamela Anderson, and things were beginning to take a toll. On May 20, 1998, the Associated Press reported that Tommy Lee was sentenced to six months in jail for domestic assault against Anderson after previously being arrested that February.
After Tommy Lee got out of jail, he embarked on a tour with Crue, but his heart was no longer in it. He was working on an album for his side project, Methods of Mayhem, when not performing with the Crue, and he soon called it quits from the band after getting into a fistfight with Vince Neil.
For his replacement, first the band went with Randy Castillo, the former drummer for Ozzy Osbourne, but his tenure was short-lived. He became sick after appearing on the album "New Tattoo," and after being unable to perform, was soon replaced by Samantha Maloney. Following Castillo's death in 2002, the band went on an official hiatus for the first time since they formed in 1981.
If you or someone you know is dealing with domestic abuse, you can call the National Domestic Violence Hotline at 1−800−799−7233. You can also find more information, resources, and support at their website.
2004 – 2015: The classic lineup reunites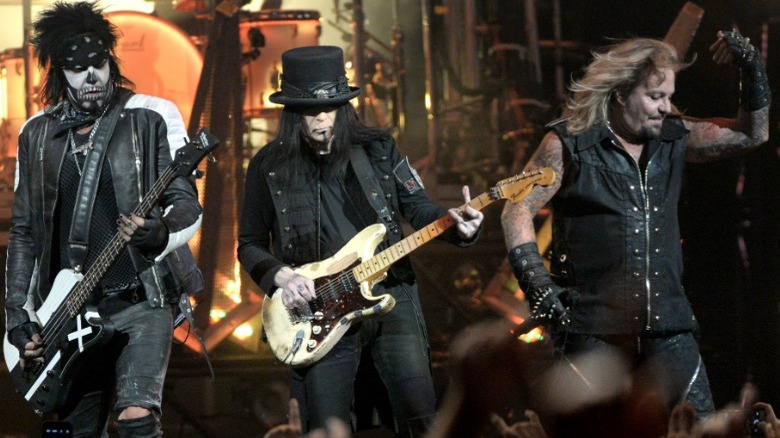 Kevin Mazur/Getty Images
Tommy Lee's departure from Motley Crue was relatively short-lived. In the years the band was on hiatus, both Vince Neil and Nikki Sixx performed as solo artists, and Neil released "Live at the Whiskey: One Night Only" in 2003. The next year, Sixx released "Here Comes the Brides" with his new band, Brides of Destruction. Tommy Lee released the self-titled debut for Methods of Mayhem in 1999, and he followed that up with a solo album "Never a Dull Moment" in 2002.
Then, in 2004, the band surprised many when they announced that the classic lineup was going to be reuniting. They released another greatest hits album, "Red, White, and Crue," and went on a massive supporting tour of the same name. In 2008, they released their first studio album since 1997's "Generation Swine," when "Saints of Los Angeles" hit the shelves. "Saints of Los Angeles" got them a Grammy nomination, though they didn't win, and they continued touring through 2014.
Yet, in 2014 the Crue made one of their most shocking announcements of all time: They were officially retiring, for good. As reported by Rolling Stone, the band collectively signed a "cessation of touring agreement" which was supposed to prohibit them from touring under the Motley Crue banner following their final 2015 world tour. The final tour started in July 2014 and ended on New Year's Eve 2015, and was supposed to be the end of the Crue — supposed to be, at least.
Motley Crue comes out of retirement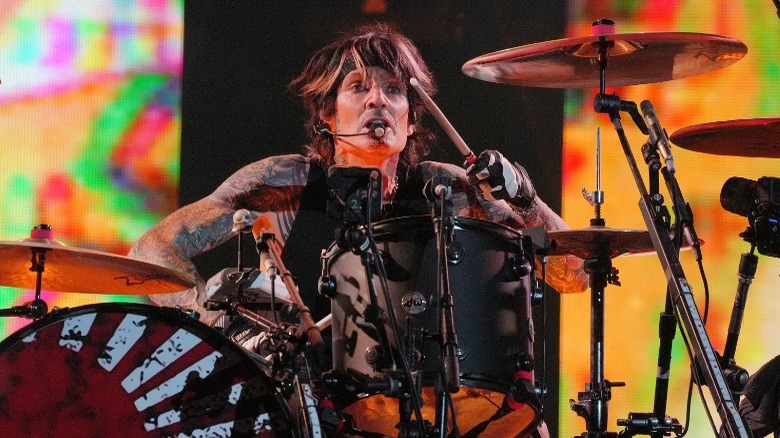 Kevin Mazur/Getty Images
Even though Motley Crue signed a "cessation of touring agreement" before their farewell tour between 2014 and 2015, everyone knew there was no way to truly kill the Crue for good. That's why it wasn't very surprising when they announced in late 2019 that they were going to be back on the road once again. According to an official announcement on their page, the band claimed that due to popular demand, they were coming out of retirement and spreading the gospel of Motley once again.
The announcement claimed the band had reunited the year prior in order to participate in the making of the movie "The Dirt," and that sparked their interest to play together. Compounded with the huge success of the movie and citing its success on Rotten Tomatoes, the band felt they owed it to their new legions of fans to give them the chance to see them play live once again. They posted a video to YouTube of them literally blowing up the non-touring agreement, and beginning in the summer of 2020, they returned to the concert circuit. Once again, the Crue was on the loose, filling stadiums with their debauchery and excess.
2006 – 2007: Will Hunt steps up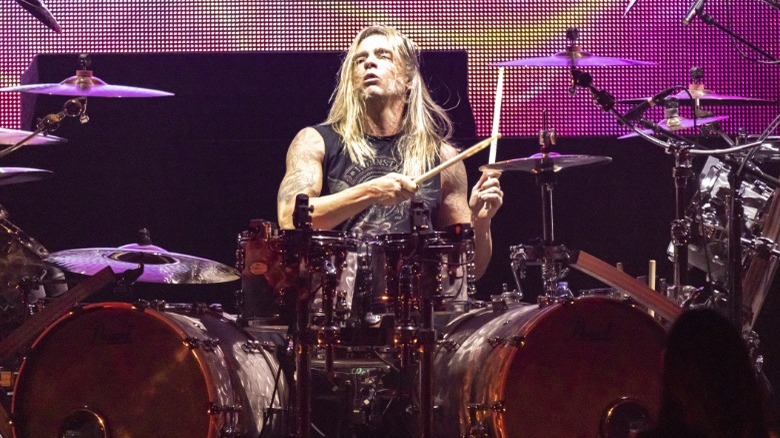 Scott Legato/Getty Images
Unfortunately, even the best of us can't predict our injuries, and Tommy Lee was forced to miss multiple dates in April 2006 and June 2007 after various injuries. Luckily, both times they were a ready and willing replacement available: Will Hunt. In April 2006, Tommy Lee was experiencing a bout of tendinitis in his right hand, and after having a tribute band drummer fill in the first night, Motley Crue turned to Hunt to finish out the remaining Canadian tour dates.
Then, just over a year later, Tommy Lee injured his left hand and was forced to miss even more dates. Luckily, Hunt was once again available to come to the rescue. Tommy Lee still made an appearance onstage at the show, but he was behind the microphone, not his drum kit. During a 2022 interview with Darren Paltowitz, Hunt recalled the experience. While he was already familiar with some of the Crue catalog, he had to scramble to learn certain songs. To make things even more hectic, he barely had 24 hours to prepare for the first gig, leaving him little time to familiarize himself with the new tunes. Luckily, Tommy Lee was able to provide him help through the use of in-ear monitors, and Hunt successfully saved the day.
August 2009: Morgan Rose bails out Tommy Lee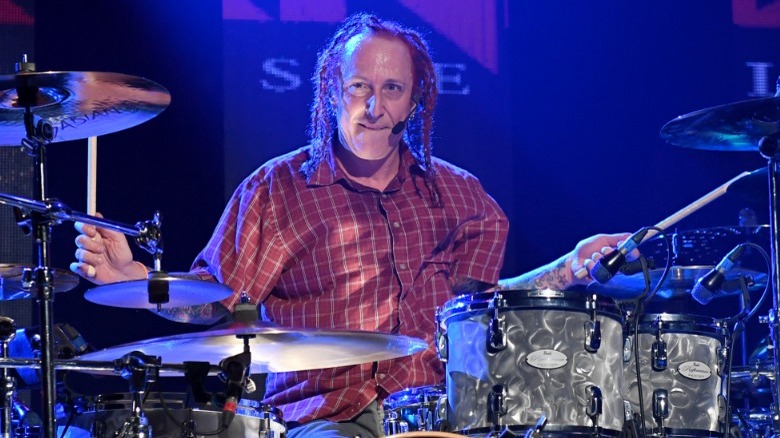 Ethan Miller/Getty Images
In August 2009, Tommy Lee once again found himself on the wrong end of an injury, and he was forced to miss even more Motley Crue shows. This time, his injuries stemmed from playing with fireworks. The band was in the middle of the Crue Fest 2 festival tour, and Tommy Lee was unable to perform as his left hand was too heavily bandaged due to his burns.
If it was up to Tommy Lee, he definitely wanted to play, but doctors feared he would aggravate his injury even worse if he performed live. Once again, the Crue had to call on a substitute to fill his spot. This time, instead of turning to Will Hunt, the band pegged Morgan Rose from the band Sevendust to fill in. As drummer for Sevendust, Morgan had released eight albums and was more than equipped to do the job. Like before, Tommy Lee wasn't completely absent from the shows. He appeared onstage, not only to explain his absence from behind the kit but also to help on a few numbers, including "Girls, Girls, Girls" and "Home Sweet Home."
October 2015: Glen Sobel helps the Crue bid farewell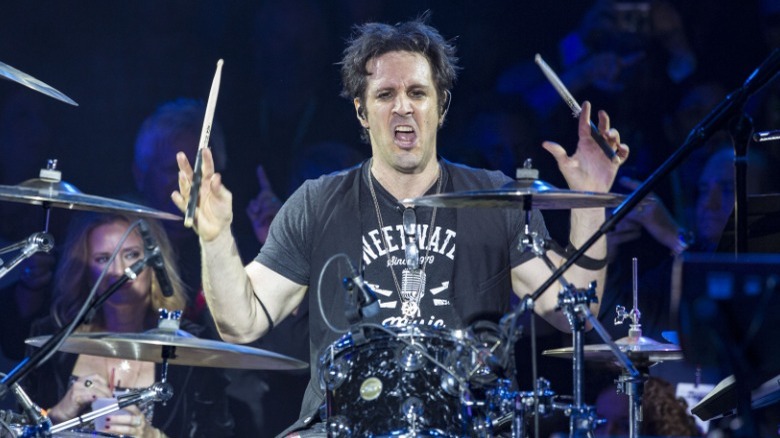 Daniel Knighton/Getty Images
While Motley Crue was in the midst of their farewell tour in October of 2015, once again the injury bug reared its head. On October 14, Tommy Lee Tweeted that he was not going to be able to play the show in Buffalo due to the doctor's orders. At the show, he took to the stage to elaborate on what had happened.
Tommy Lee told the audience that he had awoken suddenly in the night, only to realize he was experiencing another bout of tendinitis inflammation. After getting an anti-inflammatory shot to help with the pain, the doctor told him there was no way he could play the show. He was very apologetic to the crowd, and it was obvious that he really wanted to be behind his kit rocking with his brothers, but he didn't have a choice.
He implored the fans to give a huge hand to his replacement, Glen Sobel, who was, as usual, found at the last second. As Sobel relayed in an interview with Sweetwater, he was touring with the Crue as the drummer for the opener Alice Cooper when he filled in for Tommy Lee, leaving him to perform double duty. At first, he thought it was a joke when the Crue's production manager asked him to fill in, but he soon realized it was for real and immediately began preparing, making a set of "cheat sheets" to help.
October 2022: John Five takes over for Mick Mars
All good things have to come to an end sometime. Unfortunately, it seems like the days of the original Motley Crue touring again are over. In October 2022, Mick Mars announced his retirement. The remaining members released a joint statement where they thanked Mars for his years of service and remarked on his immense contributions to the band. Mars had been in the Crue for 41 years prior to leaving and was the only member to have stayed since the very beginning along with Nikki Sixx.
Mars retired due to health reasons, which included having ankylosing spondylitis, a type of spinal arthritis. In his place, the band announced that John 5 would be taking over guitar duties. A star in his own right, John 5 had previously played guitar for rock and roll legends like Rob Zombie, Marilyn Manson, and David Lee Roth. John 5 played his first show with Motley Crue on February 10, 2022, and seemed to fit right in with the band, inaugurating a new and memorable era of the Crue.