How The Murdaugh Trial Led To Renewed Interest In Stephen Smith's 2015 Murder Investigation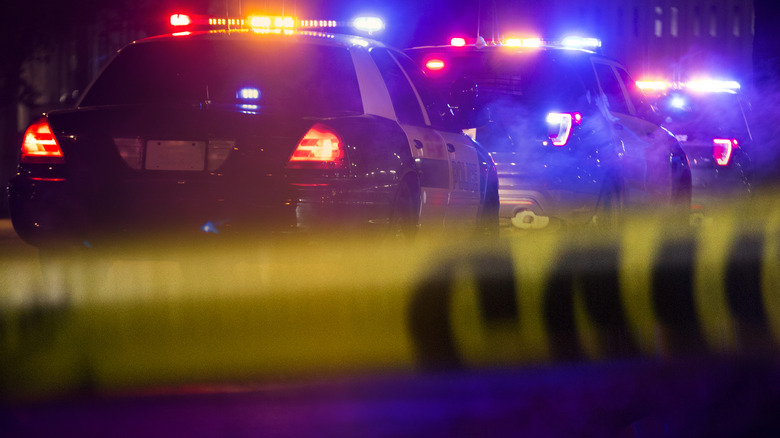 Mattgush/Getty Images
As of this report, the ongoing homicide trial of South Carolina lawyer Alex Murdaugh has brought up painful memories of the 2015 hit-and-run death of then-19-year-old Stephen Smith. With a possible link to the Murdaugh family, many now question whether Stephen's death was an accident or if it was yet another mysterious death in the history of the prominent South Carolina legal family. Because of her son's sexuality, his mother, Sandy Smith, thinks her son's death could have been a hate crime, according to South Carolina news outlet Bluffton Today.
In 2022, Alex Murdaugh was indicted on two counts of murder for the 2021 shooting deaths of his wife and son, Maggie and Paul Murdaugh, on the Murdaugh family's rural South Carolina estate near Charleston. At that time, Alex had also been indicted on two counts of conspiracy, including one narcotics charge. In the investigation of Maggie and Paul's murder, Stephen's 2015 death, ruled at that time an accident, was reopened, The New York Times reports. Speaking with People, Smith family attorney Mike Hemlepp said: "Sandy and I both believe that this was a murder. ... If anyone helped cover up what happened, they should be held accountable."
Stephen Smith's body was found on the side of the highway
As Bluffton Today goes on to explain, in 2015, Stephen Smith reportedly ran out of gas on the side of the highway. Said to have been walking home at the time, Smith was struck and killed by the mirror of a passing truck that left the scene. According to the coroner's report, his cause of death was severe blunt-force trauma to the head. No one was charged with the crime. Sandy Smith found many inconsistencies in the official version of events. If her son had been hit by the mirror of a passing truck, the glass would have shattered — but no shards were found. There were also no skid marks or other signs of an automobile accident, NewsNation writes.
Speaking with Bluffton Today, Sandy said her son was gay, and there were rumors that he was a stalking target. According to Sandy, Stephen's potential relationship with a boy might have played a part in his death. "I just don't believe my son would have been walking in the middle of the road like that. He would have seen headlights coming and got off the road. It just doesn't make any sense," she said. Sandy alleges his death was murder and said those responsible might have been classmates. "This was a fight that he didn't have a chance to win. I know my son and he was strong, one person didn't do this because Stephen would have fought back," Sandy added.
Alex and Randy Murdaugh were at the Stephen Smith crime scene
One enduring question about the Stephen Smith reported hit-and-run crime scene is why Alex Murdaugh — who as of this writing was on trial for the shooting deaths of his wife and son, Maggie and Paul — and his brother Randy, also a lawyer, were there, NewsNation reports. The Murdaugh family name was reportedly brought up in the initial investigation into Stephen's death, but those leads were never followed. Randy Murdaugh also reportedly contacted Sandy Smith after the accident to offer his firm's legal services, though the Murdaugh family law firm denies that happened.
What Sandy believes might have been the motivation behind Smith's alleged murder was a romantic relationship between her son and another Murdaugh son, Richard "Buster," Stephen's classmate (pictured). Alex and Randy Murdaugh may have arrived on the scene to cover up Buster's potential involvement. This motive for the crime has never been explored. As FitsNews reporter Will Folks told NewsNation: "There was clearly a Murdaugh tie into the death of Stephen Smith, because if you read the investigatory reports from his death back in 2015, the Murdaugh name is mentioned dozens of times."
Randy Murdaugh's law firm said (via NewsNation): "It was clear that this case was not handled correctly. Why? I can't tell you. Maybe it was simply incompetence. Maybe it was purposeful. But I do believe that the truth is going to come out."
If you or a loved one has experienced a hate crime, contact the VictimConnect Hotline by phone at 1-855-4-VICTIM or by chat for more information or assistance in locating services to help. If you or a loved one are in immediate danger, call 911.