Inside The Chaotic Courtroom Of The Alex Murdaugh Trial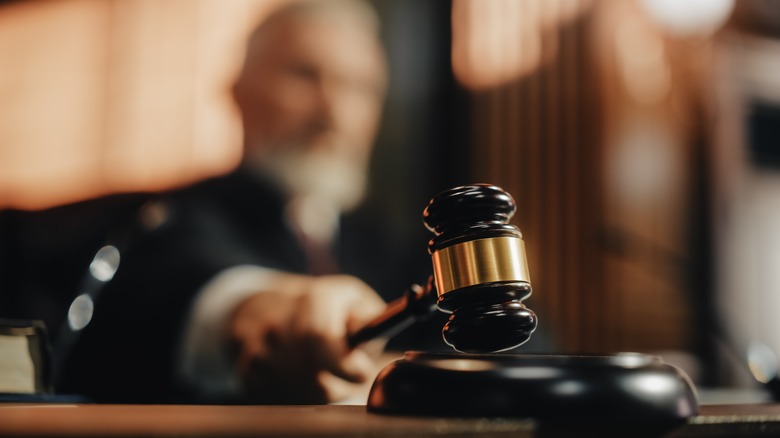 Gorodenkoff/Shutterstock
In June 2021, authorities found Margaret "Maggie" Murdaugh, 52, and her son Paul, 22, shot to death in their home in Islandton, South Carolina, as reported by NBC News. Three days later, Maggie's father-in-law and Paul's grandfather, Randolph Murdaugh III, also died. The Murdaughs are a prominent South Carolina family with several generations of Murdaughs serving as lawyers; Randolph was a former 14th Circuit Solicitor, while his father and grandfather both worked as prosecutors for Allendale, Beaufort, Colleton, Hampton and Jasper counties. Randolph's son Alex Murdaugh followed family tradition and was also a lawyer. To make matters even more complicated, Paul Murdaugh was awaiting trial for three felonies related to the 2019 death of Mallory Beach, 19, due to a boating accident.
Per NBC News, it was Alex Murdaugh who called the police to inform them he had found the bodies of his wife and son near dog kennels on their hunting estate. He made a phone call on June 7, 2021, just after 10:00 p.m., saying, "I've been gone. I just came back." His lawyer claimed Alex's alibi to be he had been with his elderly mother, who suffers from dementia, at the time of the crimes. Autopsies concluded both Maggie and Paul had been killed by multiple shots between 9:00 and 9:30 p.m. on June 7. Over the next several months, Alex Murdaugh was injured in a roadside shooting, resigned from his family law firm to enter rehab, and had his law license indefinitely suspended by the state.
Alex Murdaugh was charged with double murder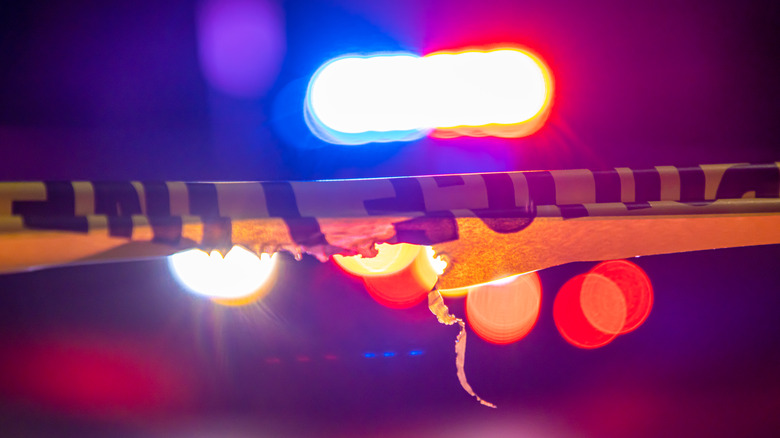 Ajax9/Getty Images
NBC News reported that within days, authorities determined that Alex Murdaugh had hired a hit man to kill him during a fake roadside breakdown so his older son, Buster, could collect on a $10 million life insurance policy. On September 16, 2021, Alex turned himself in and was charged with insurance fraud, conspiracy to commit insurance fraud, and filing a false police report. He was granted bond and allowed to return to a rehab facility. He was arrested after his release in October and charged with two more crimes, these ones related to obtaining property by false pretenses following an investigation into millions missing from a settlement involving the 2018 death of Gloria Satterfield, a woman who worked as a housekeeper for the Murdaugh family. In July 2022, Alex was both officially disbarred and charged with the murder of his wife and son. He pleaded not guilty. By December, Alex had been charged with over 100 finance-related crimes, and prosecutors announced they would seek a sentence of life without parole for the double murder of Maggie and Paul Murdaugh.
Alex Murdaugh's murder trial began on January 23, 2023, and has followed the same line of general mayhem that has been in place for the Murdaugh saga for years. The latest bizarre string of events all took place within one week's time, per The Independent. On February 8, just after 12:30 p.m., someone called in a bomb threat to the Colleton County Courthouse, leading to an evacuation of the entire building.
One wild week in court
According to The Independent, two hours later, the building was given the all-clear, and the trial continued. Authorities determined that the threat came from a prison inmate in Ridgeland, South Carolina. More disorder reigned when members of Alex Murdaugh's family engaged in inappropriate courtroom behavior. Son Buster was seen making the traditional "middle finger" gesture at witness Mark Tinsley, who took the stand to testify concerning a lawsuit he'd brought against Alex. When Buster was asked to move to the back of the room, he reportedly kicked over a water bottle. Alex's sister Lynn was caught passing an undisclosed object to him and became "demonstrative" with court staff when asked to stop. This incident also led to the judge ordering Alex Murdaugh to take a drug test.
Finally (for now), there is the issue of the GoFundMe page set up for Mushell "Shelly" Smith, who worked as a caregiver for Murdaugh's mother. As reported by The Daily Beast, Smith took the stand as a witness for the prosecution and testified that Alex Murdaugh visited his mother on the night of Maggie and Paul's murders, despite usually visiting during the day. Smith noted Alex "was fidgeting" during the brief visit, which ended abruptly. Smith's daughter started the GoFundMe for her mother, and the first contribution of $1,000 came from Mark Tinsley. Tinsley represented Mallory Beach's family in their wrongful death suit. Alex Murdaugh's defense lawyer asked Judge Clifton Newman to prevent Tinsley's testimony, but the judge refused, saying, "That'll be good fodder for cross-examination."