King Charles III And The Stone Of Destiny: Why Is It Important?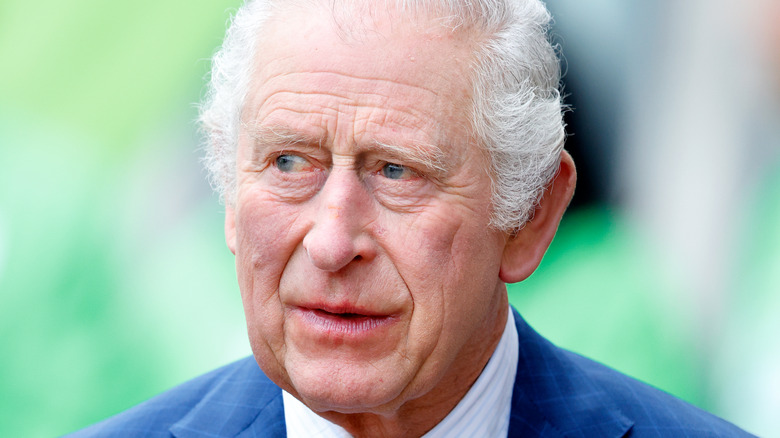 Max Mumby/indigo/Getty Images
In the first event of its kind since 1953, the coronation of King Charles III of Great Britain is set to take place on May 6, 2023, at Westminster Abbey in London. Formerly Prince Charles, the Prince of Wales, King Charles III ascended to the throne with the death of his mother, Queen Elizabeth II. In the modern age, the crowning of any monarch is a clash of archaic tradition and current sensibilities, and King Charles III's coronation will reportedly be a scaled-down affair and more inclusive by royal standards.
One part of King Charles III's coronation from British tradition, though, will be the presence of an ancient object known as the Stone of Destiny. The archaic object has been present at the crowning ceremonies of U.K. kings and queens for centuries. Though the stone now resides at Edinburgh Castle, the artifact's exact origins are now lost to history. But in accordance with royal tradition, it will be on hand at Westminster Abbey for King Charles III's coronation.
The Stone of Destiny is made from sandstone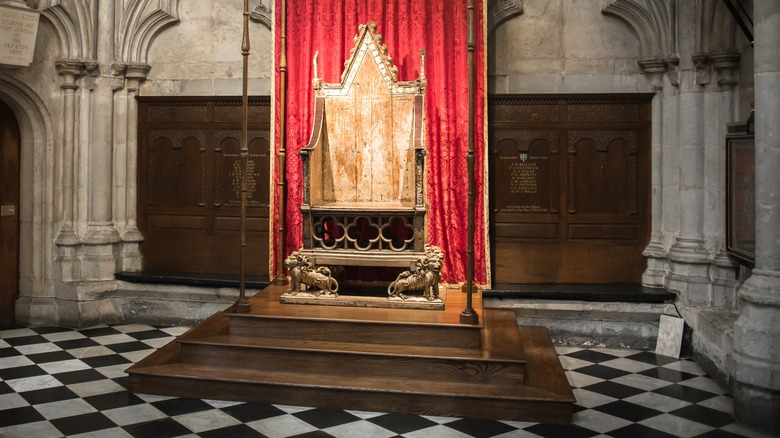 IR Stone/Shutterstock
The Stone of Destiny, sometimes called the Stone of Scone, weighs some 152 kilograms (around 330 pounds) and is believed to have played a part in the crowning of Scottish kings and queens for centuries before it came to be housed in England. Around A.D. 1300, King Edward I of England — who conquered Scotland in 1296 — captured and brought the sacred Scottish artifact back to England, where it resided for hundreds of years at Westminster Abbey.
While at Westminster, the Stone of Destiny was housed inside an ornate, nearly 7-foot-tall chair believed to have been used for the first time at Edward I's coronation (pictured). Since then, the centuries-old chair, known as the Coronation Chair of St Edward's Chair — which will be touched up for King Charles III's coronation — is where every English monarch has sat at their crowning ceremony. This includes the coronation of Charles' mother, Queen Elizabeth II, in 1953.
Scottish students stole the stone in 1950
In 1950, three years before Queen Elizabeth II's coronation, Scottish university students stole the Stone of Destiny from where it sat in Westminster. The important artifact then reemerged hundreds of miles away ​​at the high altar of Arbroath Abbey, in the town of Arbroath, Scotland, before it was recovered and brought back to England. The carved ancient piece of sandstone was almost returned to Scotland once before in 1328 with the passage of a Scottish treaty, but English protestors stopped that from happening.
On the importance of the symbolic object, Ian Hamilton, who was involved in the 1950 heist, later said (via BBC News): "The Stone of Destiny is Scotland's icon. In one of the many invasions by the English into Scotland, they took away the symbol of our nation. To bring it back was a very symbolic gesture." In 1996, the Stone of Destiny was officially returned to the Scottish people where it has since resided, only to return to Westminster Abbey in the event of a crowning ceremony, as it will for King Charles III's coronation. 
On the importance of the object in history, Head of Collections at Historic Environment Scotland Richard Welander, who had a hand in bringing the artifact back to Scotland, said (via Historic Environment Scotland): "The Stone of Destiny is truly unique. There is no other object quite like it that continues to captivate and intrigue audiences in equal measure."