Musicians Who Died At The Age Of 30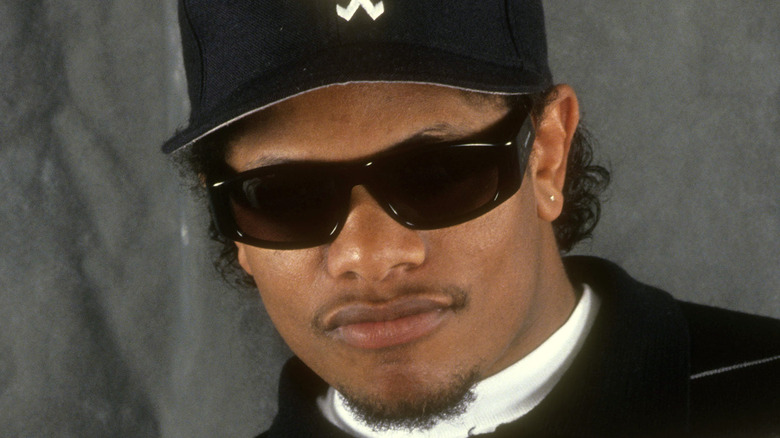 Al Pereira/Getty Images
Just about everybody has dreamed of getting into the music business at one point or another, even if they have zero musical talent. For one thing, lack of talent is not necessarily a bar to entry; for another, the idea of standing on a big stage with thousands of screaming fans chanting your name is going to be alluring to almost anyone.
However, there are plenty of reasons why it sucks to be a rock star, from shady music industry practices to long, hard months on the road to fickle (or even dangerous) fans. Here's another one: It sure seems like those who rock people's faces off for a living seem to die young at a disproportionate rate. Think about all of those legends who have joined the infamous "27 Club" by checking out at that early age — Kurt Cobain, Janis Joplin, Jim Morrison, and Jimi Hendrix are all members, and that's just the tip of the iceberg. The artists we'll be looking at today, though, managed to avoid membership by dodging the Grim Reaper for... three whole years. These musicians all died at the age of 30, and while their time on Earth was far too brief, the music they gifted us before departing will live on.
Jim Croce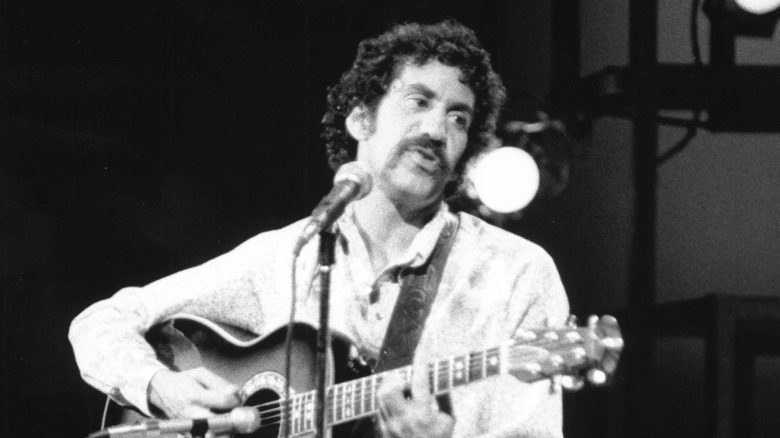 Michael Ochs Archives/Getty Images
The '70s were the era of the singer-songwriter, and among that particular strain of artist, few were more distinctive than Jim Croce. Croce struggled for years to pay the bills with music; an early effort as a duo with his wife Ingrid went nowhere, and with a baby on the way in 1970, things looked grim. That all changed in 1972, when his debut solo album "You Don't Mess Around with Jim," with its classic singles "Time in a Bottle" and "Operator (That's Not the Way It Feels)," finally gave Croce a taste of success. His 1973 followup "Life and Times" yielded the #1 single "Bad, Bad Leroy Brown," priming Croce for major mainstream stardom — success that would come, unfortunately, posthumously.
On September 20, 1973, Croce was en route to Sherman, Texas, from a gig at Northwestern State College when his single-engine plane collided with a tree and crashed. All six people aboard were killed, including Croce and his guitarist, longtime friend, and collaborator Maury Muehleisen. The singer left behind his wife, two-year old son Adrian, and one more gift for his fans — his classic final album "I Got a Name," which was released just 10 days after his death.
Jeff Buckley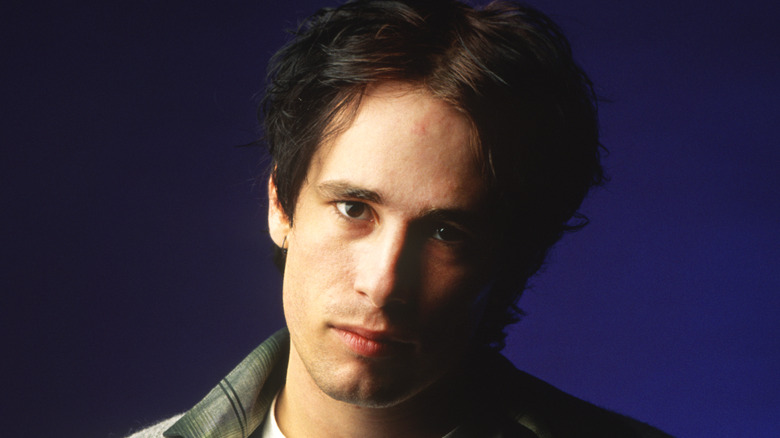 Gie Knaeps/Getty Images
Even though his career began in tiny lounges and coffee houses in New York's East Village, Jeff Buckley was a performer who seemed destined for major stardom. Buckley was often accompanied only by his guitar, yet his performances generated the kind of buzz that most singer-songwriters can only dream of. His first EP, 1993's "Live At Sin-é," was recorded at his favorite East Village coffee joint; by the time his debut LP "Grace" dropped in 1994, he and his band were touring Europe and readying themselves to take America by storm.
For the next few years, Buckley cruised around the States gigging, building his fan base and his reputation as a brilliant songwriter and mesmerizing performer. In the meantime, he nearly completed a sophomore album, although he was unsatisfied with the recording and intended to re-record the entire thing. He would never get the chance. While living and recording in Memphis in May 1997, Buckley decided to take an impromptu, late-night dip in the Mississippi River; caught in the wake of a passing boat, he was dragged under the water, and drowned. His near-complete album, together with a few home demos, was released in 1998 under the title "Sketches for My Sweetheart the Drunk."
Eazy-E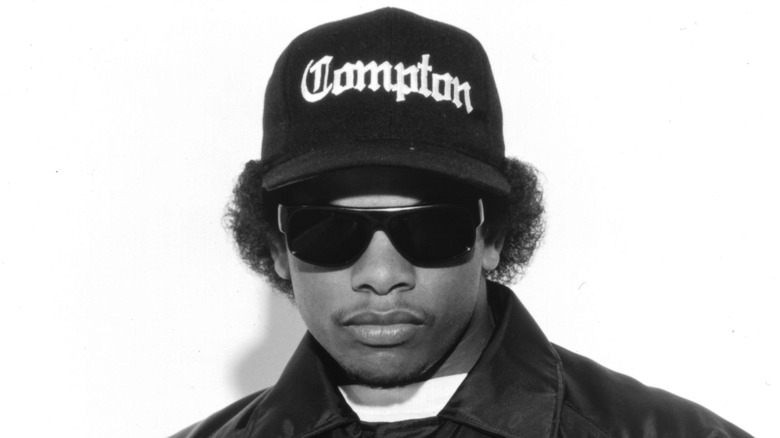 Michael Ochs Archives/Getty Images
Drug dealers, generally speaking, do not tend to make significant contributions to pop culture, let alone massive ones. Compton, California's Eric "Eazy-E" Wright, though, was an overachiever in this respect. Wright had become acquainted with Jerry Heller, a music industry vet who had associated professionally with such legends as Marvin Gaye, Elton John, and Creedence Clearwater Revival. After being introduced to Heller, Wright decided to use his illicit funds to start a record label, Ruthless Records, in which Heller was a partner. Together, they introduced the world at large to legendary group NWA — and thereby, the fledgling genre of gangsta rap.
Despite his famously limited rapping ability, Wright left his mark on hip hop, both as a member of NWA and as a solo artist. His undeniable charisma was enough to make the shockingly violent, misogynistic content of his lyrics seem almost endearing — which is why fans were floored when, in early 1995, Wright announced that he had been hospitalized because of respiratory issues brought on by AIDS. He died of AIDS-related pneumonia just weeks later, and to this day, rumors persist that infamous gangster-slash-music mogul Suge Knight, who had poached legendary producer Dr. Dre away from Wright's Ruthless to form his own Death Row Records, had somehow been responsible for Wright's death. Among those keeping the conspiratorial fires burning are Wright's son, Marquise "Yung Eazy" Wright, who in 2015 insisted in an Instagram post (via The Washington Post) that Knight had done his father in by injecting him with the virus.
PnB Rock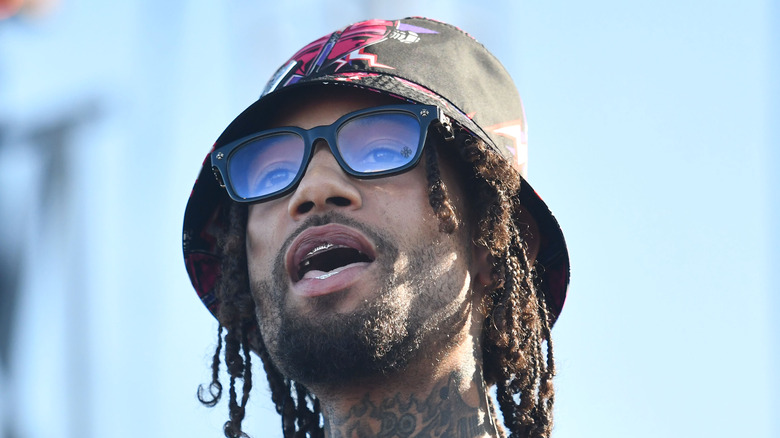 Scott Dudelson/Getty Images
When you share a moniker with an absolute hip hop legend, your career path may be predetermined. So it was with Rakim "PnB Rock" Allen, a Philly native whose proclivity for mixing rap with R&B was broadcast loud and clear in the title of his debut 2014 mixtape, "RnB," and whose 2017 LP "Catch These Vibes" catapulted him to stardom and an appearance in the Billboard Top 20. Over the next six years, Allen was proving himself to be a formidable force in the world of hip hop — but his career, and his life, came to a shocking end in 2022.
In September of that year, Allen was having lunch with his girlfriend at a Los Angeles Roscoe's House of Chicken & Waffles when an attacker burst in, brandished a gun, demanded money and jewelry from Allen, and shot him, all within a very short period of time (via Los Angeles Times). Police speculated that Allen was targeted after his companion, Stephanie Sibounheuang, tagged him — along with their location — in an Instagram post, although it's still not clear if this was actually the case. The BBC reported that Sibounheuang credited Allen with saving her life during the attack, and due to the brazen nature of the crime, police zeroed in on suspects relatively quickly. Later that month, 40-year-old Freddie Lee Trone and his 17-year-old son were arrested on murder, robbery, and conspiracy charges in the death of Allen, according to the BBC; they are awaiting trial as of this writing.
Lisa Left Eye Lopes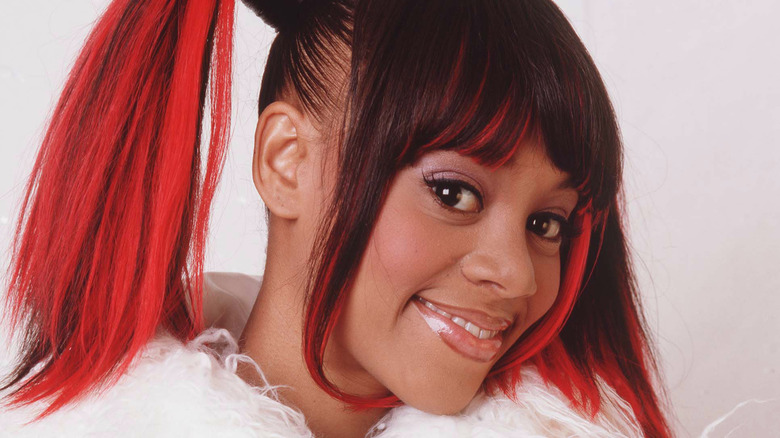 Dave Hogan/Getty Images
Boy bands may have ruled the '90s, but girl groups like En Vogue and SWV were moving a few CDs during the pastel decade, as well — and TLC, consisting of Tionne "T-Boz" Watkins, Rozonda "Chilli" Thomas, and Lisa "Left Eye" Lopes, ruled over them all. Smash singles like "Creep," "Waterfalls," and "No Scrubs" kept the group in the public eye throughout the decade, and while shady business practices saw them file for bankruptcy at the height of their popularity in 1995, the hits just kept coming.
Lopes was the group's rapper, and along with her rhyming skills, she made waves for a highly public spat with her boyfriend, NFL wide receiver Andre Rison. That is to say, she accidentally burned down Rison's mansion after setting fire to some items in a bathtub following a 1994 argument (via Los Angeles Times). The incident did little to damage her group's popularity, though, and after three hugely successful albums in the '90s, TLC were readying for their first release of the new millennium in 2002 when tragedy struck. While vacationing in Honduras, Lopes lost control of her rented vehicle, which left the road and flipped several times, per The New York Times. Lopes was pronounced dead at the scene, bringing an abrupt end to one of the most successful girl groups of all time.
Patsy Cline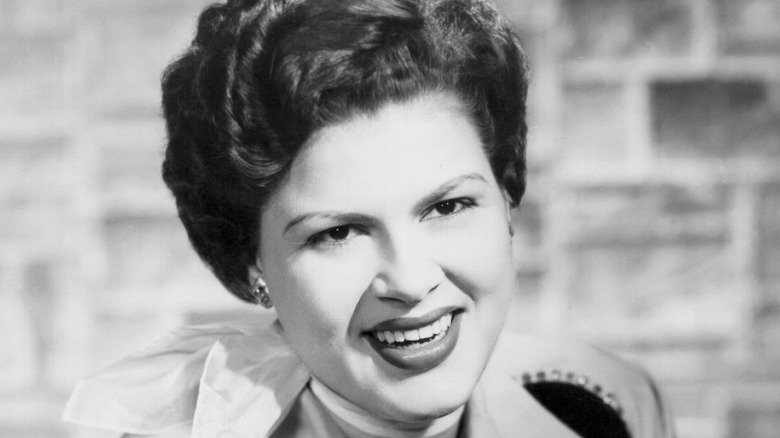 Michael Ochs Archives/Getty Images
There is country music royalty, and then there is Patsy Cline, whose inauspicious early years preceded a career that would see her become the most revered female country singer in the history of the genre, according to the Country Music Hall of Fame's official website. She is the first woman to ever be inducted into that hallowed institution as a solo artist; she's sold somewhere in the neighborhood of 15 million records, and her distinctive vocal style on hits such as 1960's "I Fall to Pieces" and 1961's Willie Nelson-penned "Crazy" influenced far too many legendary artists to name here.
Cline survived a scary auto accident in 1961 just as her star was ascending, but it turned out to be an omen of the tragedy to come. After a Kansas City performance on March 5, 1963, Cline boarded a small plane bound for her hometown of Nashville, along with her manager Randy Hughes (who was also the pilot) and fellow artists Lloyd "Cowboy" Copas and Harold "Hawkshaw" Hawkins. At a refueling stop, Hughes was advised not to continue due to poor visibility, but opted to take off anyway — a fateful choice. Hughes lost control in the poor conditions, and the plane crashed in a patch of woods, killing everyone aboard. Cline's legend only grew after her untimely death; her Greatest Hits album, released six years after the fateful crash, has sold north of ten million copies.
Andy Gibb
Harry Langdon/Getty Images
When one is the youngest sibling of three international superstars, one could be forgiven for having an inferiority complex. This didn't seem to be the case, however, for Andy Gibb — the younger brother of Barry, Robin, and Maurice Gibb, better known as the Bee Gees. While that group was rising to dominate the pop airwaves in the '70s, Andy Gibb was carving out a pop career of his own with an assist from Barry's crack songwriting; his first three singles, "(Love Is) Thicker Than Water," "I Just Want To Be Your Everything," and "Shadow Dancing," all shot to No. 1 on the pop charts, a feat that, as of this writing, is unmatched. He also conquered television with a hosting gig on popular musical variety show "Solid Gold," and even Broadway with a role in a production of "Joseph and the Amazing Technicolor Dreamcoat" — but unfortunately, along for the ride during his rise to stardom was a massive cocaine addiction.
Cocaine obliterated Gibb's employability, relationships, and finances in the 1980s, and by the time he was able to get clean and attempt a comeback, it was too late. Shortly after his 30th birthday, Gibb was admitted to the hospital for an illness that turned out to be myocarditis, an inflammation of the heart. He passed away on March 10, 1988.
Steve Clark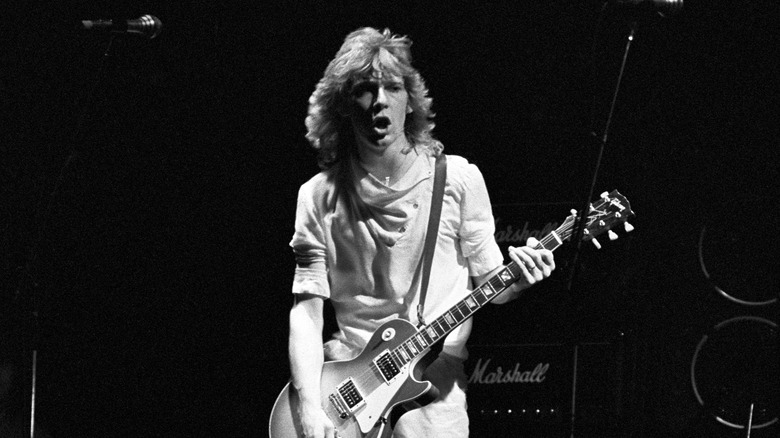 Tom Hill/Getty Images
Among the British metal bands to invade the States in the early '80s, few were more melodic and accessible — and, therefore, commercially successful — than Def Leppard. Guitarist Steve Clark was half of the band's twin-lead onslaught, and also one of their primary songwriters, which means he deserves a good chunk of the credit for their meteoric rise — and on top of that, he boasted a naturally electrifying stage presence. Speaking with Louder Sound, the band's former tour manager Malvin Mortimer remembered that when performing live, Clark would "take off running like a greyhound out of the box ... What an entrance! I would watch the audience. All eyes would be following Steve's parade."
With Clark's rock 'n' roll lifestyle came a titanic drinking problem, however. The issue steadily worsened throughout the '80s, forcing the band to send Clark on sabbatical while in the midst of recording their 1992 album "Adrenalize" — a six-month breather from which Clark would not return. On January 8, 1991, Clark was found dead in his London home, having overdosed on prescription painkillers in combination with alcohol. Said bassist Rick Savage, "Because he was such a nice person, you tried to protect him ... It's only after he died that I realize how much energy we spent worrying about him and trying to care for him."
Dave Williams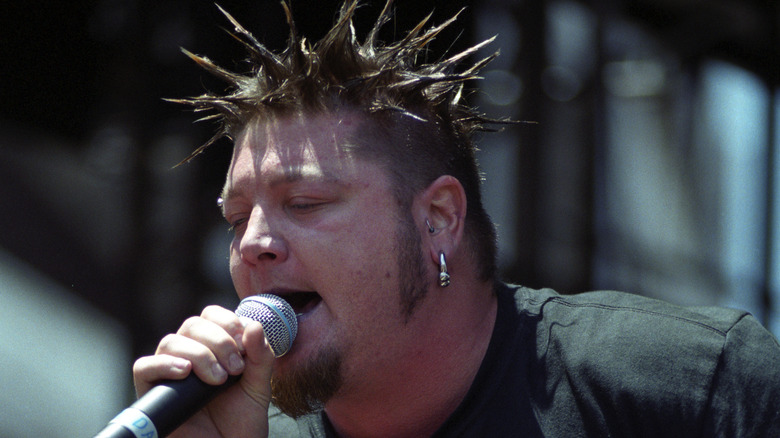 TDC Photography/Shutterstock
Part of the nu-metal boom of the early '00s, Drowning Pool began life in 1996 as an instrumental trio consisting of guitarist C.J. Pierce, bassist Stevie Benton, and drummer Mike Luce — a configuration that quickly went out the window once they were joined by powerful vocalist Dave Williams. An early demo tape caught the ear of members of Sevendust, and after a couple years of touring with that band and several other hard-rocking outfits, the band broke through with their 2001 debut album "Sinner" and its single "Bodies," which garnered heavy rotation on MTV.
Williams didn't get to enjoy his band's success for long. On August 14, 2002, the singer fell asleep on the band's tour bus and never woke up. It was later discovered that no drugs or alcohol were involved in Williams' death, and that he had suffered from an undiagnosed heart condition. Drowning Pool has carried on recording and touring with replacement singers in the intervening years, but given the fact that Williams was just getting started, one can't blame fans for wondering what might have been had he lived.
Pete Farndon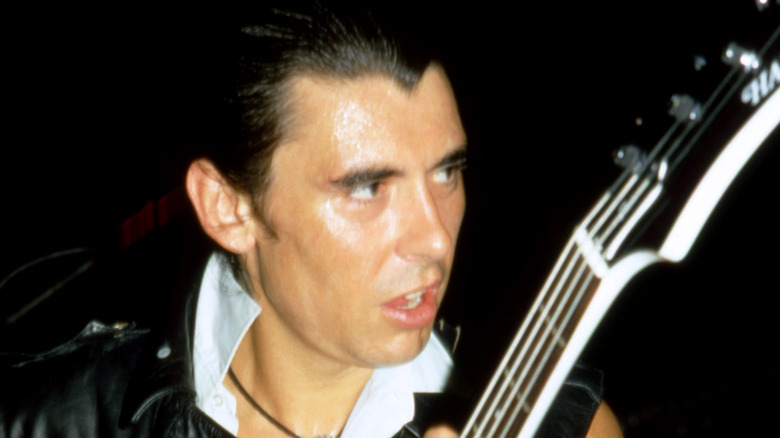 Icon And Image/Getty Images
The Pretenders began life in 1978, when American transplant Chrissie Hynde — who had previously dabbled in rocking with a couple of local bands — hooked up with guitarist James Honeyman-Scott, bassist Pete Farndon, and drummer Martin Chambers. The quartet's cover of the Kinks' "Stop Your Sobbing" (which was produced by the legendary Nick Lowe) cracked the British Top 40, and by 1980, the band had a No. 1 smash in the U.K. with their debut, self-titled album. An EP succinctly titled "Extended Play" and sophomore LP even-more-succinctly titled "Pretenders II" followed in 1981, and the band was starting to gain traction stateside after a tour of the U.S. — but then, tragedy intervened, not once but twice.
In June 1982, Farndon was dismissed from the band due to excessive drug use — but it was Honeyman-Scott who, just two days after this event, died from an overdose of heroin and cocaine. Hynde, who was pregnant at the time, briefly withdrew from the public eye. Less than a year later, Farndon's life was also claimed by a drug overdose. The twin tragedies would have finished many bands for good, but Hynde put together a new iteration of the Pretenders — one that would have a smash success on both sides of the pond in 1983 with the aptly-titled, critically lauded LP "Learning To Crawl." The LP went Platinum in the U.S., and the Pretenders — a band that embodies the spirit of perseverance — went on to a long and varied career.
Criss Oliva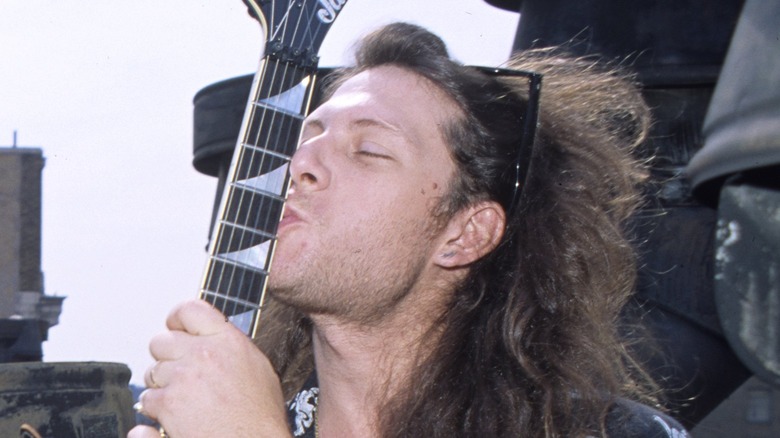 Catherine Mcgann/Getty Images
Formed by brothers Jon and Criss Oliva (on vocals and guitar, respectively) in 1978, Savatage positioned itself as the American answer to the new wave of British heavy metal acts such as Iron Maiden and Judas Priest. The band may never have exactly been a household name, but the Tampa, Florida, outfit spent the '80s perfecting their brand of progressive metal, which arguably reached its zenith with their 1993 release "Edge of Thorns." The band never had a proper commercial breakthrough, but they might have — if Criss Oliva had not been in the wrong place at the wrong time one night in October 1993.
Oliva had been cruising along on Florida's U.S. Highway 301 when another motorist, traveling in the opposite direction, attempted to pass a slow-moving vehicle at precisely the wrong moment (via Tampa Bay Times). He careened head-on into Oliva's Mazda, in which Oliva was riding with his wife. She suffered several traumatic injuries, but was able to pull through; her husband was not so lucky. The driver of the other vehicle, who had been drinking, survived and was charged with DUI manslaughter. His five-year prison sentence likely did little to console fans of Savatage, who would go on to release seven more albums — including 1999's "Ghost in the Ruins," a tribute to their fallen guitarist.
Lynn Strait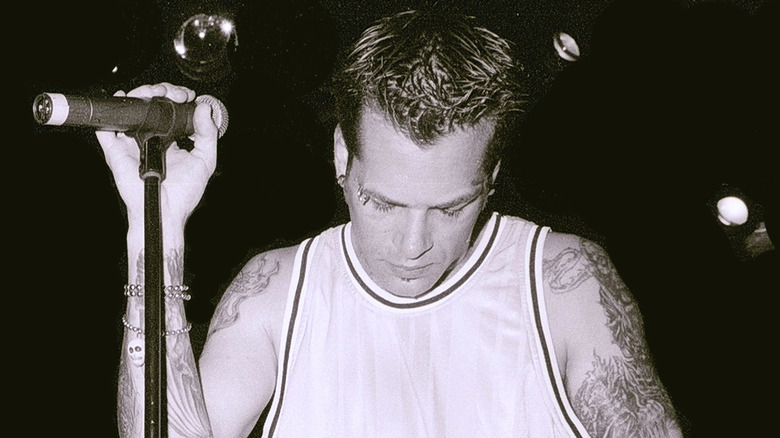 TDC Photography/Shutterstock
LA metal band Snot was following a trajectory that any '90s metal band out of Santa Barbara would have been happy to follow. Formed in 1995 by singer Lynn Strait and guitarist Mike Doling, the band pretty much immediately began getting attention for their rowdy live performances, and by 1996 they had signed to Geffen Records. The following year saw the release of their debut LP "Get Some," and in 1998, they were selected to fill a slot on the Ozzfest tour; while on a stop in Massachusetts, Strait was arrested for indecent exposure after an incident onstage. The band were working on new tunes, and everything was going great — until a freak traffic accident took the life of Strait.
According to Los Angeles Times, the singer was driving across Highway 101 when his tiny 1992 Ford Tempo was struck out of nowhere, in the middle of the day, by a full-size truck. Strait died instantly, and the driver of the truck was treated for minor injuries. The incident appeared to be purely accidental; that particular highway was at the time known for being quite dangerous, and Strait's was not even the first fatality to occur on it that day, per the Times. Snot only released one more studio album with a bevy of guest singers sitting in on vocals, but have continued to sporadically perform live in the years since Strait's death.