How Harvey Carignan, The Want-Ad Killer, Got His Nickname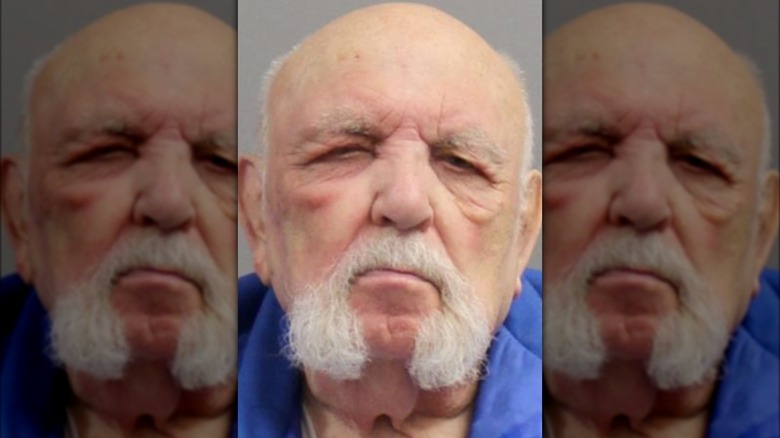 Seattle PD
While in prison in Minnesota, Harvey Carignan, better known as the "Want-Ad Killer," died in March 2023, TMZ reports. Carignan was 95 years old at the time of his death and he reportedly died from natural causes. In 1975, Carignan, sometimes also called "Harvey the Hammer," received a life sentence for the 1974 murders of two women: Eileen Hunley and Katherine Schultz. Carignan received both those nicknames for the way that he lured one of his victims, and for the weapon he used to attack them all.
Prior to Carignan's 1975 conviction, he had been convicted of one murder, attempted murder, and attempted sexual assault while stationed in the Army in Anchorage, Alaska. On a technicality, in 1949, Carignan was sentenced to just 15 years behind bars for those crimes, based on Fairbanks Daily News-Miner reporting. He served a portion of that sentence at the infamous Alcatraz Federal Penitentiary before he was paroled in 1960, according to North Dakota media outlet, KFGO. Some 12 years later, Carignan would kill again. Convicted of only three murders, the "Want-Ad Killer" is believed to have killed at least five women in his lifetime — maybe more.
In 1973, one Carignan victim contacted him through a want ad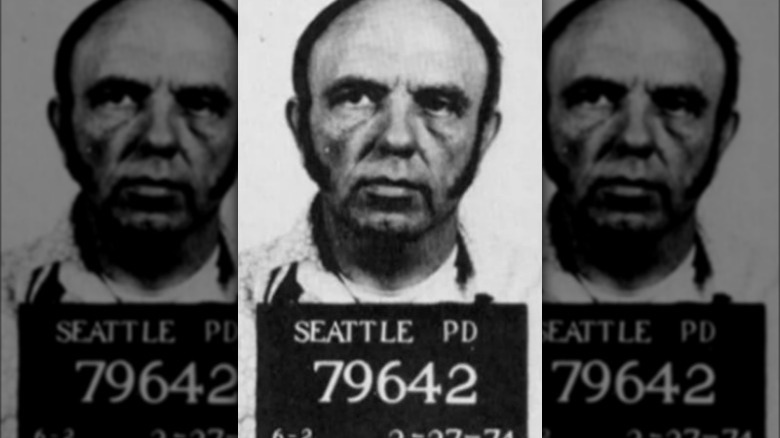 Seattle PD
In 1973, Kathy Miller, just a teenager at the time, spotted a want ad in The Seattle Times. A local service station was hiring, the ad said. Miller's boyfriend was in need of work, and it seemed like a perfect fit, she thought. When she followed up on the ad, the man who placed it — Carignan — wanted to meet her instead of her boyfriend for an interview and to purportedly fill out an application. Despite her mother's warning, Miller complied with Carignan. It was the last thing she ever did.
Miller's body and some of her belongings were later found a short time later near Everett, Washington. There was evidence of sexual assault, and her skull had been brutally smashed in with a hammer. Miller would be the only one of Carignan's five suspected murder victims who contacted the serial killer through a want-ad, but in 1983, acclaimed true-crime author Ann Rule covered the Carignan case in her book with Andy Stack, "The Want-Ad Killer," and with that, Carignan was stuck with one of his two grisly nicknames.
Carignan attacked all of his victims with a hammer
As well as the "want-ad killer," Carignan was infamously known as the "Harvey the Hammer" for the weapon he used to attack, kill, and assault all of his victims (via The Independent). In addition to the five women Carignan was suspected of killing (and his three murder, attempted murder, and sexual assault convictions), Carignan is believed to have attacked many other women in his lifetime. The actual number of Carignan victims may never be known. In the course of their investigation, authorities found a map in Carignan's possession with 181 areas circled, thought to perhaps correspond to his victims. The real meaning, however, is unknown. 
Though they were attacked with a hammer, many Carignan victims in the Minneapolis area survived and escaped their ordeal. That led to the want-ad killer's eventual arrest and conviction for just two of the many women he is believed to have murdered, as well as the many other women he abducted and sexually assaulted. Carignan's defense claimed insanity, he received a number of long-term sentences for his crimes, including life imprisonment. In Carignan's twisted words, he did what he did because God ordered him to do so. At the time that he died, Carignan was imprisoned at Oak Park Heights, a Minnesota correctional facility (pictured above).
If you or anyone you know has been a victim of sexual assault, help is available. Visit the Rape, Abuse & Incest National Network website or contact RAINN's National Helpline at 1-800-656-HOPE (4673).