Whatever Happened To Creed's Scott Stapp?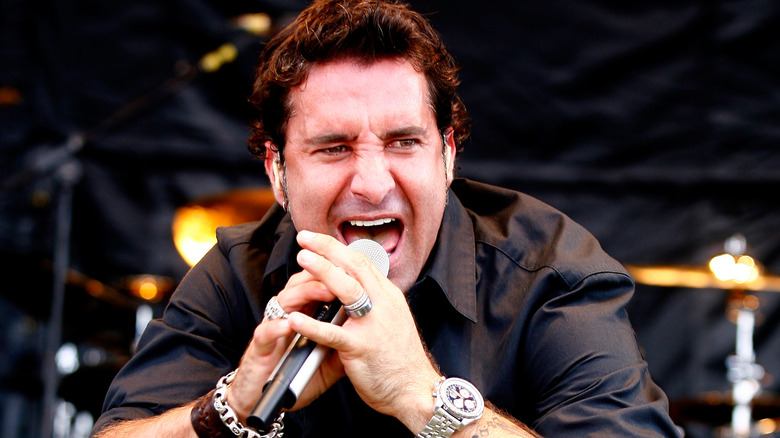 Getty Images
Whether they want to admit it or not, '90s kids remember the band Creed and probably enjoyed their music at least briefly. Their brand of Pearl Jam-esque hard rock, combined with spiritual lyrics just vague enough to reach the mainstream without seeming overly preachy, propelled them to the top of the charts. Singer Scott Stapp became a major star through the band, though his fame was ultimately fleeting thanks to a brutal combination of inner demons and terrible life decisions.
But what really happened to Scott Stapp since Creed's turn-of-the-millennium heyday? What caused the public to go from embracing him with arms wide open to saluting him with middle fingers high in the air? What's he been up to since his level of fame went from mega-star to just another washed-up "that guy" we only sometimes remember? Here's the true, surprisingly dark story of Scott Stapp after the world stopped caring.
He wound up unhoused and penniless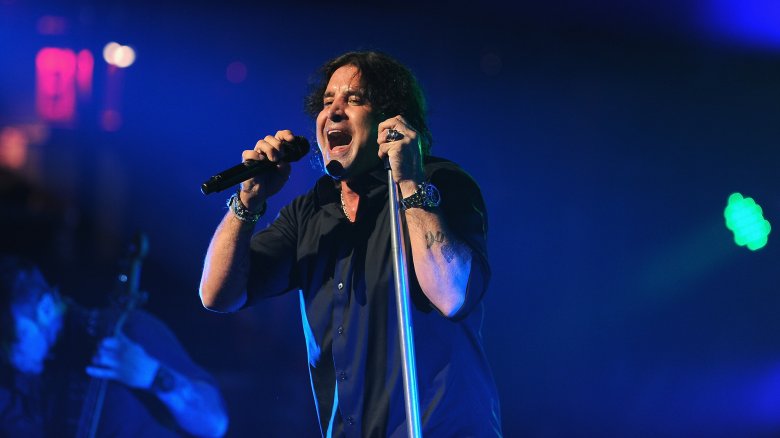 Getty Images
Plenty of celebrities lose money as they become less relevant. Few, however, wind up with literally nothing to their name, and yet, as Rolling Stone reported, that's exactly what happened to Scott Stapp. In 2014, he posted a Facebook video saying he was currently living at a Holiday Inn, and not because he was a busy rock star living on the road. Rather, he was unhoused and had nowhere else to go. Unbelievably, this was actually an improvement — he had previously been living in his truck and didn't have money to buy gas or food. The one-time millionaire rocker was completely penniless.
How could this happen? Stapp said he had recently audited his finances and discovered he had nothing. People supposedly stole everything from him, and he claimed he hadn't been receiving the royalties he thought he had. He'd been spending money he never had, and eventually none was left. No matter who you are, that's a recipe for financial disaster. Thankfully, Stapp is no longer unhoused, and even if he never again reaches the heights of the "Higher" days, at least he can afford to eat now.
He was diagnosed with mental health issues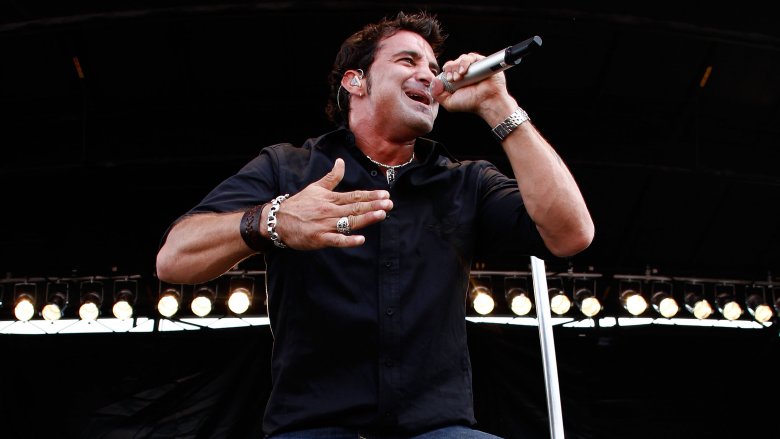 Getty Images
To put it mildly, Scott Stapp has exhibited unusual behavior over the years. Turns out there was a legitimate reason for his behavior: He has bipolar disorder. However, this wasn't discovered until after some high-profile events. According to the Chicago Tribune, before his diagnosis, Stapp was taking medicine he shouldn't have been taking, as well as misusing alcohol. This culminated in a series of delusional statements, including that Stapp believed he'd been coerced into a mind-control experiment; declared Alcoholics Anonymous to be a CIA creation; announced a mysterious connection between the DEA, Nashville, and Palm Springs, and accused his wife of stealing money from him.
But the episode that had the most potential to get him in severe trouble was when he told his wife he was on a CIA mission to kill President Obama. Understandably, his wife called the cops, who notified the Secret Service. They visited Stapp and grilled him, but eventually concluded he wasn't a national security threat and left him alone. Shortly after, Stapp checked into a hospital specializing in mental health, where he was diagnosed as bipolar. He finally got on the right meds and, presumably, hasn't threatened to assassinate anyone since.
If you or someone you know needs help with mental health, please contact the Crisis Text Line by texting HOME to 741741, call the National Alliance on Mental Illness helpline at 1-800-950-NAMI (6264), or visit the National Institute of Mental Health website.
He considered and later attempted death by suicide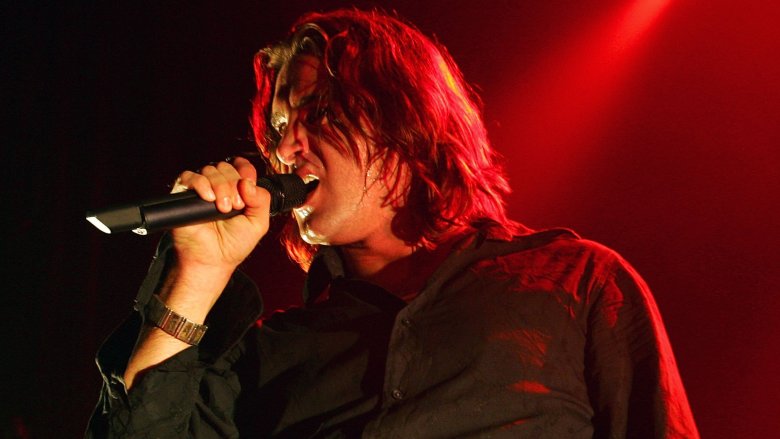 Getty Images
Scott Stapp has been through a lot, and he contemplated death by suicide at least twice. As Stapp told Spin, he first had suicidal thoughts in 2003, going so far as to grab a gun and load it up. Fortunately, he instead fired a few rounds into his garage wall. The wall may not have liked it, but it was definitely the better decision.
In 2006, Stapp attempted death by suicide. According to his memoir, "Sinner's Creed," Stapp was stuck in a "prison of alcohol and drug addiction" and decided to jump from his hotel balcony. He fell to a ledge 40 feet below, fractured his skull, and broke his hip. He lay there alone for over two hours, until rapper T.I. found him. As T.I. told Billboard, he was staying at that hotel and heard "moans and groans" above him. He went to investigate and found Stapp, whom he did not recognize at the time. He simply knew someone needed help, and so he helped, keeping Stapp awake until medical help could arrive.
If you or someone you know is struggling or in crisis, help is available. Call or text 988 or chat 988lifeline.org
He has trouble not getting arrested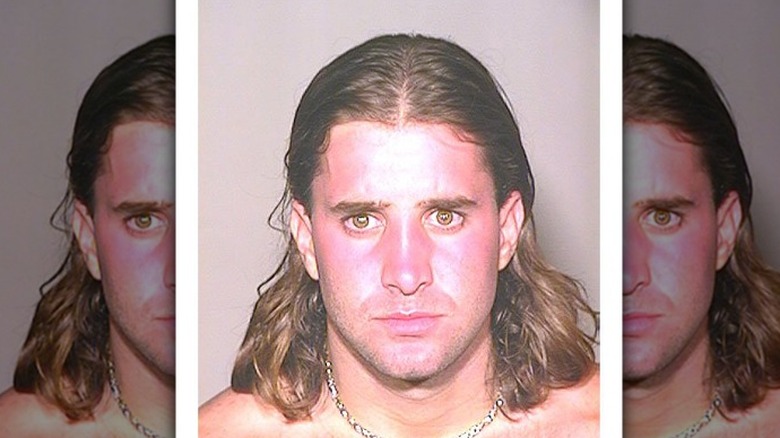 Donaldson Collection/Getty Images
Scott Stapp has had several run-ins with police. His legal issues began in 2002, when (as reported by The Smoking Gun) he was caught driving recklessly in Florida. Police saw him swerving around, so they caught up and arrested him. That was enough to keep him on the straight and narrow — until 2006, when he was arrested at Los Angeles International Airport one day after getting married. Stapp and his bride were about to board a plane to Hawaii, but cops were notified he was acting strangely. They found him before he could enter the plane and arrested him for public drunkenness.
Then, a year later, Stapp was arrested at his home for domestic assault. As TMZ reported, he allegedly came home high or drunk (or both), got angry at his wife after she asked if he'd done drugs, and chucked a glass bottle at her head. Luckily, he missed, but it was still enough to get him taken to jail for yet a third time. He released a public apology to his wife and his fans, but the real apology has been how he's managed to avoid handcuffs ever since.
If you or someone you know is dealing with domestic abuse, you can call the National Domestic Violence Hotline at 1−800−799−7233. You can also find more information, resources, and support at their website.
He got so intoxicated that his band got sued
Getty Images
By the end of 2002, Creed was still a superstar band, though not quite as successful as they were even two years prior. However, that didn't stop them from ending the band abruptly because when your lead singer goes wildly off-script on stage, no sales can save your career.
On December 29, 2002, Creed was playing a show in Chicago. It was, to put it as nicely as possible, an unmitigated disaster. According to fan accounts, Scott Stapp showed up in absolutely no condition to perform, slurring and mumbling lyrics while repeatedly stumbling and falling over. He variously slammed his mic to the ground, walked offstage for minutes at a time, or simply lay down on the stage. The clearly embarrassed band members were forced to jam while their franchise player made the band look terrible.
As the Chicago Tribune reported, several fans were so angry at Stapp's performance they attempted to sue the band. They claimed Creed failed to deliver what fans paid for and that they all needed refunds. That lawsuit went nowhere, since the judge wasn't about to set a precedent where artists were legally obligated to not suck. 
His new band sued him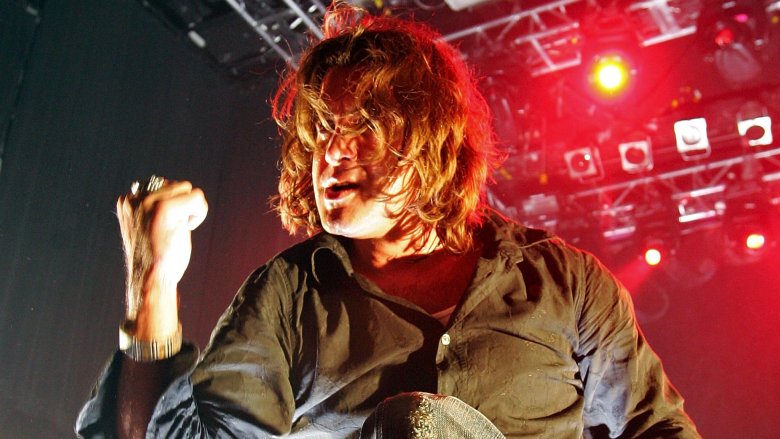 Getty Images
Without Creed doing anything, Scott Stapp tried his luck with a new act. Called Art of Anarchy, Stapp's new band (in which he replaced the late Scott Weiland as singer) featured stars like Bumblefoot and Disturbed's John Moyer. That, combined with Stapp's still-powerful voice, should have marked instant success for the group.
But the band quickly sued Stapp for $1.2 million, claiming he refused to promote the band or tour with them. The suit claimed Stapp only performed with Art of Anarchy 18 times in 2017, but performed 80 solo shows that year. According to the band, Stapp's no-shows cost them a record contract, plus he allegedly never repaid the $200,000 the band loaned him as advance payment for services.
The lawsuit is still ongoing as of early 2023, but this wasn't the first time Art of Anarchy has sued their singer, having also sued Scott Weiland in 2015 for similar things. According to ThePRP, Weiland defended himself by saying he was never a full-blown band member — he merely agreed to write lyrics and record vocals, and the band was "a scam" for attention.
Creed's 2009 reunion was a total bust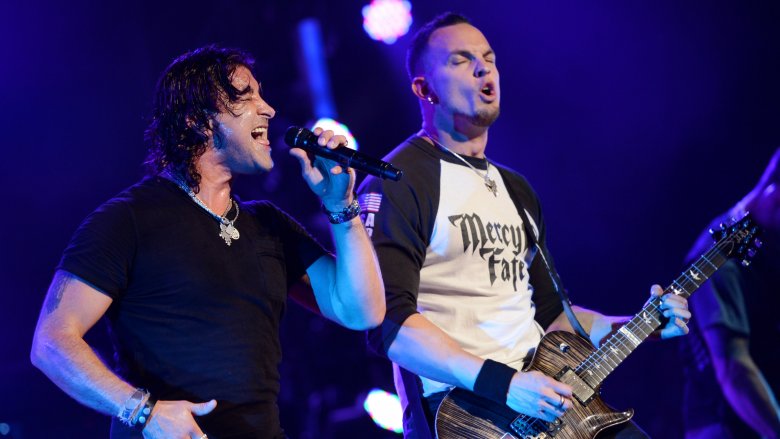 Getty Images
In 2009, years after disbanding, Scott Stapp and Creed decided to try again with a tour and a new album, "Full Circle," but the reunion was a near-complete bust. The tour failed to excite fans, even with dirt-cheap ticket prices. Tickets for a local Creed show dropped to just 75 cents, and even then, the crowd was sparse, to say the least. As The Birmingham News described it: "Audience members were distributed into two smallish groups on the floor, and scattered amid the lower and upper tiers." For a band with their history, that's just plain embarrassing.
Speaking of albums, "Full Circle" delivered mediocre sales at best. Billboard reported "Circle" sold 110,000 copies in its first week, compared to 887,000 for Creed's 2001 album, "Weathered." Even factoring in that fewer people buy albums every year, that's bad. By 2010, the band had effectively split up again, and an attempted 2012 album never materialized. Stapp told Billboard in 2014, "... when the time's right in the next year-and-a-half, I'm expecting some new Creed music," and in 2017, he made similar comments to Alternative Revolt.
His planned double album went nowhere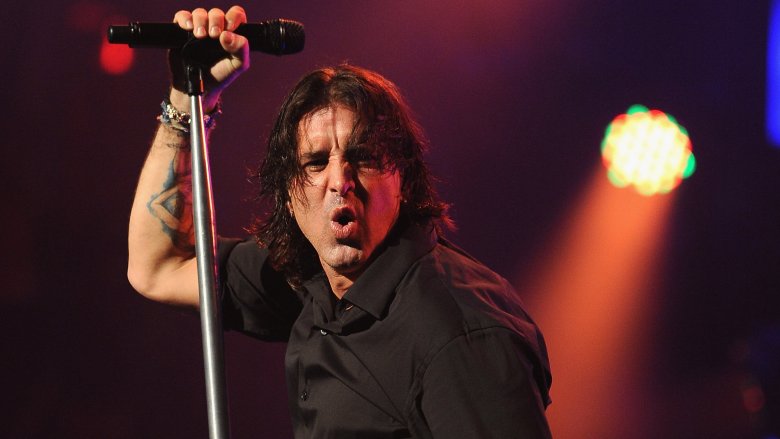 Getty Images
Not every reason for Scott Stapp's lack of post-fame visibility is dark and disturbing. Sometimes, it's as simple a matter as the man spending tons of time on a massive musical project and then never actually releasing it. In 2010, the The Salt Lake Tribune reported that Stapp was wrapping up work on a new solo album called "Somewhere In the Middle of Lust and Love." It was apparently meant to be an epic double album, with one disc focusing on songs about love, while the other disc would hone in on hot-and-dirty lust. He claimed to have written 30 to 40 songs for the album, and even if you've never written and recorded a tune of your own, you can probably imagine it takes a long time to wrap everything up.
Stapp, apparently, never bothered to do so, as the album never materialized. We got a single-disc album, "Proof Of Life," in late 2013, but seemingly very little — if any — of "Lust and Love"'s material made the cut. It was an awful lot of silent time for not a ton of work.
He's acting now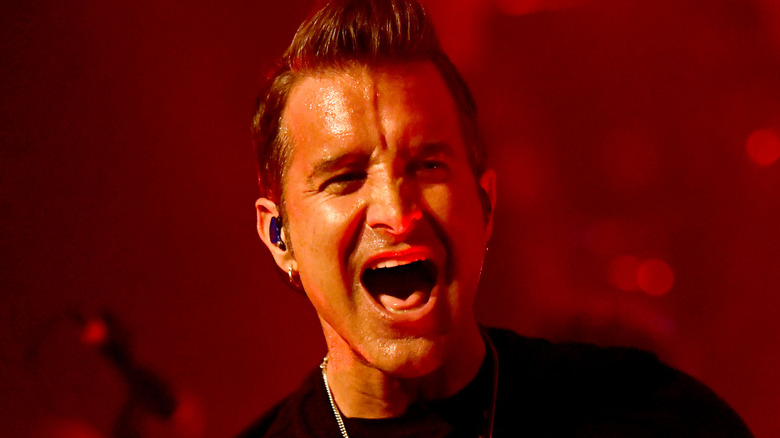 Scott Dudelson/Getty Images
As the frontman of Creed, one of the most successful and omnipresent rock bands of the early 21st century, Scott Stapp built up a lot of star power and made his face familiar to millions. More than 20 years removed from Creed's heyday, Stapp is attempting to parlay that celebrity and goodwill into another artistic area: acting. After dabbling in the field with a small part in the 2004 made-for-TV film "30 Days Until I'm Famous," in late 2020 Stapp lined up a follow-up project with the biographical film "Reagan," the life story of President Ronald Reagan. Dennis Quaid plays the title character, while Stapp was recruited to portray and sing as Frank Sinatra during a scene set at the Cocoanut Grove nightclub. "Sinatra in performance mode was an exercise in restraint," Stapp told Billboard. "I was excited to join the cast and blown away by the on-set attention to detail, style, and overall production."
Stapp fans will have to wait a while to see this performance. Initially planned to hit theaters in 2021, "Reagan" remains unreleased as of September 2023.
He still releases music occasionally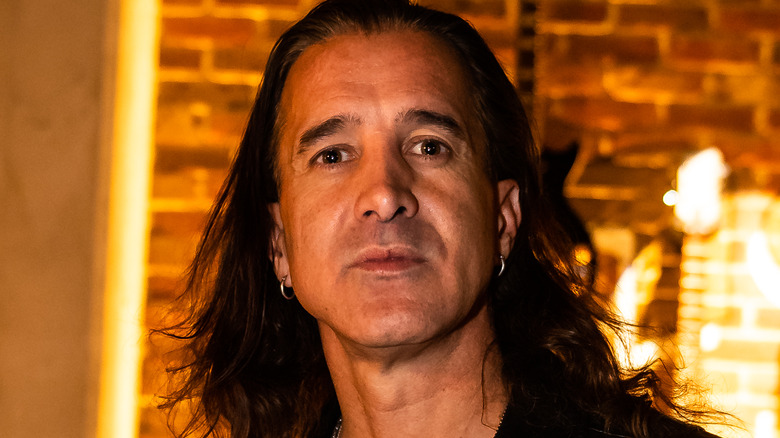 Keith Griner/Getty Images
He may not be fronting a band anymore and busy with other things, but Scott Stapp remains a musician. After his second solo album, 2013's "Proof of Life," peaked at #37 on the Billboard 200 and dropped off the chart after two weeks, Stapp waited six years to unleash a follow-up. The pensive, hard-rocking "The Space Between the Shadows" tanked, reaching #137 on the album chart before falling off the list. That record came on the heels of a summer tour across the U.S., in which the singer played venues smaller and more modest than those he did in his Creed days.
In 2021, the usually rock-oriented Stapp took a new approach to his music, teaming up with electronic artists Wooli and Trivecta on the single "Light Up the Sky." It wasn't a significant hit, but Stapp attempted another comeback in 2023 with "Higher Power," a song Creed-like in its exploration of spiritual themes but far louder and harder rocking than anything he did with his old band. However, "Higher Power" failed to chart.