Details From Rock Star Funerals You Haven't Heard Before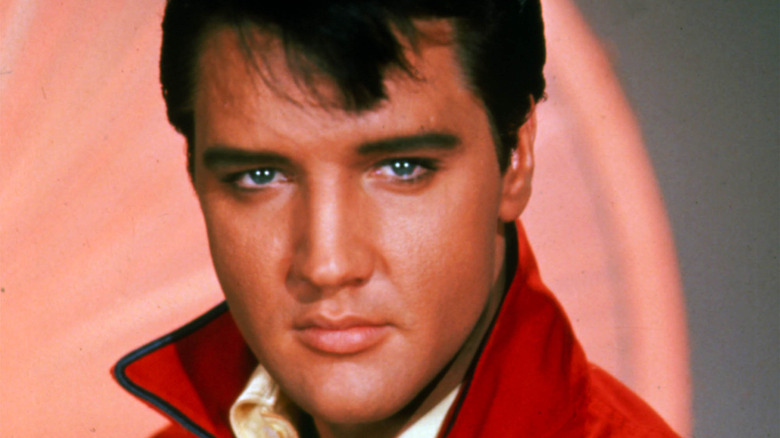 Getty Images/Getty Images
The rock star life is a very public one. From hit songs to world tours to countless interviews to controversies and more, there's very little about the lives of rock stars that aren't public. And because of how tumultuous their lives are, it's quite common for their deaths to attract just as much attention; rock 'n' roll history is filled with figures who died in terrible accidents and other tragic circumstances.
However, what's often forgotten about the deaths of rock stars is the minor details of their funerals. They're not only grim reminders that these icons were mortal, but very often they remind us that they were human with dreams, hopes, and loved ones. Of course, some rock stars kept rockin' until the end, ensuring they had sendoffs that were every bit as flashy as the lives that preceded them.
Lemmy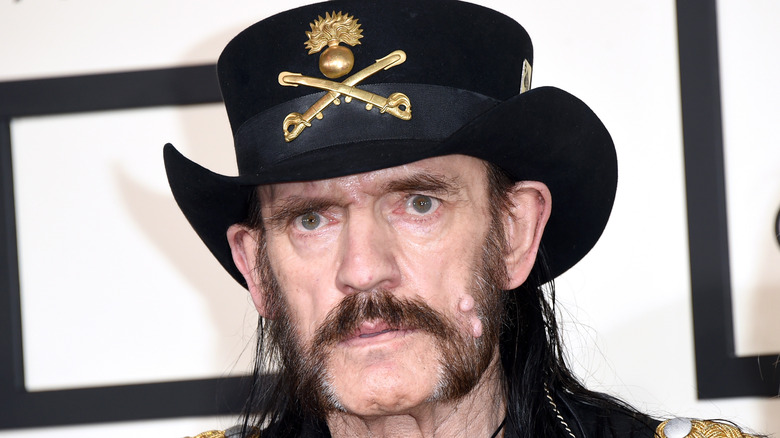 Jason Merritt/Getty Images
Before he began a life of decibels and whisky, Lemmy was born Ian Fraiser Kilmister on December 24, 1945. He came of age during the British Invasion of the 1960s and got started playing with various local bands. While Lemmy achieved some success with the psychedelic rock band Hawkwind in the early 1970s, it was when he left to play bass and sing for his own band Motörhead that he became a legend of rock 'n' roll. He experienced his most popularity with the band in the early 1980s, due in no small part to their signature song, "Ace of Spades." But even through numerous lineup changes over the decades, Lemmy's fanbase never dwindled as he kept rocking until his tragic death from cancer on December 28, 2015.
Lemmy was certainly not a somber and serious person, so it only makes sense that his funeral be closer to a concert than a traditional service. A long list of rock stars appeared to pay their respects to the fallen frontman, including Dave Grohl of Foo Fighters, Slash of Guns N' Roses, Robert Trujillo and Lars Ulrich of Metallica, Rob Halford of Judas Priest, and Scott Ian of Anthrax, as per a video of the memorial service. After various heartfelt speeches, the service was capped off with Lemmy's bass being plugged into a wall of amplifiers to fill the chapel with blaring feedback.
Oderus Urungus aka Dave Brockie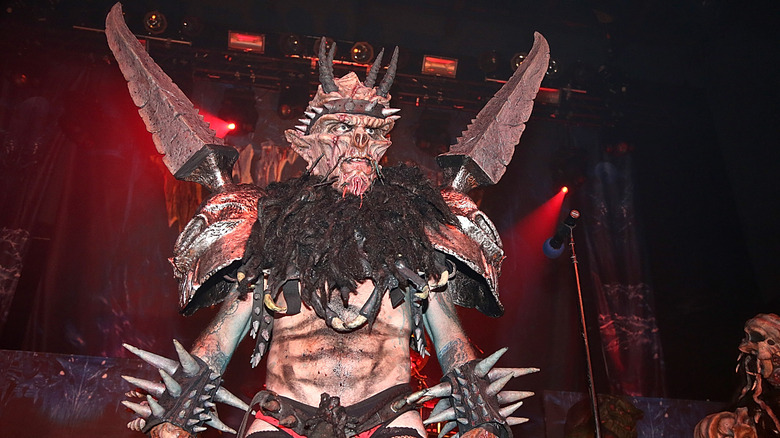 Gary Miller/Getty Images
Dave Brockie may not be a terribly well-known name in the heavy metal community, but that's because his public persona was that of Oderus Urungus, the lead vocalist of Gwar. The band came together in 1984 and, despite their over-the-top attire and slime-and-blood-filled live performances, managed to garner some mainstream recognition with Grammy Award nominations in 1993 and 1996. Gwar's shock-rock shenanigans were a large part of their appeal; the band concocted an elaborate backstory about its members being exiled from another planet and determined to rule Earth. As the face of the band, Brockie was arguably the most popular member of Gwar and even made numerous appearances on the Fox News show "Red Eye with Greg Gutfeld" as an "Intergalactic Correspondent."
Brockie unfortunately passed away on March 23, 2014, at the age of 50 from a heroin overdose. It should come as a surprise to absolutely no one that Brockie was given a funeral every bit as outrageous as his time in Gwar. The singer was given a Viking funeral that allegedly saw his ashes inside his iconic grotesque character Oderus Urungus and placed into a boat with various gifts. The boat was then pushed out into the water, then burned, as per Viking tradition, with a flaming arrow shot by friend Ed Harrington starting the funeral pyre. Topping off the ceremony was a eulogy by Randy Blythe, singer of Lamb of God.
Elvis Presley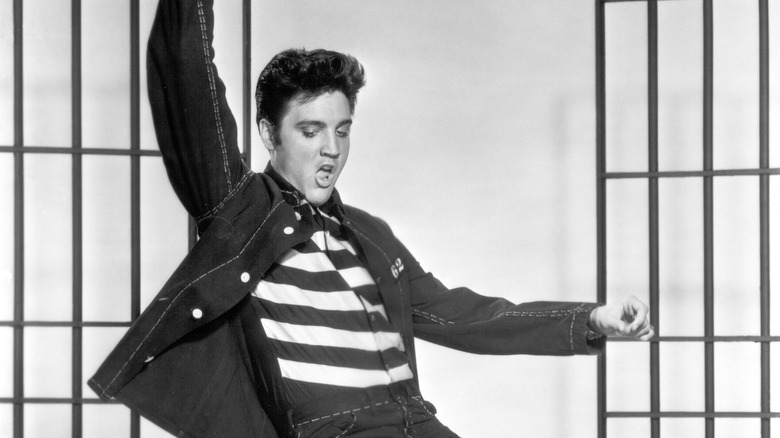 Michael Ochs Archives/Getty Images
Elvis Presley needs little introduction; after all, he's not called the King of Rock 'n' Roll for nothing. Born on January 8, 1935, in Tupelo, Mississippi, Elvis got his first guitar when he was 11 years old, which started him on the path to pop music royalty. He released his first single, "That's All Right," in 1954, but it was the following year's "Heartbreak Hotel" that became his breakout hit. This was followed by a string of hits, as well as some controversy for his sexually suggestive dance moves. However, the backlash he received wasn't enough to diminish his popularity, nor was his time away from music when he joined the military; in addition to being a major music star, Elvis starred in numerous hit movies.
Unfortunately, Elvis' star began to fall by the early 1970s; his marriage to Priscilla Presley ended, he lost custody of his daughter Lisa Marie Presley, and developed numerous health problems, culminating in his death on August 16, 1977. The singer's funeral was held on August 18, 1977; his body was transported to its final resting place in a white Cadillac hearse, followed by a motorcade of white Cadillac limousines. It's a lot of white, but there was a reason for it; Mindi Miller, an ex-girlfriend of Elvis, appeared on the Spa Guy podcast (via The Express) where she revealed that "his favorite color was white. He was in white, all the lining was white, the hearse was white ...That was his color. Very ethereal, very elegant."
Janis Joplin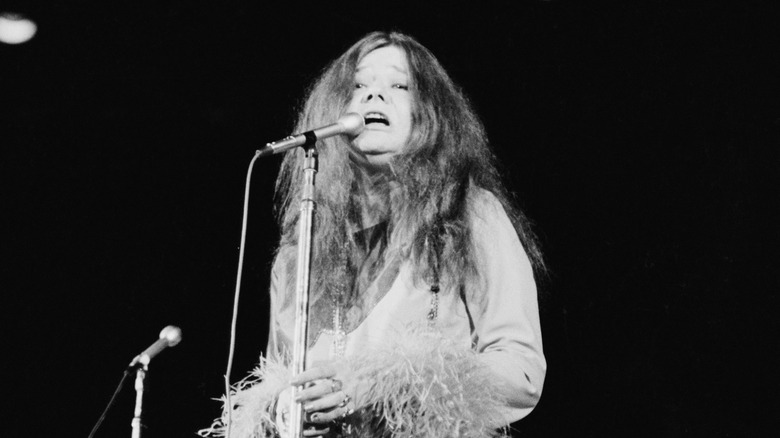 Michael Ochs Archives/Getty Images
The iconic female rock singer Janis Joplin was born on January 19, 1943, in Port Arthur, Texas, and displayed a talent for singing when she was only a child. While Joplin struggled to commit to her college studies with any consistency, one thing that remained consistent was her love of performing, even making some pilgrimages to California to make a name for herself as a singer that proved unsuccessful. However, she got her big break as the frontwoman for the San Francisco-based rock band, Big Brother and the Holding Company, which achieved massive popularity following their appearance at the 1967 Monterey Pop Festival. But tensions within the band caused Joplin to split up from them and establish herself as a solo artist, even performing at the legendary Woodstock concert in 1969.
Unfortunately, the influential singer passed away on October 4, 1970, from a drug overdose when she was only 27 years old. As a lifelong partier, it only makes sense for the good times to continue after her death; as stipulated in her will, $2,500 was set aside for her friends to have one last bash in her honor. In "Pearl: The Obsessions and Passions of Janis Joplin," by Ellis Amburn, Joplin's guitarist James Gurley recalls that at the party, "Everybody just got as drunk and as f***ed up as they could. I think it was fitting to send her off that way. I made a toast: 'Here's to what's-her-name?' There was no talking about her at all."
Gram Parsons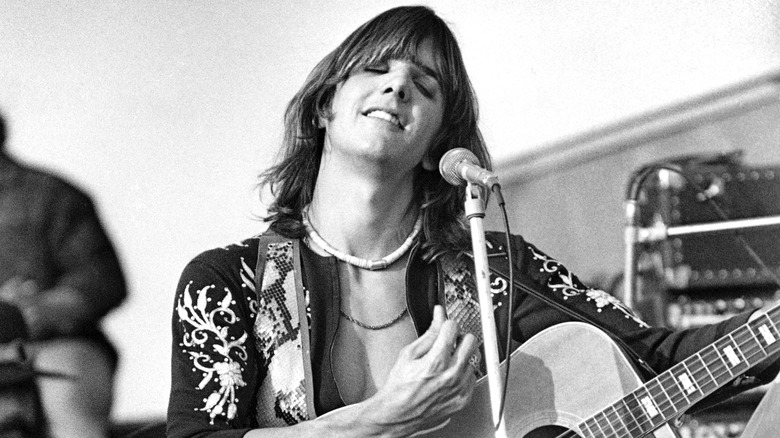 Robert Altman/Getty Images
Gram Parsons may not have achieved the same amount of notoriety as some of the other rock stars on this list, but his impact on popular music is immense. Born to a wealthy family on November 5, 1946, it seems that he was destined for a life of music; even when he was enrolled at Harvard, Parsons frequently shunned his studies in favor of jamming with his friends. Parsons soon dropped out of college and ended up in the International Submarine Band, with whom he pioneered the country-rock fusion that would become his trademark. Following his time with them, Parsons joined the Flying Burrito Brothers, further developing his unique genre-bending, which can be heard on their two albums.
Unfortunately, the last few years of Parsons' life was typified by substance abuse, which ruined his marriage and his creative output, and led to his tragic death on September 19, 1973 in California. However, the singer and songwriter wasn't given a traditional funeral –- his friend Michael Martin and road manager Phil Kaufman intercepted his body before it was shipped to New Orleans, took it out to the desert of Joshua Tree, and burned it. However, this was what Parsons wanted, as recounted in "Twenty Thousand Roads: The Ballad of Gram Parsons and His Cosmic American Music," by David Meyer. Kaufman claims that a dust devil emerged from the late musician's coffin during its immolation, scattering his ashes across his favorite place on Earth.
Harry Nilsson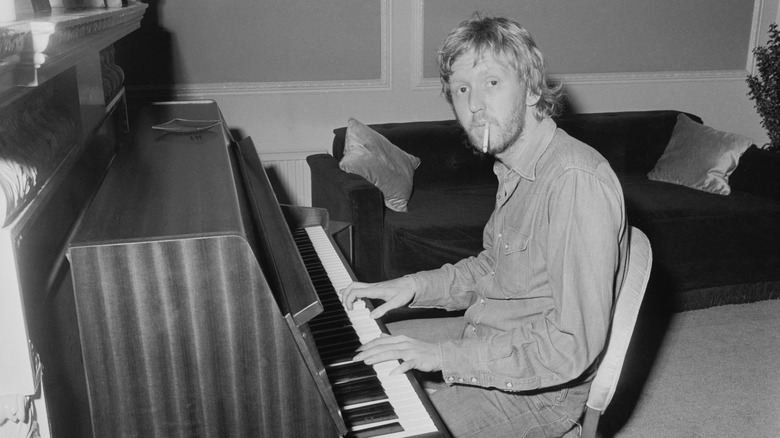 Stan Meagher/Getty Images
Harry Nilsson is generally recognized as one of the most talented singer-songwriters in rock 'n' roll history, having won two Grammy Awards and even earning the respect –- and friendship –- of the Beatles. He developed his musical talents as a young man working at the Paramount Theater in Los Angeles; the constant exposure to some of the most popular artists at the time inspired him to try writing music himself. All of his efforts culminated in the release of his first album, 1967's "Pandemonium Shadow Show." For the rest of his career, Nilsson garnered considerable acclaim for his unique songwriting style and cultivated a legion of fans, despite rarely ever performing live.
Nilsson passed away on January 15, 1994, after years of congenital heart problems. His funeral took place two days later, the exact day when the San Fernando Valley was hit by a massive 6.7 magnitude earthquake, causing much damage and loss of life. The disaster added another pall over the funeral, which was attended by such music titans as George Harrison, Jeff Lynne, Micky Dolenz, and more. Unfortunately, the earthquake overshadowed what should've been a celebratory gathering of a legendary musician. As stated in Rolling Stone, musician and friend Jimmy Webb said that "there was no fuss over the fact that he was gone because the Northridge Quake flattened about half of Southern California. It was not a slow news day when he passed over."
Ronnie Van Zant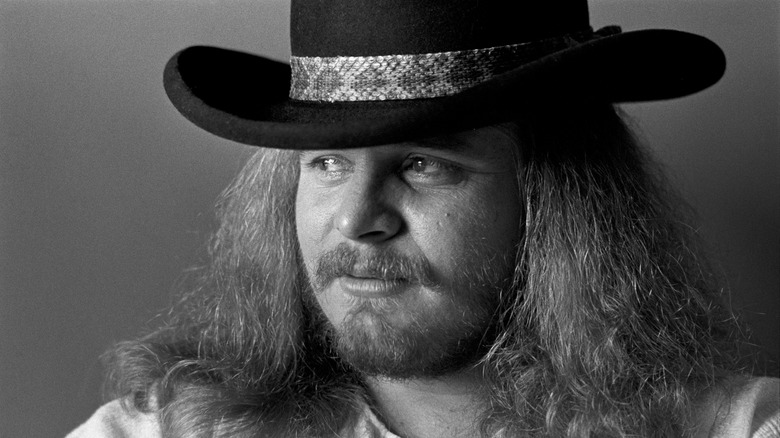 Tom Hill/Getty Images
Before Ronnie Van Zant achieved mainstream success as the frontman of Lynyrd Skynyrd, he was born on January 15, 1948, in Jacksonville, Florida. While he lived a rough early life, music was his life preserver. Van Zant's first influences were country singer Merle Haggard and rock bands the Rolling Stones and Free, anticipating his later pioneering of Southern rock. He met other like-minded musicians, and they formed Lynyrd Skynyrd, recording their first demo in 1970. It didn't lead to much at first, but the band forged their sound, releasing their debut album, "Pronounced 'Lĕh-'nérd 'Skin-'nérd," in 1973. It featured such hits as "Tuesday's Gone," "Gimme Three Steps," and "Simple Man," and was followed by even more success throughout the 1970s.
However, the band experienced a major tragedy on October 20, 1977, when their plane crashed around Gillsburg, Mississippi, killing several members including Van Zant. Charlie Daniels (of "The Devil Went Down to Georgia" fame) was one of Van Zant's closest pals, as stated in "Lynyrd Skynyrd: Remembering the Free Birds of Southern Rock," by Gene Odom and Frank Dorman. The influential Southern rocker did something special for the service of his fallen friend, stating that, after Van Zant's death, "It wasn't long before people started calling me for comments, and it seemed like I could never turn loose of it. Sitting in a hotel room, possibly in Phoenix, I wrote [a poem] ... At the funeral I read it and sang 'Peace in the Valley' and gave it to Judy [Seymour, Ronnie's widow]."
Dimebag Darrell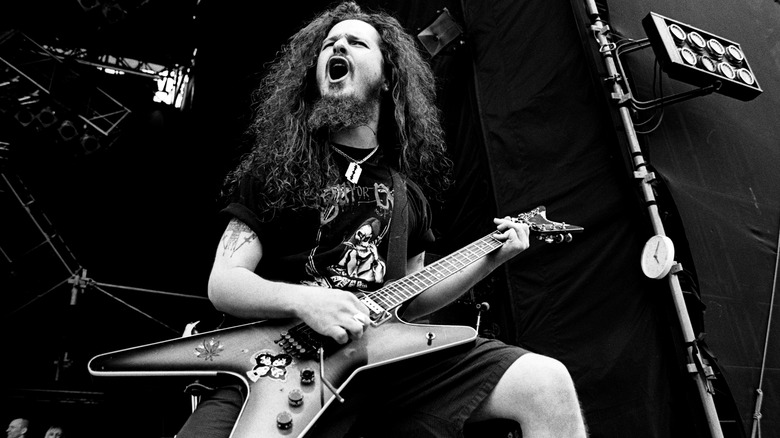 Martyn Goodacre/Getty Images
The son of country musician Jerry Abbot, it's unsurprising that Dimebag Darrell (born Darrell Lance Abbott) picked music as his calling. But being more inspired by the hard rock bands of the 1970s and early-1980s, Dimebag pursued a more aggressive sound. So he picked up the guitar while his brother Vinnie Paul picked up the drums and together formed Pantera, one of the most popular heavy metal bands of the 1990s. While the band enjoyed considerable success into the early-2000s, it seemed that Pantera's time was over when the band members went their separate ways to work on their side projects, with Dimebag and Vinnie Paul starting their own metal band, Damageplan, which released their first and only album, "New Found Power," in 2004.
But Damageplan wasn't able to capitalize on their initial success, as Dimebag was shot and killed while playing a concert at the Alrosa Villa in Columbus, Ohio, on December 8, 2004. A service was held to commemorate the heavy metal guitar legend at the Arlington Convention Center in Arlington, Texas, which was attended by a long list of rock stars that included Zakk Wylde of Black Label Society, Jerry Cantrell of Alice in Chains, and legendary guitarist Eddie Van Halen. Van Halen was one of the numerous musicians who gave a speech at Dimebag's funeral and even shared a touchingly profane voicemail the late guitarist left for him with the attendees.
Vinnie Paul Abbott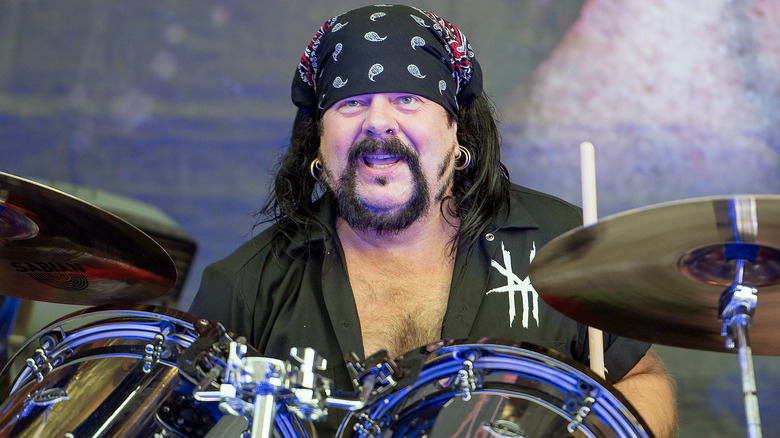 Mike Pont/Getty Images
Like his brother Dimebag Darrell, Vinnie Paul pursued a harder-edged sound in contrast to the Western twang of his country musician father, as it was KISS' legendary 1975 album "Alive!" that inspired him to become a drummer. He teamed up with Dimebag to form Pantera; the band's first few albums were more in line with the hair metal style popular in the 1980s. But when they brought on singer Philip Anselmo for 1988's "Power Metal" album, the band went in a much heavier direction, exploring a style that typified them throughout the 1990s and early-2000s. Vinnie Paul formed Damageplan in 2004 with Dimebag and played drums for the heavy metal supergroup Hellyeah after the heartbreaking death of his brother.
Like his brother Vinnie Paul was taken far too soon , passing away on June 22, 2018, when he was only 54 years old. While he passed away in his home in Las Vegas, Nevada, he was buried in his hometown of Arlington, Texas. However, the most touching part of the funeral was that Vinnie Paul was buried in a KISS casket that was paid for by KISS' own Gene Simmons and Paul Stanley. Ex-KISS guitarist Ace Frehley, on the other hand, wasn't as comfortable about it. He appeared on the Cassius Morris Show, where he said, "I had to make a little speech outside at the cemetery, and it was weird knowing Vinnie was inside this box and my face was on it."
Bob Marley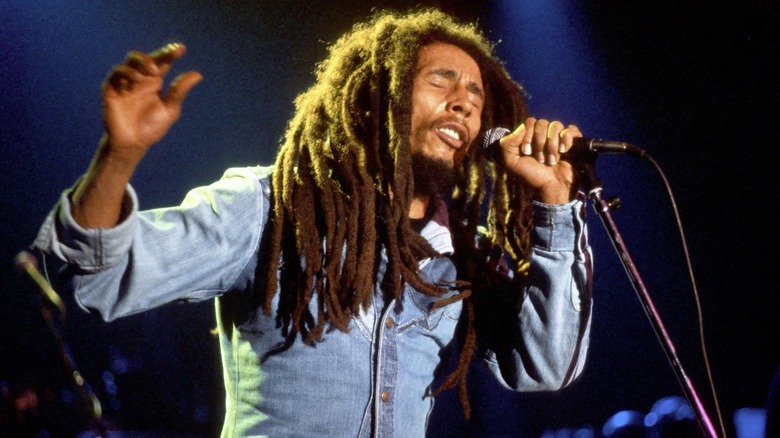 Michael Ochs Archives/Getty Images
Bob Marley spent much of his early life in Trench Town, which is where he first became interested in music. Despite the neighborhood's poor living conditions, it developed a reputation as a hub for talented musicians, so it's no surprise that the young Marley followed suit. He soon started his own band, the Wailers, which attracted a devoted following with their first hit, 1964's "Simmer Down." But the band really leapt to stardom after they signed with Island Records in 1972, leading to the release of the album, "Catch a Fire," the following year. Bob Marley and the Wailers left Jamaica, toured the world, opening for such top artists as Bruce Springsteen and Sly & the Family Stone.
While Marley and his band experienced growing popularity around the globe throughout the 1970s, their success was cut short when he died from cancer on May 11, 1981. But Marley was more than the singer and guitarist of a pioneering reggae band — he was a cultural and political icon, so it only made sense for him to be given a grand sendoff. Nearly 100,000 fans and followers filed into the arena where his body was displayed to get one last look at the legendary musician. Many activities were carried out to celebrate Marley, but the highlight of the service was the performances by his backup singers, the I-Threes, and his backup band, the Wailers.
Chuck Berry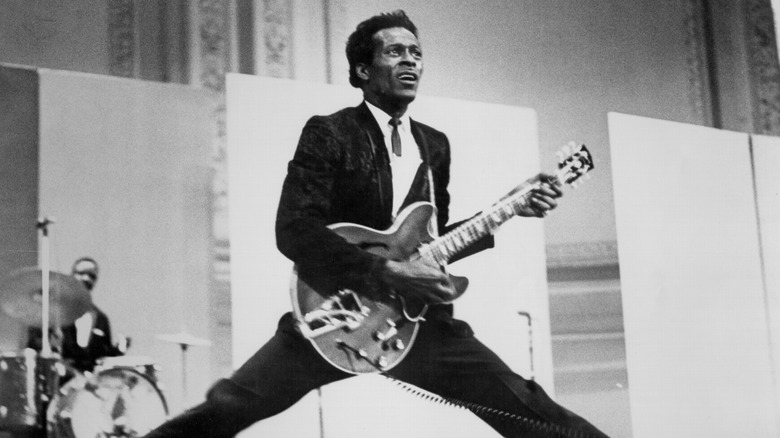 Michael Ochs Archives/Getty Images
Chuck Berry showed musical interest when he was only 6 years old, singing in the choir at his church. Of course, his career would take him quite far away from hymns and psalms, eventually becoming who many refer to as the "father of rock 'n' roll." Berry eventually picked up the guitar and started jamming with his friends in the early 1950s. Upon the advice of influential bluesman Muddy Waters, Berry and his friends met with Chess Records, with whom he'd soon record his first song, "Maybellene." The song was a major hit and was followed by other hits, including "Roll Over, Beethoven," "Johnny B. Goode," and many others throughout the decade. While Berry would never regain the commercial heights he experienced in the 1950s, he continued to perform in subsequent decades, albeit sporadically.
The influential rock 'n' roller passed away on March 18, 2017. Berry's funeral was attended by Gene Simmons of KISS and Paul Shaffer, the band leader for David Letterman's late night shows. A touching detail was the cherry red Gibson guitar that was installed in Berry's casket, ensuring he'll be rocking well into the afterlife. Sticking with the guitar theme, the Rolling Stones had a guitar-shaped flower arrangement put on display at the funeral, with the following message: "Thank you for the inspiration. With fondest memories, Keith, Mick, Charlie, and Ronnie. The Rolling Stones" (via the Associated Press).
Jimi Hendrix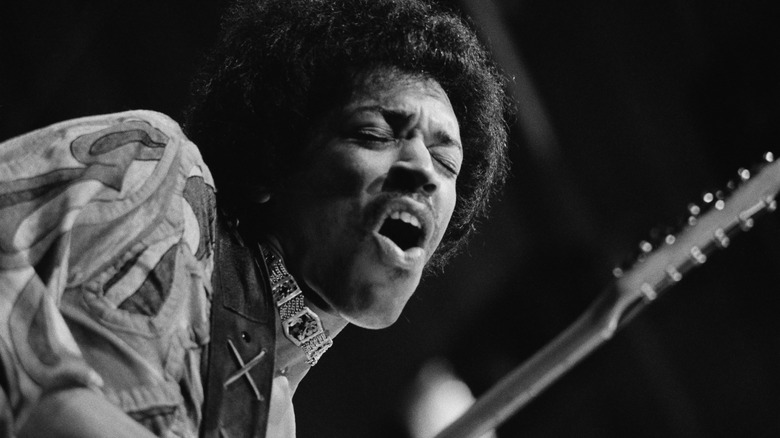 Evening Standard/Getty Images
Before Jimi Hendrix became the legend that he is today, he was born Johnny Allen Hendrix on November 27, 1942. As a young man, he was touched by the sounds of B.B. King, Muddy Waters, Buddy Holly, and other rock and blues musicians, so he picked up the guitar himself and never looked back. He spent time as a session musician before starting his own band, the Jimi Hendrix Experience, and released a string of hits like "Purple Haze," "Foxey Lady," and many others. One of his most iconic live performances was that of Woodstock in 1969, which included his famous rendition of "The Star-Spangled Banner."
But after barely three years in the limelight, Jimi Hendrix passed away on September 18, 1970. The funeral was attended by his closest music collaborators, including band members Mitch Mitchell, Noel Redding, Buddy Miles, and Eddie Kramer. Much of his family was present, of course; even his imprisoned brother Leon Hendrix made it to the service, only possible because of the permission granted by the jail he was incarcerated in at the time. The most heartwarming part of Hendrix's funeral was the recitation by a family friend of the lyrics to his song, "Angel."