Led Zeppelin Bassist John Paul Jones Tells The Real Story Behind Royal Orleans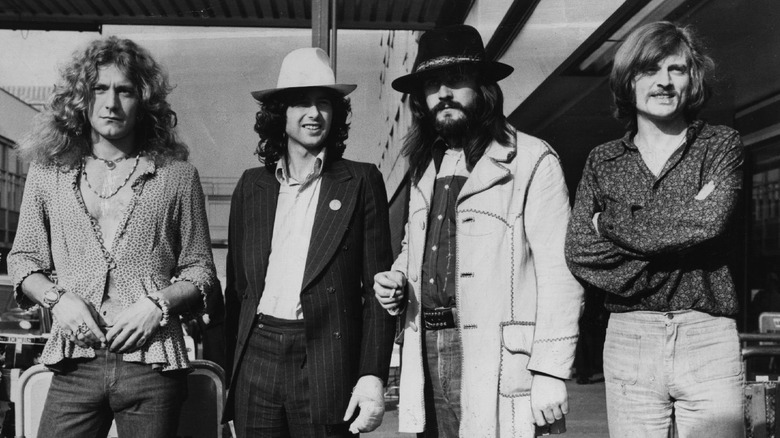 Evening Standard/Getty Images
The Led Zeppelin song "Royal Orleans" purportedly tells the story of a night Led Zeppelin bassist John Paul Jones spent with a drag queen. But while some things in the song are true, Led Zeppelin singer and lyricist Robert Plant's characterization of what happened that night is inaccurate, according to a 2001 interview Jones gave to Lemon Squeezings: Led Zeppelin News (via Far Out Magazine). In that same interview, Jones also stated that Zeppelin biographer Stephen Davis, in Davis' 1995 book "Hammer of the Gods: The Led Zeppelin Saga," also got details wrong regarding the same incident Plant wrote about in his song lyrics.
"Royal Orleans," titled after The Royal Orleans Hotel in The Big Easy, is from the British classic rock band's 1976 album "Presence," and it's based on an actual experience the band had while on tour in Louisiana. That night, the band ended up in a drag bar after exploring New Orleans' famous French Quarter. According to Jones, however, Davis' book "... got all its facts wrong. It got all the stories the wrong way around." And this reinforced the Led Zeppelin singer's made-up lyrical version of events, now widely considered a true story.
According to Plant, Jones didn't know Stephanie was a drag queen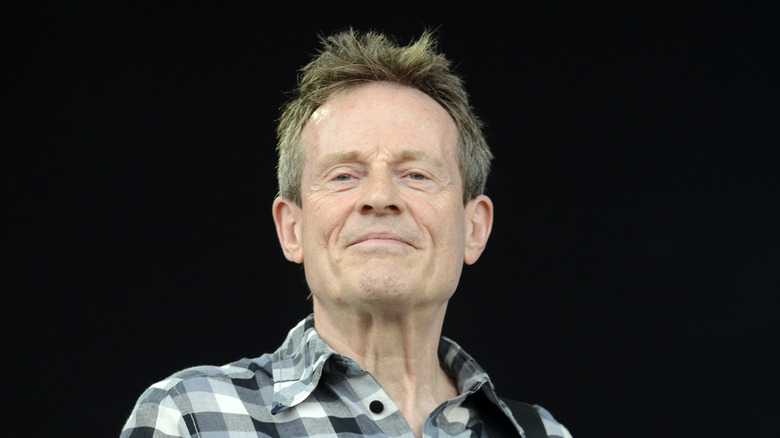 Tim Mosenfelder/Getty Images
In the lyrics of "Royal Orleans," Plant never mentions Jones' name specifically, but he implies that a member of Led Zeppelin ended up in a romantic encounter with someone they assumed was a woman but who was really a drag queen. In bassist John Paul Jones' recollection, Plant and Led Zeppelin drummer John Bonham grew up in the U.K. equivalent of "the country," and the sights and sounds of metropolitan New Orleans, and all the accompanying forms of entertainment, were too much for the musicians. Jones has also said the drag surprise may have happened to another member of Led Zeppelin's party, but not him, per Showbiz Cheat Sheet.
Jones and Led Zeppelin guitarist Jimmy Page were from London, however, and more accustomed to New Orleans-style nightlife. Jones did share a hotel room with a drag queen named Stephanie that night, whom Jones called a friend. But Jones knew full well who she was, rather than Plant's lyrical fabrication that it was a surprise, amplified in Stephen Davis' book. "We'd see her every time we'd go to New Orleans," Jones said, referring to Stephanie. "Robert was a bit provincial," he said. "[Plant and Bonham] weren't like big city boys. They don't like all that sort of thing," Jones said.
Jones and Stephanie did set the hotel room on fire, though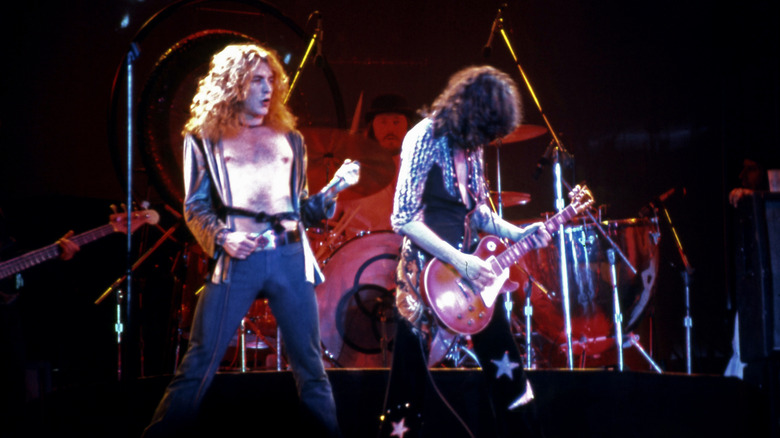 Bruce Alan Bennett/Shutterstock
One thing Robert Plant apparently did get right about the night John Paul Jones and crew spent in New Orleans is that after enjoying themselves on Bourbon Street, Jones and Stephanie did fall asleep in Jones' hotel room at The Royal Orleans. Jones, at least, was smoking when he fell asleep and both the bassist and the drag queen woke up with the room on fire, according to an interview Jones gave Mojo Magazine in 2007. "I fell asleep and set fire to the hotel room, as you do, haha ... And when I woke up it was full of firemen!" Jones said. Both Jones and Stephanie escaped the blaze uninjured, Jones added.
Of the twist Robert Plant put on what happened that night in the "Royal Orleans" lyrics, Jones said: "I think it's just 'cause they [Bonham and Plant] had a sheltered upbringing as lads." The whole mix-up might have started because although Plant never names Jones in the song, he does call the main character John Cameron, a real musician Jones was competitive with while working as a session musician, pre-Led Zeppelin fame, while in London.