Tina Bell: The 'Black Godmother' Of The Seattle Grunge Scene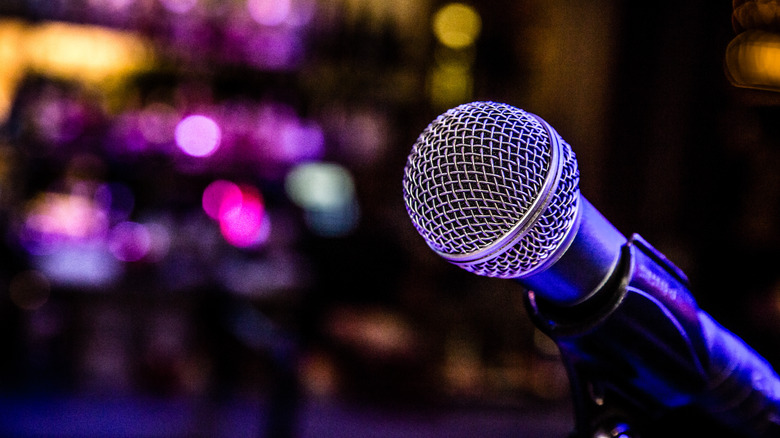 7713photography/Getty Images
In 2021, a tribute concert for Tina Bell was performed in Seattle, the singer for Bam Bam, the band now widely credited with helping to innovate the grunge rock sound of the '90s, The Seattle Times reports. Today, names like Kurt Cobain and Chris Cornell are typically thought of as the godfathers of grunge music, while in comparison, Bell, a Black female musician, and her band, Bam Bam, active in Seattle from 1983 through 1990, are relatively unknown (via Please Kill Me). In their mix of aggressive punk-style guitar playing, Bell's hard rock-influenced singing voice, and the band's overall look and style, Bam Bam predated much of what is typically thought of as grunge music, forever a part of Seattle's history.
Still, Bell has been largely forgotten in the annals of rock lore until only just recently, years after Bam Bam played their final show. The tribute event The Seattle Times reported on in 2021 took place as both a celebration and in mourning: celebration for the influence Bell had, but also in mourning for her untimely death nine years earlier. Bell died in Las Vegas from cirrhosis of the liver, at the age of 55. She had lived with depression and substance use issues for decades (per Louder Sound). Bell's groundbreaking work with Bam Bam is now championed, both by her fellow musicians from her era of Seattle music, but also by subsequent generations of musicians who looked to her as a jumping-off point for their own career.
Bell was written out of a grunge music oral history
Bell's work has been so forgotten, in an oral history of grunge music, "Everybody Loves Our Town: An Oral History of Grunge," Bam Bam is referred to as a trio, while Bell's contribution are left out entirely. Even an attempt to launch a Wikipedia page for Bell failed in 2015 for lack of sourcing. (The issue has since been fixed.) The other three members of Bam Bam were Bell's ex-husband, Tommy Martin, bassist Scotty "Buttocks" Ledgerwood, and at first, drummer Matt Cameron. Cameron would go on to play for Grunge greats Soundgarden and Pearl Jam, a direct link from Bam Bam's proto-grunge sound to the `90s-era explosion of grunge music.
The name Bam Bam itself is a portmanteau of Bell and her husband, Tommy Martin's last names. "Tina is part of that generation that I came up with that had some of the best rock lead singers," drummer Matt Cameron later said of the era that Bell belong to in Seattle music, also mentioning Kurt Cobain from Nirvana, Soundgarden's Chris Cornell, and Screaming Trees' Mark Lanegan, "I'm gonna say ever!" Cameron added, (via Louder Sound). On Bam Bam's early days, Ledgerwood told Seattle radio station KEXP, "Seattle in the eighties was really in a flux ... there was a strange melting of borders and barriers."  (Tom Hendrickson later played drums in Bam Bam after Cameron left the group.)
Kurt Cobain was Bam Bam's roadie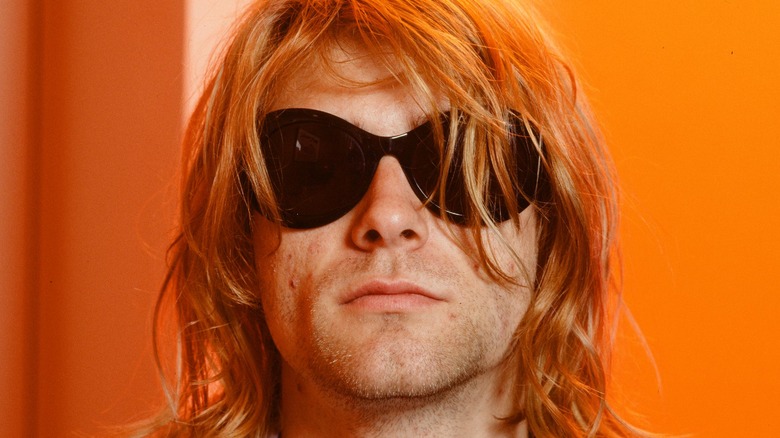 Koh Hasebe/shinko Music/Getty Images
After forming, Bam Bam were swiftly playing concerts and festivals in Seattle, winning awards from prominent Seattle media, and performing with and alongside a number of bands and members of future groups who were influenced and inspired by Bell's music. Matt Cameron, Bam Bam's first drummer who went on to play drums for Pearl Jam even wore a Tina Bell shirt on a Pearl Jam anthology of sheet music. Bam Bam performed and toured with other Washington state cult classic bands like The Melvins, and Nirvana lead singer Kurt Cobain was briefly their roadie. Bam Bam would also record at Reciprocal Recording, where Nirvana would later record two records.
In 2021, Bam Bam bassist Scotty Ledgerwood, now an outspoken advocate for Bell's rightful place in grunge history, recalled in The Seattle Times seeing young Kurt Cobain at Bam Bam shows. Remembering those early days, Bell's voice, Ledgerwood said, "could go so quickly from a sultry coo to an absolutely spine-chilling shriek." Speaking with Please Kill Me, Ledgerwood also added: "Tina had an inspirational aura about her that was absolutely regal, but without arrogance. Even when she was 'raging' on stage, her movement was so fluid and graceful. She had such confidence on stage; I'd feed off her strength. If a crowd didn't know us or respond well, she'd lead us on with more ferocity!"
Bell experienced racism while performing
Though appealing in many ways to Seattle musicians who took what they heard and then formed bands of their own, some Seattle audiences were not ready for Bam Bam. One reason chiefly cited for their reluctance to embrace the group was a hard rock band fronted by a Black woman. Speaking with Zora (via Medium), Christina King, who knew Bell and saw her perform, said: "I remember one person saying to me that they didn't get 'the whole Black girl singer thing,' it just didn't fit whatever they were into. [Bam Bam] were too ahead of their time." Still, Bam Bam drew large crowds in Seattle, and most were adoring, though sometimes people came for the wrong reasons.
In an interview with Zora, bassist Scotty Ledgerwood, recalled one night when Bell experienced racist verbal abuse at a famed Seattle club called The Metropolis. After people whom Ledgerwood referred to as "skinheads" shouted a racial epithet at Bell while she was on stage, she used the microphone stand to defend herself, before she then completed the performance. On the traumatic incident, Om Johari — a Bell fan who saw her perform, and who also happens to be a woman of color that once fronted the AC/DC tribute band Hell's Belles. She was at that show attended by skinheads and later said, though the verbal attack had nothing to do with Bell's artistry, "[I]t reminds [Johari] of the way in which she has to be prepared, just in case it happens again" (via Zora).
Bam Bam broke up in 1990
After lineup changes, Bam Bam were swiftly eclipsed by an emerging generation of Seattle musician's reared on their music, and Bell and Martin briefly left the U.S. They returned a short time later, when Bell was forced out of the Netherlands due to her immigration status. Back in Washington state, the band tried to have a go at it once again, but by 1990, Bell quit the band. According to All That's Interesting, Bell and Tommy Martin, her longtime bandmate in Bam Bam, divorced in 1996, at which time Bell left Seattle for Las Vegas. Reportedly, Bam Bam continued for a time as a three-piece, perhaps explaining why earlier contributions from Bell were overlooked by later publications. 
By the end of the '90s, though, Bam Bam was done for good. After her death, officially caused by cirrhosis of the liver, her only son with Tommy Martin, T.J. Martin, found all her belongings were disposed of. Offering some insight into Bell's mind frame at the time that she died, Bam Bam bassist Scotty Ledgerwood told Please Kill Me, in 2012, she and Ledgerwood would talk frequently late at night. "[W]e'd talk for hours about the old scene, family, and life in general. I'm still very close to her family," Ledgerwood said. "[W]e were working on what would have been her 'come back'" — a documentary film and a memoir Ledgerwood and Bell were co-writing, the bassist added.
T.J. Martin won an Oscar in 2012
A bittersweet coda to the life of Tina Bell, her son with Tommy Martin, T.J. Martin, also chose a creative career path, as a filmmaker, and won an Oscar in 2012 for the documentary film he co-directed, "Undefeated." In keeping with the tragic tone of Bell's life, Martin's success was tempered by sadness: That was also the same year his mother died. Since then, Bell's story has been increasingly told, and the part that she played in the history of both grunge and Seattle music, has been further appreciated: in tribute concerts, in reissues, and in media. Bam Bam bassist Scotty Ledgerwood's site, "Buttocks Productions," is now a central repository for Bell and Bam Bam History.
According to Bell's son T.J. Martin, it's believed that Bell had been dead for quite some time before her body was discovered. Speaking with Zora, Bell's son, Martin said: "I couldn't help draw a parallel between her not being respected and seen in the first chapter of her life, as the front person of a punk band," and that even in death, Martin's mother was disrespected. "Grunge, whatever that means," Martin added, "is being identified as from your community, your colleagues, your sound that you were a participant in help shaping, and you're not even mentioned in any of it. I can't even fathom what that would feel like for it to be sort of spit back in your face with such frequency."